jul 09, 2009
pak sheung chuen: 'breathing in a house' at venice art biennale 09
pak sheung chuen in his rented busan, korea apartment collecting his breath in transparent plastic bags
it is the fifth time that the hong kong arts development council has presented works of hong kong artists at the venice art biennale 09, this year with the 'making (perfect) world: harbour, hong kong, alienated cities and dreams' exhibition. curated by tobias berger (in association with para / site art space), the show highlights the work of local chinese artist pak sheung chuen.
chuen performs and documents humorously poetic ideas that elaborate on complex issues within the realm of politics, history, religion and globalization. these personal gestures encourage open-ended interpretations, inviting viewers to reflect and reconsider the infinite possibilities within their daily lives. his interest lies in the possibilities of discovering insightful messages that are encoded within the most unlikely and ordinary places.
one of his works included in the show was 'breathing in a house'. for the piece, chuen rented out an apartment in busan, korea measuring in size 6.7m x 2.7m x 2.2m. he carried on living his normal daily routine there, but in the meantime collected all of his breath in transparent plastic bags until they consumed the entire living space. overall, the process took ten days to complete from september 1st to 10th, 2006. after completion he felt as if part of his life had been absorbed by the apartment.
the bags filled of chuen's breath consuming the apartment
installation at the venice art biennale image © designboom
a sea of plastic bags image © designboom
video still of chuen in the kitchen, breathing into bags
continuously breathing away
the transparent bags slowly occupying the kitchen
chuen performing
pak sheung chuen was born in 1977 in fujian, china. he immigrated to hong kong in 1984, where he currently lives and works.
mar 15, 2015
mar 15, 2015
jun 04, 2014
jun 04, 2014
may 28, 2014
may 28, 2014
jan 29, 2014
jan 29, 2014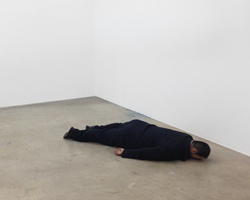 jan 02, 2014
jan 02, 2014
oct 28, 2013
oct 28, 2013
sep 02, 2009
sep 02, 2009
jul 22, 2009
jul 22, 2009
jul 20, 2009
jul 20, 2009