sanatorium by pedro reyes curated by david van der leer storefront level of 1 metrotech center, 345 jay street, brooklyn, new york june 2 – 12, 2011 more info
the work of mexican artist pedro reyes (born, 1972, mexico) crosses many different mediums from architecture, design, social initiatives, film, sculpture, murals and more. designboom interviewed him ahead of his new show 'sanatorium'.
DB: can you tell us a little bit about your new show? PR: 'sanatorium' was commissioned by the guggenheim, new york as part of stillspotting NYC in brooklyn. it's a two week performance where a team of seventy volunteers will provide different therapies to around 2000 visitors.
handout, sanatorium 2011
what kind of 'therapies' will be on offer?
you know 'speed dating'? well this is a little bit like 'speed therapy':
you buy your ticket for fifteen dollars and you get two hours of
service, where you can choose three different therapies.
short treatments I've invented which draw sources from
different schools of psychology such as gestalt, psychodrama,
hypnosis, primal scream, as well as warm up exercises from theater,
street games, conflict resolution techniques, etc…
so you walk from one station to the other taking part in these 20 minutes therapies.
basically the raw material for this experience are your own personal problems, so you are guided through different mental techniques… a sort of 'cookbook for the mind'.
therapies are often expensive so this is a bit like a democratization
of a luxury industry as well as a secularization of some methods. if I drew sources from religion, holism or shamanism I took care first of extracting any trace of spirituality, they are presented as concepts, instructions, step by step tools to shape a particular psychodinamic.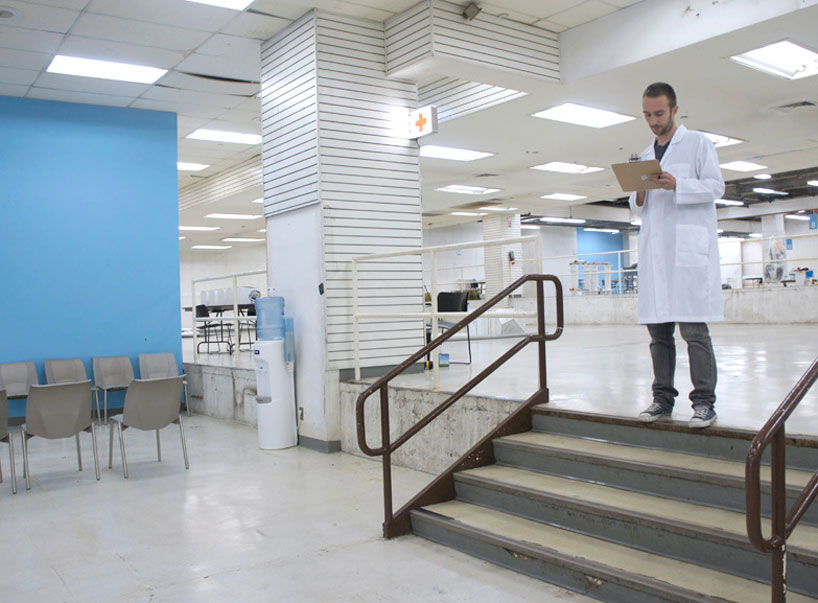 sanatorium 2011
will this be a 'one off' event or something that will travel or evolve?
the sanatorium is also a prototype of what could become public policy. taken to the next level the sanatorium could be a useful service to improve the mental sanity of the general citizen.
what are your aims with this project?
for sanatorium to be a tool in the development of 'sociatry',
a term coined in the 1930', which I want to re-introduce into
our dictionary. its such an obscure word that to date there is
no entry in wikipedia for it. basically 'sociatry' is proposed as
the 'technique to heal social systems' or 'the art and science
of healing society'. so if we presume the body of society has
some pathologies, how could you treat those pathologies.
(interview continues below)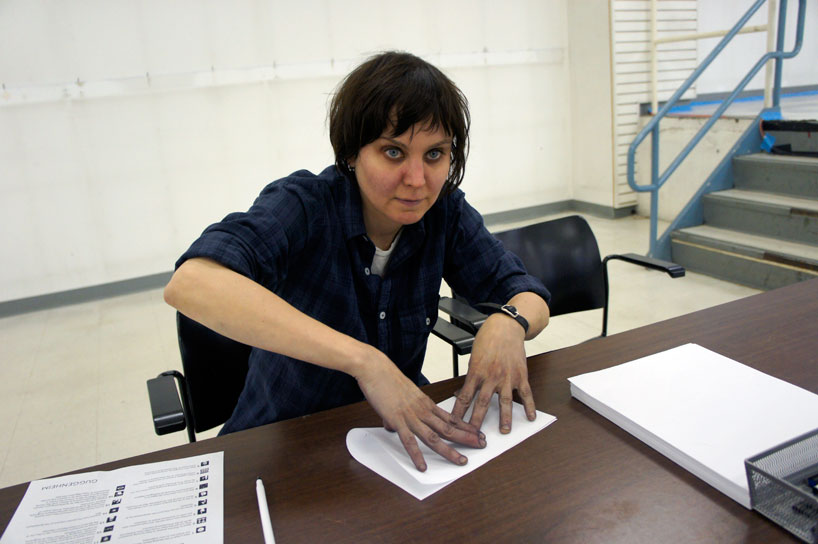 'city leaks', sanatorium 2011 confess one urban secret, take another one with you. no questions asked.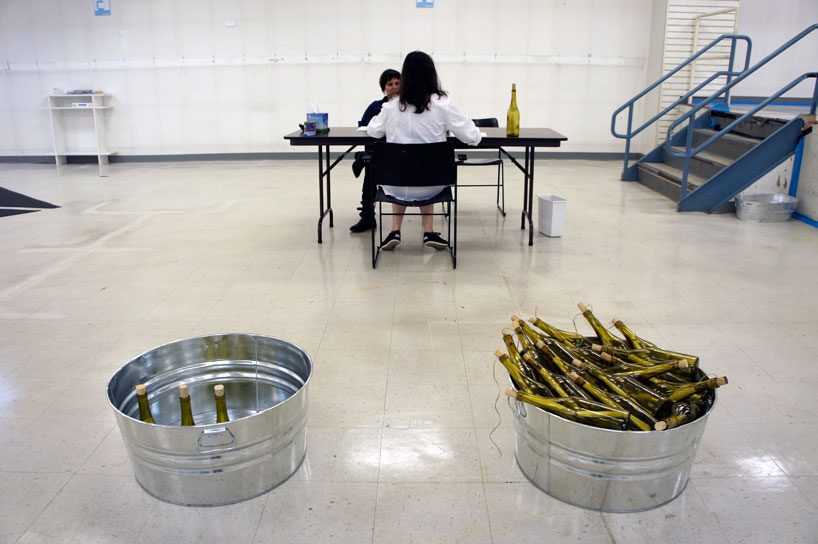 'city leaks', sanatorium 2011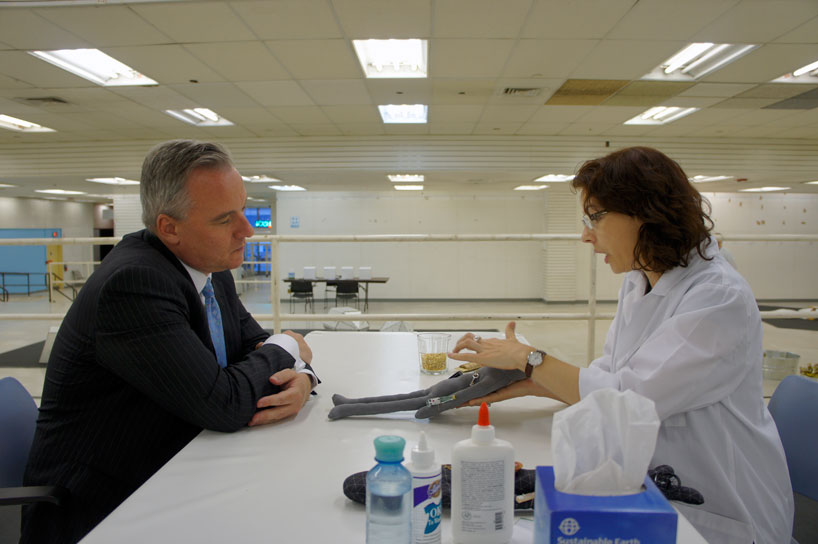 'goodoo', sanatorium 2011 channel your healing energies even when you are far away from brooklyn with a 'positive voodoo doll'.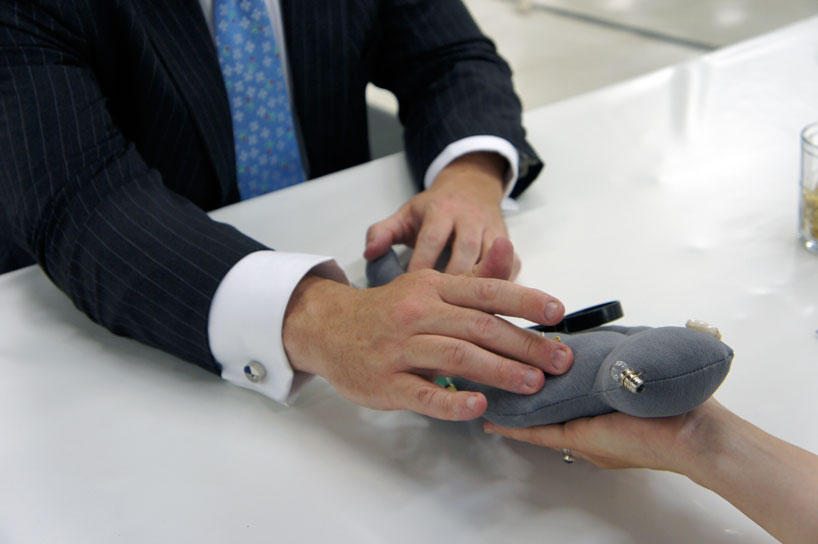 'goodoo', sanatorium 2011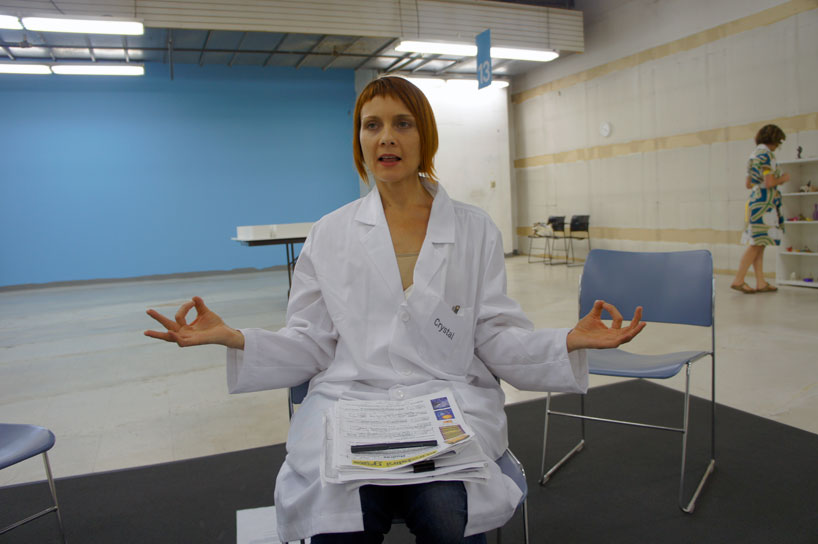 'the department of mudras', sanatorium 2011 align your energies by using simple hand movements.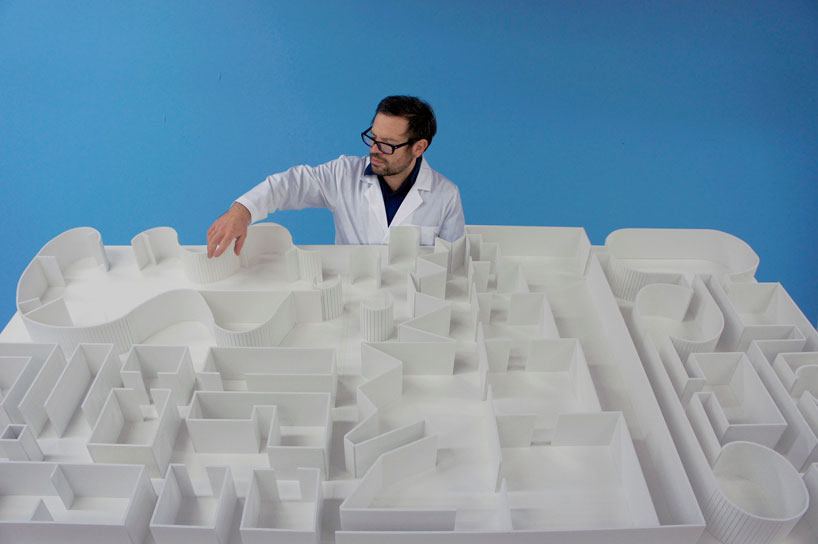 'the museum of hypothetical lifetimes', sanatorium 2011 in this activity there is a scale model of a museum; on the wall you'll find shelves with a number of small figures with which you may find a formal realization to their internal worlds. the figures from which they can choose should represent as complete as possible a cross-section of all inanimate and animate beings which we encounter in the external world as well as in the inner imaginative world: trees, plants, stones, marbles, mosaics, wild and domesticated animals, ordinary women and men pursuing various activities, soldiers, fairytale figures, religious figures from diverse cultural spheres, houses, fountains, bridges, ships, vehicles, etc. the 'therapist' will play the role of a curator who will help you to install a scale version of an exhibition about your life. not only from your birth to the present, but including future events, key images and objects will be arranged in the space narrating in this way your past an future life as an exhibition.'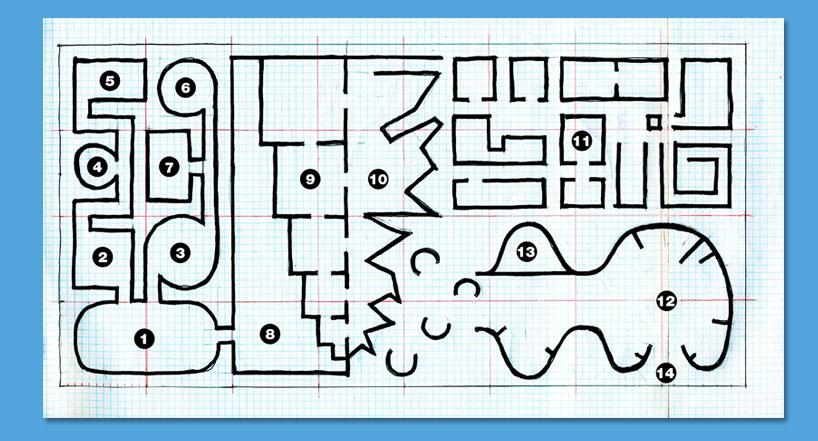 the museum of hypothetical lifetimes, sanatorium 2011 1) the cradle 2) the father, 3) the mother 4) grandmother 5) grandfather 6) grandmother 7) grandfather 8) play space -shrinking 9) education -growing 10) youth 11) workspaces -career 12) personal life 13) unused potential 14) death (exit).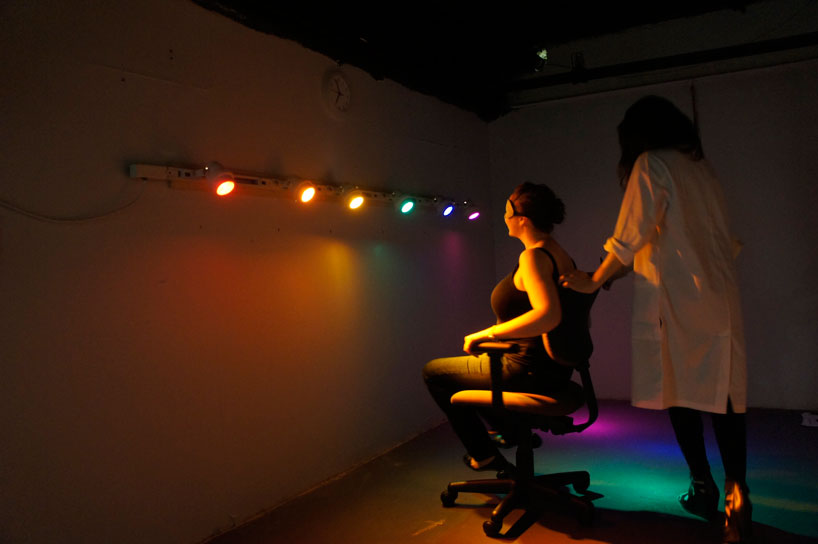 'the synesthetic test', sanatorium 2011 explore how the senses interact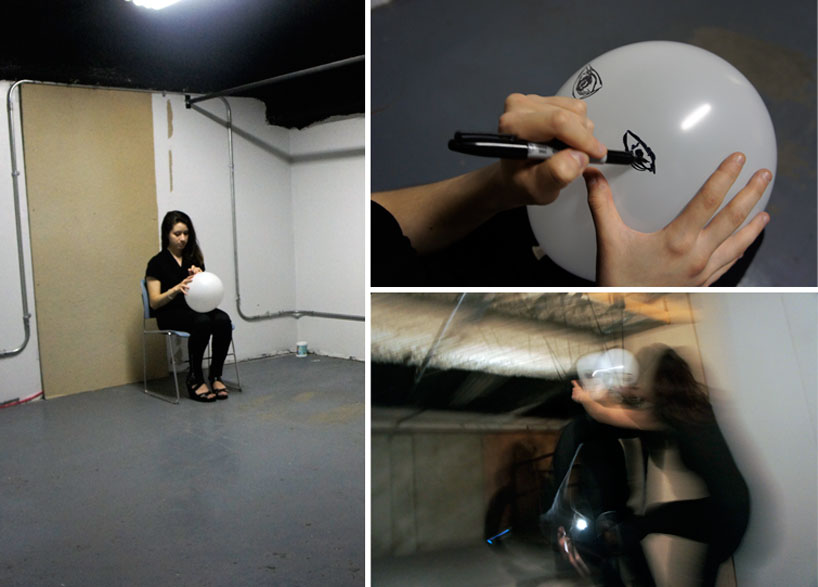 'the vaccine against violence', sanatorium 2011 do you have urban frustrations? vent and resolve them through this technique originally developed by antanas mockus, former mayor of bogota, columbia.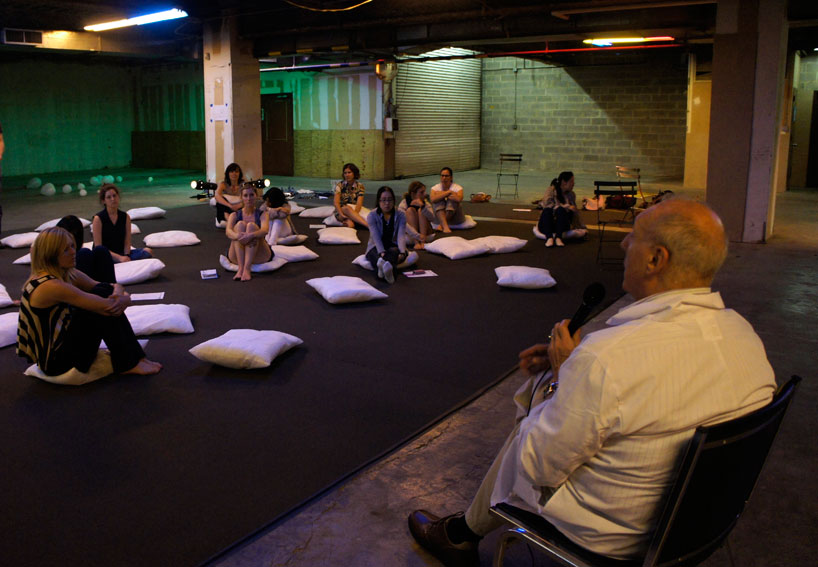 'the tuning effect' , sanatorium 2011 engage in group therapy by recalibrating your sense and solving subconscious problems. (created by mel s. kimura-bucholtz)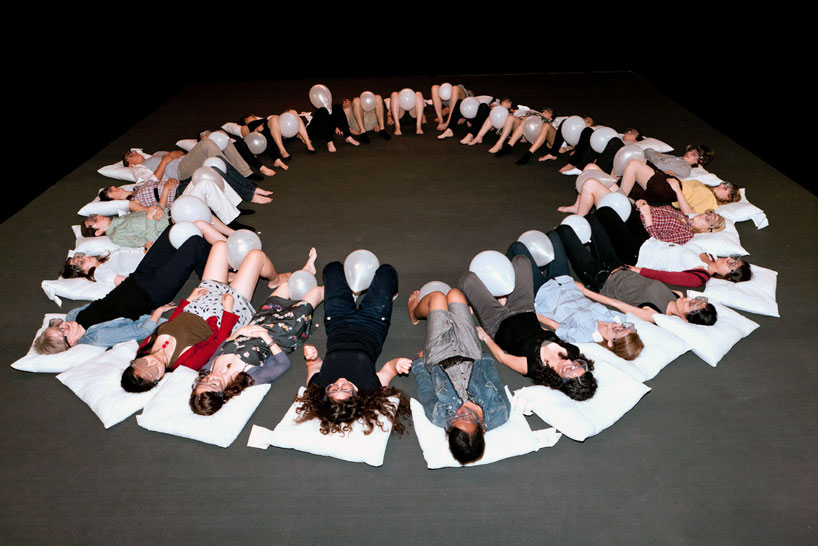 'trans-migration express' , sanatorium 2011 fasten your seat belts for a mystery trip across dimensions.
your work seems very diverse, what would you say is the common 'ingredient'?
I'm interested in the design of relationships.
often they can be objects, but those objects serve as
a vehicle to create or to activate certain social relationships
or social dynamics.
for examples, with the project 'palas por pistolas'
('shovels from pistols') we made a campaign where
people were invited to give up a weapon in exchange
for coupons to trade at a supermarket. the coupons allowed them to buy substantial items such as a fridge, a microwave or a computer.
the source material was guns, an agent of death
that we transformed into shovels, used to plant trees,
an agent of life.
so the project is a catalyst for a social transformation,
hopefully solving two problems;
making a community safer
and having an environmental objective.
at the same time there's a psychological transformation
for those who participate that comes from planting trees
with a shovel that you know used to be a gun.
it's a kind of ritual, or alchemical process.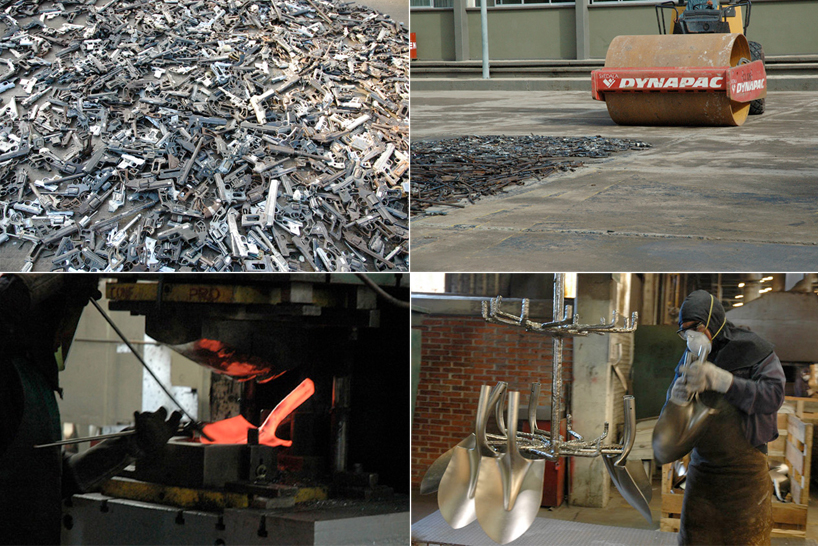 palas por pistolas, 2008 palas por pistolas initiated in the city of culiacán, a city in western mexico with a high rate of deaths by gunshot. 1527 weapons were collected, these weapons were taken to a military zone they were crushed by a steamroller in a public act. the pieces were then taken to a foundry and melted.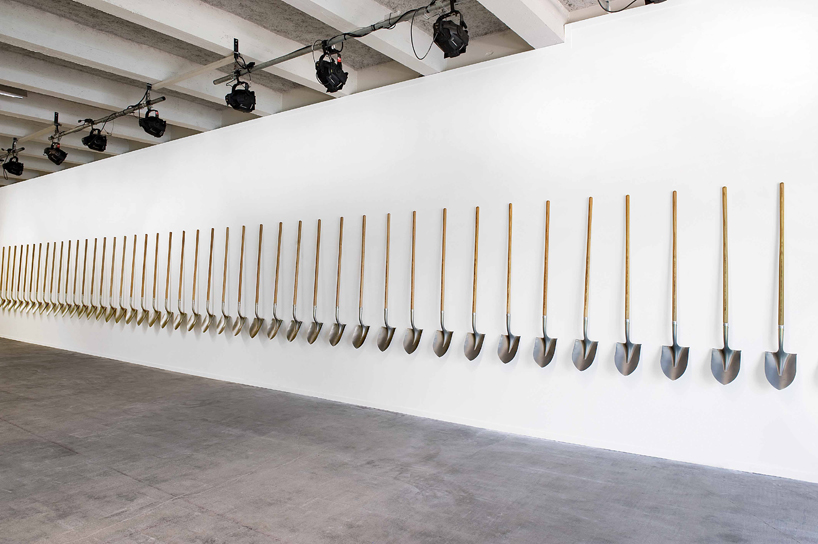 the metal was sent to a major hardware factory to produce the same number 1527 shovels.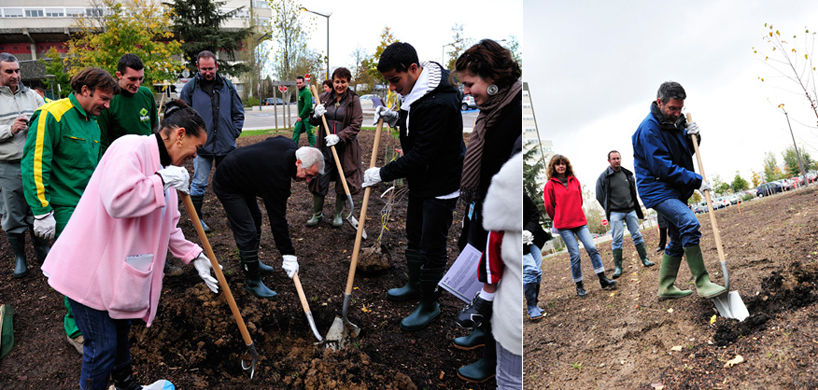 the shovels have been distributed to a number of art institutions and public schools where adults and children engage in the action of planting 1527 trees.
you studied as an architect, but now work mainly as an artist. at what point do art and architecture differ for you?
problem solving is common to architecture thinking,
but is not so present in art. architects work on creating
spaces for needs and an artist doesn't necessarily have to.
on one side there's the different cultural environments,
that gives legitimacy to them, like museums, magazines,
symposiums, etc. a lot of the ontology of projects is given
by the context in which they circulate. on the other side,
there's a market. architects work mainly on a commission
from a client, and artists may produce objects which have
a different life cycle.
it can happen that one thing migrates to become the other,
I don't think that cultural products are static and belong to just
one category, because I don't think that oneself as a person
is something, but rather that one is becoming something.
it's not that a project is architecture or art or design.
it is becoming architecture, or becoming art, or becoming design.
projects have an arch where they create a certain amount
of attention or they fade into oblivion, and this can change
over time.
and how do you react to these pre-defined contexts? the question that interests me most is how can you make a change in the world. I'm not so interested in objects that are preserved in a museum, thinking of the museum as a fridge, that is something that will keep the object in the same condition for posterity. I'm more interested in using the cultural institution as an oven, where you cook new realities.
so when an institution invites me to work with them quite often, that institution is located at the center of an environment so I think about how I can try and feed from that situation in order to create a transformation to that environment. it doesn't have to have only aesthetic objectives, but some certain degree of social or environmental impact.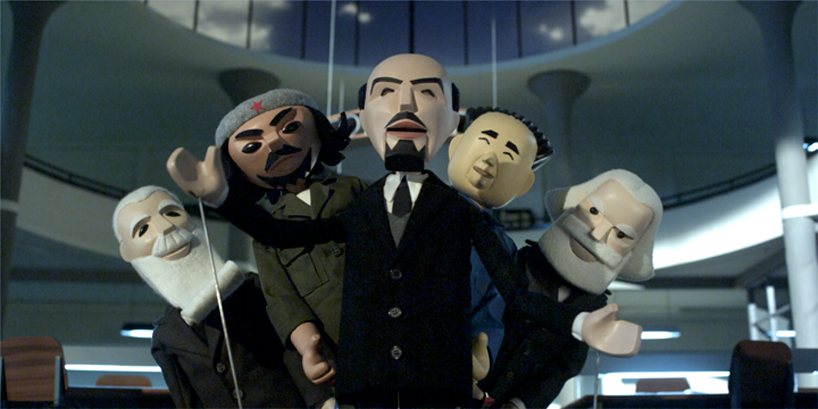 baby marx tv pilot, 2009 – television production, instalation, puppets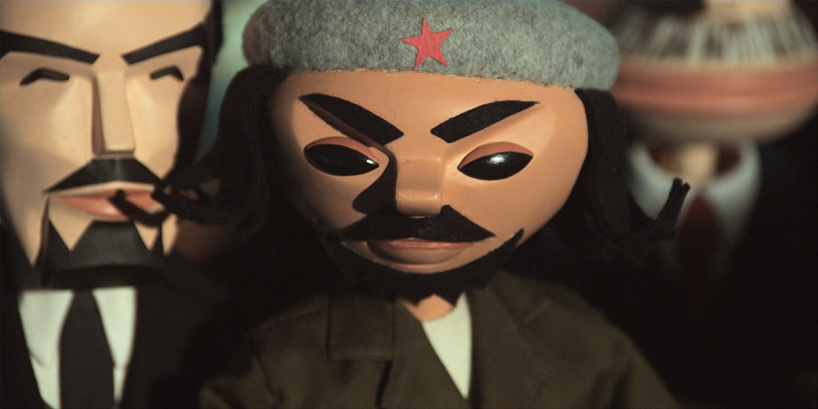 reporting on the advent of the second french empire in 1851, marx famously repeated an insight he had read in a letter from engels, itself a variation on hegel: if all great world-historical facts and personages occur twice, the first time they do so as 'grand tragedy,' the second as 'rotten farce.' a century and a half ago, marx and engels regarded this repetition with despair, brandishing the category of farce as a denunciation of louis-napoléon bonaparte's dictatorship. in the context of advanced capitalism, however, pedro reyes asks us, with baby marx, to re-evaluate the political inheritance of both repetition and farce. more info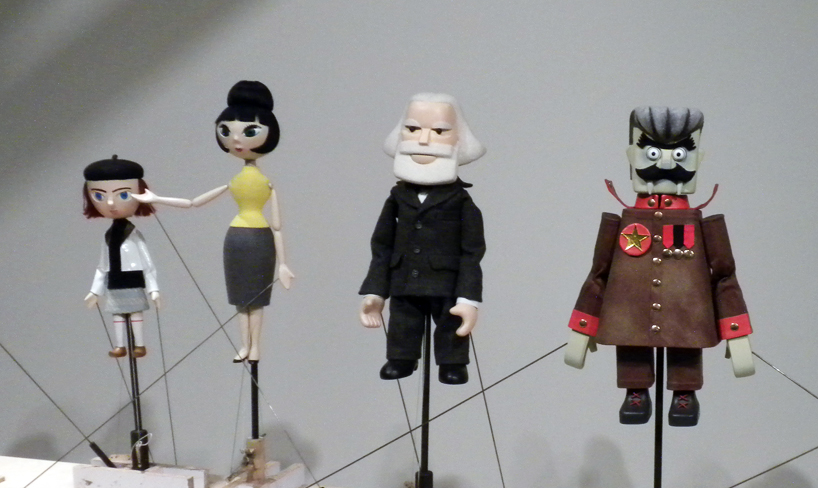 baby marx puppets image © designboom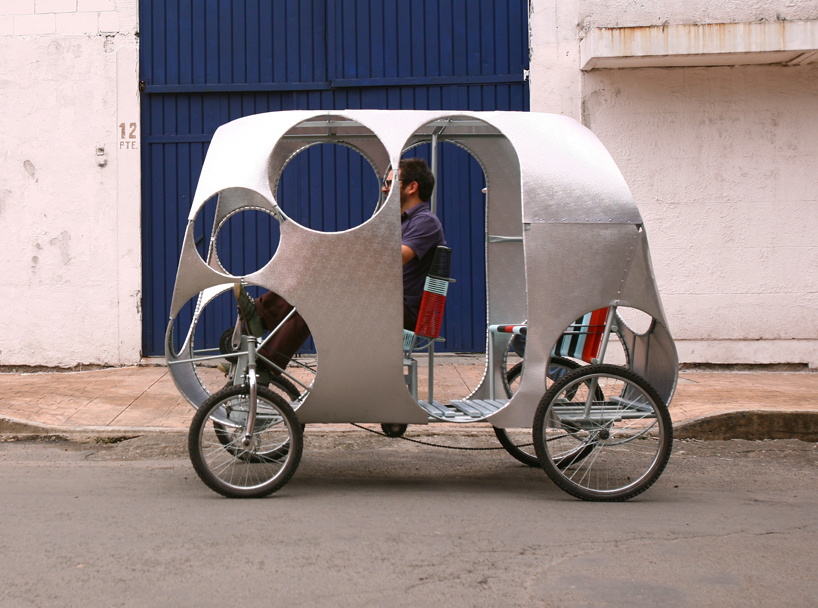 ciclomóvil, 2007-2009 a man-propelled vehicle I designed as movility alternative for méxico's city. this ergonomic transportation produces no emissions and could potentially alleviate traffic congestion. combining design and engineering, it is also a participative work.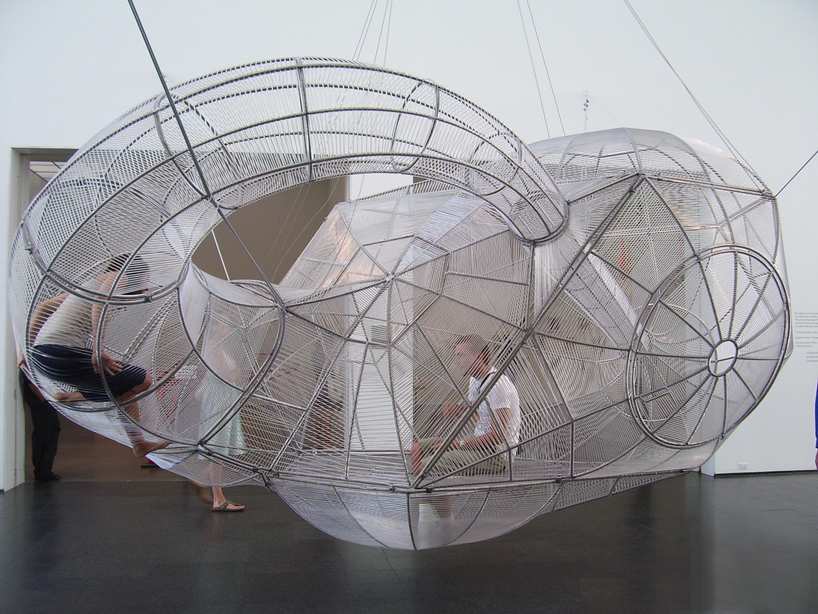 capula klein's bottle, 2007 – stainless steel structure woven on vynil cord the klein's bottle is a volume that, through a structural twist, unifies the inside and outside into a continuous surface. seemingly opposed perspectives can be illustrated as aspects of the whole. this topological principle enables a decisive shift from an 'either / or' critique to an array of 'and / both' scenarios.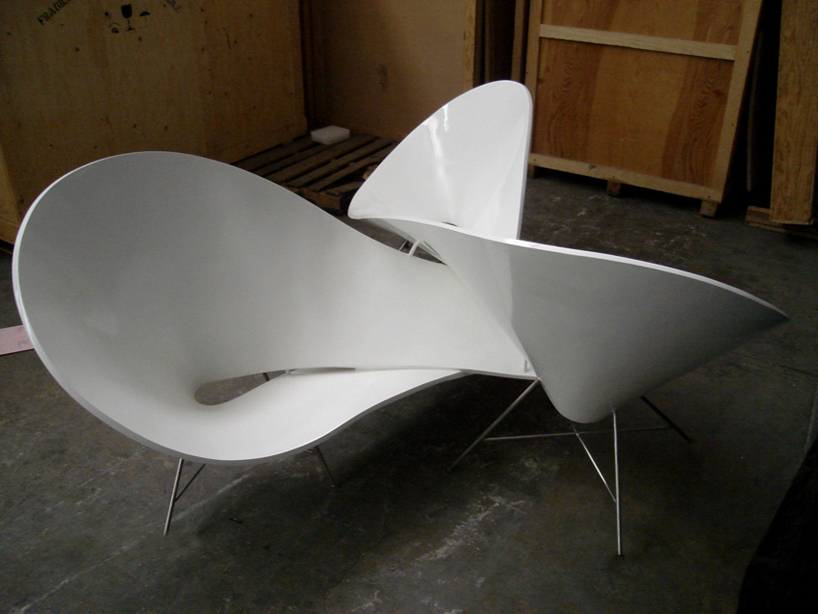 nudo gordiano, 2007 – 'having three loops this chair is next step from the moebius strip. it is inspired in a piece of furniture i once saw called gossip chair, a 19 century object in the shape of a helix where two persons sit and a third one may overheard the conversation.' more info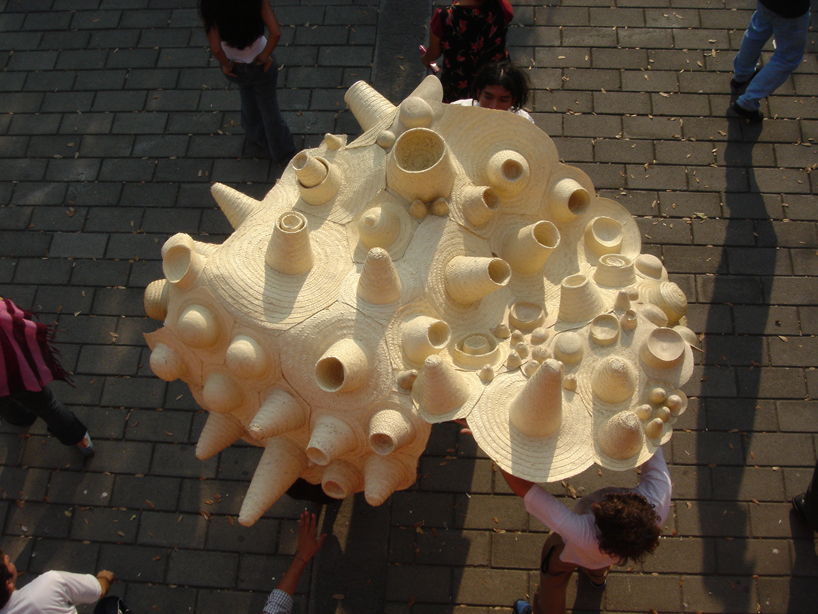 collective hat, 2004 – pleated palm, group activity – more info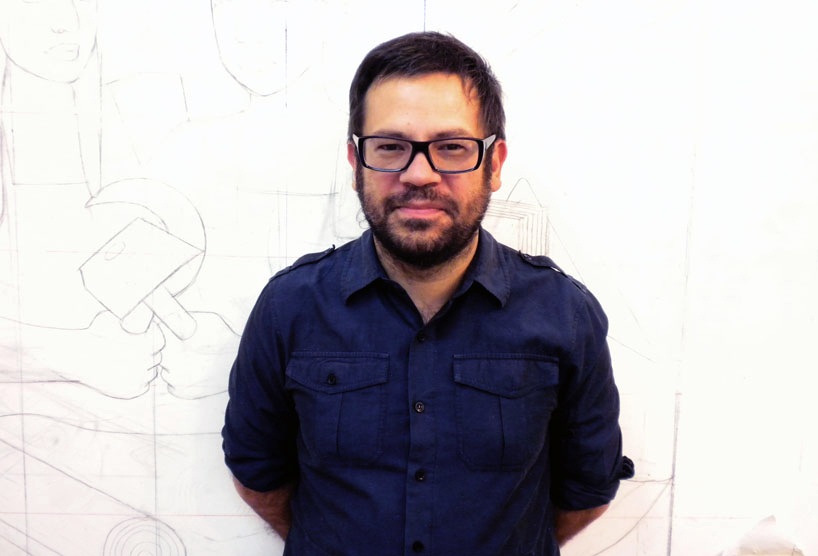 pedro reyesportrait © designboom
how does working on a project in your home country compare to working in another country?
there is an intellectual tradition in mexico, which I'm very proud of, and most of my sources of inspiration come from the cultural history of mexico. I would be terribly bored to live anywhere else. working here it really feels like everything is possible to the extreme, both good and bad things.
what do you think of the current situation in art, architecture, design in mexico now? I think we are in a good moment.
when you go to other countries, it is like the world has
already been finished, everything is already done so well.
here, you feel like you are in the seventh age of creation,
like, something is taking shape.
— unless stated otherwise all images provided courtesy of pedro reyes
a diverse digital database that acts as a valuable guide in gaining insight and information about a product directly from the manufacturer, and serves as a rich reference point in developing a project or scheme.
designboom will always be there for you
milan, new york, beijing, tokyo

,
since 1999