in his first solo exhibition in spain, artist petrit halilaj has transformed madrid's palacio de cristal into a giant nest of massive flowers. the artist has connected the temporary installation with the city's retiro park by opening windows, setting up structures, and placing feeding areas to attract the birds and other creatures inhabiting or passing through the park. 'to a raven and the hurricanes which bring back smells of humans in love from unknown places' is the first show inaugurated by the museo reina sofía since its closure due to the COVID-19 pandemic, which interrupted the montage of the exhibition.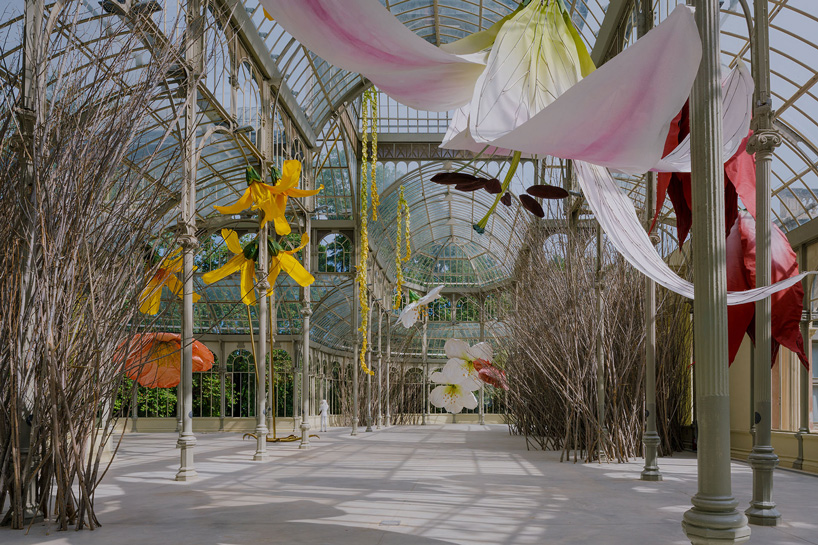 views of the exhibition 'to a raven and hurricanes that from unknown places bring back smells of humans in love', museo reina sofía – palacio de cristal, madrid, 2020-2021
all images by imagen subliminal © petrit halilaj,
courtesy the artist; kamel mennour, paris/london; chertlüdde, berlin
organized by the museo reina sofía, petrit halilaj's exhibition at palacio de cristal employs a wide variety of elements that explore topics such as home, nation, love and cultural identity. the artist has drawn from the courtship ritual of bowerbirds, which make elaborate structures ('bowers') and decorate them with colorful objects to attract a mate. in collaboration with his life partner, the artist álvaro urbano, halilaj has adorned his giant nest at palacio de cristal with large flowers made of delicate steel framework and painted canvas. their choice forms part of the personal history that binds them together, and its purpose is to celebrate their union: forsythia, palm seeds, cherry blossom, poppy, carnation, and lily.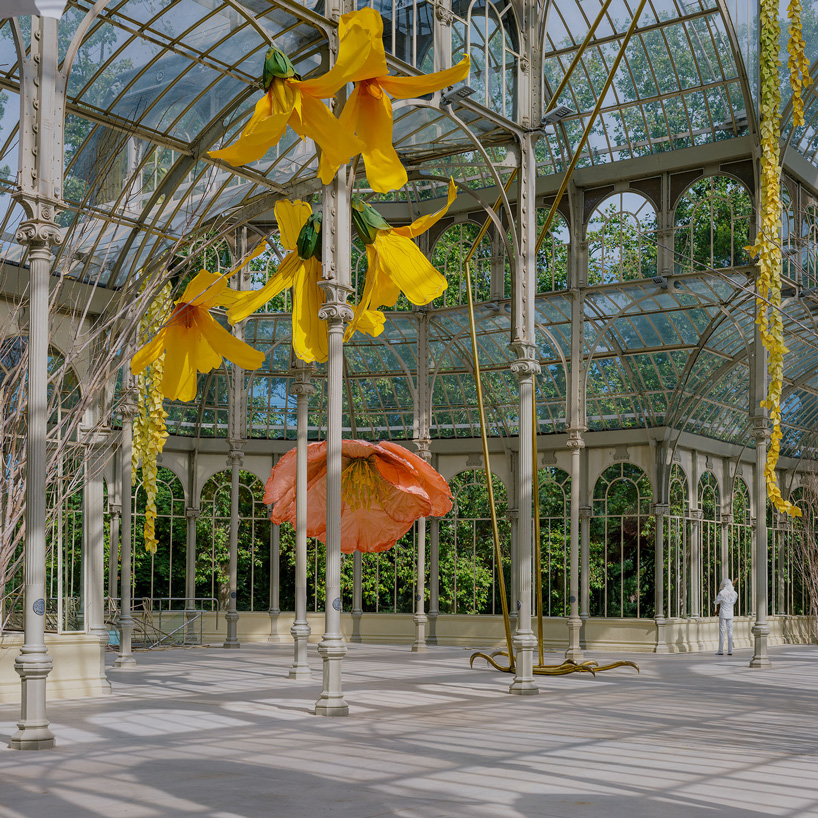 'I wanted to conceive palacio de cristal as a place for the celebration of love,' says halilaj. by making these personal references public, the artist adds a social and political layer to their intimacy, highlighting the need for visibility and acceptance. in this way, the exhibition pushes the boundaries between public displays that are considered acceptable or worthy of attention and those which on the other hand are censured or scorned.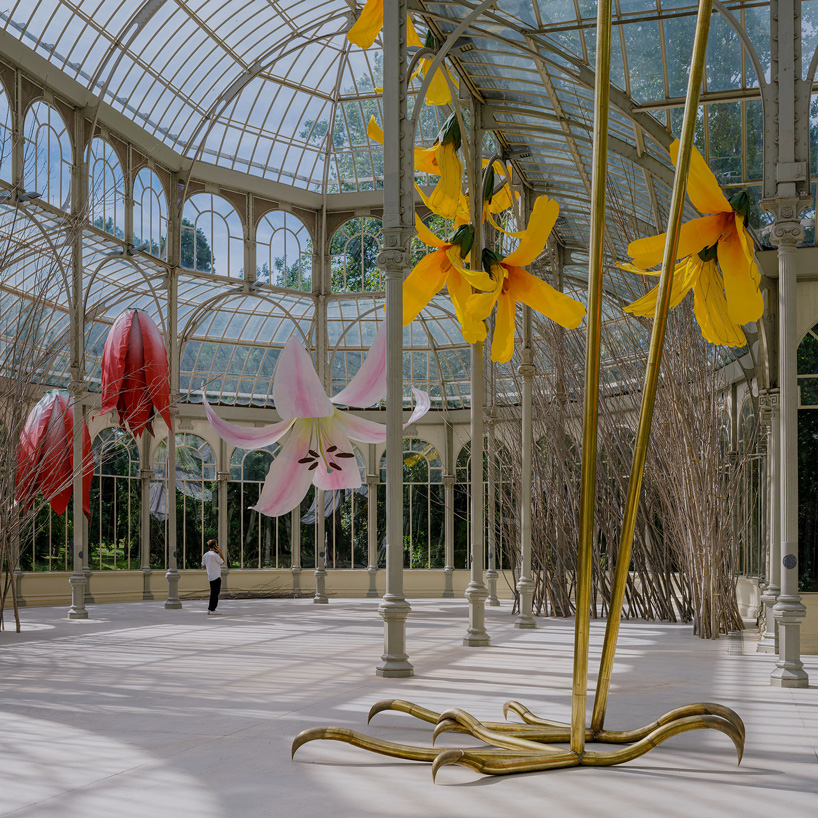 a key element that addresses these conventions is the white raven holding a piece of wood in 'history of a hug (2020)', which alludes to a particular moment in halilaj's family history. the piece of wood was a tool used by his grandfather when working in the country, and the object he was holding when he learned his wife had given birth to their first child. unable to express his immense joy in public, since this might have been interpreted as a sign of weakness in a patriarchal society, he hugged the post so hard that he thought he might break it. for halilaj, the motif of the white raven suggests diversity and resistance to change in the bid for acceptance.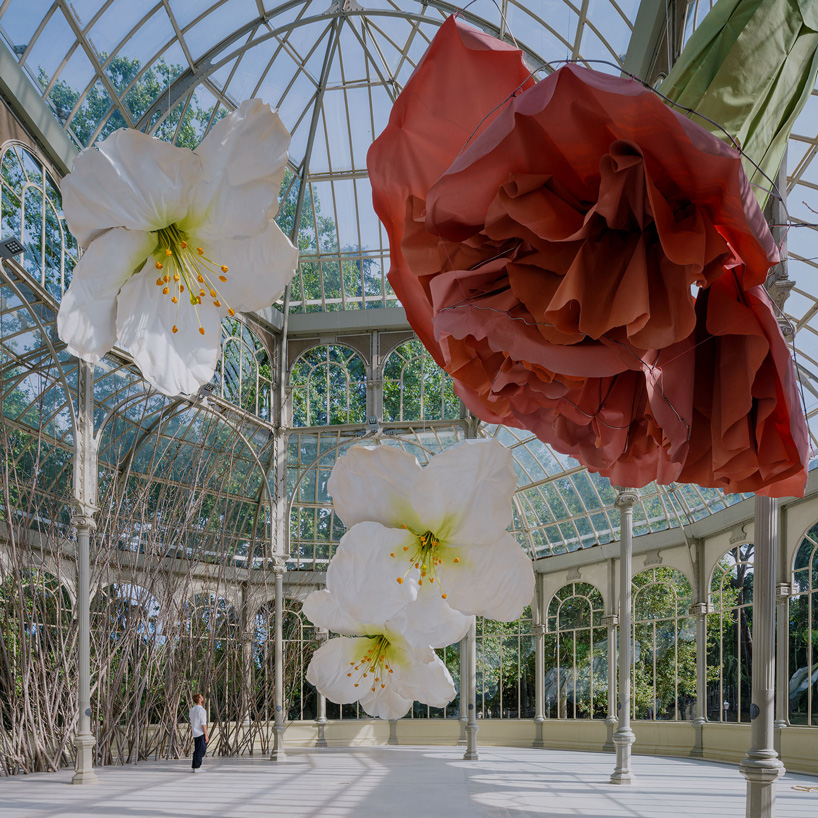 by scaling up the size of the nest and flowers, the artist encourages viewers to escape, even momentarily, the notion that humans are the center and measure of all things, and recognize ourselves as just one more element among many. the nest is thus revealed as the setting for a ritual that lies in wait for encounters, alliances and unions among its different visitors, altering and changing with the space.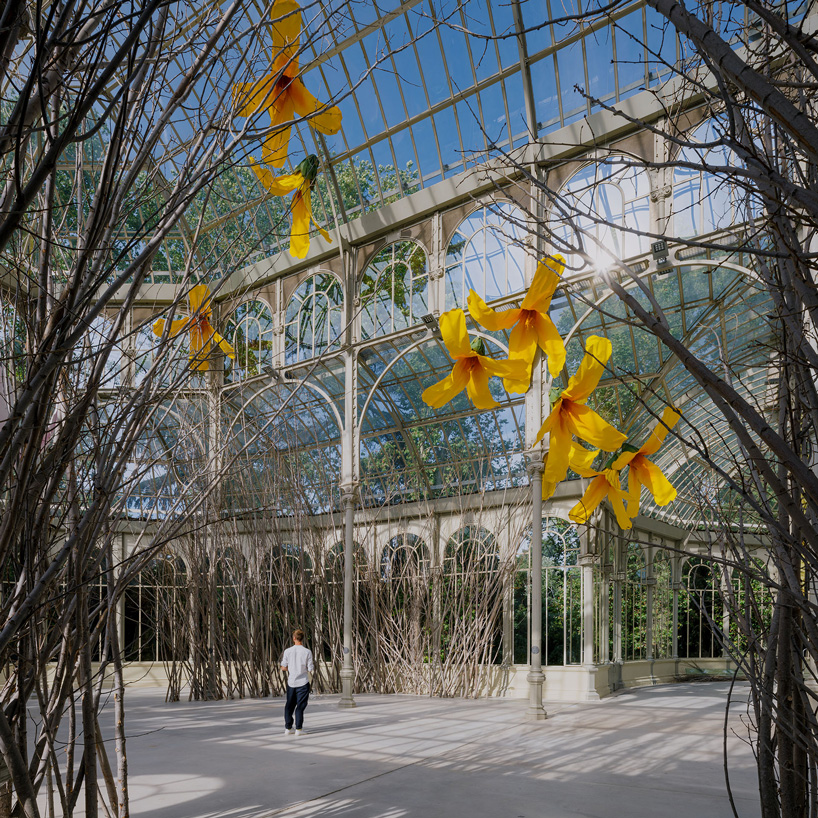 born in the republic of kosovo, petrit halilaj creates works tightly bound up with his biography, the recent history of his country, and the consequences of the political and cultural tensions in the region. childhood memories steeped in the drama of war and refugee life recur throughout his art, which embraces themes like home, nation and cultural identity through a variety of media. however, he does not proclaim a rupture between the personal and intimate and the historical and social, but instead perceives a relationship and continuity to be found in his intervention for the palacio de cristal.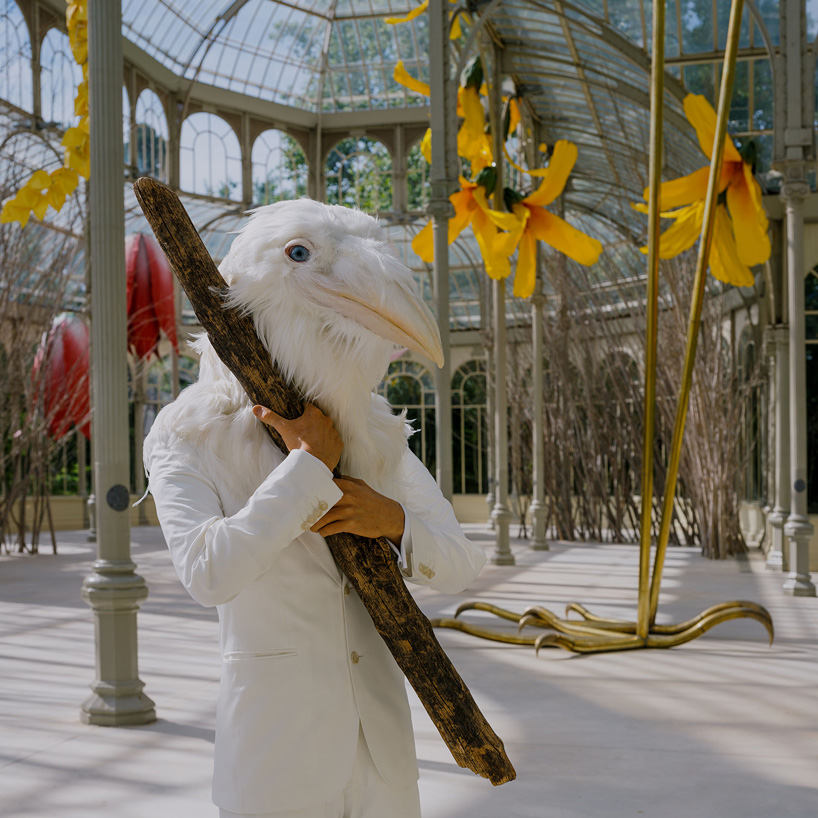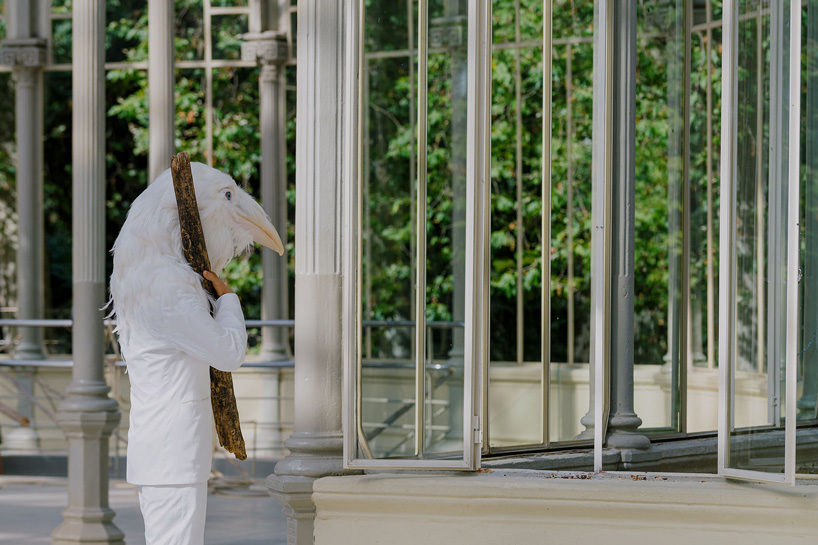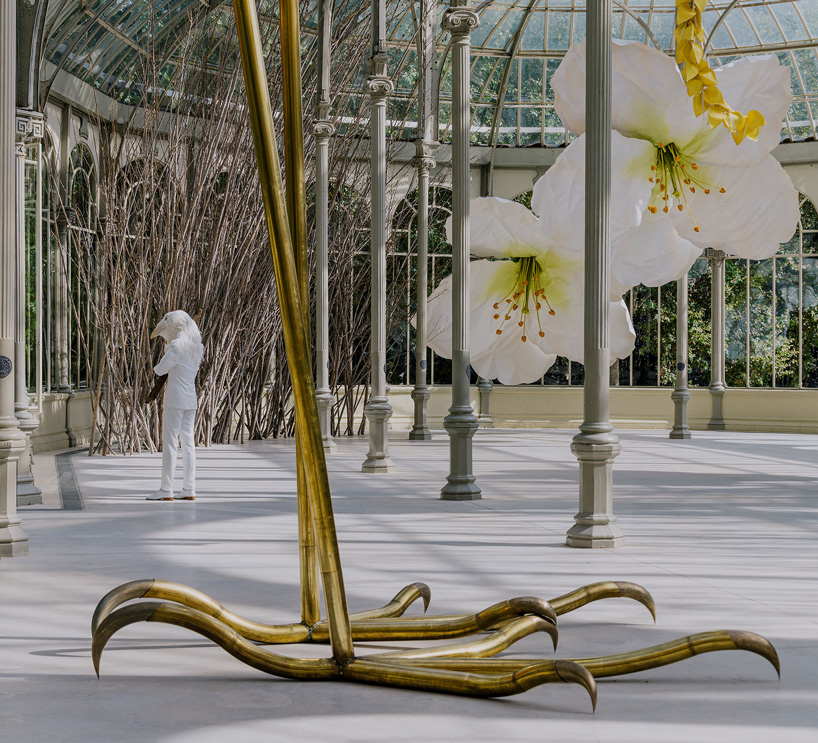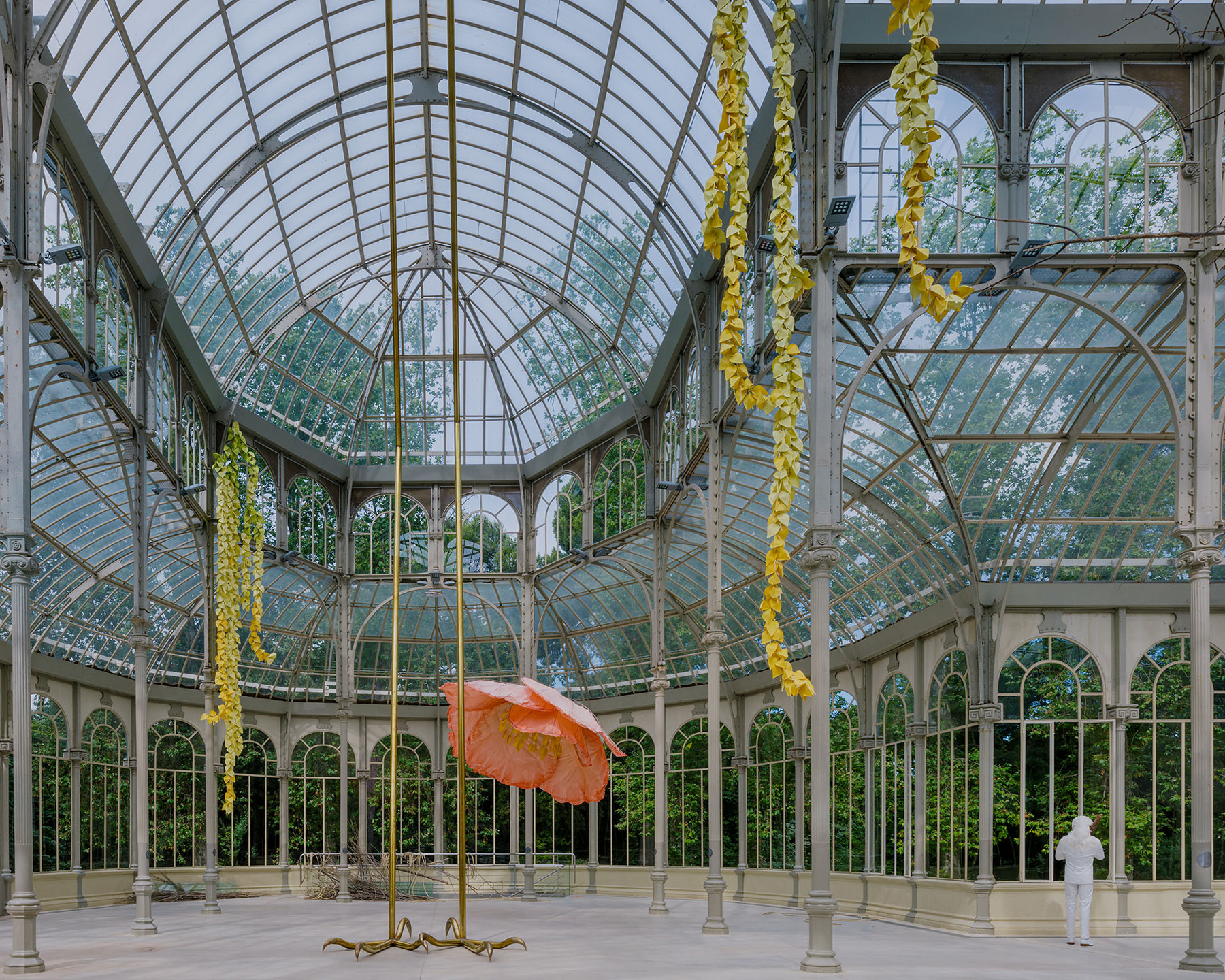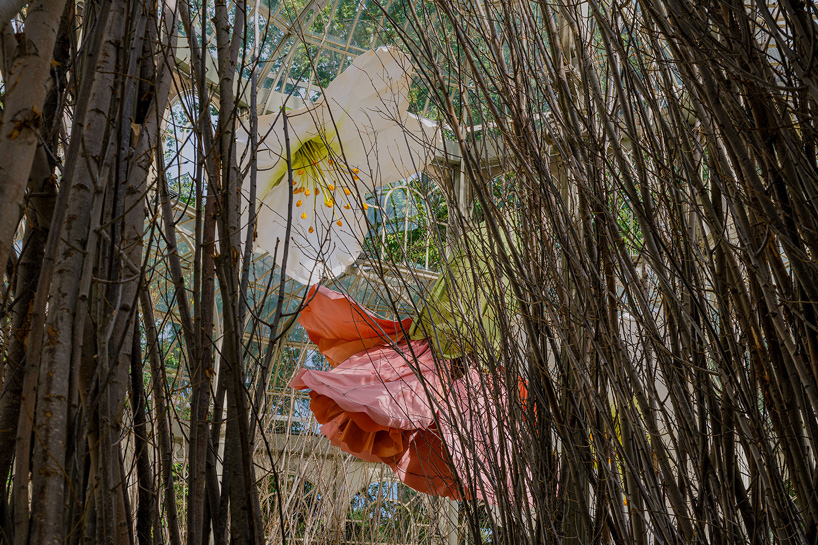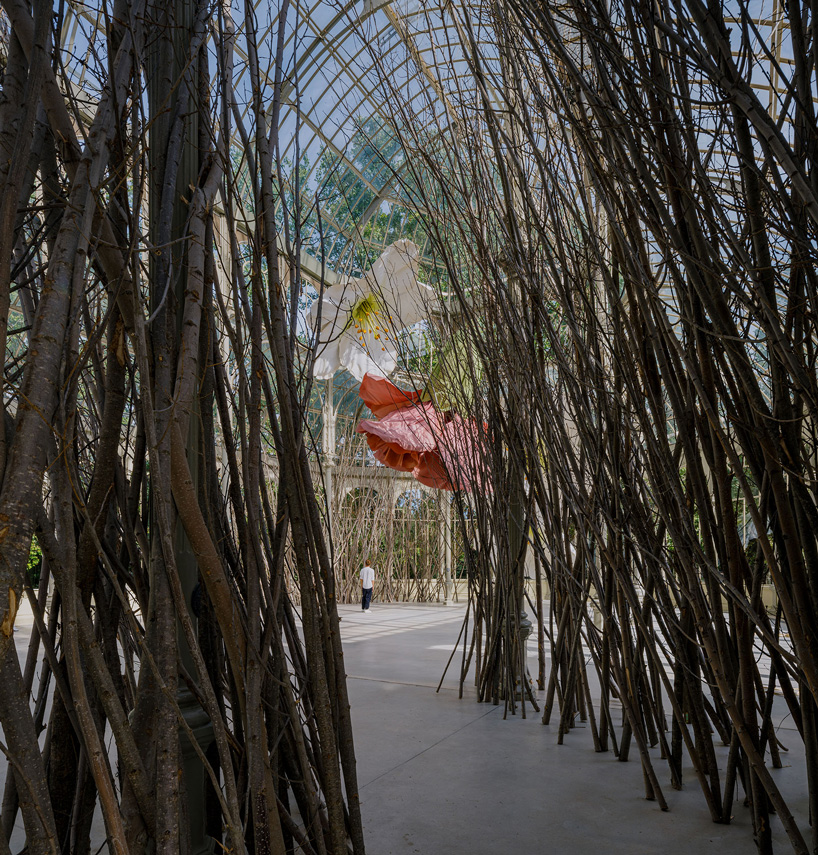 exhibition info:
name: to a raven and hurricanes that from unknown places bring back smells of humans in love
artist: petrit halilaj
duration: july 16, 2020 – february 28, 2021
location: palacio de cristal, parque del retiro, madrid, spain
organization: museo nacional centro de arte reina sofía
coordination: soledad liaño
aug 14, 2020
aug 14, 2020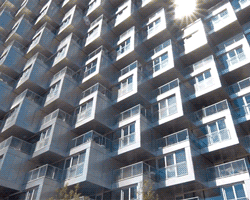 aug 13, 2020
aug 13, 2020
aug 13, 2020
aug 13, 2020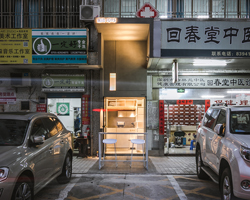 aug 13, 2020
aug 13, 2020
aug 12, 2020
aug 12, 2020
aug 11, 2020
aug 11, 2020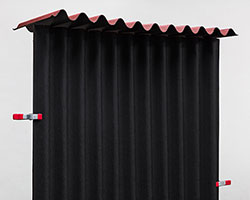 aug 02, 2020
aug 02, 2020
jul 27, 2020
jul 27, 2020
jul 26, 2020
jul 26, 2020
jun 23, 2020
jun 23, 2020
apr 29, 2020
apr 29, 2020
feb 04, 2020
feb 04, 2020
a diverse digital database that acts as a valuable guide in gaining insight and information about a product directly from the manufacturer, and serves as a rich reference point in developing a project or scheme.