mar 17, 2016
huang yong ping suspends sculptural sea monster from qatar museums gallery ceiling
huang yong ping suspends sculptural sea monster from qatar museums gallery ceiling
installation views at qatar museums gallery al riwaq, 2016
all photos by wen- you cai, courtesy cai studio
from now until mid-july 2016, qatar museums presents a major exhibition of 15 contemporary chinese creatives and collectives, curated by artist cai guo-qiang. 'what about the art? contemporary art from china' has been organized to strengthen the understanding between nations through a mutual exchange of arts, culture, and heritage.
cai guo-qiang, who has devoted three years to the curatorial development of the exhibition, has chosen works that best illustrate each artist's creative language and methodology. displayed in individual galleries, an approach that highlights the distinct artistic pursuit of each participant, the bodies of work cross multiple medias, including painting, sculpture, installation, video, performance, and interactive video game design.

franco-chinese artist huang yong ping is one of 15 artists exhibited at qatar museums
featured in the exhibition is franco-chinese artist huang yong ping, whose contribution to the show is suspended from the ceiling of 22 meter circular gallery. his sea monster called 'wu zei', a 2010 artwork originally constructed for the oceanographic museum of monaco, reflects on maritime catastrophes caused by man. the gigantic hybrid creature — the mutation of an octopus and a cuttlefish — invades the architecture of the space, hanging from ceiling supports and wrapping its large tentacles around columns. one of the arms placed near the ground seemingly sucks in discarded objects, trash and blackened animals lying on the floor.

the sculpture is suspended from the ceiling of 22 meter circular gallery

the installation reflects on maritime catastrophes caused by man

the hybrid create is the mutation of an octopus and a cuttlefish 

the gigantic invades the architecture of the space

a tentacle seemingly sucks in trash and blackened animals lying on the floor

discarded objects and oil are scattered on the ground near the sea creature's arm 
oct 19, 2017
oct 19, 2017
jul 24, 2017
jul 24, 2017
may 29, 2017
may 29, 2017
apr 13, 2017
apr 13, 2017
mar 07, 2017
mar 07, 2017
jan 30, 2017
jan 30, 2017
oct 27, 2017
oct 27, 2017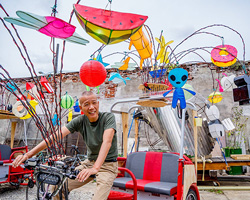 aug 31, 2017
aug 31, 2017
aug 25, 2017
aug 25, 2017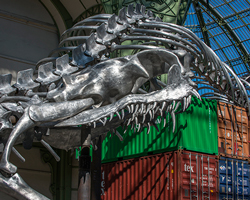 may 09, 2016
may 09, 2016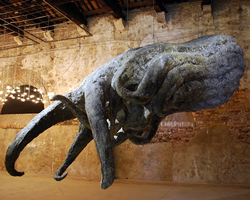 jul 02, 2009
jul 02, 2009