'kintsukuroi' is the ancient japanese art of repairing broken or cracked pottery with a powdered-gold dusted lacquer. philosophically speaking, the craft regards the process of breakage and repair as an element of the object's history, rather than an unattractive flaw to be concealed or disguised.
brooklyn-based artist rachel sussman has re-imagined this traditional art through a contemporary lens for her 'sidewalk kintsukuroi' series. expanding on the belief that something beautiful can be made from something broken, sussman has taken to the streets to 'repair' cracked pavement by infilling its fractured lines with gold pigment.
sussman's installations and small studies seek to create beauty from decay. cracked sidewalks scenes and pictures of pulverized pavement are carefully 'repaired' by gold paint. the studies comprise photographs that have been hand-painted with enamel and metallic dust, while in-ground installations are made with tree sap-based resin, and a combination of bronze and 23.5 carat gold dust. sussman currently has some of her 'sidewalk kintsukuroi' specimens permanently on view inside the des moines art center in iowa, where she filled a crack in the floor with gold resin.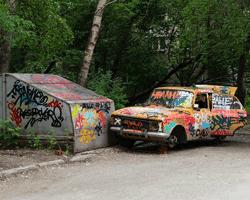 jul 13, 2017
jul 13, 2017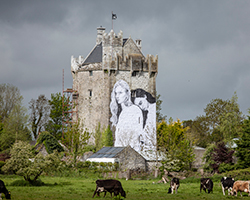 jun 29, 2017
jun 29, 2017
jun 19, 2017
jun 19, 2017