racist monuments across the world are being defaced and removed amid the 'black lives mater' protests that have erupted in the wake of george floyd's murder by ex-minneapolis police officer derek chauvin. the controversial statues and monuments, which commemorate confederate and colonial figures, are being torn down by protestors or removed by local authorities in the US and europe. on june 7, protesters in bristol toppled a statue of slave trader edward colston and thew it in the river. in a recent instagram post, british street artist banksy shared a sketch along with an idea of what to do with the empty plinth in the middle of bristol.
'here's an idea that caters for both those who miss the colston statue and those who don't,' he writes. 'we drag him out the water, put him back on the plinth, tie cable round his neck and commission some life size bronze statues of protestors in the act of pulling him down. everyone happy. a famous day commemorated.'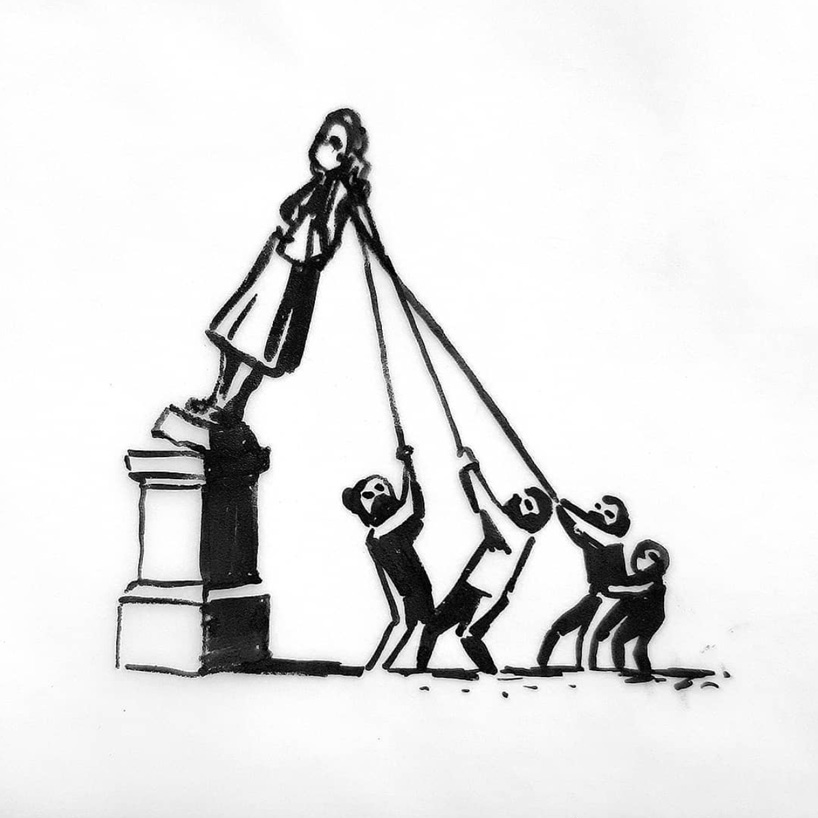 image courtesy of banksy
statues commemorating racist and colonial figures such as officials of the confederate army and slave traders are being removed across the world either by protestors or local authorities. though the existence of many of these has already been the subject of nationwide debate, particularly in the US, the push to remove them has emerged from the ongoing, worldwide demonstrations protesting racial inequality and police brutality. in richmond, virgina, the state-owned statue of robert e. lee, a leader of the confederate army, has been covered in graffiti amid the protests, while on june 4, governor ralph northam announced plans to remove the statue:
'when a young child looks up and sees something that big and prominent, she knows that it's important,' northam said in a press conference. 'and when it's the biggest thing around, it sends a clear message: this is what we value the most. but that's just not true anymore. in virginia, we no longer preach a false version of history. one that pretends the civil war was about "state rights" and not the evils of slavery. no one believes that any longer. and in 2020, we can no longer honor a system that was based on the buying and selling of enslaved people. in 2020! I want us all to tell the little girl the truth. yes, that statue has been there for a long time. but it was wrong then, and it is wrong now. so, we're taking it down.'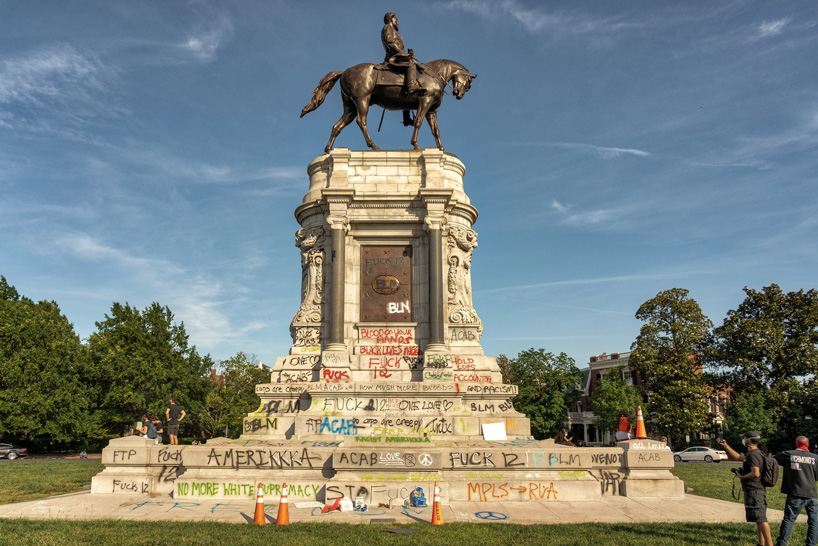 the state-owned statue of robert e. lee covered in graffiti
image (also header) courtesy of mobilus in mobili
racist monuments in europe are also being defaced and removed as more and more voices are questioning the colonial pasts of european countries. examples include the aforementioned statue of slave trader edward colston in bristol, and that of king leopold II in antwerp, belgium. leopold II, who was the king of belgium from 1865 to 1909, is known for amassing a huge personal fortune from the exploitation and enslavement of congolese people, millions of whom were murdered as he imposed a regime of violence during his reign.
the statue of confederate leader williams carter wickham in virginia capital was torn down and graffitied overnight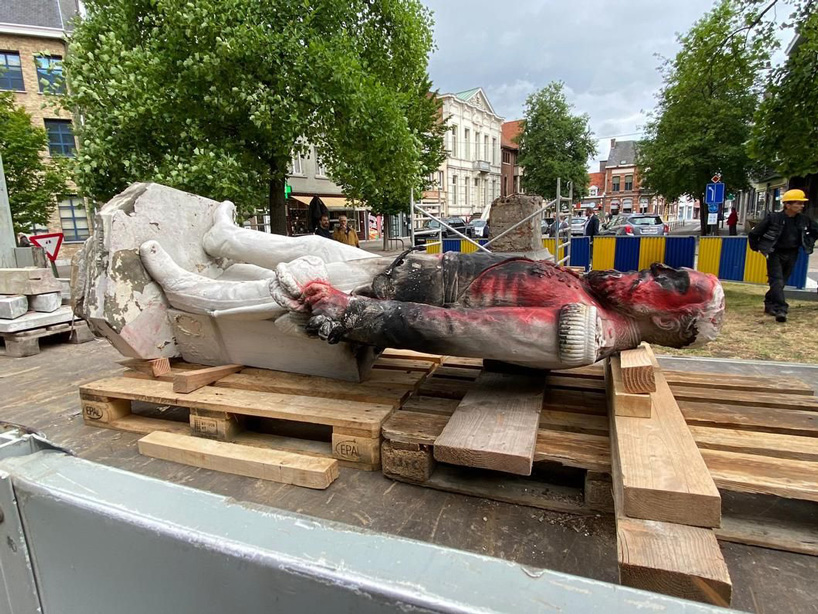 the statue of king leopold II of belgium defaced and torn down in antwerp
image via joanie lemercier
The bust of King Leopold II of Belgium, who orchestrated the colonial genocide of 10 million Congolese people, has been defaced by protesters in Ghent, Belgium.

The movement against racism and injustice is truly global! pic.twitter.com/MZLlX7eeFZ

— Facts About Africa (@OnlyAfricaFacts) June 3, 2020
https://www.instagram.com/p/CBOJaUnJwkr/
a diverse digital database that acts as a valuable guide in gaining insight and information about a product directly from the manufacturer, and serves as a rich reference point in developing a project or scheme.