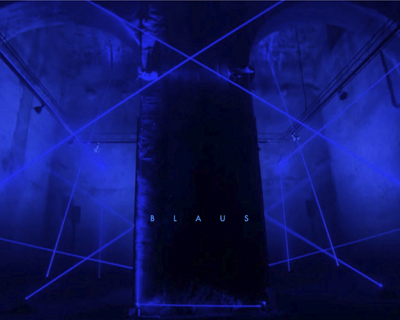 mar 17, 2013
radial and blaus audio visual light structures by MID and playmodes
a 'blaus' performanceall images courtesy the artists
'radial' and 'blaus' are two interactive lighting installations, both a result of the collaboration between catalonia-based digital research collectives MID (media interactive design) and playmodes.
'blaus' introduces the abstract realm of three dimensional geometry through the mediums of audio and illumination –this could manifest as a cube or a blossoming flower, a grid or a jellyfish, a mutant framework of reflecting lights which submerge the audience into a multi-faceted universe, driven by hidden forces of the architecture. 'blaus' is an immersive space where audio-visual elements relate intimately to impact on the visitor. the process led the designers to build most of the software and hardware elements themselves, by means of algorithm design, digital fabrication techniques and craft handwork. on the hardware side, the use of open source technologies, such as arduino, allowed us to create a flexible electronic system easily addressable by opensound – control data. 'duration open source software by james george was used in order to independently control, compose, and play a full score for the laser diodes, servomotors, lights and music.on the sound design side, all music and sound effects are made through the use of audio programming environments such as predate and reactor. custom digital instruments are made in order to exactly match the resonant frequency of the space and its harmonics.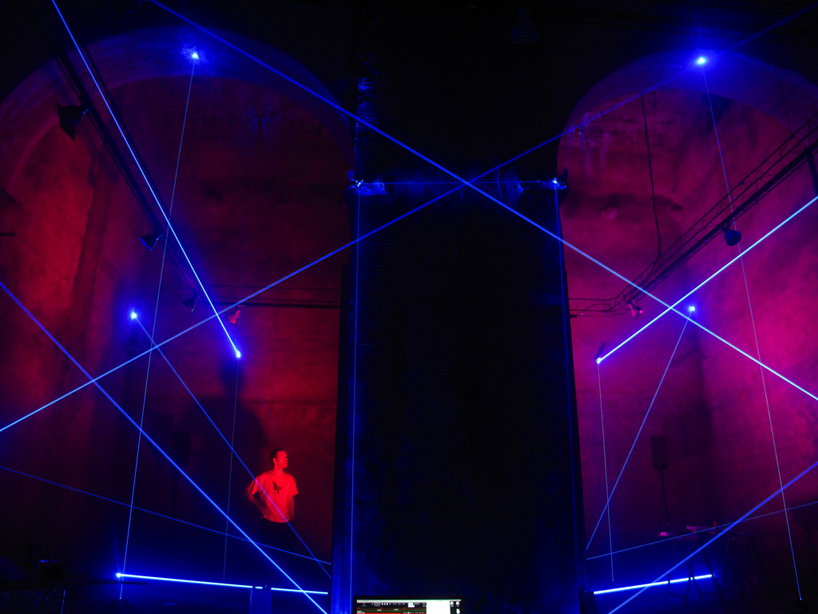 'blaus' is an immersive space where audio-visual elements relate intimately to impact on the visitor.
'blaus' sketch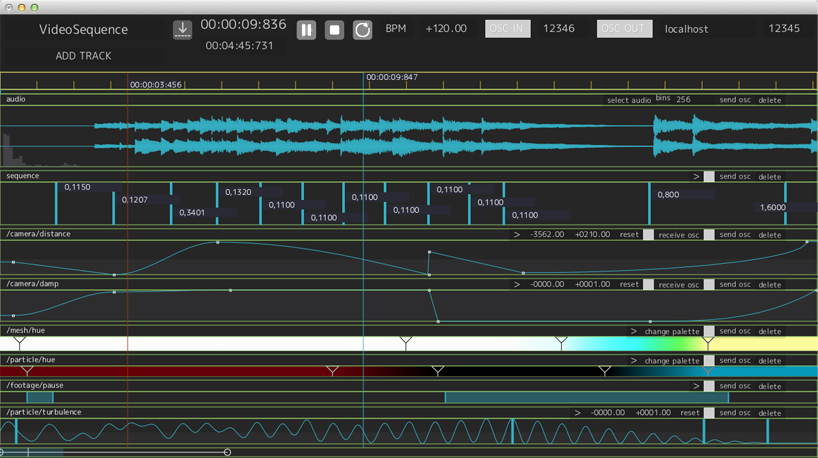 duration timeline open source software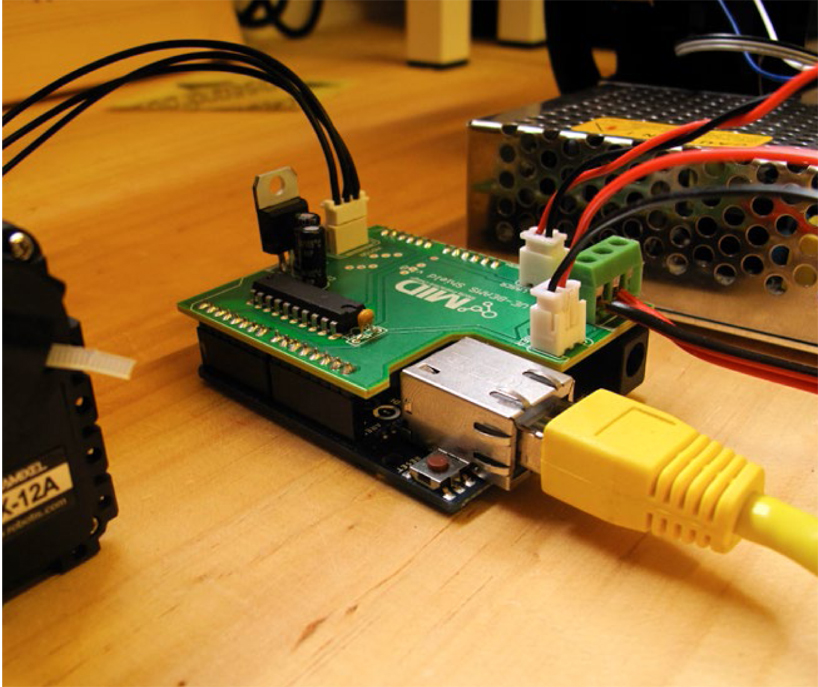 laser controller by OSC protocol
motors from projector laser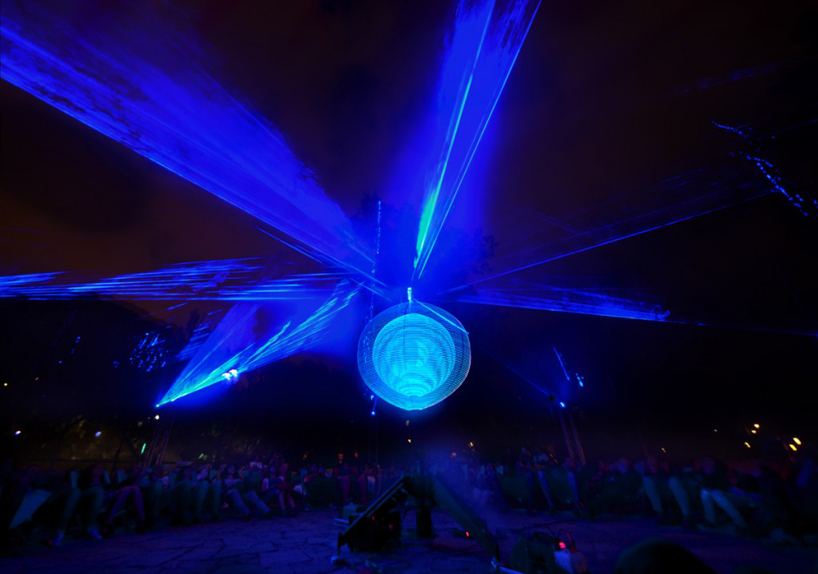 'radial' performance
'radial' is a combination of 'the particle' – a kinetic light sculpture by multidisciplinary artist alex posada, and 'blue beams', a set of 8 motorized blue laser diodes. forming an octogon with lasers around the particle, the light-formed structure allows enough space for 130 people to sit comfortablyin sunbeds, and enjoy the show. every laser beam has an associated speaker, summing a total of 8 channel audios.
the team of team of designers, engineers, artists and programmers created a multichannel synthesizer driven by an 8-pase LFO that generates synchronized sound and laser control through the OSC protocol. every laser has a sound oscillator associated which is played through its corresponding speaker. some parameters of this oscillator, such as pitch, amplitude or filter, are associated with the brightness of the laser light and it's movement in 1 axis. through composing music with this synthesiser, light and movement respond to generate a dynamic show.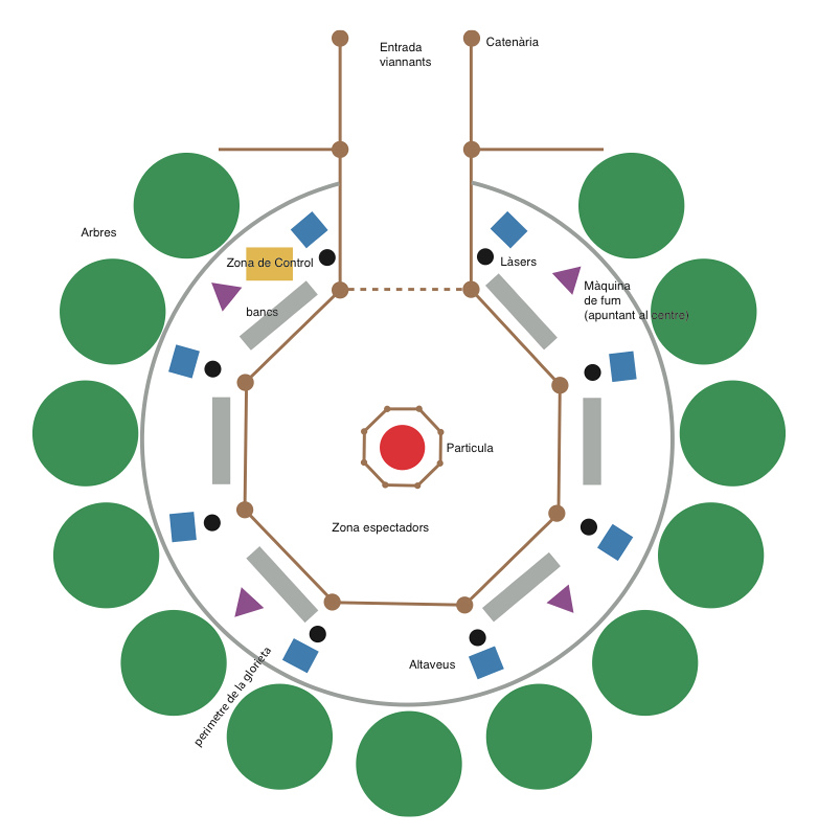 'radial' sketch
a diverse digital database that acts as a valuable guide in gaining insight and information about a product directly from the manufacturer, and serves as a rich reference point in developing a project or scheme.