sep 12, 2012
random international: before the rain
known for their kinetic artworks and interactive installations, london-based studio random international take over paris' carpenters workshop gallery with 'before the rain', an exhibition which provides a survey of the collective's practice since they first started in 2005. the show chronicles the studio's shift in focus – from their initial days of inception to the present – from the object to the experience, in which older works are presented alongside new projects at an extent never before seen.
the installation captures movement in light, creating a three dimensional 'living' sculptureimage © designboom
'an awful lot happens without people being aware. they come to certain conclusions and even performs actions withoutever really, consciously considering why. this is what forms both the impetus and the investigation of the studio's work;we experiment. we attempt to simulate the natural by reducing the subtleties of behaviour down to the minimum requiredfor recognition to explore our own, human, existence.' — random international
the rods of LED lights record the movement of those who stand in front of it, offering an ethereal presence image © designboom
'future self' is a study in human movement. the installation captures movement in light to create a three dimensional 'living sculpture'  based on the composite gestures surrounding it, mirroring the actions of those who pass around it. entirely hand-made, 30,000 LED lights line the brass rods which are arranged to create a structure reminiscent of a rectangular prism,  3D cameras record people's motions which are expressed through a ghostly, illuminated image, constantly changing. see more about 'future self here.
general view of the installation image © designboom
image © designboom
image © designboom
'swarm light', 2010 LEDs, polished brass rods, custom circuit boards, custom driver software and hardware, behavioural algorithm, sound / motion sensors, computer & interface 3 cubes of 810 x 810 mm edition of 8 + 4AP image © designboom
'swarm light' translates patterns of collective behaviour found in nature into moving light. the viewer is invited into a responsive relationship with the interactive work itself, and its surrounding sphere. the installation reacts to the sound of its onlookers and the illuminated swarm animates the space.  see more about 'swarm light' here.
three cubes composed of polished brass rods translate viewers movement into moving light image © designboom
general view image © designboom
brass rods of LEDs compose the cubed frameworks image © designboom
bird's-eye view image © designboom
nov 29, 2013
nov 29, 2013
oct 21, 2012
oct 21, 2012
oct 21, 2012
oct 21, 2012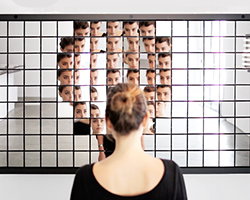 oct 09, 2016
oct 09, 2016
sep 29, 2016
sep 29, 2016
sep 03, 2013
sep 03, 2013