jan 29, 2014
red hong yi renders chinese scenes from makeup
red hong yi renders chinese scenes out of makeup
(above) guilin mountains and river made of loose powder
all images courtesy of 'red' hong yi

china will celebrate its new year this friday, january 31st and in celebration, designboom brings you the latest work of shaghai-based artist and architect 'red' hong yi, who has used makeup purchased throughout the bustling metropolis to create landscapes, portraits, and small scenes on paper. 'make-up and chinese art' illustrates opera masks, firecrackers, cherry blossom trees and goldfish — cultural and traditional symbols of the country — drawn with household beauty items like lipstick and mascara. on the connection between her craft and medium, red says, 'chinese art requires a lot of precision and skill — one stroke can make a huge difference, and many times, less is more. I felt that this is similar to how a woman carefully puts on her make-up.' red will post an image from the series on her instagram throughout chinese new year, which lasts for 15 days.

fiery red firecracker lipstick

chinese opera mask of zhu bajie or 'pig' in journey to the west
 
 tiny village and a red hot sun, painted with nail polish

pine tree painting — leaves made of fake eyelashes stuck on with eyelash glue, and liquid eyeliner for the trunk
cranes made of damp cotton wool, eyeliner and bits of lipstick

happy year of the horse!
mar 15, 2015
mar 15, 2015
jun 04, 2014
jun 04, 2014
may 28, 2014
may 28, 2014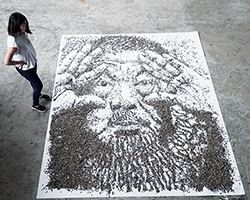 jan 27, 2017
jan 27, 2017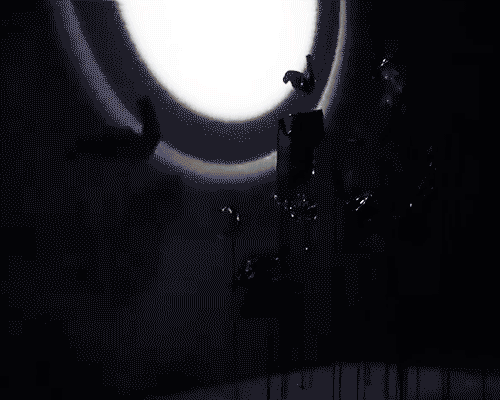 dec 18, 2015
dec 18, 2015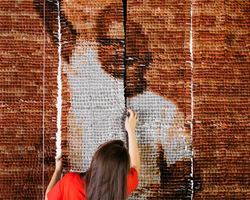 feb 03, 2015
feb 03, 2015