jun 16, 2012
revoltage light bulb installation by raqs media collective
'revoltage' sculpture by raqs media collective, on exhibition at art unlimited at art basel 2012 acrylic, lightbulbs, electric wires, PVC image © designboom
title | revoltage, 2011 media | acrylic, light bulbs, wires, pvc artists | raqs media collective, founded in 1992 jeebesh bagchi, *1965, new delhi, india
monica narula, *1969, new delhi, india
shuddhabrata sengupta, *1968, new delhi, india gallery | frith street gallery
on exhibition as part of 'art unlimited' at art basel 2012, the 'revoltage' electrical sculpture by multidisciplinary indian artists raqs media collective references the popular uprisings of the past year in a piece meant to reflect both celebration and outrage. the sculpture itself is controlled by a fluctuating electrical current. as the electricity switches between two paths, the words 'revolt' and 'voltage' are lit alternately in turn.
the design of the piece specifically resembles a circus or festival marquee sized at a human scale. its wiring is left exposed, tangled on the floor of the sculpture in the colours red and black, suggestive of anarchy. the artists elaborate:
'the bunched wires merge and divide like a map of the tributaries of a mighty, active, turbulent river. by representing the transport of the electrical energy that fuels the work, the wires evoke the way in which ordinary people all over the world have flooded their cities and municipal spaces, electrifying global consciousness with the actualization of a new politics, carrying with them the charge of a new mode of being human and citizen.'
'voltage' illuminated image © designboom
closer view image © designboom
the imposing letters are set at human-height image © designboom
the colours of anarchy, red and black wires pool together on the floor of the installation image © designboom
'revoltage is rooted in raqs media collective's earlier works exploring the legacy of radical thought, and in particular their research
into the life of rosa luxemburg, who was oddly commemorated in poland through naming a light bulb factory in her honor. the use
of light bulbs continues this peculiar homage. the work is also an example of raqs media collective's evolving practice of word play.
words make their way into their consciousness, and work, from everywhere. from graffiti, from street names and signs, posters, notices,
from fragments of text blown along with pieces of paper in the wind, the refrains of songs, snatches of conversation, the neon signage
of dreams. raqs read cities like one would read a novel, or a political tract, page-by-page, line-by-line. with revoltage, they have begun
writing a new glossary for these times.'
'revoltage' flickering in action video © designboom
jul 08, 2012
jul 08, 2012
jul 06, 2012
jul 06, 2012
jul 01, 2012
jul 01, 2012
jul 01, 2012
jul 01, 2012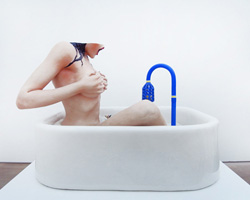 jun 29, 2012
jun 29, 2012
jun 26, 2012
jun 26, 2012