richard mosse: the enclave at venice art biennale 2013
making the enclave, richard mosse, north kivu, eastern congo © 2012. cinematographer trevor tweeten operating an arriflex 16mm camera, mounted on steadicam.
richard mosse will represent ireland with the enclave, a major new multi-media installation at the 55th international art exhibition — la biennale di venezia.
throughout 2012, richard mosse and his collaborators trevor tweeten and ben frost travelled in eastern democratic republic of congo, infiltrating armed rebel groups in a war zone plagued by frequent ambushes, massacres and systematic sexual violence. the resulting installation, the enclave, is the culmination of mosse's attempt to rethink war photography. it is a search for more adequate strategies to represent a forgotten african tragedy in which, according to the international rescue committee, at least 5.4 million people have died of war-related causes in eastern congo since 1998.see designboom's previous articles here and here.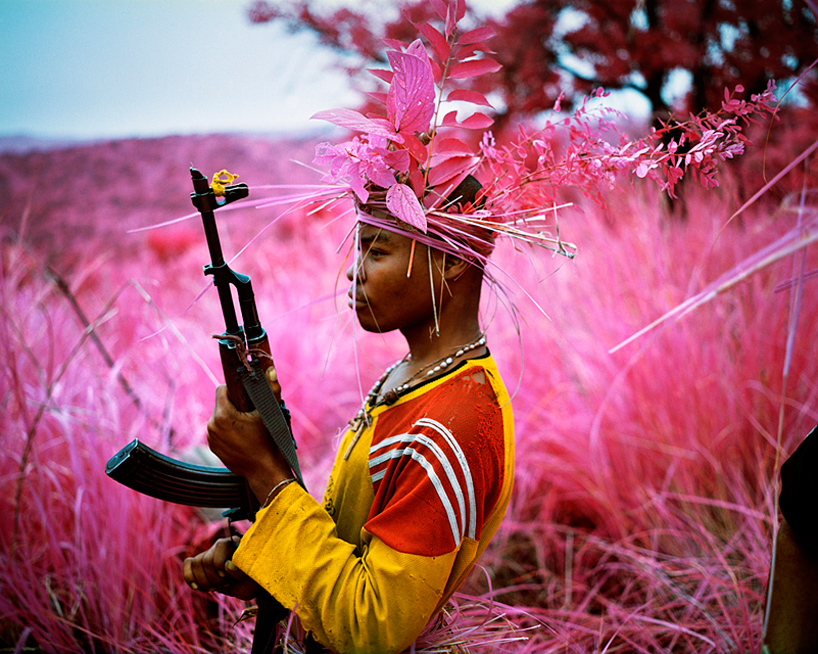 member of mai mai yakutumba posing in a camouflage headdress made from foliage, near fizi on lake tanganyika, south kivu.'safe from harm' by richard mossenorth kivu, eastern congo, 2012digital c-print, 71 x 89 cm, edition of 5courtesy the artist and jack shainman gallery
a long-standing power vacuum in eastern congo has resulted in a horrifying cycle of violence, a hobbesian 'state of war', so brutal and complex that it resists communication, and goes unseen in the global consciousness. mosse brings a discontinued military surveillance film to this situation, representing an intangible conflict with a medium that registers an invisible spectrum of infrared light, and was originally designed for camouflage detection. the resulting imagery, shot on 16mm infrared film by cinematographer trevor tweeten, renders the jungle war zone in a disorienting psychedelic palette. ben frost's ambient audio composition, comprised entirely of recordings gathered in the field in eastern drc, hovers bleakly over the unfolding tragedy.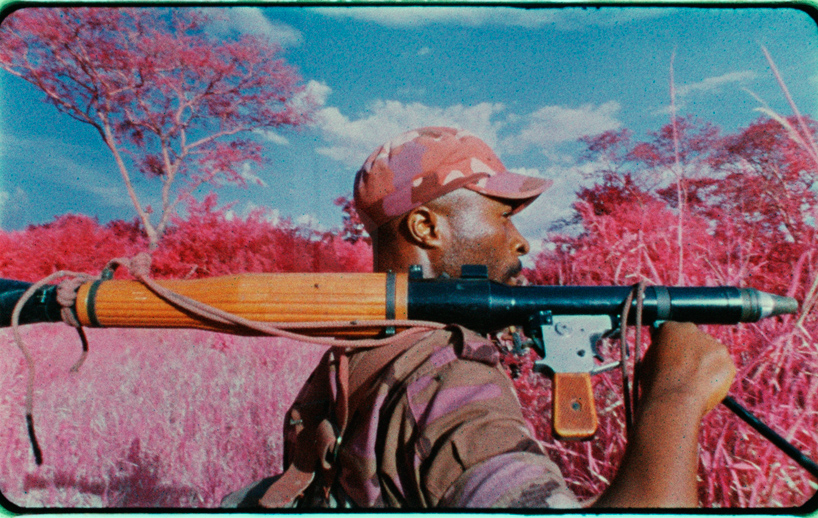 still from 'the enclave', shot on 16mm color infrared film in eastern congo, by richard mosse, 2012a rebel from the m23 movement stands watch in virunga national park, north kivu, november 2012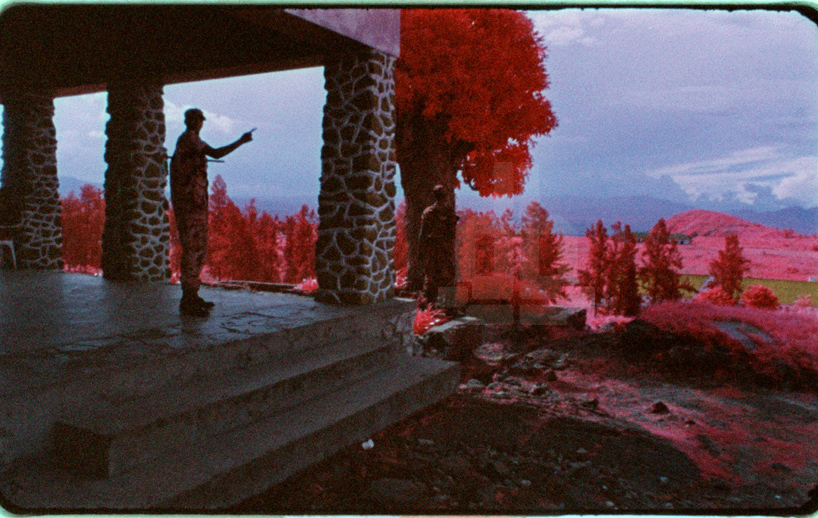 still from 'the enclave', shot on 16mm color infrared film in eastern congo, by richard mosse, 2012officers of the m23 rebel group gesture towards mt mikeno at rumangabo base in north kivu, november 2012 rumangabo was built in the 1950s by occupying belgian colonial forces. it was in the hands of the congolese national army (fardc) until 2012, when m23 rebels seized control. m23 are a rwandan proxy militia operating in the democratic republic of congo.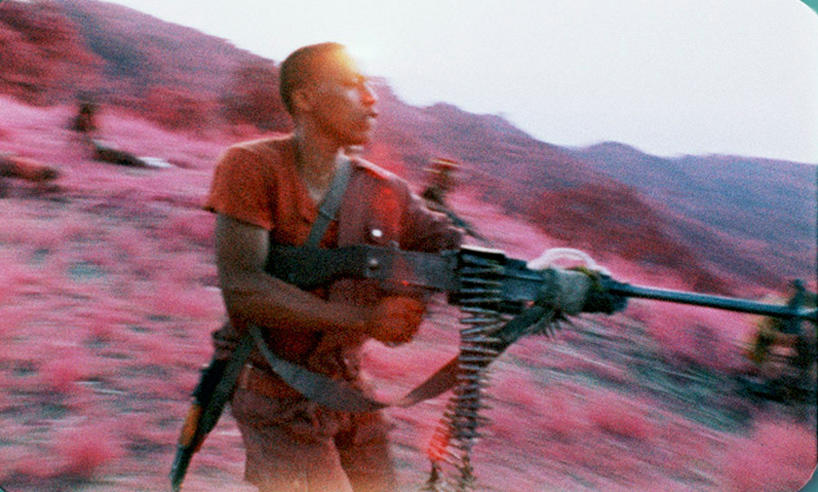 still from 'the enclave', shot on 16mm color infrared film in eastern congo, by richard mosse, 2012a rebel from mai mai kifuafua with heavy machine gun, training for battle at busurungi, walikale, north kivu. mai mai kifuafua have recently joined the raia mutomboki alliance, and are responsible for carrying out attacks on hutu communities throughout north kivu, february 2012.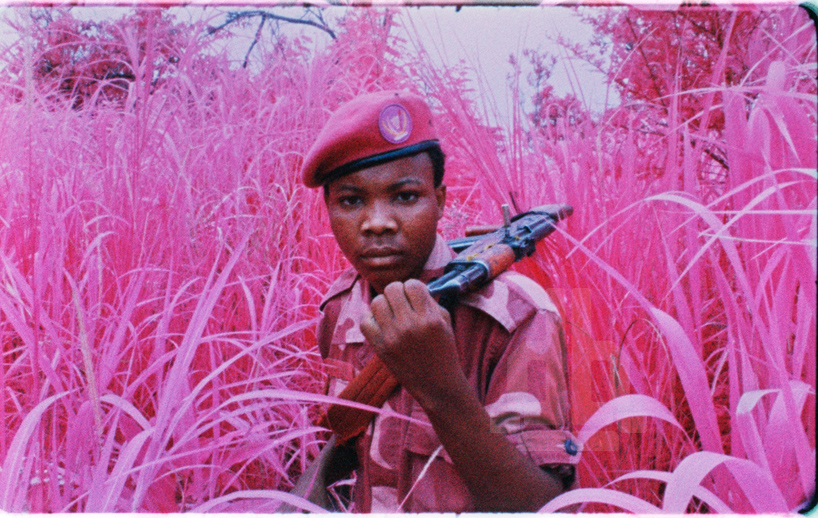 still from 'the enclave', shot on 16mm color infrared film in eastern congo, by richard mosse, 2012a young soldier from mai mai yakutumba poses in savannah at a secret location near lake tanganyika, south kivu, eastern congo, 2012
'the enclave is portrait- and performance-driven. the imagery reveals much about posture and machismo. the congolese fighters stare, defying the camera, yet they pose nonetheless. in november 2012, mosse wrote from goma, 'I am beginning to perceive this vicious loop of subject and object. the camera provokes an involuntary unraveling, a mutual hijack of authorship and autonomy.' neither scripted nor directed, congolese rebels return the camera's gaze in a distinctly confrontational and accusatory manner. the lens seems to mesmerize and provoke everyone it encounters in the enclave, including figures under the command of those sought for trial by the international criminal court. this precarious face-off reveals inherent ambiguities of masculinity, defiance, vulnerability, and indictment. Isolated groups of rebels deep in the remote bush — a terrain with its own seemingly inscrutable rules and logic — pose for three equipment-laden interlopers walking a fine line between artistic and journalistic prerogatives.' says the curator anna o'sullivan.

stills from 'the enclave', shot on 16mm color infrared film in eastern congo, by richard mosse, 2012(left) members of mai mai yakutumba demonstrating their fighting ability in a series of simulated combat manoeuvres near fizi, south kivu, february 2012. (right) residents of a camp for internally displaced people at rubaya in southern masisi territory, north kivu. many of those living here are fleeing attacks by raia mutomboki groups. the raia are notorious for carrying out raids bare-chested, wearing only raffia skirts, banging drums, and singing war songs, before killing entire families by spear and machete. many residents of the rubaya camp recounted this kind of incident from their own experience. sickness is often rife in the camp, november 2012.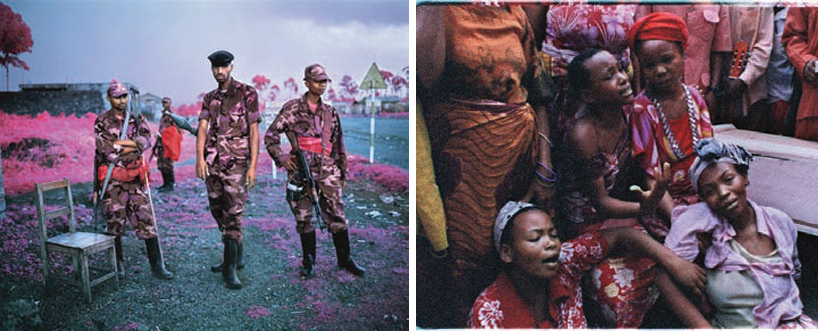 (left) three M23 rebels under colonel innocent kaina (aka 'india queen') standing at the deserted kanyaruchinya IDP (internally displaced persons) camp, which they had recently seized from FARDC control. the next day these rebels—a force of less than fifteen hundred—pushed onward for goma, where they were victorious against FARDC troops and their UN support, which included indian helicopter gunships. witnesses say that rwandan army troops came across the border to assist the M23, which is widely viewed as a rwandan proxy force operating in congo.(right) women mourn their deceased relation at his funeral near baraka, south kivu, february 2012.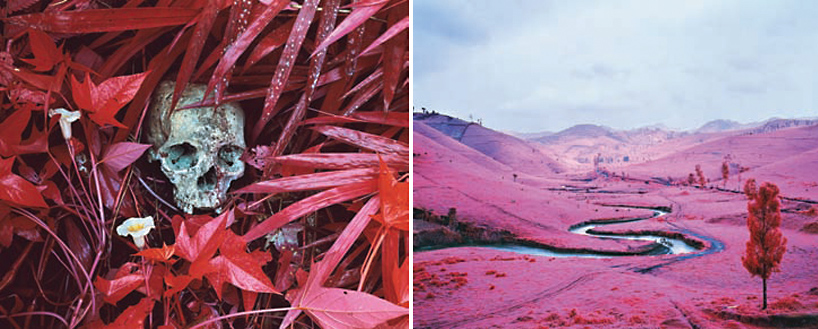 skull of a victim of the massacre carried out by the FDLR in busurungi in 2009. the remains were secretly taken to chambucha at the request of surviving relatives, so that it could be documented without reprisal on the villagers of busurungi by FDLR. the photographer placed it in wet grass near a riverbank and dressed with cut flowers, a memento mori.(left) of 'lillies and remain', (right) 'platon' by richard mossesouth kivu, eastern congo, 2012digital c-print, (left) 183 x 229 cm edition of 2 (right) 183 x 229 cmcourtesy the artist and jack shainman gallery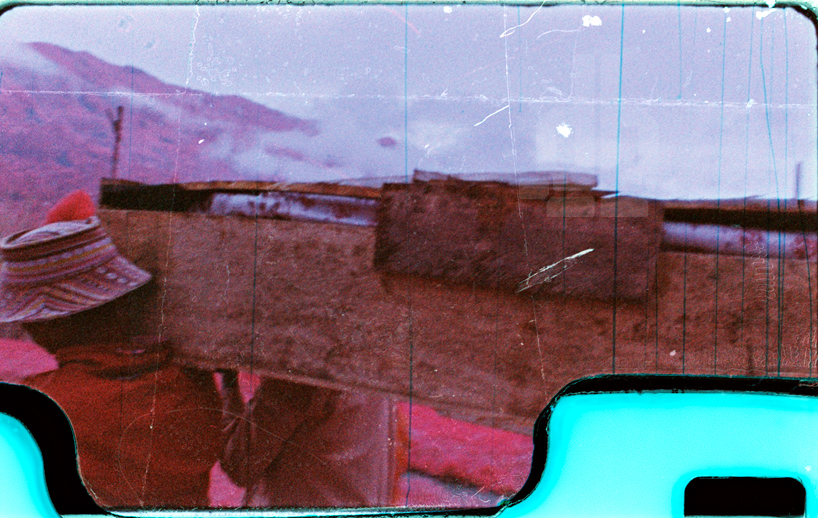 still from 'the enclave', shot on 16mm color infrared film in eastern congo, by richard mosse, 2012the coffin of a woman who was slaughtered along with five family members near masisi central in november 2012. this massacre targeted innocent hunde civilians, all of whom were women and children. the woman was raped before being killed by spear to the back of the head. survivors accuse the hutu nyatura movement for carrying out the massacre.
the enclave immerses the viewer in a challenging and sinister world, exploring aesthetics in a situation of profound human suffering. at the heart of the project, as mosse states, is an attempt to bring 'two counter-worlds into collision: art's potential to represent narratives so painful that they exist beyond language, and photography's capacity to document specific tragedies and communicate them to the world.'
with both still- and 16 mm-cameras, mosse uses a discontinued military surveillance film, which registers an invisible spectrum of infrared light. the resulting surreal palette describes these isolated, jungle war zones and the soldiers that inhabit them in disorienting psychedelic hues of scarlet, lavender, cobalt, and puce. working with collaborators trevor tweeten (16 mm cinematography) and ben frost(sound design), mosse has captured a landscape that is deceptively seductive, alluring. ultimately, however, the resulting images and film map the otherwise invisible edges of violence, chaos, and incommunicable horror.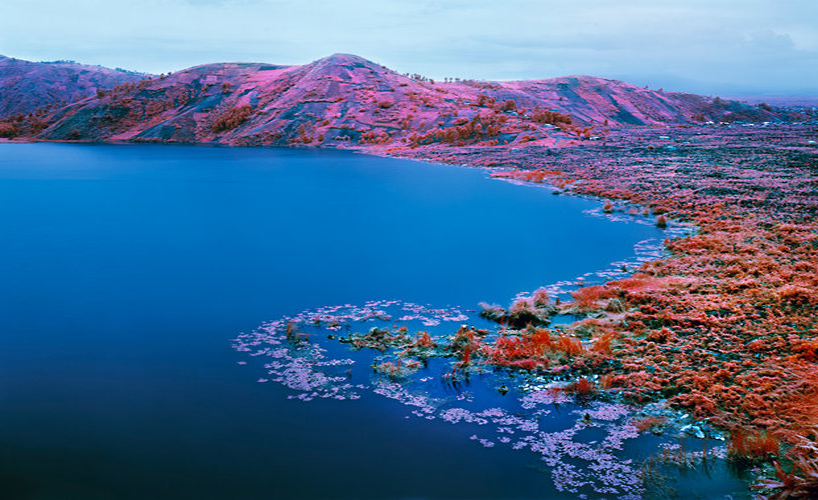 beaucoups of bluesnorth kivu, eastern congo, 2012digital c-print, 183 x 229 cmcourtesy the artist and jack shainman gallery
the enclave will be exhibited at fondaco marcello, san marco 3415 (calle dei garzoni), in venice from 1 june – 24 november, 2013.
the commissioner and curator is anna o'sullivan, director of the butler gallery, kilkenny, ireland. ireland at venice is an initiative of culture ireland and the arts council/an chomhairle ealaíon. the pavilion has received co-sponsorship from eastern congo initiative and european cities of advanced sound.
the enclave book of photographs has been printed in a total of 1,000 copies. 250 of them have been released as part of a limited-edition boxed set, which includes a 45 rpm record with sound and music design by ben frost, a poster featuring an image by richard mosse, a transcription from the film, and a signed-and-numbered copy of the book, released to coincide with an installation of the work at the venice biennale. see the upcoming book ENCLAVE here. richard mosse's first monograph, infra, was also published by aperture in 2011.
richard mosse (photographer)was born in kilkenny, ireland, 1980.he holds an mfa in photography from yale university school of art. in 2012, he received a visual arts bursary from the irish arts council and held the international artist residency at künstlerhaus, berlin. in 2011, he was awarded a john simon guggenheim memorial foundation fellowship, with a supplemental stipend from the leon levy foundation.
trevor tweeten (cinematographer)was born in wilmington, delaware, 1983. after receiving his BA in film and video Art from augsburg college in 2006, tweeten moved to new york city to begin his artistic practice, working at the crossroads between video and sculpture. exploring the physicality and potential of the two mediums, tweeten's work is based on a desire to create a personal mythology, sublimating experience into experiments in space, light and time. as a cinematographer he has worked on a number of feature films and video art projects ranging from narrative to documentary to experimental. his work in video and film is often noted for its strong imagery and lyrical visual style. tweeten is currently based in new york city and marseille, france.
ben frost (composer)was born in melbourne, australia, 1980. he lives in reykjavik, iceland. the music of Ben Frost is about contrast; influenced as much by classical minimalism as by punk rock and metal, frost's throbbing guitar-based textures emerge from nothing and slowly coalesce into huge, forbidding forms that often eschew conventional structures in favor of the inevitable unfoldings of vast mechanical systems.
a diverse digital database that acts as a valuable guide in gaining insight and information about a product directly from the manufacturer, and serves as a rich reference point in developing a project or scheme.
designboom will always be there for you
milan, new york, beijing, tokyo

,
since 1999