image © designboom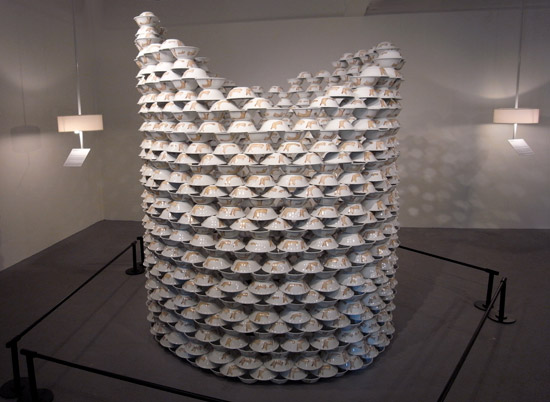 'the pleasure of being, crying , dying and eating' by montien boonma, 1993 image © designboom
the pleasure of being, crying, dying and eating is an installation of hundreds of ceramic bowls that form a pagoda-like tower. appearing both precarious and stable at the same time, the use of fragile porcelain in this structure presents a quiet elegance that reflects a calm and contemplative mind. the bowls are reminiscent of the theravada tradition in thailand, where monks, as part of their monastic vows, adopt a simple life without belongings and use an alms bowl to get their daily provisions and food from laypeople.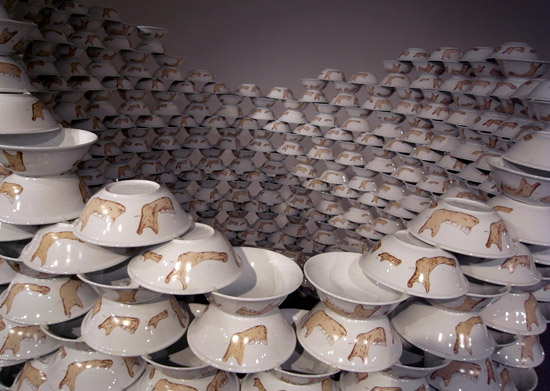 jaw-bone decorations on the bowls image © designboom
the routine human condition of eating and dying is reflected in the jaw-bones, bone-shaped chopsticks, false teeth and a dark red table cloth, which symbolise heaven and wealth. one of the most significant contemporary artists to emerge from southeast asia, the late montien boonma first taught as a painter at bangkok's silpakorn university, and also studied sculpture at paris' ecole nationale supeireure des beaux-arts. his sculptures and installations reflect both his devotion to buddhist spirituality and his desire to develop a language of contemporary asian art. he was influenced in part by his contact with the arte povera movement in italy and the works of joseph beuys. before his premature death at the age of 47, boonma exhibited extensively, mounting eighteen solo exhibitions.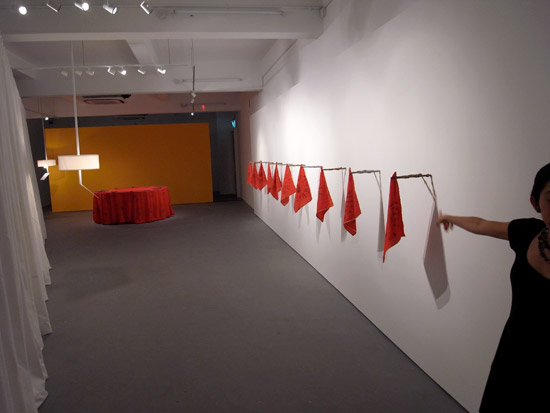 curator joyce toh indicates the other two parts of the 'the pleasure of being, crying , dying and eating' installation image © designboom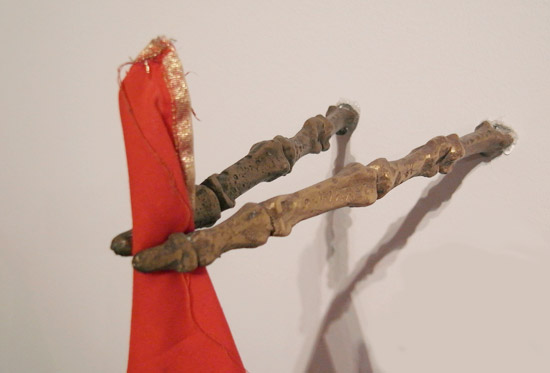 bone-shaped chopsticks image © designboom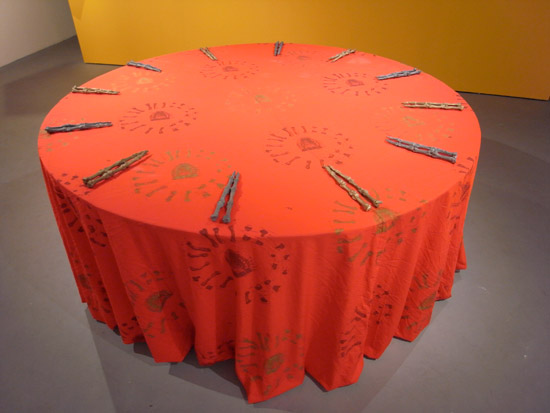 bone-shaped chopsticks image © designboom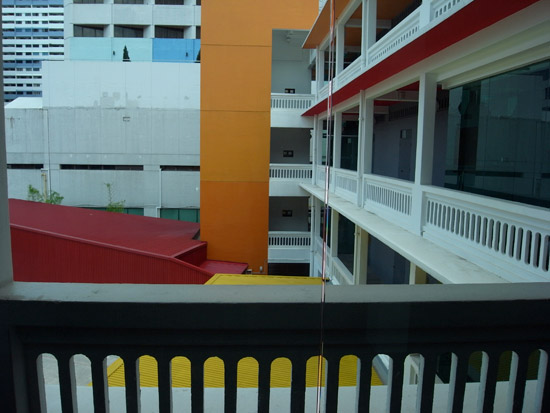 image © designboom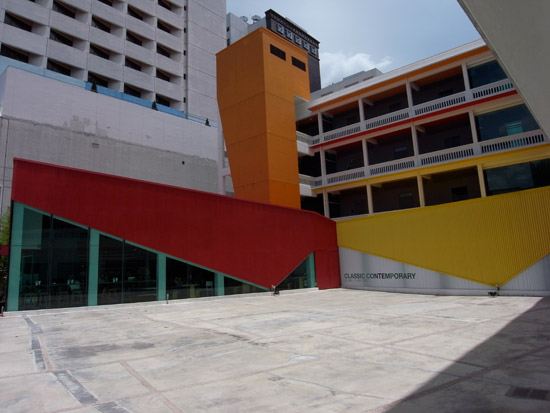 image © designboom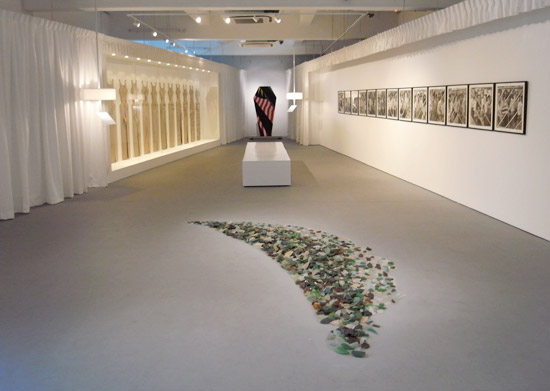 a view into the gallery image © designboom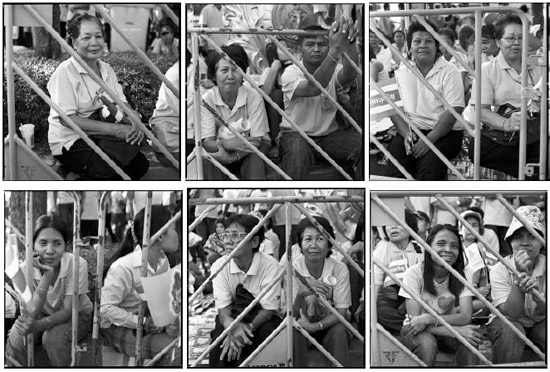 'waiting for the king' by manit sriwanichpoom, 2006in waiting for the king, thai photographer manit sriwanichpoom captures the attitude of thai society and its relationship with its revered king, bhumibol adulyadej (rama ix). the artist is known to tackle other critical topics such as the violence of globalisation and the obscenity of conspicuous consumption. in thailand, where the monarchy is maintained alongside its elected government, king adulyadej remains a key symbolic figure for thai people. the images were taken on 5 december 2006, the king's birthday as well as thailand's national father's day.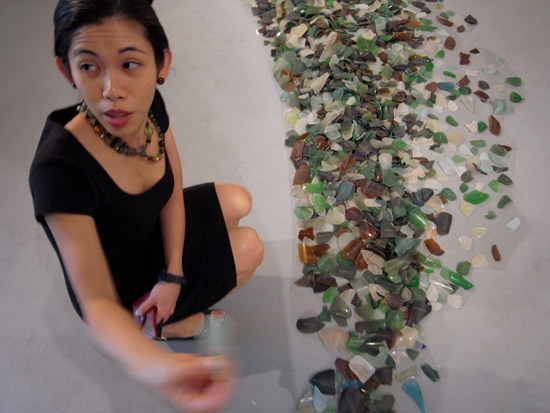 curator joyce toh and 'washed up' by simryn gill, 1993-95 an installation of glass shards, in the form of a shoreline, debris piles that are created as the tide rises and ebbs image © designboom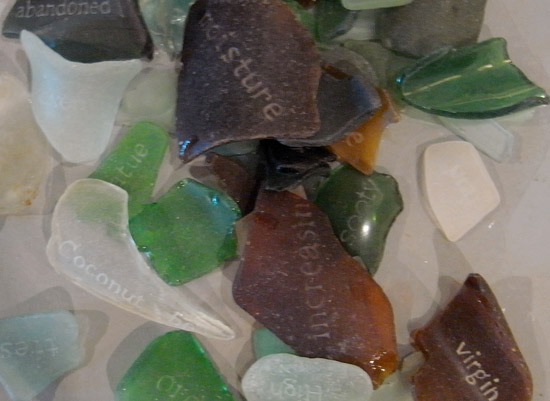 words are 'washed out', image © designboom
if meaning resides in words and objects, what can they tell us about their significance, what do they fail to convey, or where might they reveal new insights? in singapore-born australian resident (who is of malaysian-indian background) simryn gill's washed up pieces of found objects appear as fragments of former objects that may have traveled in unknown vessels or were discarded from other shores. we may guess at what they were and where they came from, but we cannot possibly know their individual former pasts. history, like meaning, is an arbitrary concept. having inscribed each of the fragments with words, gill leaves it up to the viewer to attempt to find meaning in the objects' various configurations.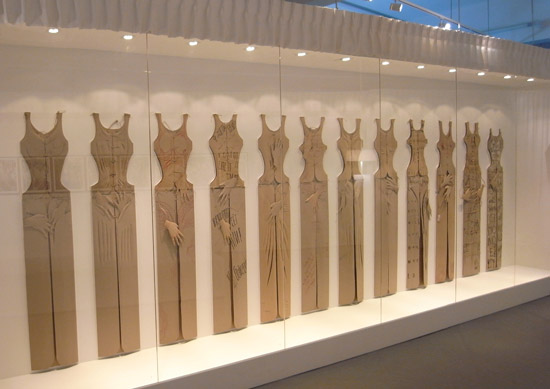 'beauty will save the world' by vu dan tan, 2002-03 image © designboom
a quote from dostoevsky's novel—"beauty will savethe world"—written in different languages, provides the name for this suite of 12 cardboard figures, each representative of a female form. voluntarily ignoring the rules of aesthetics, the artistinvites the viewer to find the definition of beauty beyond the world of appearances.one of the first experimental artists in hanoi, tan worked with found objects and other commonplace materials, allowing him to unleash his creativity without being limited by cost. at the same time, his use of the discards of consumer culture offers a stark social commentary, in contrast to his sometimes light-hearted creations.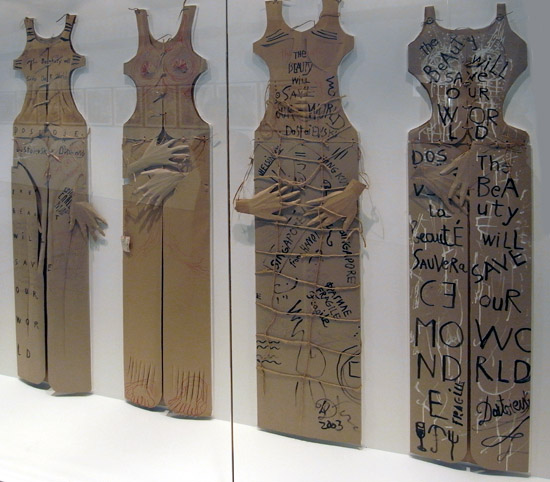 close-up to cardboard sculptures image © designboom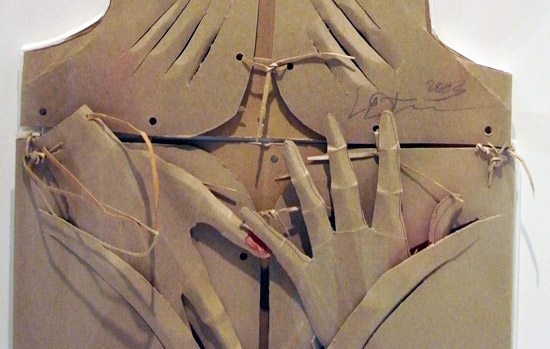 close-up image © designboom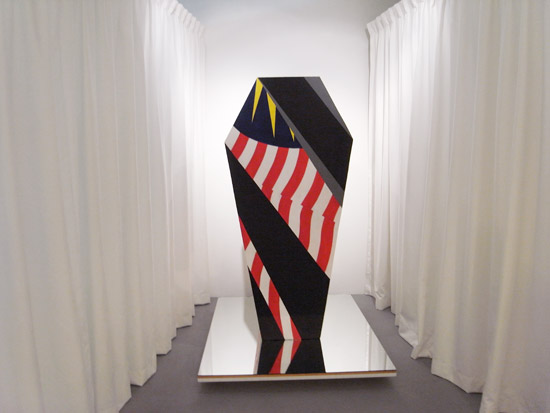 'may 13th, 1969' by redza piyadasa, 2006 (remake of the 1970 original which was destroyed) image © designboom
on may 13, 1969, sino-malay riots erupted in kuala lumpur, malaysia. leading up to this explosion of violence were simmering racial tensions, which were played up by various political parties prior to the malaysian general elections. the conflict claimed several lives and the sight of burnt-out residences and shophouses left a permanent mark in redza piyadasa's mind. may 13, 1969 was the artist's response to the incident of the same name, and it was the first time that political issues were featured in his art. the work comprises an upright coffin, with the malaysian flag painted over its surface. simple and austere, it is a reminder of a painful moment in malaysian history that made clear the fragility of ethnic relations.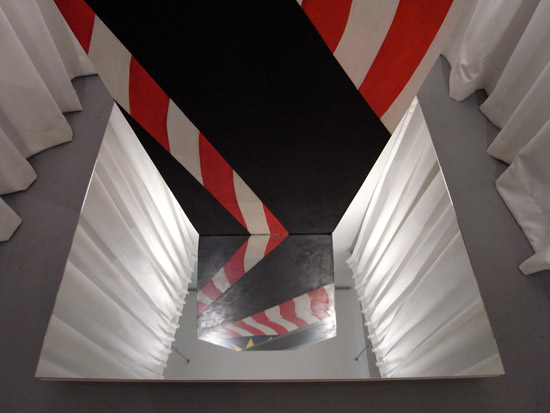 close-up image © designboom
artist, critic and educator, piyadasa is considered one of the most important figures in the malaysian art scene. one of the first few artists in malaysia to embrace conceptual art in the 1960s and 1970s, he championed the 'new scene movement', which aimed to introduce more conceptual or investigative modes of art-making in contrast to existing aesthetic values. as a muslim convert of sri lankan descent, piyadasa's work often reflects on the difficult question of cultural and national identities. many of his works are deliberately ambiguous in their representation of these issues, forcing viewers to pay attention and think about the divisive bumiputra (indigenous)/non-bumiputra contexts that emerged in post- 1969 malaysia.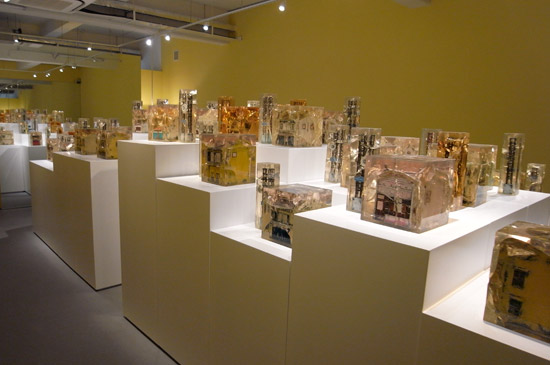 'living fossils' installation by vuong van thao, 2007 image © designboom
vuong van thao's mixed-media work comprises replicas of 36 buildings located in hanoi's historic and atmospheric old quarter. each building was chosen by the artist for its traditional and historic architectural features. thao encased his replicas in cracked resin blocks, to imitate the look of an aged fossil. the installation maps approximately the actual location of the buildings in the old quarter. with rapid modernisation and mass culture threatening the historic and cultural authenticity of hanoi's old quarter, thao's work is a statement about the co-existence of old and new,historical discontinuity, and displacement. it is also a reaction against uniformity in the city's development; here the artist shares his vision of hanoi, in which preservation seems to bethe main concern.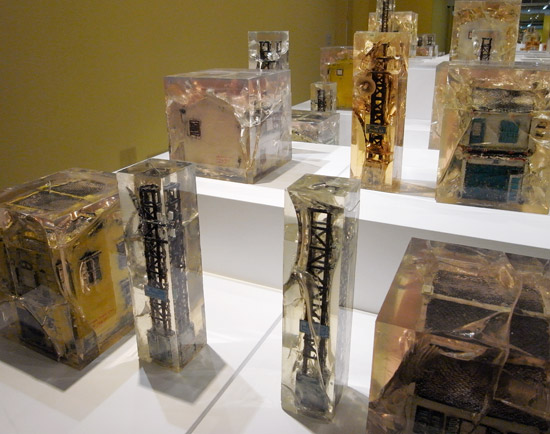 'living fossils' installation by vuong van thao image © designboom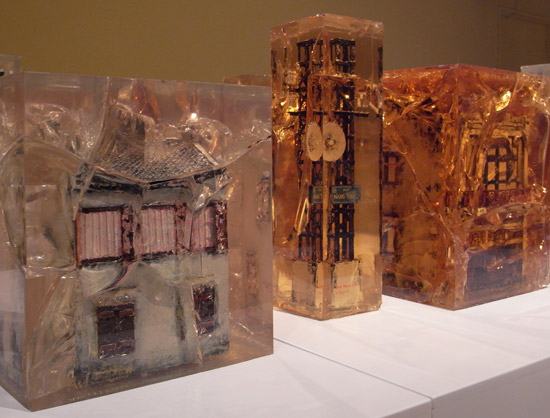 'living fossils' image © designboom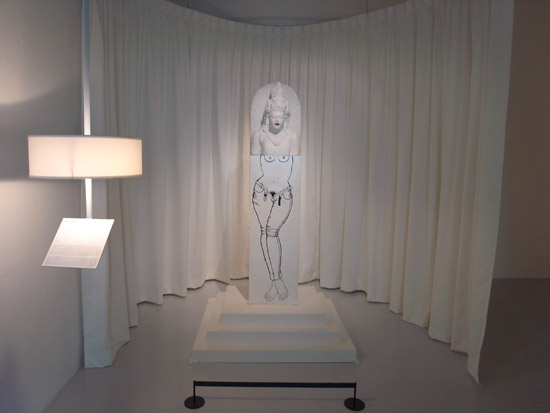 'ken dedes' by jim supangkat, 1975 image © designboom
ken dedes is a legendary javanese queen famed for her extraordinary beauty. in indonesian artist supangkat's representation of ken dedes, the head and shoulders of the figure are sculpted in the classical majapahit style. however, the body of the figure is replaced by a rectangular box,on which is drawn, in comic-book style, a torso of a woman that is bare breasted and dressed in tight, unzipped jeans that expose her pubic hair. it is the artist's intention to make a strong social statementby portraying an image suggestive of the condition of contemporary, urban indonesia – classical java grafted onto western vulgarity with little regard for transition or adaptation; a merging of two apparently disconnected and contradictory sets of aesthetic and cultural values.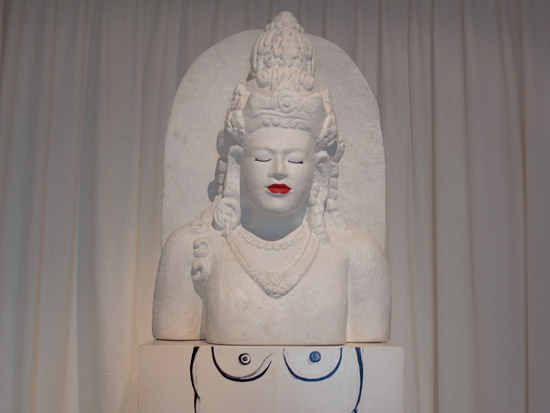 detail image © designboom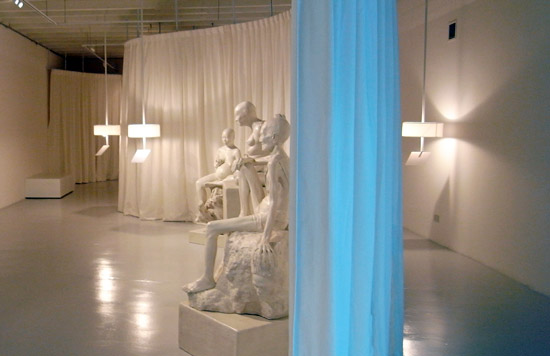 'three buddha mothers' by agnes arellano, 1996 image © designboom
one of the philippines' leading contemporary sculptors, agnes arellano's trinity of life-size sculpture embody complex notions associated with the female form, such as fecundity, sexuality andbeauty. the sculptures are hybrid forms, but nonetheless, evoke the archetypes of the maiden, mother and crone to represent different stages in the cycle of birth, life and death.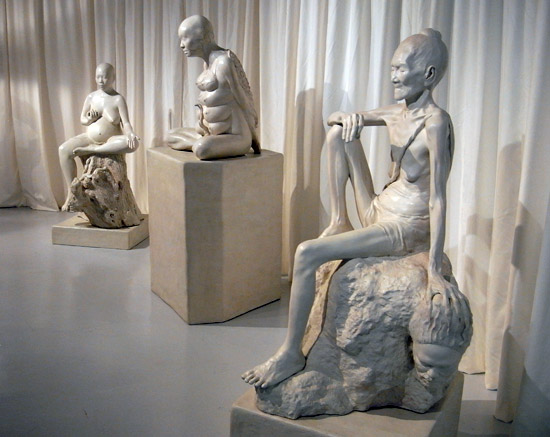 'three buddha mothers' by agnes arellano, 1996 image © designboom
on the left there is vesta, a young pregnant mother in a posture based on hariti, a deity who protects children, but is known in indonesia as a goddess of fertility. intriguingly, vesta's right hand holds her nipple – calling to mind a famous painting of the renaissance in western art – whilst a lizard, yet another symbol of fertility, clings to vesta's back. on the right, lola represents the crone. she is no longer fertile and seeks enlightenment through introspection asrepresented by her jnana (teaching) mudra, turned inwards.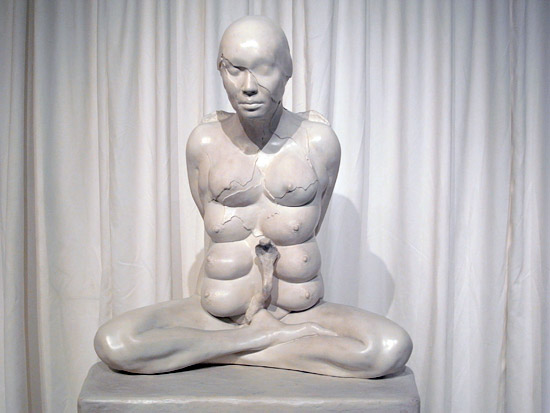 detail of a buddha mother image © designboom
the central figure dea is a fantastical self-portrait seated in meditation. the figure also resembles mebuyan, the ancient underworld goddess of bagobo and manobo mythology, whose many breasts nurture the souls of unborn babies.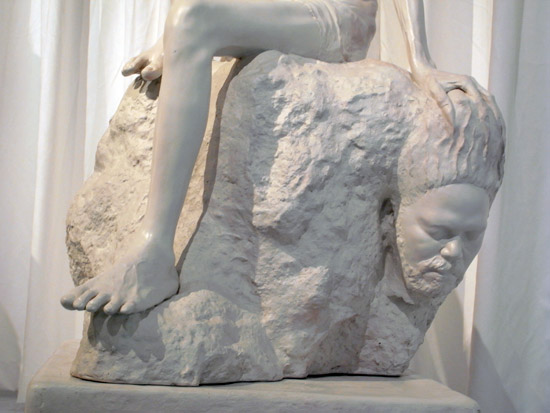 detail of lola image © designboom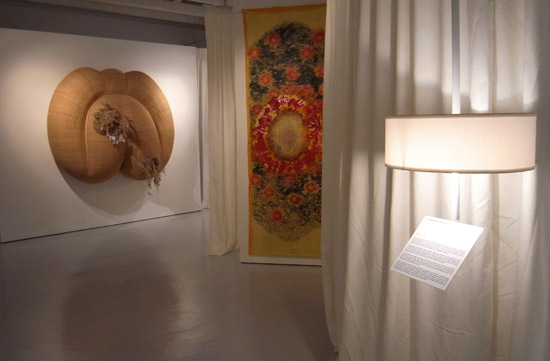 left: 'hiding rituals and the mass production' by nindityo adipurnomo; right: shiva shakti in oneness by chandrasekaran. image © designboom
singaporean designers FARM have developed the concept for this exhibition design, including curtain space dividers, lamps with caption text displays.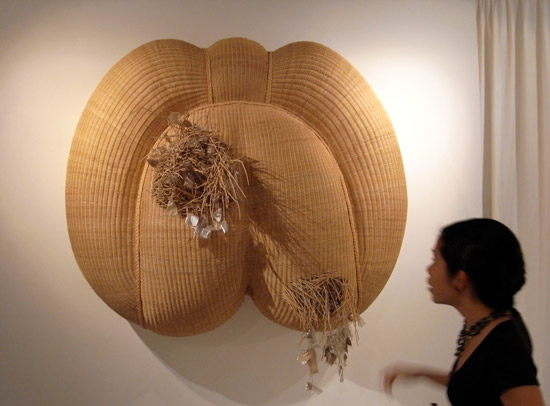 joyce tan (curator of the exhibition) explains 'hiding rituals and the mass production' by nindityo adipurnomo, 1997 – 98 image © designboom
nindityo adipurnomo's art draws on issues of his native javanese culture. in the 1990s, he began to explore the symbol of the konde – a traditional javanese hairpiece – as a commentary on javanese culture and tradition, and its place in society today. the konde, worn by indonesian women as a decorative hairpiece especially during ceremonial events and special occasions, serves to signify the marital and social status of its wearer. it is associated with ideals of women's 'proper place' in society and erotic sensuality. for thisreason, the konde is considered both sensuous and burdensome; on one occasion, nindityo has likened it to 'a prison'.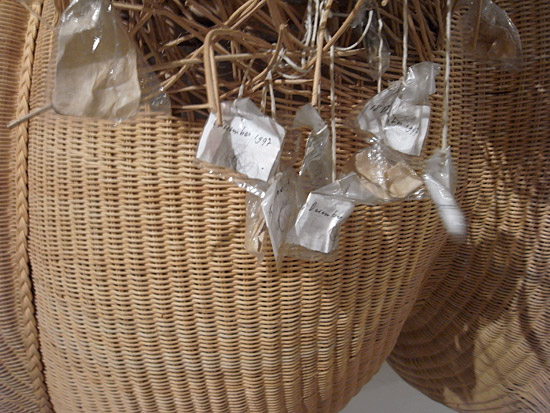 detail of rattan konde and plastic bags with human hair image © designboom
in the title of this work, hiding rituals alludes to women's practice of saving fallen hairs to be re-used in the konde to build up its volume. this was a ritual practised by the artist's grandmother and mother in private, in order to preserve their appearances and feminine mystique before men. in creating this work, nindityo attached small plastic bags of his own hair to the rattan frays. he also worked with local basket makers to create this rattan konde, deliberately choosing to employ traditional crafts as a means to engage with the local community in the face of increasing commercialism and modernisation.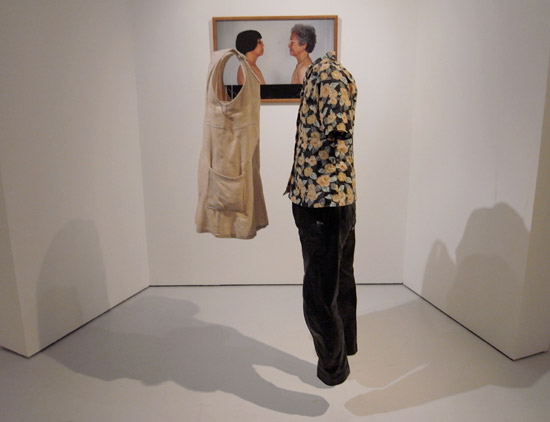 'another woman' by amanda heng, 1996 image © designboom
another woman explores her relationship of the artist with her mother, and at the same time explores the positioning of women within family structures. one of the founding members of the artists village (singapore's first contemporary art collective) amanda heng deploys photography and assemblages of objects as a means of investigating memory, and in the hope of acquiring a deeper understanding of her self-identity. what is important is not just the physical contact or touching of their bodies, but also the spaces between them.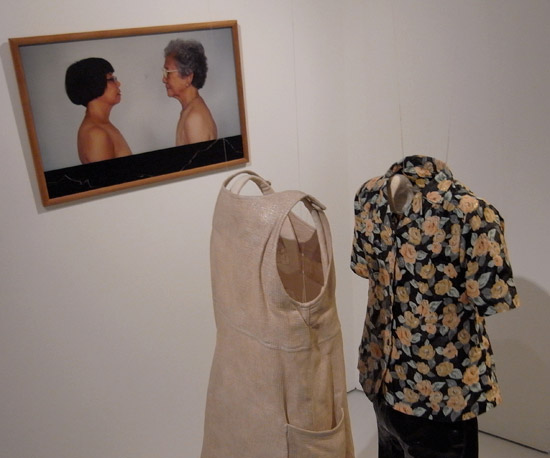 'another woman' image © designboom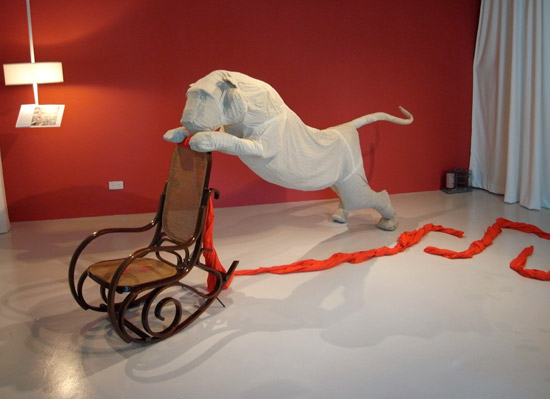 'tiger's whip' by tang da wu, 1991 never before been displayed in their entirety image © designboom
tiger's whip, one of tang da wu's most well-known performances, comprises a lone tiger spirit lunging at a rocking chair, to represent the notions of sexual intercourse, for which the tigers have been sacrificed. it is a reference to lust-filled elderly men.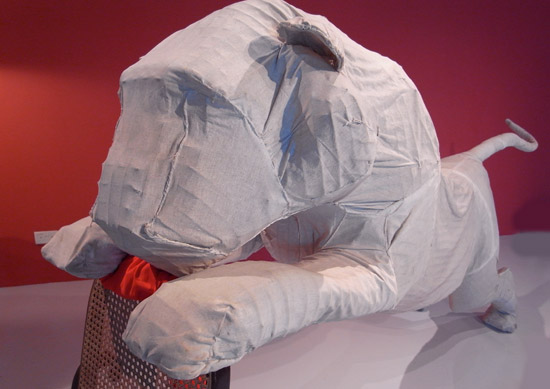 detail of the white tiger image © designboom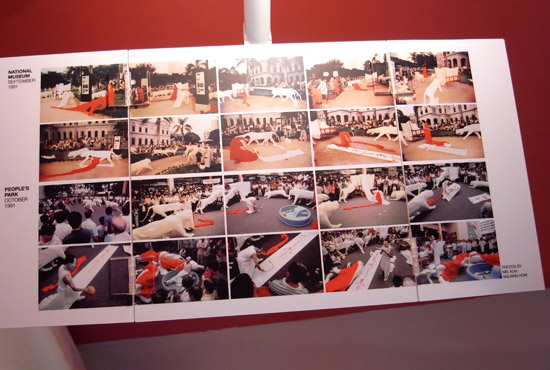 the tiger's whip installation was inspired by tang's performances on the senseless killing of animals and its unnecessary bloodshed image © designboom
the title of the work refers to the tiger's penis, reflecting the asian belief in the aphrodisiac properties of the animal's reproductive organ. the work also addresses the plight of poached tigers in the region for the purpose of its consumption for increased virility. during the tiger's whip performances, tang used various symbolic objects such as a bed, a basketball and boat oars to represent the notions of intercourse, manhood and sexual prowess, for which the tigers have been sacrificed. the performances included eight white tigers as a representation of the spirits of the dead animals, while tang played the various roles of the poacher, the tiger and the man who consumed the tiger's whip, making suggestive gestures of the work's themes.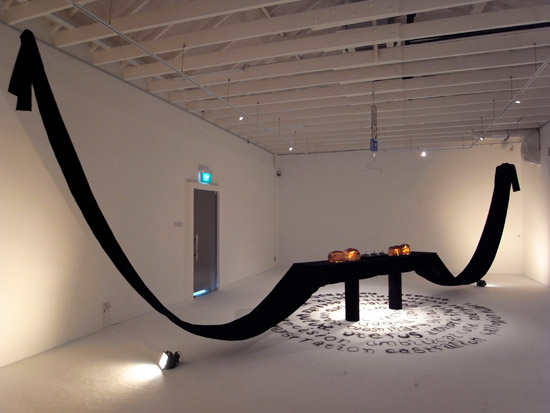 'his mother is a theatre' by suzann victor, 1994 human hair, motors, velvet, bread, fishing line, iron woks, table and lights, never before been displayed in their entirety image © designboom
with its repetitive clanging of wok lids, glowing loaves of charred bread, and circles of hair that graphically spell out parts of the female anatomy, his mother is a theatre retains its full power to captivate the viewer, as well as to evoke the traumatic events of 1994 that shook the singapore art scene and prompted the creation of this work. the then – artistic director of the artists' initiative 5th passage ltd., suzann victor was amongst those caught in the uproar surrounding the performance art event in which josef ng snipped off his pubic hair. it was a media-incited controversy that led to a decade-long ban on state funding for performance art.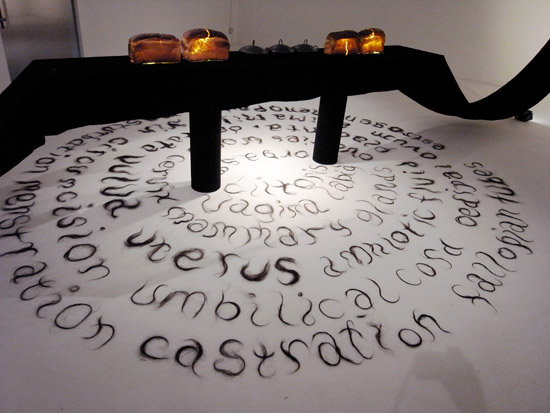 close-up 'his mother is a theatre' by suzann victor image © designboom
the installation may be seen as victor's attempt to address the prohibitions on performance art and to reclaim the human body—a subject that had become so charged and taboo in mid-90s singapore that victor sought alternative strategies to represent the image of the naked body. within the context of patriarchal society, the subject is also tested against society's notions associated with the female form, including morality, power, desire, sexuality, art and obscenity.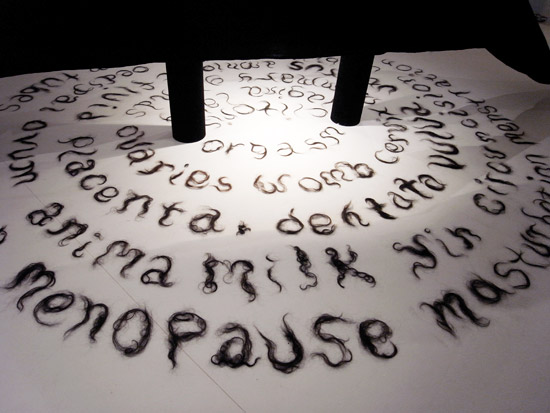 words 'written' with human hair image © designboom
in the artist's words, 'hair, a product of the body, was itself used to 'write' the body, to spell itself, address its own function and declare its own presence in all its inner and outer nudity.'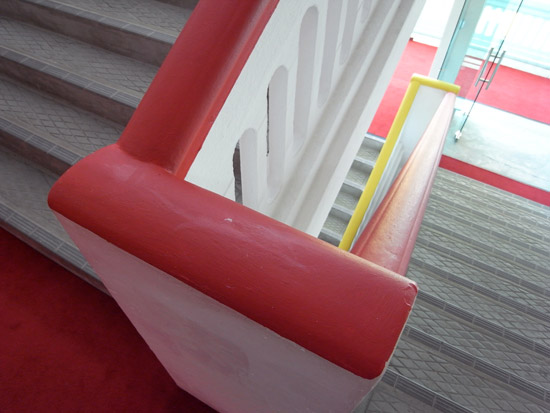 stairways image © designboom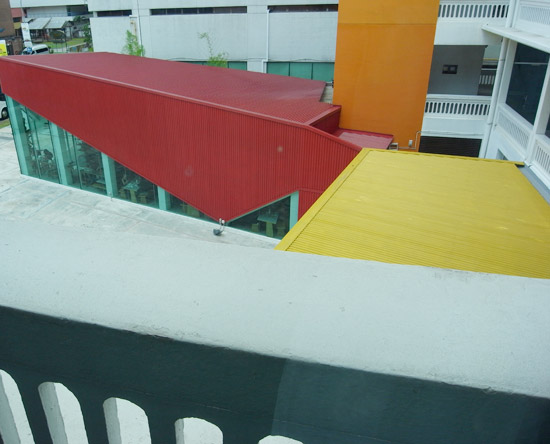 courtyards of SAM at 8Q image © designboom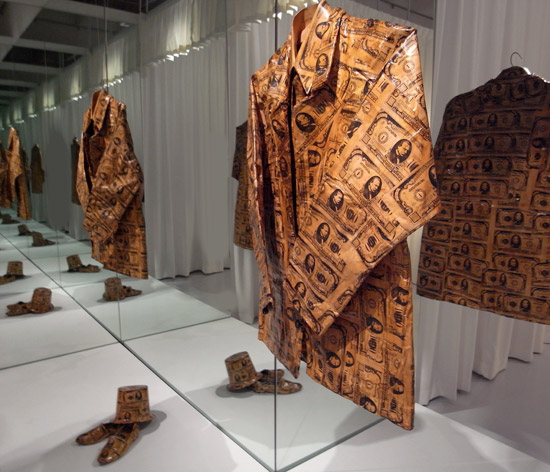 'money suit' by vincent leow, 1992 image © designboom
almost 20 years ago, some 60 artists and their friends gathered in a disused and dilapidated warehouse in singapore, and watched as a man dressed in a curious outfit took on the persona of a toad, leaping around with his mouth stuffed with fake dollar bills. today, vincent leow's money suit has endured as an iconic artwork, a 'relic' from the now-famous 1992 performance art piece entitled lifestyles of the rich and famous: the three-legged toad. the latter refers to the chinese superstition that a three-legged toad with a coin in its mouth will bring luck and fortune to its owner. comprising a shirt, tie, jacket, shoes and top hat laminated with mock american dollar bills (which were lacquered after the performance), the suit was worn by leow during his performance in which he impersonated the creature. the performance criticised a society obsessed with materialism and consumerism, mocking those who are entangled with superstitious beliefs in their pursuit of wealth. an early member of the artists village, leow was among those who pursued.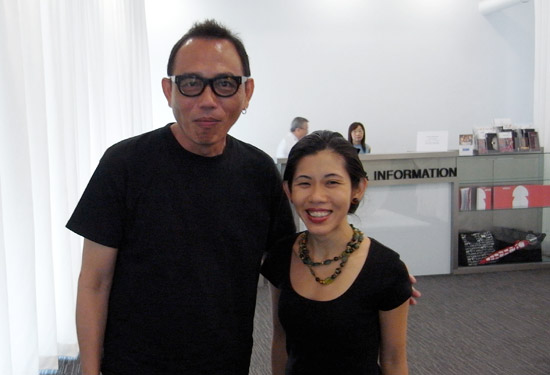 artist vincent leow and SAM curator joyce toh image © designboom
all artworks featured here are part of the SAM collection.
anita hackethal
I designboom
mar 20, 2010
a diverse digital database that acts as a valuable guide in gaining insight and information about a product directly from the manufacturer, and serves as a rich reference point in developing a project or scheme.
designboom will always be there for you
milan, new york, beijing, tokyo

,
since 1999