mar 23, 2010
SAM singapore art museum for southeast asian art
facade of the singapore art museum 8Q image © designboom
under the helm of new director, tan boon hui and armed with a whole new attitude, the museum's new line-up of programs for 2010 aims to breathe new life into the space, focus attention on building relationships with living artists and develop SAM into the contemporary arts hub in the region. currently on show is
classic contemporary: contemporary southeast asian art from SAM / the Singapore Art Museum Collection at 8Q 29 January 2010 to 2 May 2010
the exhibition aims to introduce new audiences to the idea of contemporary art and playfully questions what makes a work of art 'classic' or 'contemporary', or 'classic contemporary'. designboom met with curator joyce toh and had a walk through the show, a guided opportunity to revisit major works by some of asia's most outstanding contemporary artists.
'cemani, telur, tai kapur' (translated as 'chicken, egg, chalk shit') by handiwirman saputra, 2008 image © designboom
detail image © designboom
at the entrance of the exhibition we're introduced into skews proportions of scale through a dramatically enlarged egg with poop on top, next to a regular-sized, taxidermied chicken. the work playfully overturns our expectations and also functions as an ironic commentary on society's obsession with size. indonesian artist handiwirman saputra is a member of a major artist collective known as the jendela art group, which became well known in the mid-1990s.
'you inside, are you still OK?' oil painting by chatchai puipa, 1997 image © designboom
the thai contemporary painter chatchai puipia is well known for using images of his own face and body to depict his own personal experiences and reactions towards society. his self-portraits express his dissatisfaction with the social situations of the present day and are filled with expressions of confusion, loss and alienation. within his paintings, he often uses facial gestures as a way to convey his own ambivalent attitude towards contemporary thai society. chatchai's work often critiques the superficiality of this 'smile', which is also used to hide one's true feelings in order to maintain an appearance of social harmony. the artist has an image that could be easily drawn from the abundance of tourist literature and promotional materials that promote 'thailand as the land of smiles'.
close-up to the mai pen rai (never mind, it's OK) attitude image © designboom
'cycle' by sopheap pich, 2006 image © designboom
in sopheap pich's observation of the cambodian society, the human stomach struck him as a theme that was symbolic of people's concerns, in that one was anxious about either filling it or curing it of its diseases. cycle takes the shape of a stomach as a starting point to symbolise society in general.
the connection of two stomachs suggests ideas of strong family ties or a society held together by simple means. it also represents fragility, controlled chaos, movement, and the ambiguity of interior and exterior spatial perspectives. often considered the most well-known and significant cambodian contemporary artist, pich was first trained in painting at the university of massachusetts. feeling that his paintings did not connect with the cambodian people, he began experimenting with commonplace materials familiar in cambodia, developing the style of rattan and wire sculptures that now dominate his work.
detail of 'cycle', rattan and wire image © designboom
'cindera mata a la indonesia' (souvenir from indonesia ) by agus suwage, 1996 (series of six) image © designboom
two years before the indonesian reformasi (reform) period of 1998, which marked the end of the new order government under indonesian president suharto and signalled the promise of a more liberal political and social environment. agus suwage's work in the period leading up to reformasi was marked by increasingly explicit commentaries and critiques on indonesian society and culture. his own face and body, as depicted in his drawings, canvases and sculptures, were used to express struggles over identity, social values and democratic ideals.
'self portrait – interrogation of an image' by matthew ngui, 1999 6 plywood panels, markers, camera with stand image © designboom
matthew ngu is known for his use of anamorphosis. here he applies the technique to his self-portrait, which is stretched across six panels that rest on the floor. as a result, his image is broken up and distorted, and comes into focus only when seen from a specific angle.
joyce toh (curator of this exhibition) explains to anita hackethal (designboom) the 'self portrait – interrogation of an image' image © designboom
importantly for the artist, the work invites audiences to participate by inscribing their thoughts about art, the country and the singaporean identity on portions of the image.
the portrait comes into focus only when seen from a specific angle image © designboom
incoherent from every angle except for the single viewpoint determined by the artist, the anamorphic image fascinates because it also requires the active involvement of another eye (the human or digital) for the image to become recognizable.
stairways image © designboom
the mission of the singapore art museum (SAM) is to preserve and present the art histories and contemporary art practices of singapore and the southeast asian region. to date, SAM has amassed the world's largest public collection of modern and contemporary southeast asian artworks with a growing component in international contemporary art. many of these once-emerging artists have since established notable achievements on regional and international platforms. housed in a restored 19th century mission school, its permanent collection is displayed on a rotational basis. this exhibition marks the start of SAM's new contemporary art programming centred on enabling artistic development through the creation of exhibition and programming platforms, as well as growing audiences for contemporary art.
opened in august 2008, 8Q sam is a contemporary art space with fresh, multi-disciplinary, interactive and community oriented programming; a place where the public can directly experience the work and ideas of living artists, and in relation to its aesthetic and social context. visitors will be able to meet the artists whose works are on show to investigate about their art practice and work process. with singapore becoming a global city for the arts, SAM's international networks bring about a confluence of ideas, and create a dynamic arts scene invigorated by international flows of ideas, talents, knowledge and resources.
first floor image © designboom
see also part 2 of the sam museum visit here.
apr 20, 2010
apr 20, 2010
apr 17, 2010
apr 17, 2010
mar 20, 2010
mar 20, 2010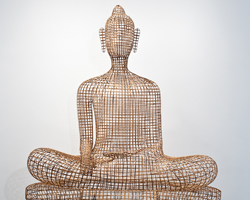 mar 03, 2013
mar 03, 2013
apr 27, 2011
apr 27, 2011
apr 13, 2009
apr 13, 2009
a diverse digital database that acts as a valuable guide in gaining insight and information about a product directly from the manufacturer, and serves as a rich reference point in developing a project or scheme.