maison gainsbourg opens its doors in paris
On Rue de Verneuil in Paris, Maison Gainsbourg opens its doors as a new cultural institution dedicated to the legacy of the late Serge Gainsbourg — singer, songwriter, actor, and occasional provocateur who has sparked debate and all kinds of attention in the French pop-culture scene. In May 1969, Serge had found a home at 5 bis Rue de Verneuil in the 7th arrondissement, where he lived for 22 years until his passing in 1991. His daughter, Charlotte, preserved every corner of the maison, keeping all objects exactly as they were to share with the public today. 'I hope to offer the public a unique experience, one that may provide a new perspective on his work. An experience, if possible, worthy of what he has left us,' she shares.
The newly-opened institution welcomes visitors to two distinct locations. The first, 5 bis, is the historic house where Serge Gainsbourg lived for 22 years. The second site nestles across the street, at 14 Rue Verneuil — comprising a museum that traces the artist's life and career, a bookstore-boutique, and Gainsbarre, a café and piano bar, allowing visitors to extend their visit. Maison Gainsbourg offers two tour options: the combined 'House & Museum' tour, lasting about 1.5 hours, and the 'Museum only' tour, lasting about 1 hour. Following the opening today (September 20, 2023), Charlotte and her team expect the Maison to host nearly 100,000 visitors annually, with on-site, digital, and off-site programs organized along the way.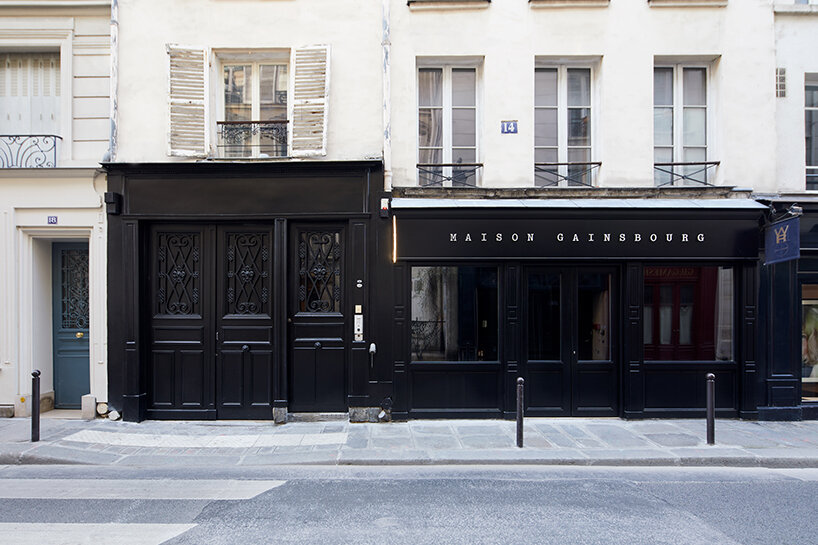 Maison Gainsbourg facade | image © Alexis Raimbault | @alexisrimbault
The life and legacy of Serge Gainsbourg (1928-1991)
Serge Gainsbourg was born in Paris on April 2, 1928, to Russian Jewish immigrants. Growing up with strong artistic influences, his passion for music and painting gradually morphed in 1958, at 30, into a singing career. Initially recognized for his early records, he soon faced competition from the yé-yé movement, prompting him to focus on composing for others. Caught between artistic ambition and a desire for commercial recognition, he became a reliable figure in the industry yet struggled to establish his own style.
His brief romance with Brigitte Bardot in late 1967 inspired several songs that have since become iconic, including 'Je t'aime… moi non plus.' He immortalized this song the following year in a duet with his new partner, Jane Birkin. Throughout the 1970s, he recorded several avant-garde albums with limited commercial success. Between directing his first film and writing a book, the singer finally achieved broad success at the age of 51 with his controversial reggae adaptation of the national anthem, 'Aux armes et cætera' (1979).
Furthermore, Serge Gainsbourg's controversial television appearances made him one of the most polarizing personalities in France. With full awareness, the artist cultivated the ambivalence of his image. He expressed the most delicate part of his sensitivity through his interpreters, reserving his most provocative songs for himself. Elevated to the status of a living legend but worn down by his excesses, Serge Gainsbourg passed away at his home on March 2, 1991.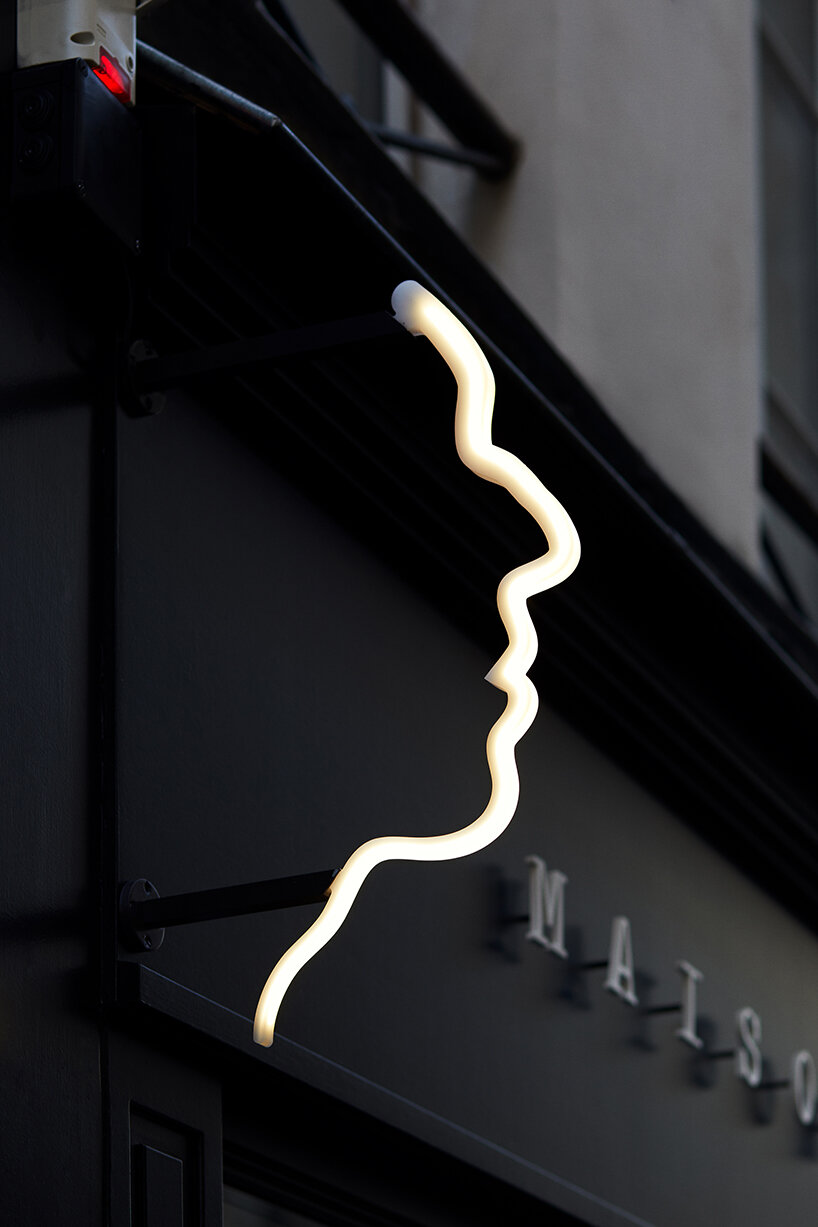 neon profile of Serge Gainsbourg | image © Alexis Raimbault
5 bis rue: delving into the artist's home & workspace
An inspiration and a workplace that once hosted illustrious guests and served as a family home, 5 bis Rue de Verneuil is an integral part of Serge Gainsbourg's work. A crucial place in his personal life and career development, the Maison has been preserved intact by his daughter, Charlotte Gainsbourg, along with the objects it contains, for over 32 years. Serge Gainsbourg's historic house can be visited with an original soundtrack created by Soundwalk Collective in collaboration with Charlotte. Comprising a collection of unpublished audio archives, this creation overlays the history, archives, and sounds collected within the intimacy of the place.
In pairs, visitors equipped with geo-located headphones move throughout the house. A sound immersion of about thirty minutes during which the audience strolls is guided by the voice of Charlotte Gainsbourg, who, step by step, echoes memories and anecdotes related to her father and her childhood home. Visitors discover one by one the different rooms that make up this approximately 130 sqm house. They enter through the famous ground-floor living room with walls covered in black felt, English bow windows, and a white marble floor with black cabochons.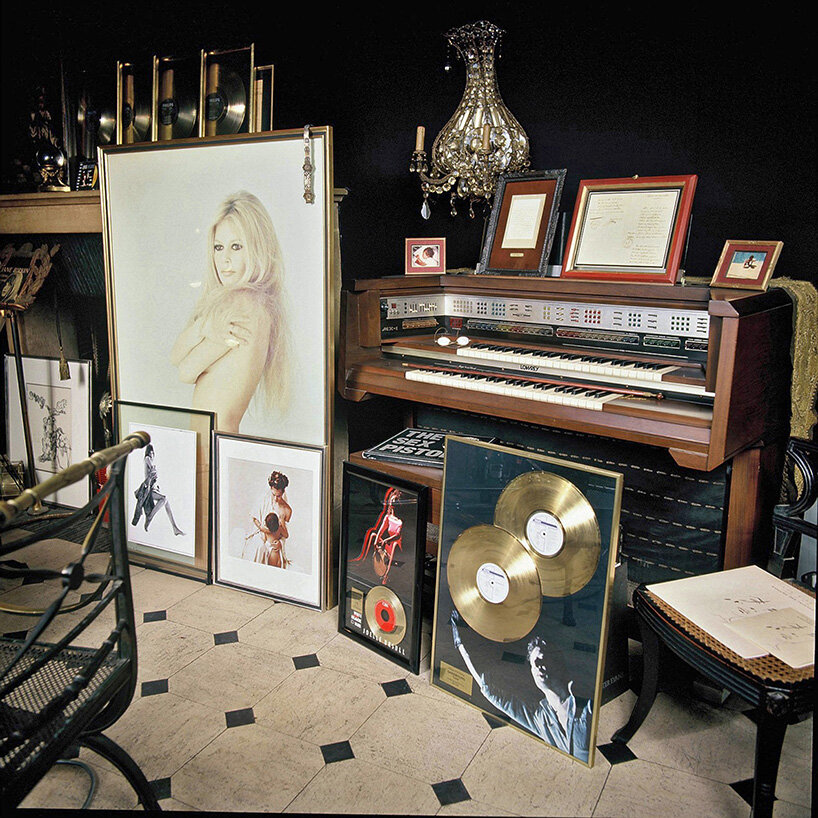 5 bis salon | image © Pierre Terrasson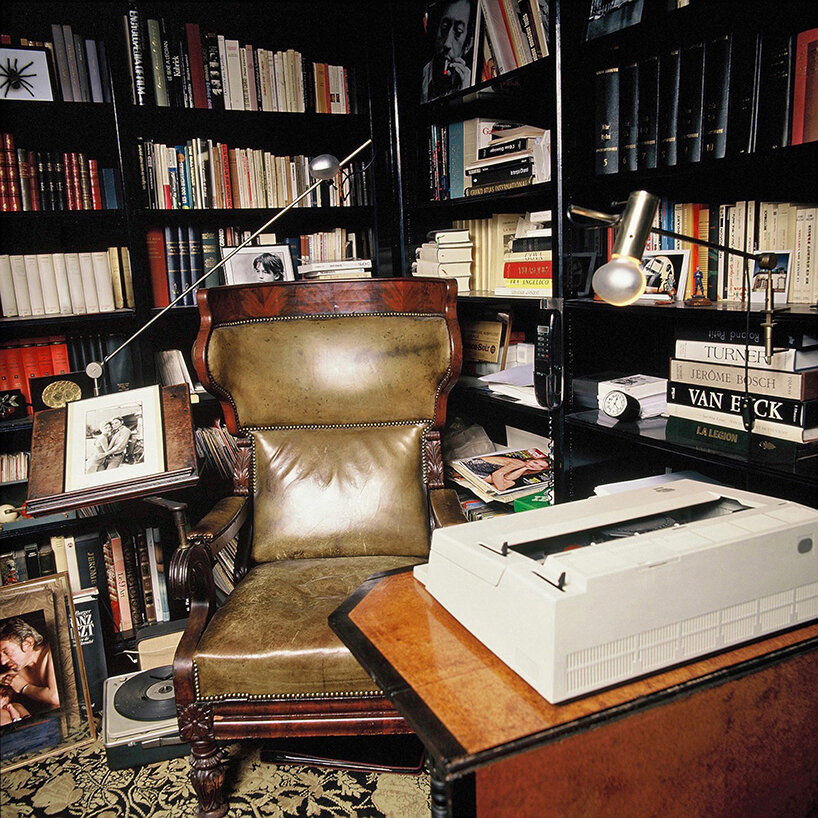 the artist's workspace | image © Pierre Terrasson
14 rue de verneuil: inside the museum
At 14 Rue de Verneuil, visitors enter a hybrid space hosting a museum, a bookstore-boutique, and the Gainsbarre, a daytime café that doubles as a piano bar in the evening. This new location complements the visit to 5 bis Rue de Verneuil to create Maison Gainsbourg. As a highlight, Charlotte, alongside Dominique Dutreix – Founder of COFFIM, philanthropist, and art collector, dedicated a part of this location to a museum where permanent collections and temporary exhibitions take shape. It showcases the Maison Gainsbourg collection, its extensive documentary resources, and the loans granted to it from institutional and private collections.
Lasting approximately one hour, the permanent exhibit offers a deep dive into the universe of Serge Gainsbourg in eight chronological chapters. It features nearly 450 original objects: manuscripts, iconic artworks and objects, clothing, and jewelry that belonged to Serge Gainsbourg, displayed together for the first time on the museum's ground floor. The Maison Gainsbourg collection includes approximately 25,000 references, consisting of objects, artworks, furniture, photographs, documents, and clothing that once belonged to the late artist. Within this collection, significant works such as Claude Lalanne's 'L'Homme à Tête de Chou,' the original manuscript of Rouget de Lisle's 'La Marseillaise,' and Salvador Dalí's 'La Chasse aux Papillons.' Maison Gainsbourg also preserves a substantial documentary collection comprising over 3,000 manuscripts, an expansive press archive, and a photographic archive of slides and original prints.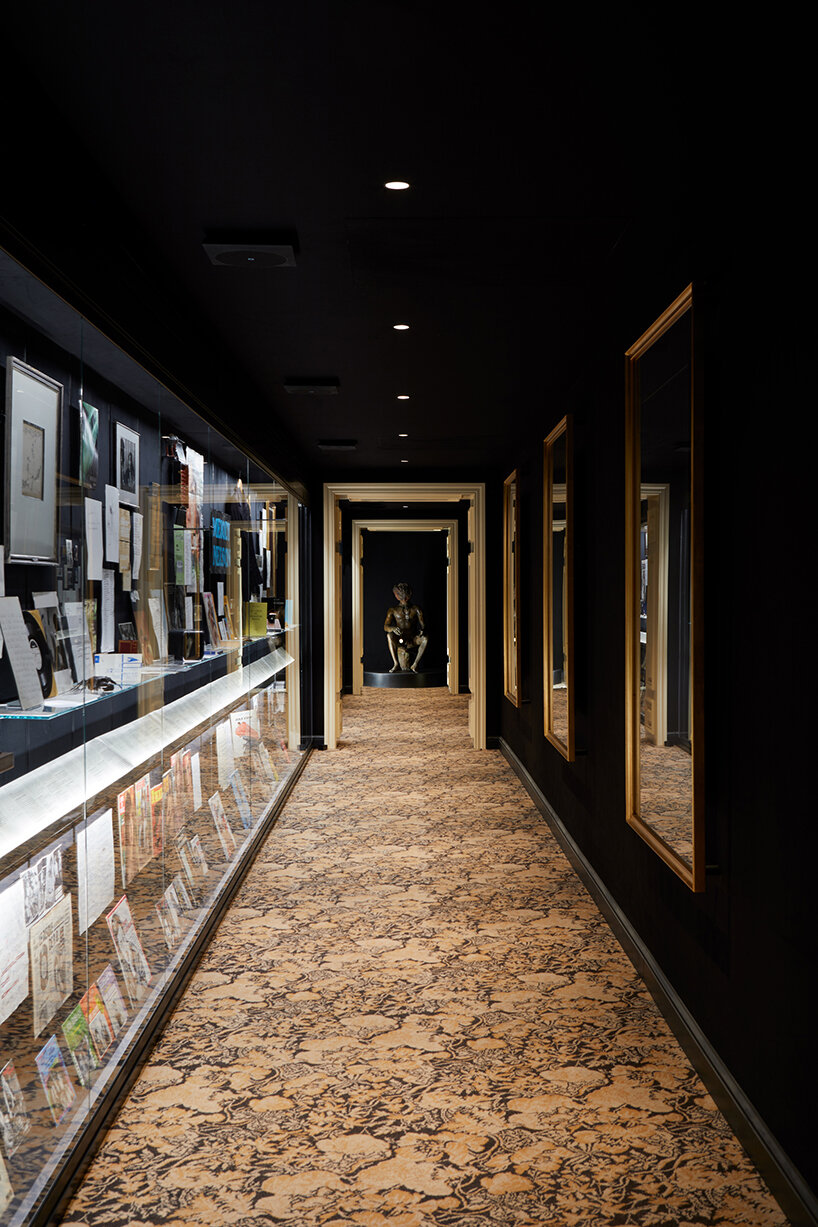 a museum space dedicated to permanent collections & temporary exhibits | image © Alexis Raimbault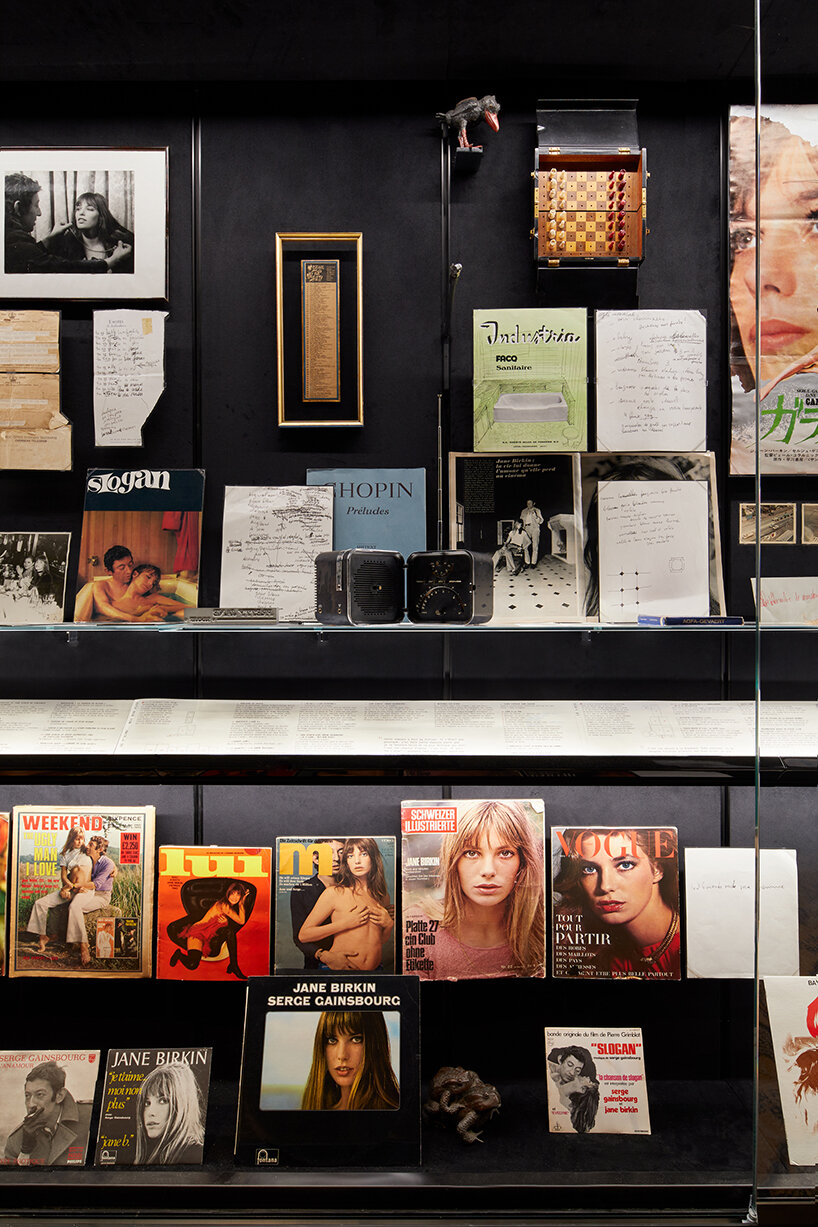 the permanent collection holds over 25,000 references | image © Alexis Raimbault
Next to the permanent collection display cases, eight screens showcase a selection of rare television, photographic, cinematic, and radio archives, some previously unreleased. In these archives, Serge Gainsbourg narrates his journey through voiceovers: Chapter I: 1928 – 1954 Ginsburg before Gainsbourg, From Painting to Music | Chapter II: 1954 – 1957 Nul ne le saura jamais, From 'Arthur Circus' to 'Le Poinçonneur des Lilas' | Chapter III: 1958 – 1964 Du Jazz dans le ravin, From 'La Recette de l'amour fou' to 'Couleur Café' | Chapter IV: 1965 – 1968 Sous le soleil exactement, From 'Poupée de cire, poupée de son' to 'Initials B.B.' | Chapter V: 1968 – 1971 Jane B, From 'Je t'aime moi non plus' to 'Melody' | Chapter VI: 1972 – 1978 Flash Forward, From 'La Décadanse' to 'Sea Sex and Sun' | Chapter VII: 1979 – 1983 Ecce homo, From 'Aux armes et cætera' to 'Baby alone in Babylone' | Chapter VIII: 1984 – 1991 No Comment, From 'Sorry Angel' to 'Mon légionnaire'.
The museum's basement holds small temporary exhibitions exploring critical elements of Serge Gainsbourg's timeline. To mark the opening of Maison Gainsbourg, the first temporary exhibition is dedicated to the song 'Je t'aime… moi non plus,' a duet recorded by Jane Birkin and Serge Gainsbourg in December 1968. For its first temporary showcase, Maison Gainsbourg zooms in on one of the most well-known French songs worldwide, 'Je t'aime… moi non plus.' Released in February 1969, this sultry duet brought together Jane Birkin and Serge Gainsbourg, who had met a few months earlier.
Drawing from its archives and an exceptional private collection of records, Maison Gainsbourg presents a panorama of the scandal that brought the Gainsbourg-Birkin couple to international attention. Through the exhibited documents, one can follow the various stages of the saga that propelled this duet to the top of the charts in the fall of 1969. Censored and banned from the airwaves across Europe, seized at the record company's headquarters in Italy, condemned by the Vatican, and production halted on the orders of Queen Juliana of the Netherlands, the 45 RPM sold over four million copies. In the UK, it was the first foreign-language song to top the charts and the first single to enter the rankings despite a ban.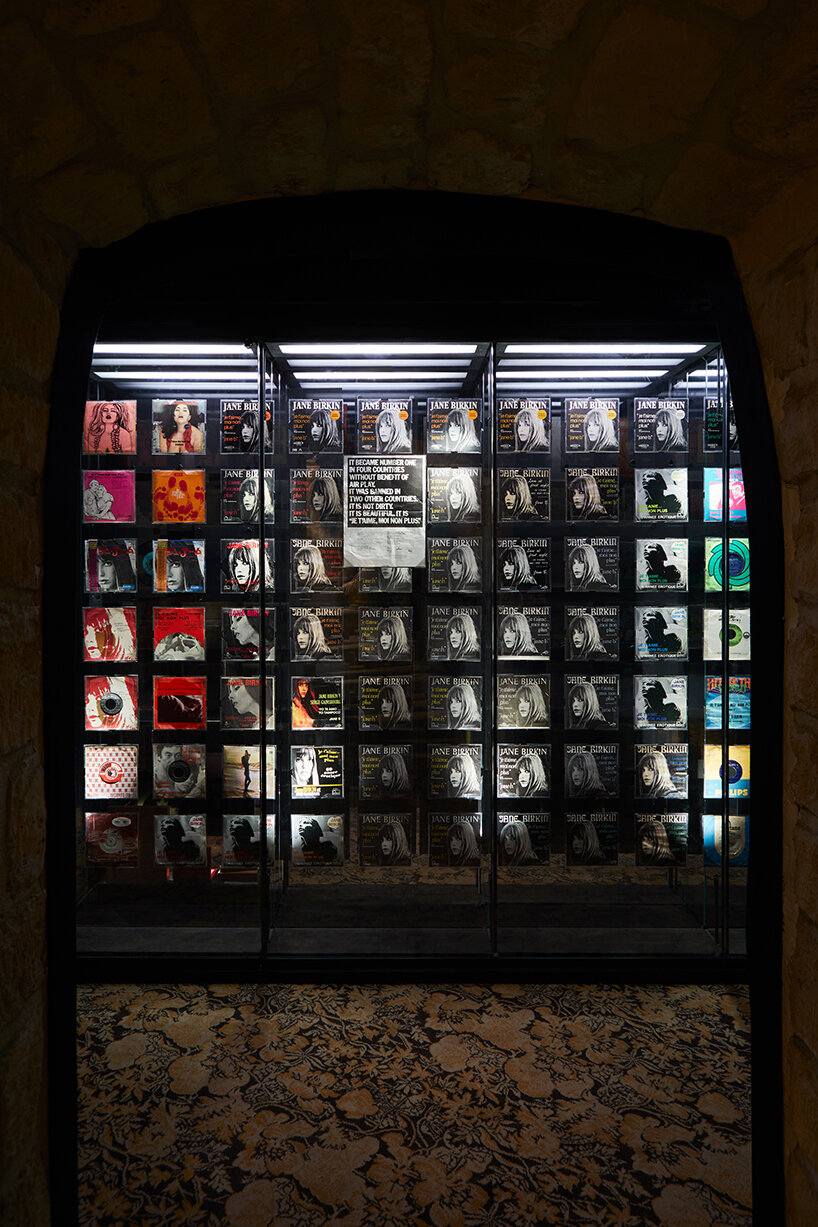 temporary exhibition at Maison Gainsbourg | image © Alexis Raimbault
14 rue de vernueil: café-piano bar meets bookstore-boutique
Moving to the Gainsbarre, Maison Gainsbourg's café and piano bar, this space is a nod to Serge Gainsbourg's early years in his music career when he worked as a pianist in bars and lounges in the capital. Its décor reproduces the atmosphere created by Serge Gainsbourg at 5 bis Rue de Verneuil. It includes black felt-covered walls, carpet with poppy and waterlily patterns, white door frames, English bow windows, and black lacquered moucharabieh screens. The lights dim at night, and the Gainsbarre transforms into a cozy piano and cocktail bar. In the evening, the giant wall of mirrors facing the bar lights up to reveal the most precious manuscripts from the Maison Gainsbourg collection. You can dine alongside illustrious writings penned by Serge Gainsbourg (Elisa, Bloody Jack, Bubble Gum, Pamela Popo, etc.).
Designed as a concept store, the Maison Gainsbourg bookstore-boutique offers various collections of carefully selected objects that evoke the rich universe of the artist. Records, photographs, iconic items, clothing, and fashion accessories are featured alongside a bookshop area. Conceived as a documentary resource center, the bookstore space presents a selection of reference biographical works and some rare editions related to Serge Gainsbourg. It also includes classics from the artist's literary landscape, drawn from his 5 bis Rue de Verneuil library. It also offers an exclusive selection of products to illustrate every facet of Serge Gainsbourg. It includes vinyl records in 33 and 45 RPM featuring the artist's complete discography and a selection of albums by many of his interpreters. A wide selection of Serge Gainsbourg's wardrobe pieces has been reissued exclusively for the boutique. Glasses, jeans, shirts, and even his iconic jacket are available.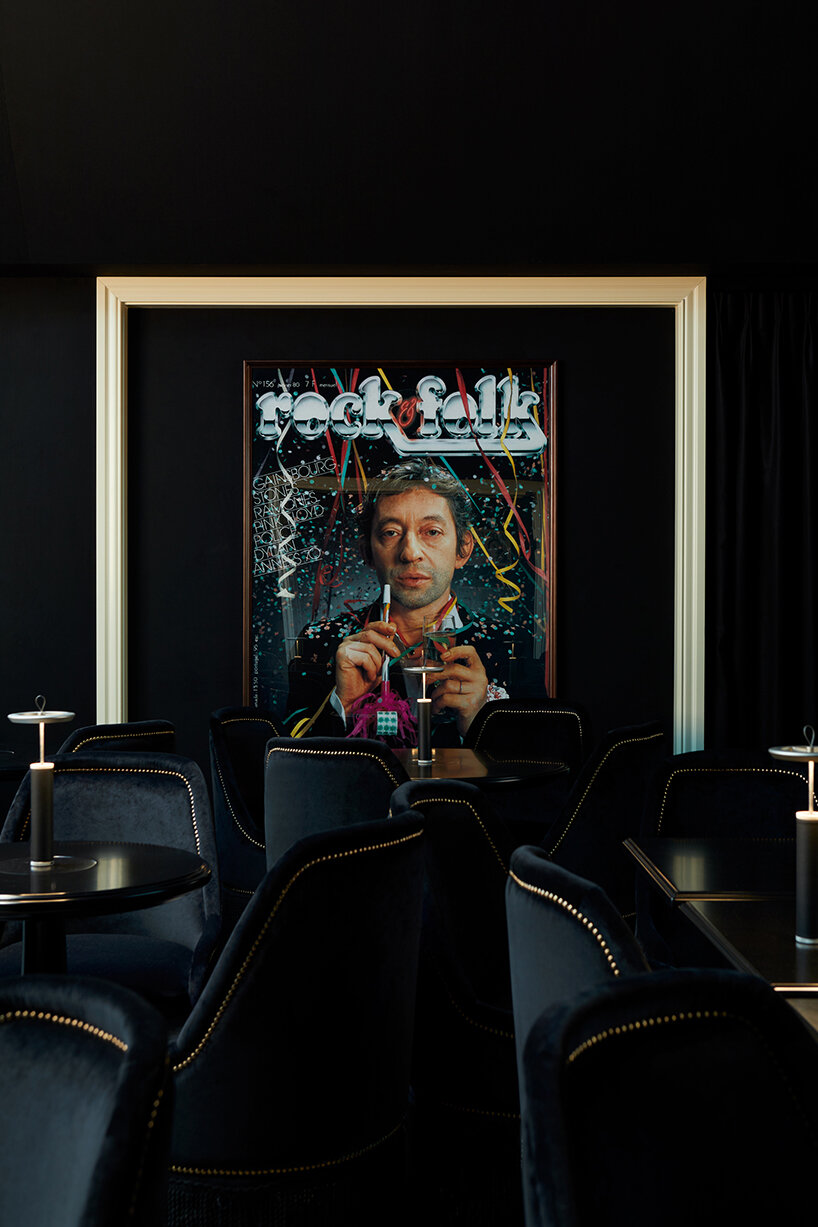 Gainsbarre café and piano bar | image © Alexis Raimbault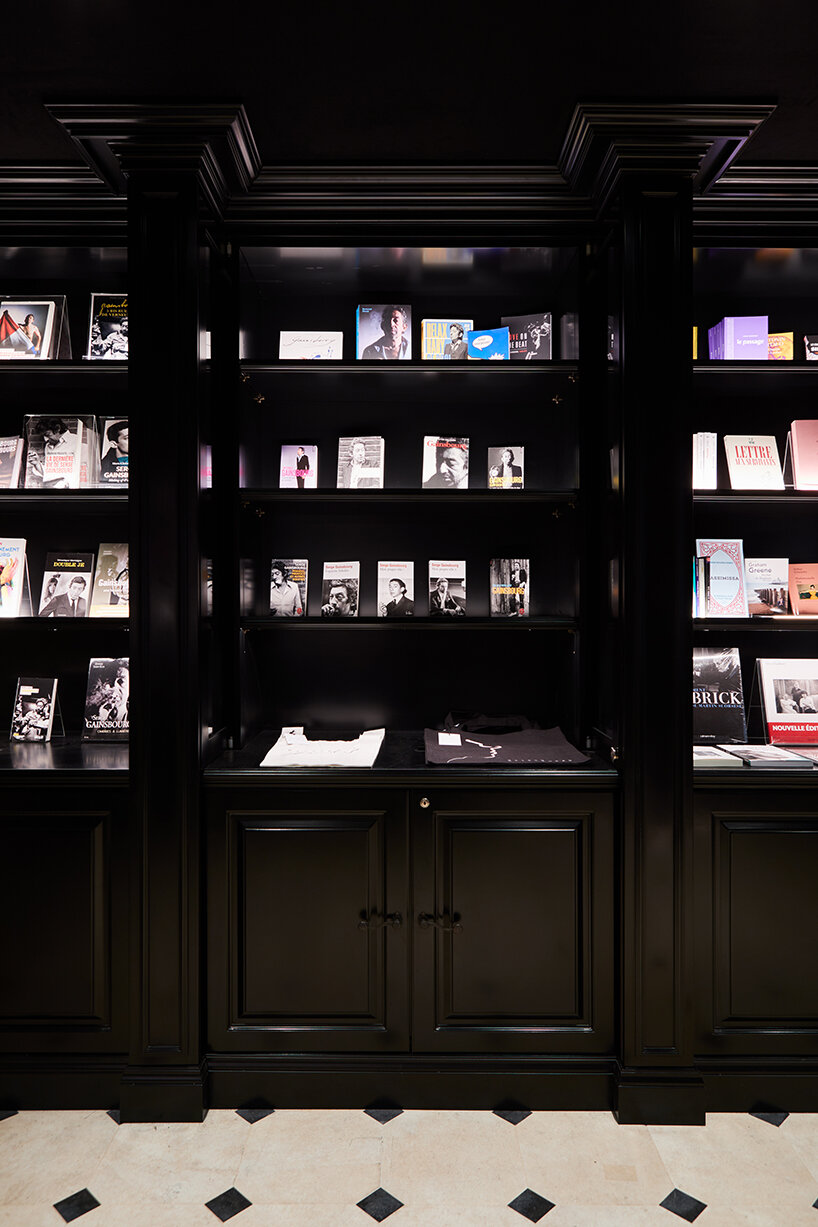 bookstore-boutique | image © Alexis Raimbault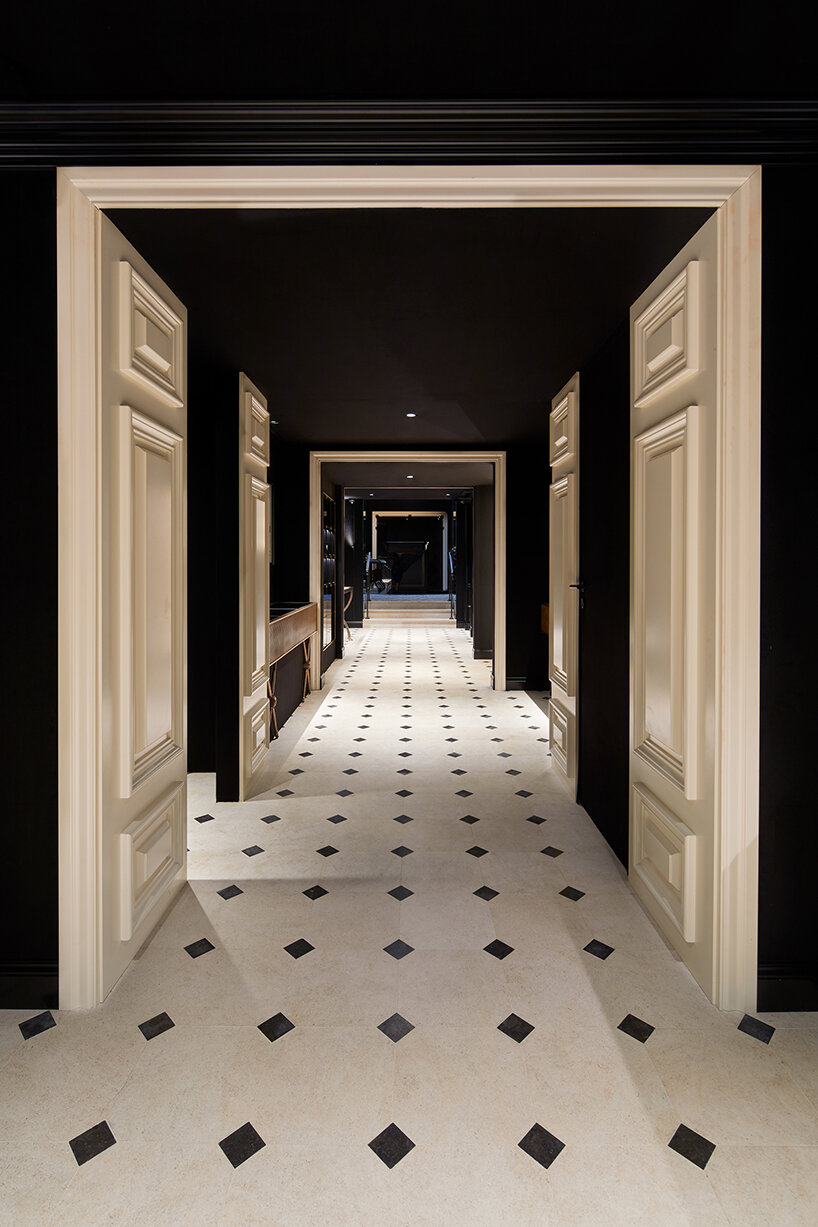 bookstore-boutique | image © Alexis Raimbault
CHOOSE YOUR TOUR OPTION for maison gainsbourg
COMBINED HOUSE & MUSEUM TOUR
5 bis & 14 Rue de Verneuil
Serge Gainsbourg's historic house can be visited with an original soundtrack created by Soundwalk Collective in collaboration with Charlotte Gainsbourg. It is an exceptional discovery of the artist's home, narrated by his daughter, who guides the audience step by step through his childhood home. After this intimate 30-minute experience, the ticket allows access to the museum. Dedicated to the history and work of Serge Gainsbourg, it is located across the street at 14 Rue de Verneuil.
MUSEUM ONLY TOUR
14 Rue de Verneuil
The museum offers a deep dive of approximately 1 hour into Serge Gainsbourg's life and work. On the ground floor, it revolves around a long gallery composed of iconic or unpublished works that form the permanent collection of Maison Gainsbourg. This chronological progression through the artist's life is accompanied by a fifty-minute video tour. The museum also hosts small thematic temporary exhibitions at the end of the tour to highlight some of the key events in the artist's career.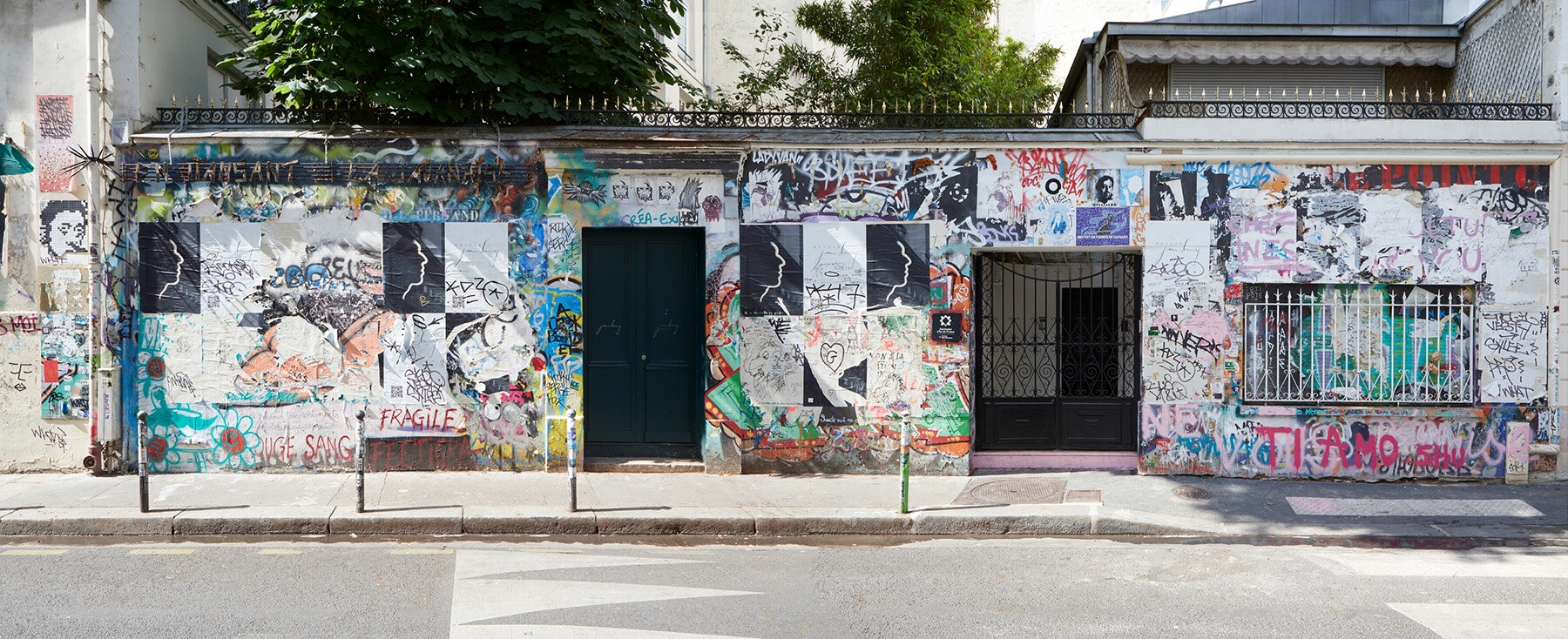 image © Alexis Rimbault
image © Alexis Rimbault
image © Alexis Rimbault
image © Alexis Rimbault
image © Alexis Rimbault
image © Alexis Rimbault
image © Alexis Rimbault
image © Alexis Rimbault
image © Pierre Terrasson
project info:
name: Maison Gainsbourg | @maisongainsbourg
location: 5 bis Rue de Verneuil, 7th arrondissement, Paris
original owner: Serge Gainsbourg
organized by: Charlotte Gainsbourg
opening date: September 20, 2023
KEEP UP WITH OUR DAILY AND WEEKLY NEWSLETTERS
happening now! antoniolupi extends its expertise beyond the bathroom with the 'living' collection, a series of home furnishings that complement its esteemed collection of bathroom furniture and accessories.
a diverse digital database that acts as a valuable guide in gaining insight and information about a product directly from the manufacturer, and serves as a rich reference point in developing a project or scheme.
designboom will always be there for you
milan, new york, beijing, tokyo

,
since 1999