jul 14, 2013
shinro ohtake found object scrapbooks at venice biennale 2013

found object scrapbooks by shinro ohtake
the encyclopedic palace, venice art biennale 2013
image © designboom

since 1977, japanese artist shinro ohtake has been collaging found materials, personal mementos, and an astonishing array of other odds and ends into a sprawling series of 'scrapbooks'. the collection now numbers over sixty albums, some of which contain as many as seven hundred pages, and is on exhibition as part of the 'encyclopedic palace' at the venice art biennale 2013.

the enrapturing book assemblages take on sculptural forms
image © designboom
the 'encyclopedic palace' ('il palazzo enciclopedico') is curated by massimiliano gioni and serves as the conceptual heart and organizing theme of this year's art biennale. the title comes from a patent filed by self-taught italian-american artist marino auriti in 1955 for his 'palazzo enciclopedico', a proposed museum that would house all human knowledge and innovation.
'today, as we grapple with a flood of information, such attempts to structure knowledge into all-inclusive systems seem even more necessary and even more desperate,' gioni explains. the exhibition offers 'a reflection on the ways in which images have been used to organize knowledge and shape our experience of the world.'

the cover of one of shinro ohtake's open books on exhibition
installation view, part of 'the encyclopedic palace', venice biennale 2013
image © designboom
overflowing with artifacts, shinro ohtake's 'scrapbooks' are precisely that. collaged images, newspaper clippings, paintings, and found objects intermingle on the covers of the books and each page, responding directly to mass media culture and contemporary urban life. the albums themselves at times adopt sculptural forms: for example, one book is attached to the body of an electric guitar in a work that bridges the divide between ohtake's artistic career and work as a well-known noise-rock musician.

ohtake includes personal mementos as well as found objects in his scrapbooks
installation view, part of 'the encyclopedic palace', venice biennale 2013
image © designboom
shinro ohtake uses his journeys, dreams and diaries to examine the inner surface of his layered perceptions. during his stay in london, he purchased a collection by an old man who had obsessively collected matchbooks and glued them into pages of a notebook.
these artifacts have since then influenced ohtakes own artworks. his 'street books' feature an excessive layerings of found images and discarded tickets, tags, currency, newspaper pieces and other mass-produced printed matter. being both, one-of-a-kind and multiples, the books are sculptural objects that interact with ohtake's own painting and drawing — before he seals them with coats of wax, stain, and varnish, plastic or fiberglass.

collaged pages of one of shinro ohtake's scrapbooks
installation view, part of 'the encyclopedic palace', venice biennale 2013
image © designboom

installation view of several of the books on exhibition
image © designboom

one of ohtake's incredible scrapbooks is mounted to the body of an electric guitar
installation view, part of 'the encyclopedic palace', venice biennale 2013
image © designboom

installation view of shinro ohtake's exhibition in 'the encyclopedic palace'
image © designboom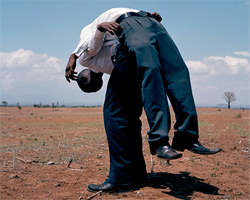 jul 12, 2013
jul 12, 2013
jun 05, 2013
jun 05, 2013
feb 13, 2012
feb 13, 2012
aug 26, 2013
aug 26, 2013
jul 31, 2013
jul 31, 2013
jul 23, 2013
jul 23, 2013