Shocking! The surreal world of Elsa Schiaparelli
From July 6th, 2022 to January 22nd, 2023, the Musée des Arts Décoratifs in Paris celebrates the creations of Italian couturière Elsa Schiaparelli in the exhibition 'Shocking! The surreal world of Elsa Schiaparelli', which brings together 520 works including 272 silhouettes and accessories by Schiaparelli herself, alongside paintings, sculptures, jewelry, perfumes, ceramics, posters, and photographs by the likes of Schiaparelli's dear friends and contemporaries such as Man Ray, Salvador Dalí, Jean Cocteau, Meret Oppenheim, and Elsa Triolet. The retrospective will also showcase creations designed in honor of Schiaparelli by fashion icons including Yves Saint Laurent, Azzedine Alaïa, John Galliano, and Christian Lacroix. Daniel Roseberry, artistic director of the House of Schiaparelli since 2019, also interprets the heritage of Elsa Schiaparelli with a design of his own, and the scenography inside the museum has been entrusted to Nathalie Crinière. The public art and fashion exhibition will be presented in the Christine & Stephen A. Schwarzman fashion galleries of the Musée des Arts Décoratifs.
The show, which is displayed on two levels, ushers the visitors into the thematically and chronologically significant points of Elsa Schiaparelli's career, the combination of her collections from year to year with the works of friends and contemporaries who inspired her fashion creations. Draping the entirety of the exhibition, these designs mark the growth of Schiaparelli's repertoire, helmed by the first space dedicated to her hundreds of couturière's drawings that illustrate the breadth of her work. The exhibition addresses the artist's awakening in fashion and modernity along with the pivotal role that designer Paul Poiret played as a mentor in Schiaparelli's life beginning in 1922. Nearly 20 years since the last retrospective devoted to Schiaparelli at the Musée des Arts Décoratifs, the museum revisits yet again the works of Schiaparelli, who drew much of her inspiration from her close ties to the Parisian avant-garde of the 1920s and 1930s, and exposes her sense of feminine style to the modern public, fueled by the sophistication of her designs and the thrill that she brought to the world of fashion.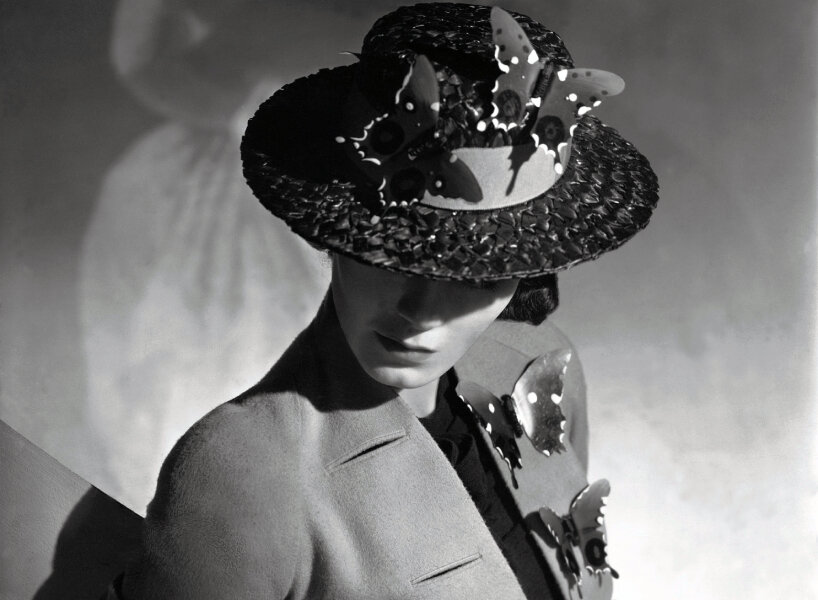 header image: Shocking! The Surreal World of Elsa Schiaparelli at Musée des Arts Décoratifs | all installation images by Christophe Delliere
Haute couture designs of Elsa Schiaparelli
Elsa Schiaparelli, who was raised in a humanist and erudite milieu, became interested in fashion as a result of her strong affinity with art and artists. She became her own creator, experimenting with haute couture designs, evening gowns, streetwear, dressing sports models, manufacturing accessories, and even fusing scents. Schiaparelli savored the freedom her influences gave her, especially through her associations with artists, many of whom believed Schiaparelli to be a full-fledged artist in her own right. The dialogue that exists between fashion and art has become pertinent these days, and the re-introduction of Elsa Schiaparelli as a self-described 'inspired' seamstress contributes to the ever-changing landscape of art and fashion. She went on to design her trompe l'oeil patterned sweaters, which sparked her interest in Art Deco, especially after meeting Jean Dunand, who produced an elegant dress with lacquer-painted pleats for Schiaparelli. Schiaparelli then begins a series of collaborations with artists such as Ela Triolet, Jean Cocteau, and Salvador Dal, and hones her strong sense of detail through Surrealist-inspired models, introducing patterns and materials such as transparent plastics, crawfish-shaped buttons, drawer pockets, and lobsters.
The exhibition continues with thematic collections that Elsa Schiaparelli initiates alone, revolving around the sources of inspiration that speak to her – Italian antiquity, nature, and music. The Pagan Collection pays homage to Antiquity with references to Ovid's metamorphoses, the Butterfly Collection is an ode to insects – an inspiration she shares with Surrealist painters – and the Music Collection from 1939 appears to expand and deepen the shape of the modern woman. The fabled cooperation forged by Elsa Schiaparelli and Salvador Dal graces the space dedicated to Dal, a sort of Surrealist fascinator, through his Lobster Dress and the Hat Shoe. The second level leads to a recreation of Elsa Schiaparelli's couture salons, which she debuted in 1935 at 21 Place Vendôme in Paris and who hired Jean-Michel Frank for interior design and decoration. There, she acquires an international reputation.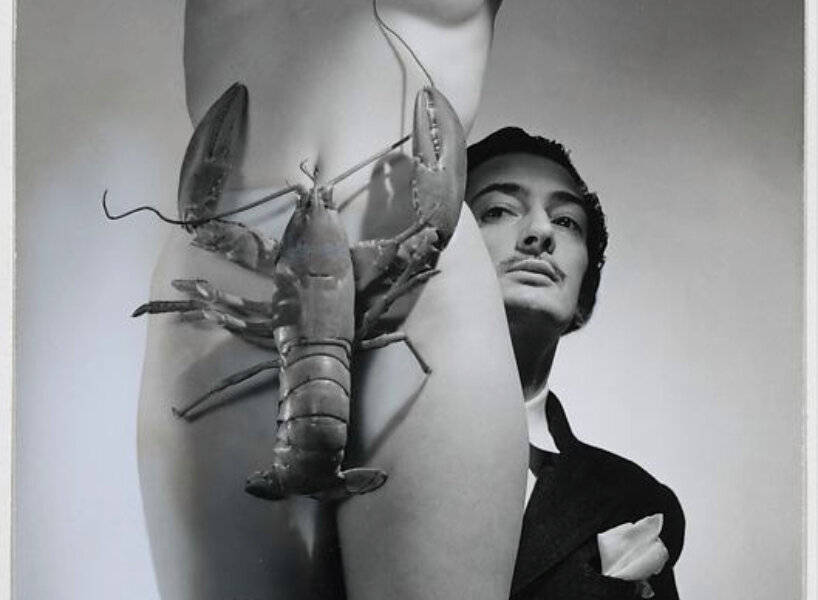 Salvador Dali 1939 by the Estate of Georg
perfume designs and legacy of Elsa Schiaparelli
The perfume cage carefully displays her original olfactory compositions, including the famed 'Shocking,' which becomes a global success, showcasing its creator's remarkable marketing sense. The delicate and luxurious technique of embroidery is also highlighted, as is Schiaparelli's appreciation for the works of Maison Lesage, which was formed in 1924 and continues to make bespoke embroideries for her and other design businesses. The collections from 1938 to 1939 include the 'commedia dell'arte' collection, inspired by the characters of the 18th-century Italian comedy; the Astrological Collection, which blends Baroque references linked to Versailles with the Sun King celebrating the 17th century; and the Circus Collection with its sumptuous boleros embroidered with horses, acrobats, and elephants. Pre-war designs have a thin cigarette-like profile, whilst post-war designs are more loose and built.
In just twenty-five years, Elsa Schiaparelli contributed to the ripening of fashion as a natural aspect of the avant-garde, a playground in which she redefined the interplay between women and femininity, allure and soul, while remaining relevant today. She embodied a vision of a vibrant Paris, a curious couturière who savored the novelties that came her way. Such liberty is what 'Shocking! The surreal world of Elsa Schiaparelli' offers the visitors (information here) – the freedom to create, freedom to converse, and freedom to be themselves through models, jewelry, and thousands of drawings, all of which were donated by Elsa Schiaparelli to l'Union Française des Arts du Costume in 1973, whose holdings are now preserved by the Musée des Arts Décoratifs. As a final gesture, the Musée des Arts Décoratifs continues to preserve the works of Elsa Schiaparelli, allowing her art and design to live on.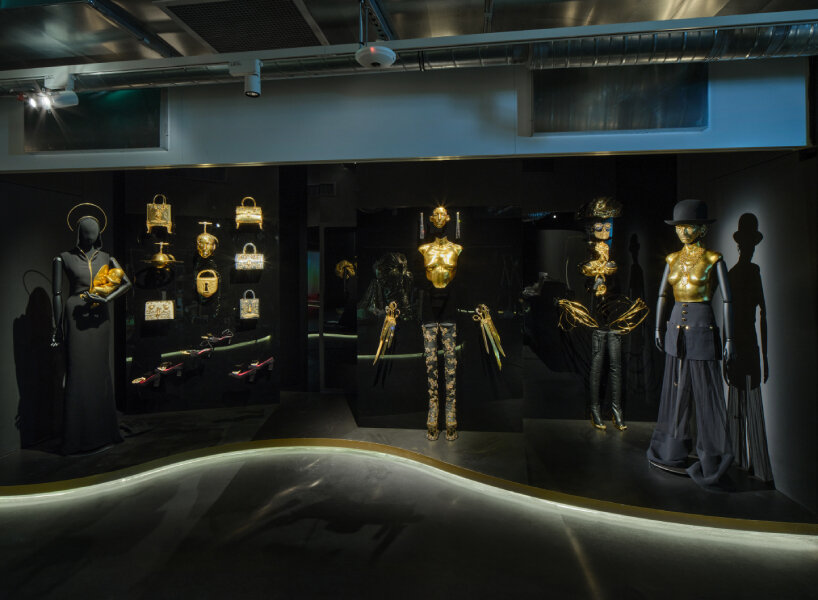 'The surreal world of Elsa Schiaparelli' displays the Italian couturière's 520 works in Paris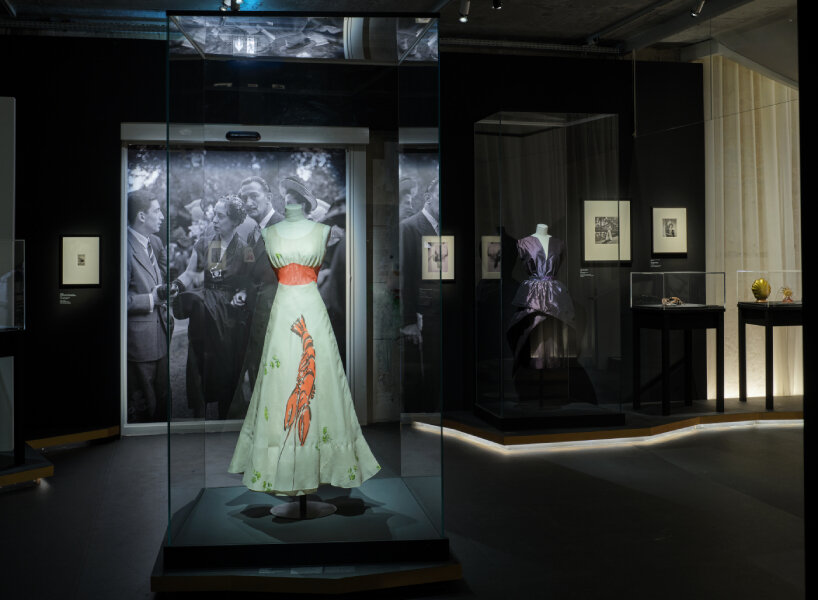 the exhibition includes 272 silhouettes and accessories by Schiaparelli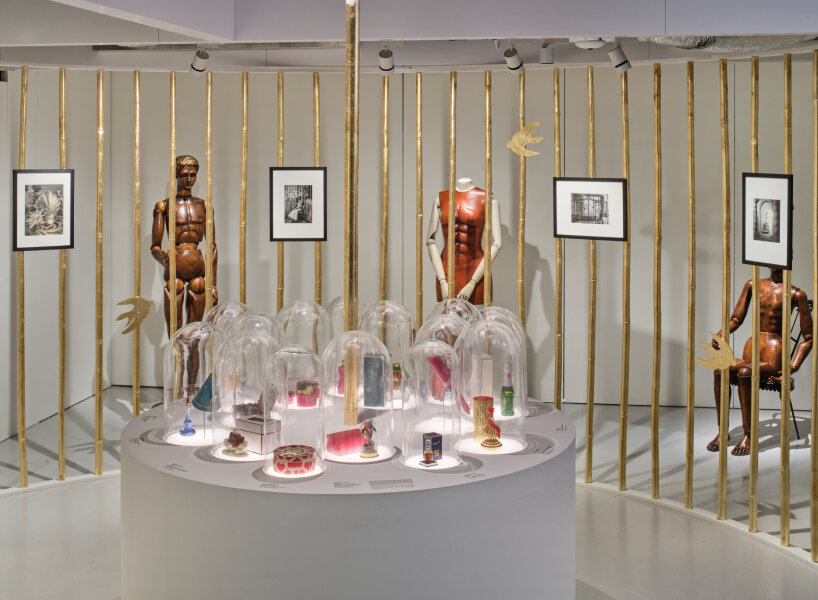 the exhibition also shows paintings, sculptures, jewelry, perfumes, ceramics, posters, and photographs by Schiaparelli's dear friends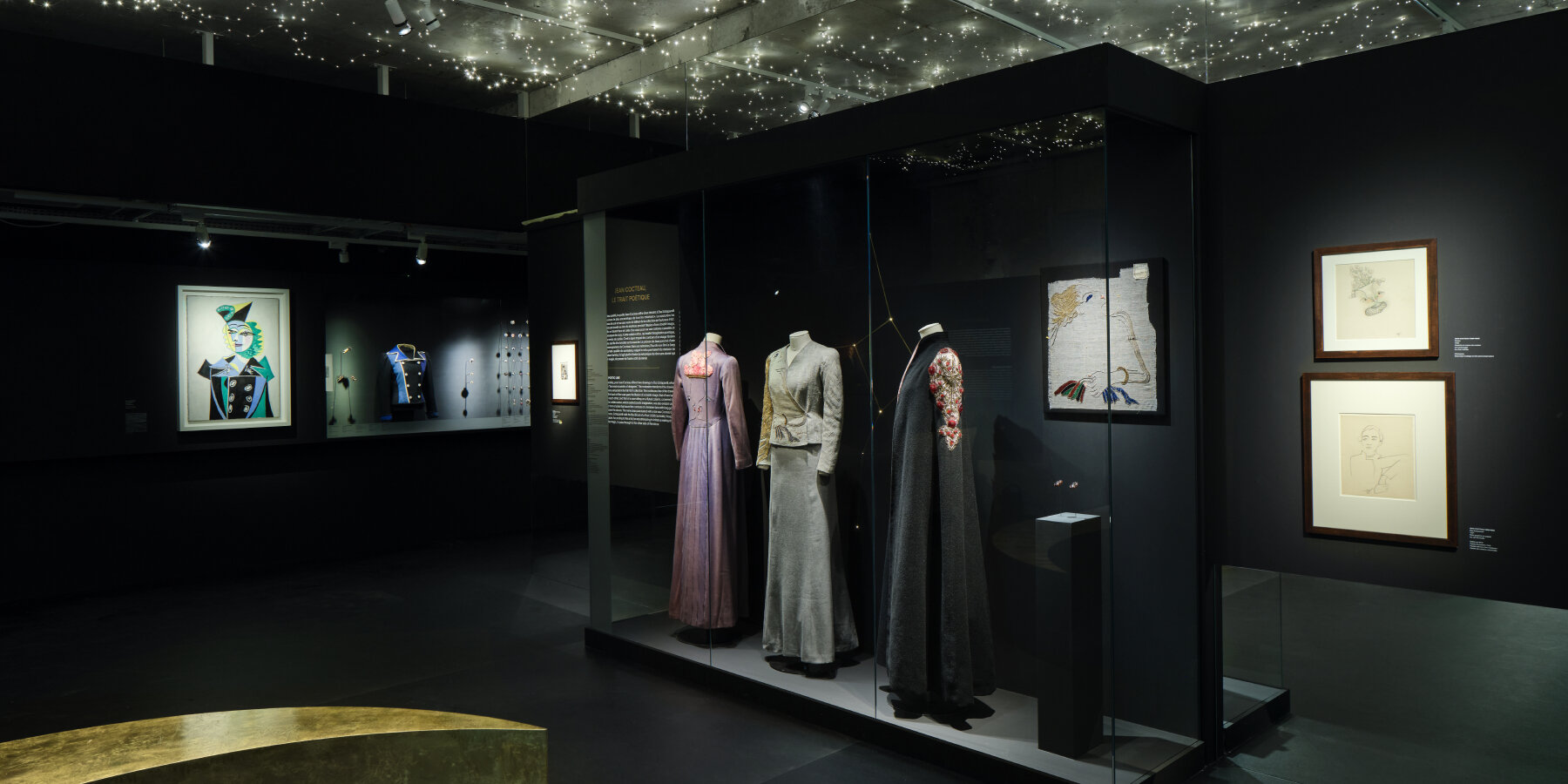 'Shocking! The surreal world of Elsa Schiaparelli'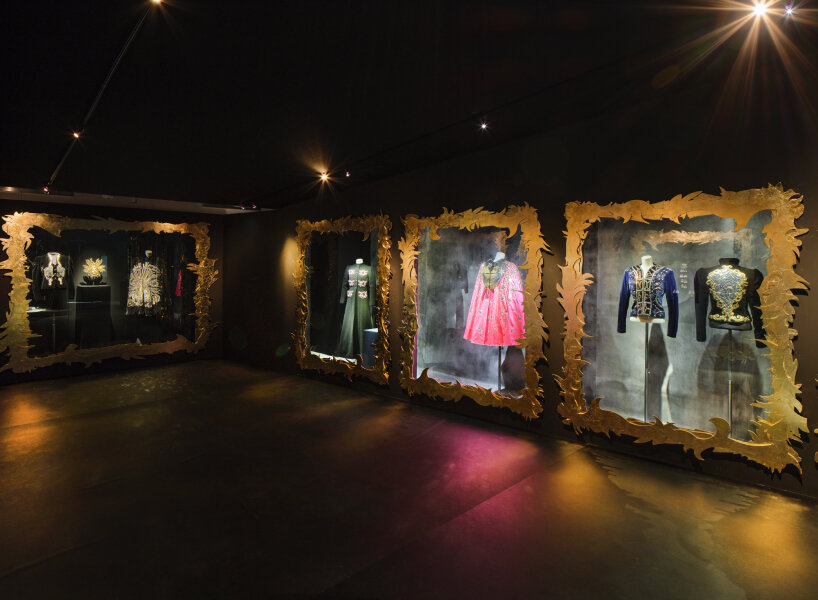 works of Elsa Schiaparelli on display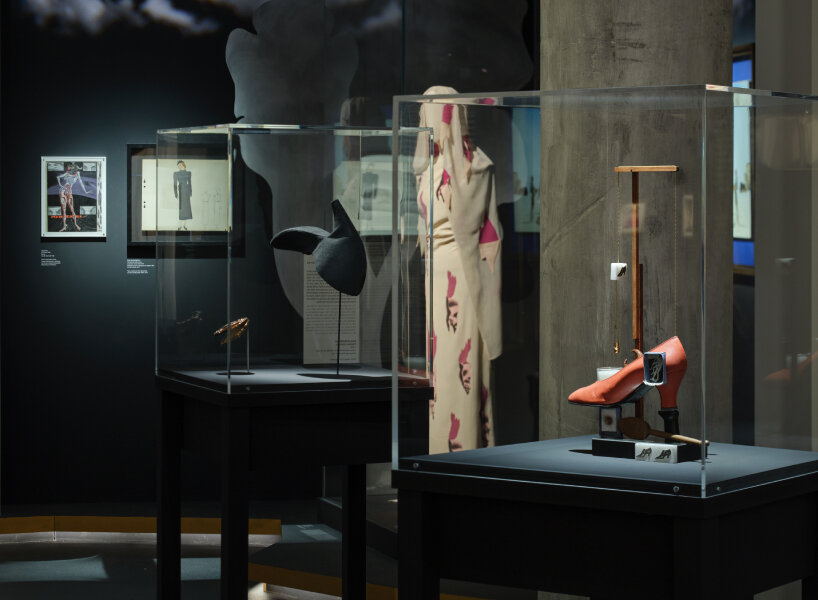 part of the 520 works of Elsa Schiaparelli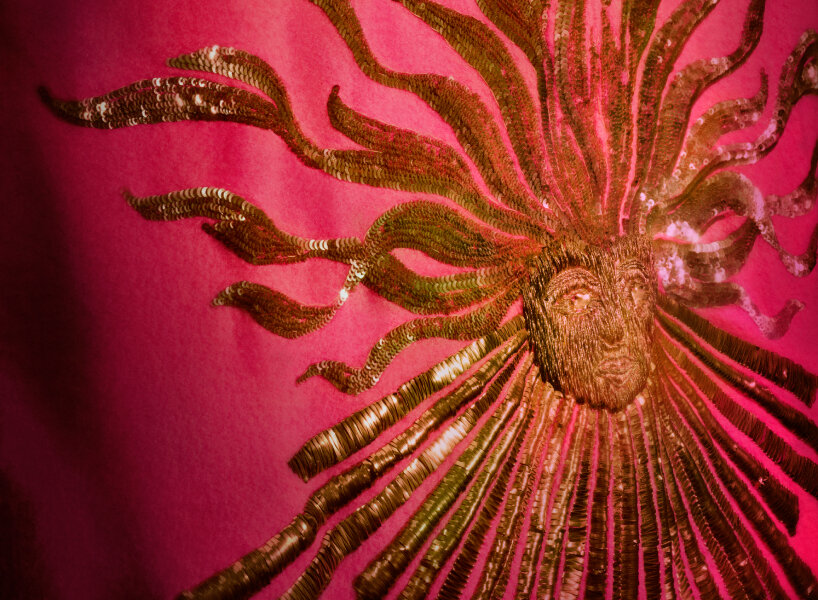 Phoebus Cloak Winter 1937-1938, Valerie Belin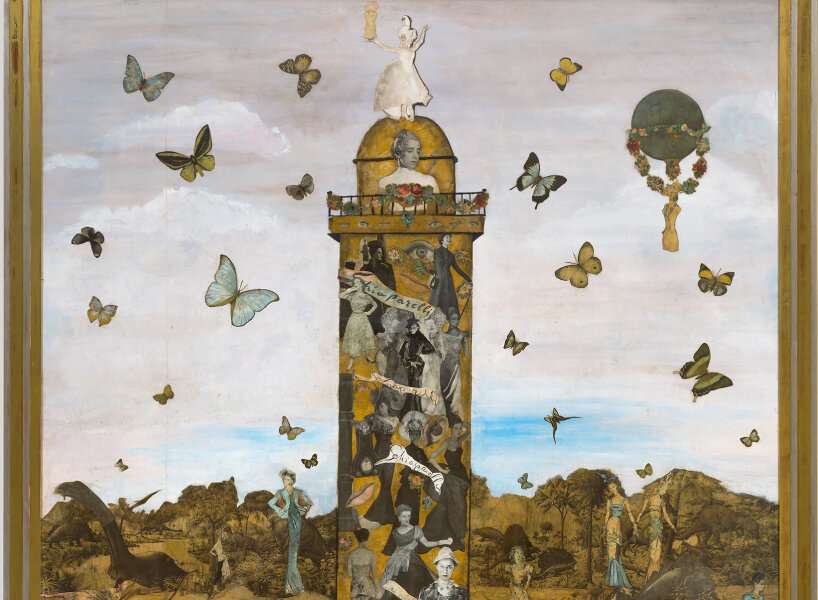 Marcel Vertès painting from Schiaparelli archives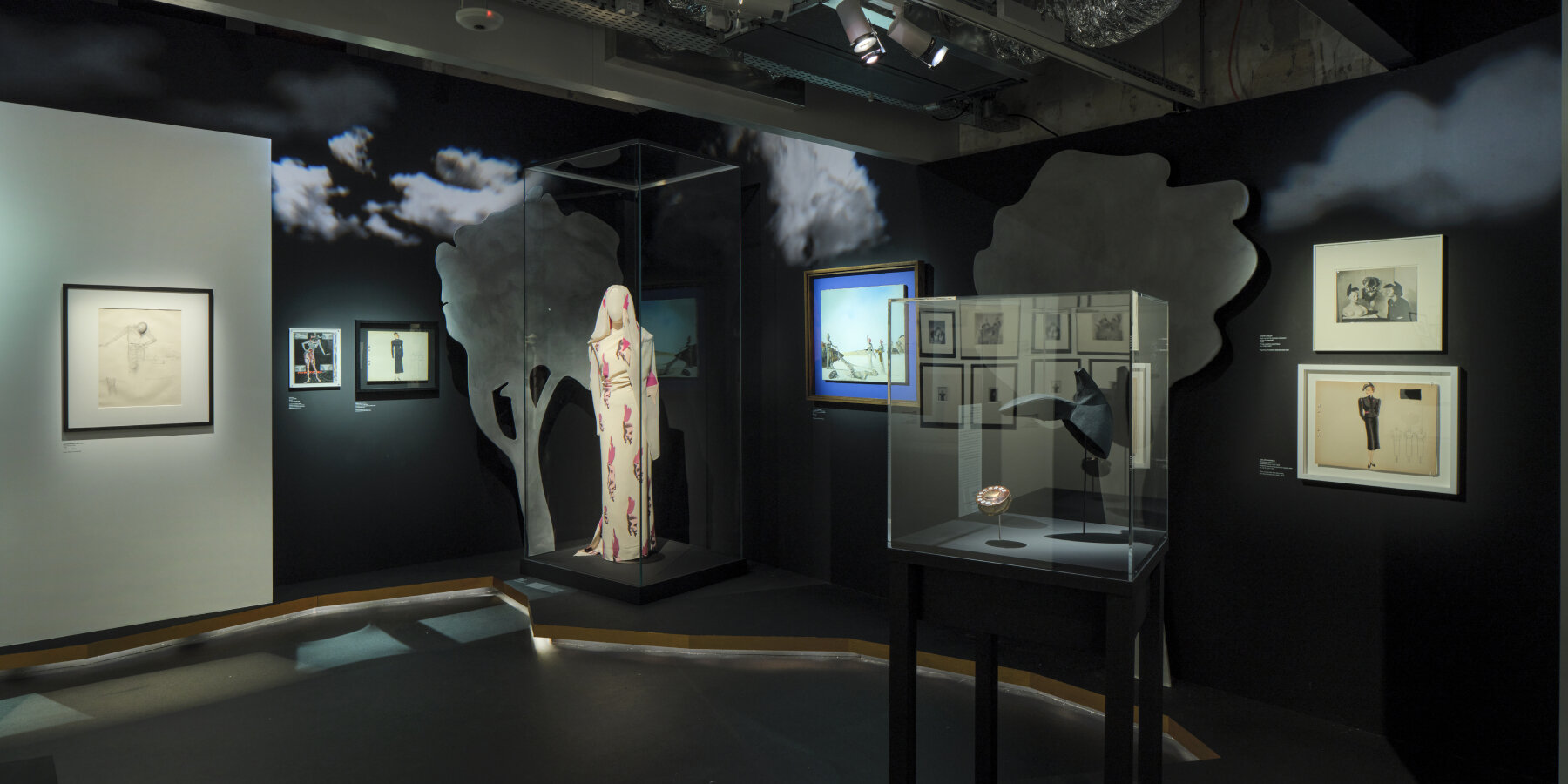 'the surreal world of Elsa Schiaparelli' exhibits the italian couturière's 520 works in paris
Evening Coat Winter, 1938-1939 from Schiaparelli archives
Evening Summer Gown, 1939 from Schiaparelli archives
Shocking Perfume Bottle from Schiaparelli archives
1938 Necklace from Schiaparelli archives
Salvador Dali, Telephone powder compact, 1935 from Schiaparelli archives
project info:
name: Shocking! The surreal world of Elsa Schiaparelli
designer: Elsa Schiaparelli
curators: Olivier Gabet, Marie-Sophie Carron de la Carrière
museum: Musée des Arts Décoratifs
dates: July 6th, 2022 to January 22nd, 2023
matthew burgos | designboom
jul 08, 2022
KEEP UP WITH OUR DAILY AND WEEKLY NEWSLETTERS
a diverse digital database that acts as a valuable guide in gaining insight and information about a product directly from the manufacturer, and serves as a rich reference point in developing a project or scheme.
designboom will always be there for you
milan, new york, beijing, tokyo

,
since 1999