aug 17, 2011
snøhetta + arvo pärt: to a great city at stillspotting NYC
'to a great city' by arvo pärt and snøhetta architects curated by david van der leer for stillspotting NYC, guggenheim museum tour begins at castle clinton national monument battery park, new york, new york september 15th – 18th, 22nd – 25th
'to a great city' by composer arvo pärt and snøhetta architects, is a self-guided tour exploring the relationship between space and sound, part of stillspotting NYC above: snøhetta, concept sketch for 'to a great city' (2011) digital photograph with handwriting all images © snøhetta
'to a great city' is a self-guided tour exploring the relationship between space and sound, the collaborative work of estonian composer arvo pärt and new york city and oslo -based architecture and design firm snøhetta. organized for the manhattan edition of the guggenheim's stillspotting NYC program, the project offers visitors the opportunity to visit five quiet spaces throughout manhattan, curated by snøhetta and ranging from the battery conservancy to an underground chamber at governors island national monument to normally inaccessible interior rooms of skyscrapers.
pärt has described his music as a 'frame for silence', using sparse notes and low volumes in conjunction with his 'tintinnabuli' (latin for 'little bells') concept, in which nuanced aural environments are created in a soundscape that feels intimate. his pieces often revolve around a central tone that reemerges throughout the piece, and to reflect this concept, snøhetta architects have selected– and in some cases, subtly altered– five urban spaces that embody the idea of a central tone and which expand the perception of sound into the realm of physical space. once purchased, tickets are valid for the rest of the day, leaving visitors free to experience the 'stillspots' multiple times and in whatever order they wish.
listen to 'hymn to a great city', composed by arvo pärt:arvo pärt: 'hymn to a great city ' (2009) musical composition for two pianos. mchael mcHale, pianos on 'a place between' compact disc universal edition vienna / louth contemporary music society LCMS901
david van der leer, curator of stillspotting NYC, explains:
"while the vitality and stimulation of the urban environment can be pleasant, those living in or visiting densely populated areas such as new york are often unaware that their ears continually need time to adjust to strong differences between the sounds that surround them– just as the pupils of the eyes only gradually accommodate to the change from light to dark. […] the stillness and seclusion of these spaces [in the 'to a great city' tour] heightens awareness and recalibrates one's senses.'
snøhetta, concept sketch for 'the battery labyrinth for 'to a great city' (2011), one of the sites on the self-guided tour composite digital image
the stillspotting NYC website adds another dimension to the exhibition, inviting users to share their own peaceful 'stillspots' in the greater manhattan area. additional projects integrated into 'to a great city' and accessible from the program page include an explorable map of the noise complaints reported by new york residents, created by the spatial information design lab (SIDL) at columbia's graduate school of architecture, planning, and preservation; visual explorations of data related to noise and space created by students in the SIDL program; and a series of video studies developed by MFA students at the school of visual arts of the visual, aural, and sociological ecology of the urban landscape.
snøhetta, concept sketch for 'to a great city' (2011) ink on paper
view designboom's interview with pedro reyes and coverage of his 'sanatorium' project, the brooklyn edition of stlllspotting NYC
sep 05, 2019
sep 05, 2019
jul 09, 2019
jul 09, 2019
jun 27, 2019
jun 27, 2019
jun 19, 2019
jun 19, 2019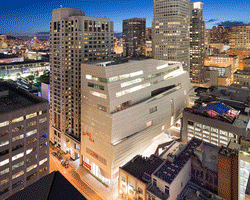 apr 28, 2019
apr 28, 2019
apr 03, 2019
apr 03, 2019
a diverse digital database that acts as a valuable guide in gaining insight and information about a product directly from the manufacturer, and serves as a rich reference point in developing a project or scheme.