brooklyn-based architecture studio SO — IL, together with japan society gallery, presents a thoughtfully designed installation, 'boro textiles: sustainable aesthetics.' the show investigates the historical nature of 'boro' (rags or tatters), a type of patchwork textile hand-pieced by peasants in japan in the 19th and early 20th centuries. with respect for the meditative process of repair-work, a cultural language arises through its textiles and garments, characterized by their expressive layering, patching, and reuse. 'boro textiles' portrays this historic language and how it ultimately served to influence the work of contemporary japanese designers today.
designboom visits with jing liu and florian idenburg of SO — IL at their brooklyn studio to discuss their approach to exhibition design and the display of historic textiles at japan society gallery.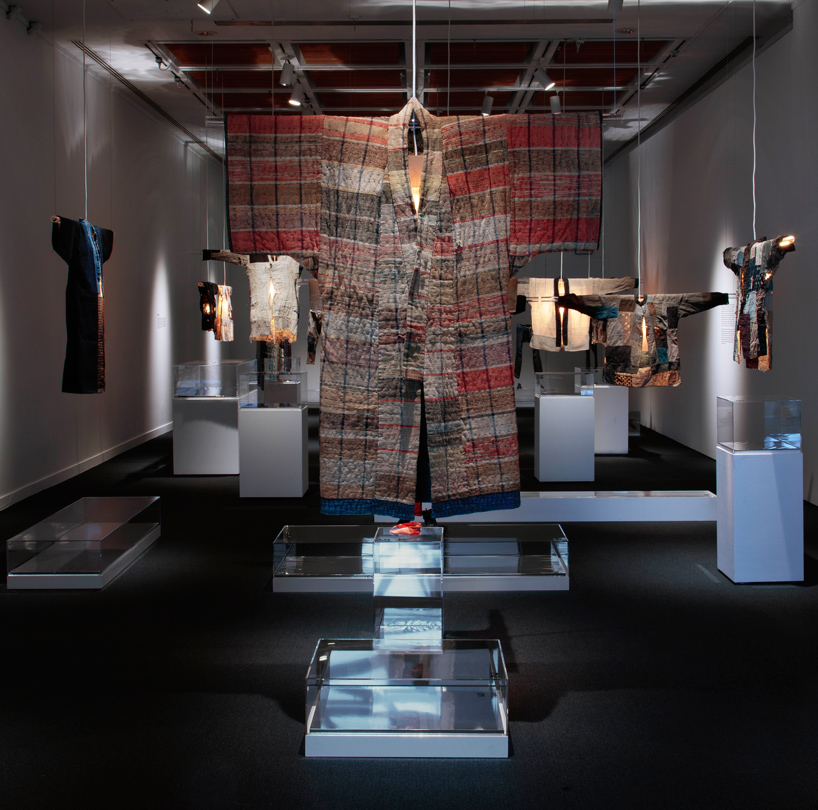 all images by richard goodbody
designboom (DB): we're excited by this theme of finding beauty in repair work and showing how these resultant conditions in history have developed into an intentional signature of designers today. how do you begin to represent these ideas through exhibition design?
SO — IL: I think the fabric that they were using is very different from architectural materials. so, our first intuition is to not add too many other materials in the space, this way we're not confusing the viewers' understanding of what is the object and what is the artwork. there are indeed many added layers, so you have to draw a boundary. most of the material we chose to frame the exhibition was either transparent, translucent, or reflective. it was a lot working with minimal details, minimal materials, and then also lighting effects without adding another texture to the context.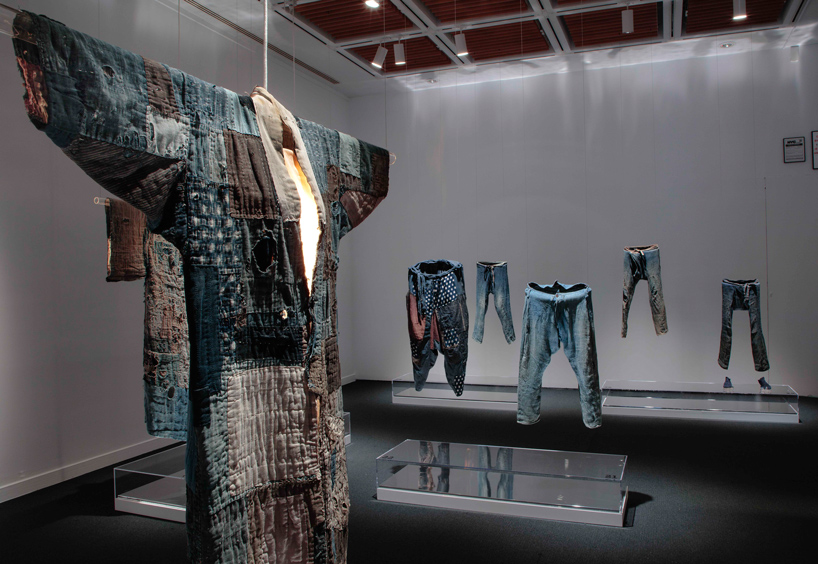 SO — IL (cont.): it is indeed about being very conscious — and that's not 'sustainable' in a way like, 'okay this material is sustainable.' it's a consciousness of minimal resource use. one interesting anecdote that led to our choice of using the vitrine is that japan society has three galleries and they don't have storage space on site. all the previous vitrines that they'd built had to be stored in the galleries. in most of the shows, they build storage inside the gallery, which often takes up quite a bit of space. in the current show, without producing new objects, we pulled as many things out of storage as possible and tried to use them as much as possible.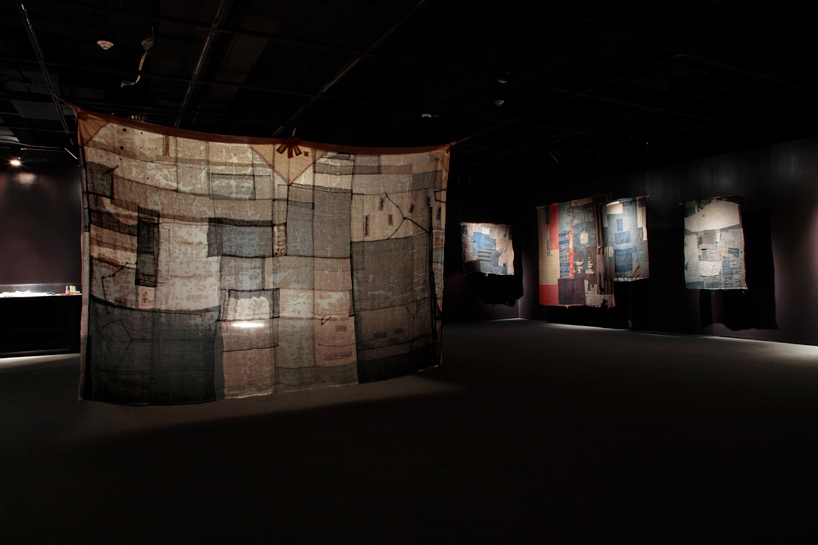 SO — IL (cont.): we took out all of the vitrines and tried to match them with the clothes we were hanging. we ended up making four new ones, but all the rest were existing already, using only reflective surfaces to re-animate them. so the way of approaching even what to make was a little bit similar to how boro artists used to be — see what we have, and what can we do with it.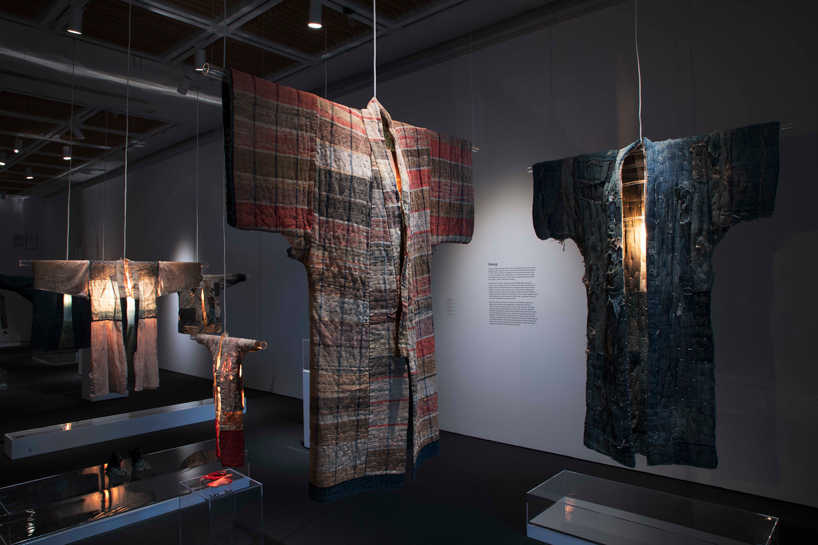 DB: in what ways do you represent these multidimensional pieces — viewed from all angles — what kinds of techniques did you use? you mentioned reflective surfaces…
SO — IL: a lot of them are clothes and pants, and most of the time in previous shows we looked at how they did it in previous iterations. they are usually a little bit more anthropological. a lot of times they put it on the mannequin and you have clothes, pants, and accessories next to each other, so it's very anthropological. the story of the people becomes very much dominant — there was a lot of narrative around it. or, if you look at the textile shows, often you're looking at them really as craft, and looking at the two dimensional graphic on it.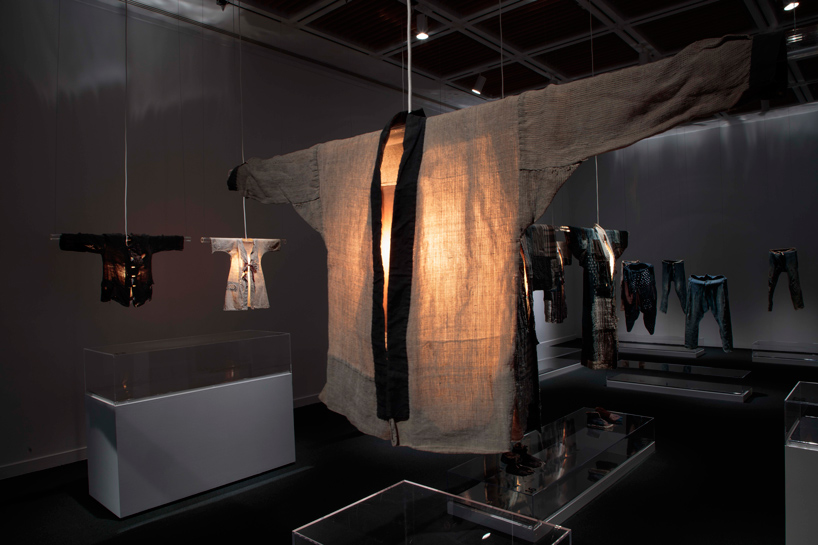 SO — IL (cont.): with all these pieces, there is a time dimension to it, but there is also craft and an artfulness within them. we didn't want to show them just as textiles and two-dimensional things. we also didn't feel that we needed to create an anthropological context to understand them as part of the story of the otherness. so, we finally hung them as if they're worn by people without using mannequins — we laser-cut rings of forms to give them a little bit of body so they become three-dimensional and we hung them so you can see them at eye-height. underneath we built a vitrine lined with reflective mylar so you can see them three-sixty and also from below. then we hung lights within them — an idea to animate them…to feel that there is a warm heart inside.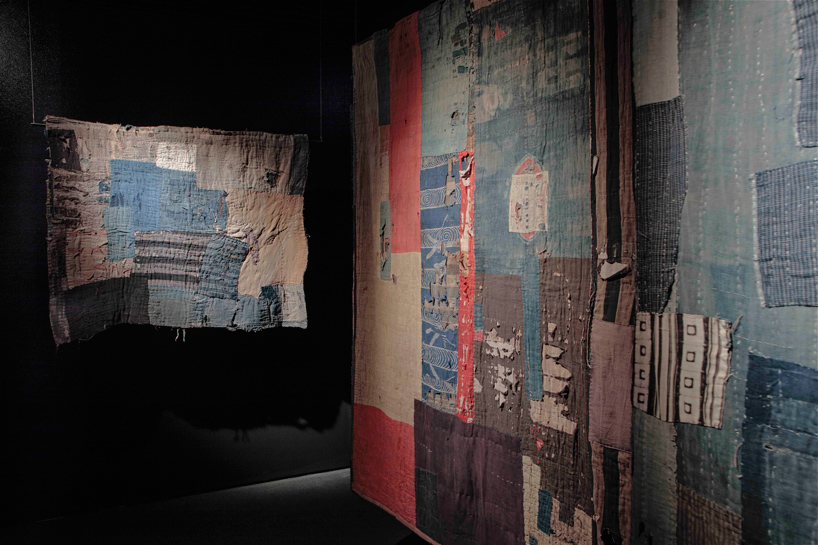 DB: the show is made up of three rooms. can you explain what is going on in each room?
SO — IL: rather than putting pants and accessories and blankets together trying to reenact what it was like — it's more typologically divided. the first room is clothes, shirts and pants. the second room is all accessories or smaller items — socks, bags, diapers — and also photography by kyoichi tsuzuki, who documents the areas where boro came from, and worked with local people in a blizzard — so the backdrops of all the pictures is a super white blizzard. the third gallery is all the blankets — some of the blankets are 30 kilograms in weight — they're all hung from the ceiling. there are also two contemporary artists whose work is placed in contrast and in dialogue with these pieces.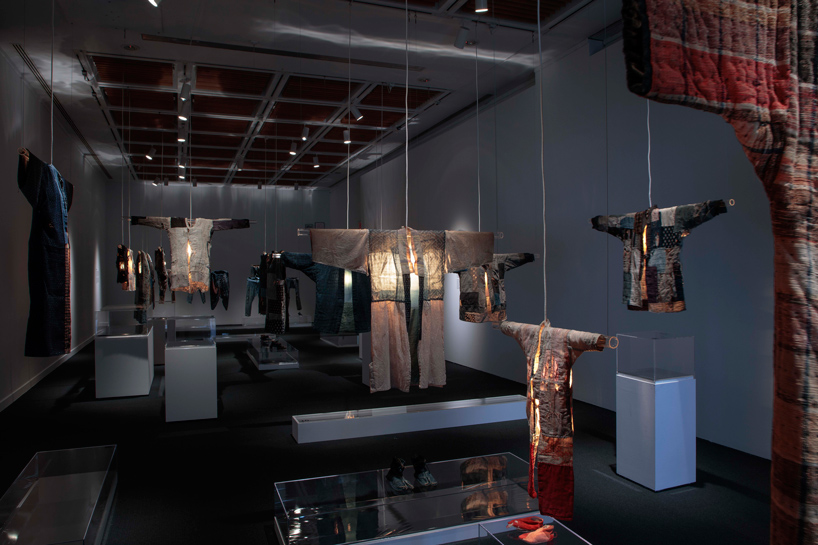 DB: is it the case that there are select pieces that visitors can try on in the boro textiles exhibit? what's it like setting up a show where people are physically engaging with the work?
SO — IL: yes, there are two pieces that visitors can try on. originally we were going to put them on the table, but then it was discussed that if everything is on the table — where some you can touch and some you can not touch — it's confusing. so we hung them almost as is they'd been drying. the photographer mentioned that because the pieces are so old, people were much smaller then. so actually the clothes are so small that not everyone can wear them. so even mannequins are too big to show the clothes well. even in his photographs, the people were not wearing the clothes, they were wearing the blankets because the clothes are too tight.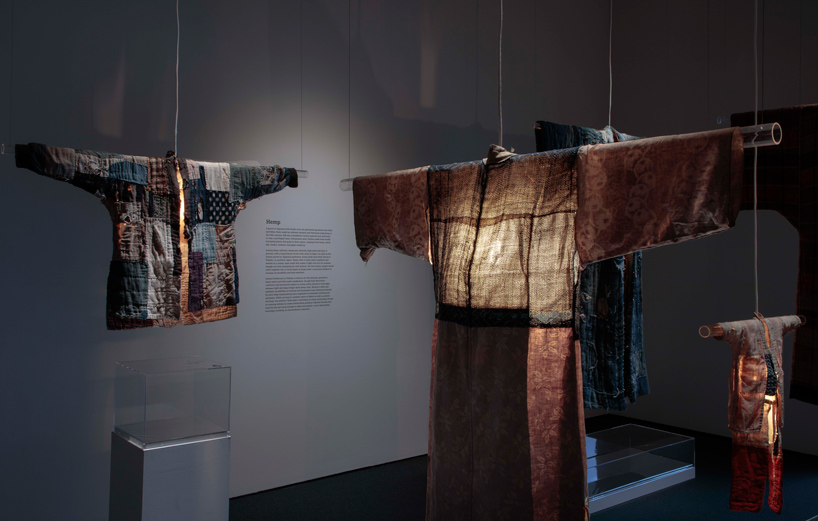 DB: in what ways can you see the influence by these historic boro textiles in the contemporary work? I understand that a main theme of the show is the accidental conditions of repair work and patch work is something that contemporary artists are now adopting as their design language. is that something that you can see obviously?
SO — IL: I think there are two different influences. one is an aesthetic influence which is yoji yamamoto, commes de garcons — they all used it. but that has nothing to do with recycling and reuse. it's all new — it's one seasonal line. then there are two other contemporary artists that are actually using old, broken couture fashion from previous years and revamping them with their own signature styles of for instance, putting tape on it — 'repairing' it. then another artist, christina kim, doesn't only do fashion but more textile design. one of the big pieces is this mosquito net that she got in kyoto and then spent two thousand hours slowly repairing it. it's almost meditative. so it's not about the clothes anymore its just about the process of finding something that is almost at the end of it's life and then slowly reviving it.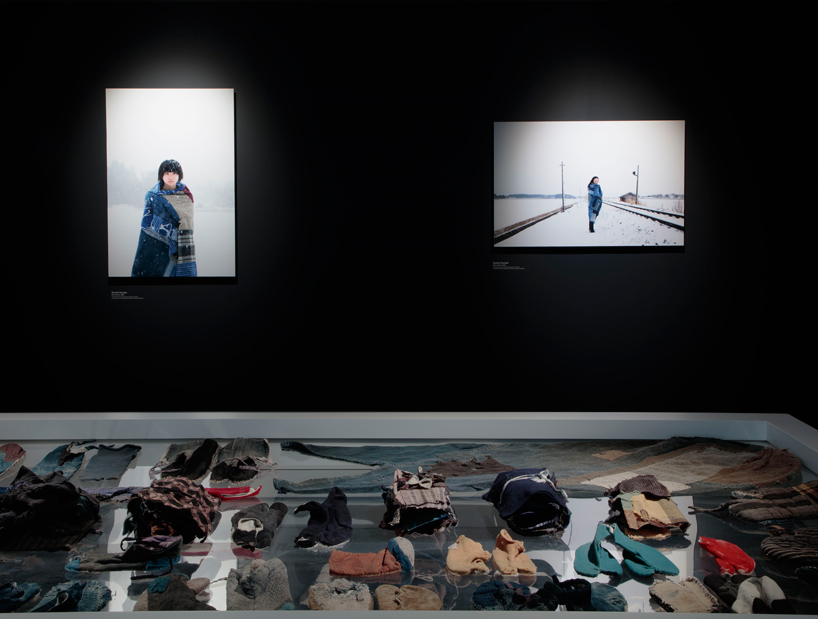 project info:
exhibition title: boro textiles: sustainable aesthetics
location: japan society gallery, new york, NY
exhibition designer: SO — IL
photography: richard goodbody
on view: march 6th — june 14th, 2020 (temporarily closed through march 31st)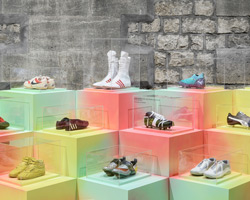 jul 08, 2020
jul 08, 2020
jun 12, 2020
jun 12, 2020
jun 11, 2020
jun 11, 2020
jun 09, 2020
jun 09, 2020
jun 08, 2020
jun 08, 2020
jun 04, 2020
jun 04, 2020
SO-IL
(22 articles)
jun 12, 2020
jun 12, 2020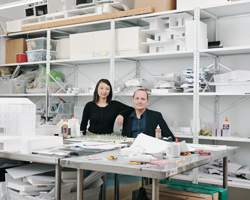 apr 19, 2020
apr 19, 2020
sep 27, 2019
sep 27, 2019
a diverse digital database that acts as a valuable guide in gaining insight and information about a product directly from the manufacturer, and serves as a rich reference point in developing a project or scheme.