amid the breathtaking landscapes and stunning scenes afforded by sonoma, california, one may find a significant history, nature-filled escapes, and fine wine. yet there is a cultural gem to unearth within this northern california land — a monumental, open-air sculpture collection and exquisite architectural intervention. the 200-acre estate belongs to donum, a producer of california pinot noir and chardonnay. the site is home to over 50 major works from artists from across the globe that form the donum collection. work by artists including ai weiwei, doug aitken, jaume plensa, elmgreen & dragset, and danh vo — to name a few — dot the extraordinary landscape, each piece playing with scale, nature, and imagination. 'the works are placed in the landscape to complement and enrich the experience and the estate,' mei and allan warburg, owners of the donum estate, tell designboom in an interview. 'we don't want to be seen as just a sculpture park within a wine estate, it is more about putting great things together and watching them grow and interweave with one another.'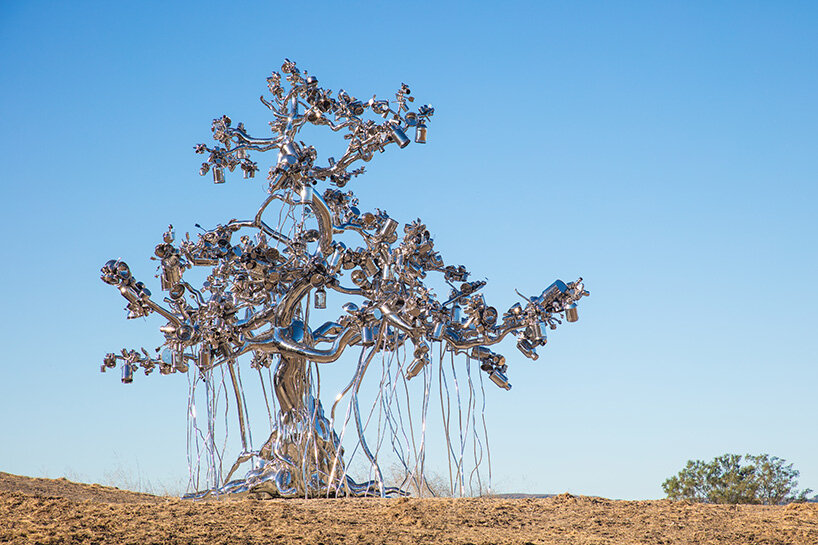 subodh gupta, people tree, 2017 | image by robert berg
(main image) elmgreen & dragset, the care of oneself, 2017 | image by gregory gorman
on the occasion of its 20th anniversary, donum tapped danish architect david thulstrup to re-configure and transform donum home — a space for wine tasting, dining, entertainment and art appreciation. originally built in 2017 and designed by MH architects, donum home draws on the california landscape, as well as thulstrup's own heritage. 'being scandinavian, I value simple and pared-back spaces that create a sense of calmness,' thulstrup tells designboom. 'for the re-imagination of donum home, it was especially important to enhance and support its essence through the application of honest materiality such as californian granite and american walnut. combined with the play of light, setting an unpretentious yet unforgettable mood was key in the overall design language.' through simple and clear architectural gestures, and the use of local materials, thulstrup pays homage to californian authenticity. overall, in addition to the architectural transformation, a range of custom furniture pieces have been crafted to create a refined, yet relaxed atmosphere. the construction also gave the estate the chance to reflect and rehang part of the donum collection, and even introduce new works…
designboom spoke with mei and allan warburg, owners of the donum estate, and architect david thulstrup to learn more about working with a global community of artists, falling in love with light, and celebrating art, sustainable farming, and architecture.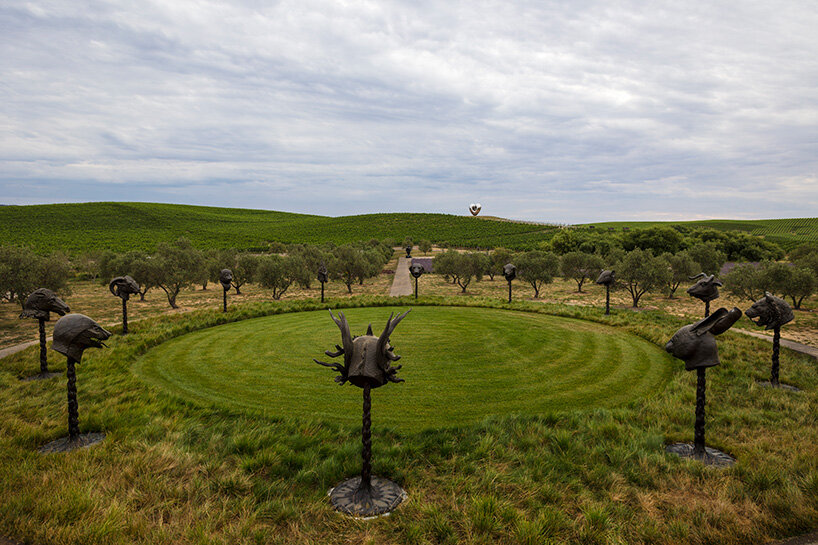 ai weiwei, circle of animals zodiac heads, 2011 | image by robert berg
designboom (DB): what initially led the donum estate to begin collecting monumental sculpture, and why was it important to create an art viewing experience for visitors and guests?
mei warburg and allan warburg (MW + AW): we have been collecting for many years now. it started with getting to know the artists, which naturally led to owning their works and building a collection. collecting evolved into commissioning and with our ownership of donum in 2011, it felt like a natural merging of passions. it might seem unusual to place an art collection on a wine estate, but to us, it makes complete sense. a wine estate is special — it is a place not only for the production of wine, but also a landscape with its own personality and terroir. the works are placed in the landscape to complement and enrich the experience and the estate. we don't want to be seen as just a sculpture park within a wine estate, it is more about putting great things together and watching them grow and interweave with one another.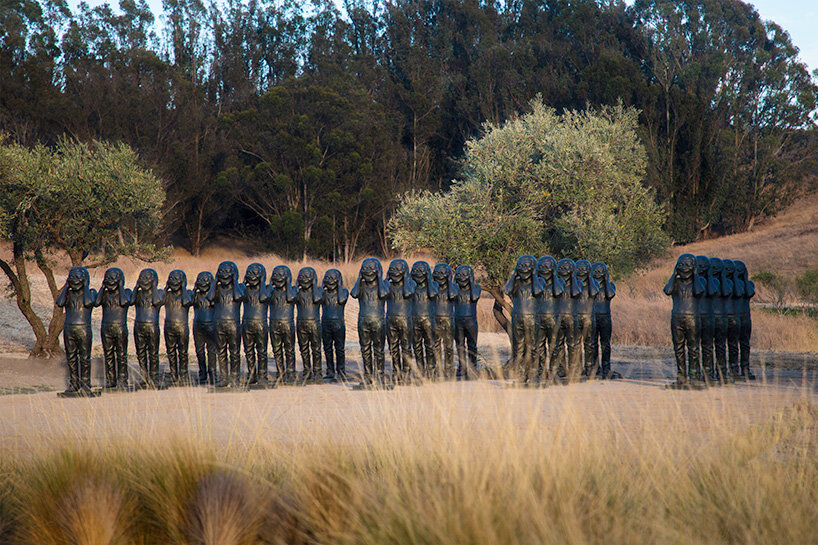 yue minjun, contemporary terracotta warriors, 2005 | image by robert berg
DB: with a roster of artists spanning generation and geography, is there a common thread that underpins the collection overall?
MW + AW: the donum collection is not an institutional encyclopaedic collection, but a personal labour of love that we hope our visitors find relatable, accessible, and inspiring. the artworks are within the landscape and respond to each element and seasons. there is no humidity or temperature control. once the works are placed, they are on their own to coexist with and within nature. we are an evolving collection of global community of artists, including works from leading practitioners from 18 nations.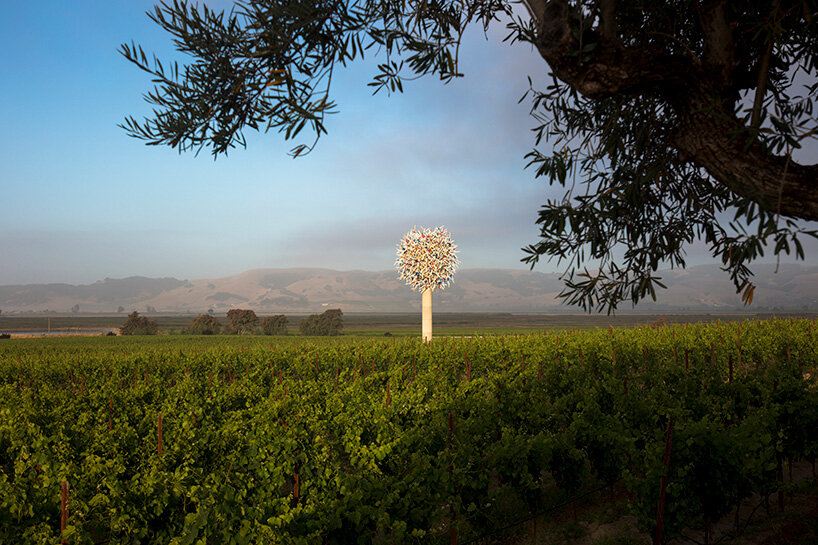 pascale marthine tayou, mikado tree, 2010 | image by robert berg
DB: for those who may not be familiar with the sonoma county area, can you briefly describe the scenic qualities of the local landscape, and how the artworks engage with the site?
MW + AW: the placement of art on donum involves a lot of thinking and land preparation. our projects are long term; we are committed patrons and have an evolving vision for our estate. we produce 8,000 cases of estate-grown pinot noir and chardonnay a year, everything we do has to complement one another, from harvest to sustainable farming.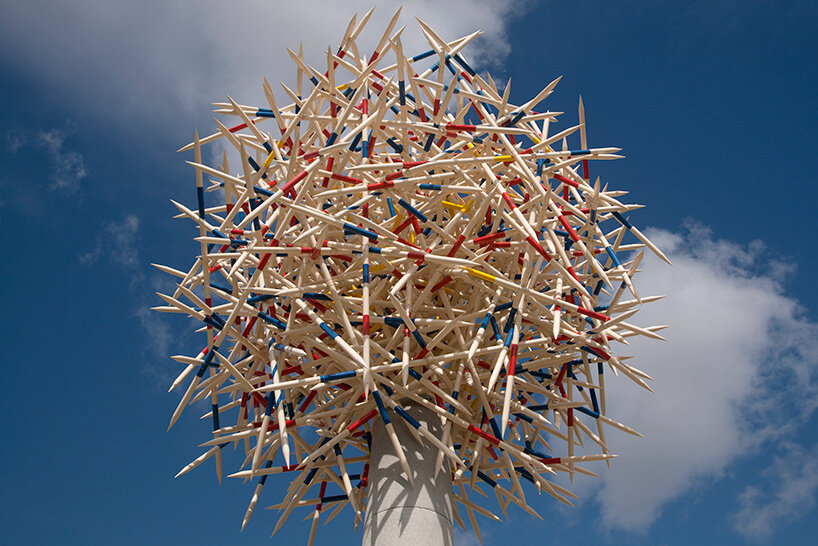 pascale marthine tayou, mikado tree, 2010 | image by robert berg
MW + AW (continued): as we are based in hong kong, due to travel restrictions, we haven't been able to visit for over a year now, we reminisce to days on donum. in the late afternoon, when the sun starts its descent on the rolling sonoma vineyards, we'd love to take a seat up at the lake house. from there, one can see a few works from the art collection, with views of the sonoma mountains and san francisco bay as the backdrop. it's a moment to be mindful of the 'gift of the land' (the latin meaning of donum) and the gift of collaboration with all our artists. as the carneros terroir blows through the eucalyptus grove, we hear doug [aitken's] sonic mountain, a giant wind chime, sound its characteristic chords. of course, all this while drinking a glass of our pinot noir. this is the most magical hour — when all these elements come together on donum.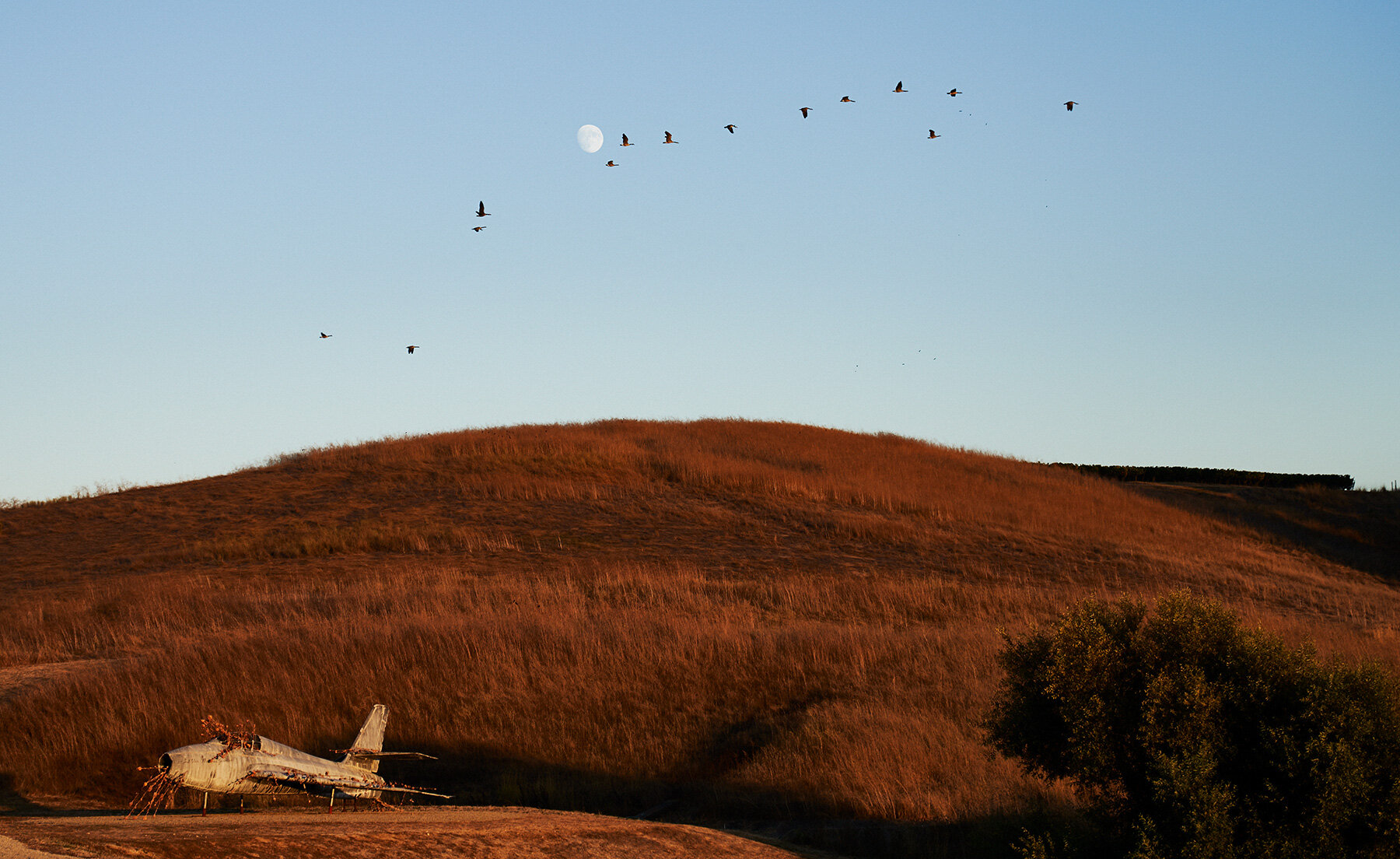 anselm kiefer, mohn und geda êchtnis, 2017 | image byadrian gaut
DB: what new commissions have been introduced with the unveiling of the reimagined donum home, and how do they enrich the collection overall?
MW + AW: for donum home, we commissioned jeppe hein to make some new works. hein has made us these colored mirror balloons. they produce beautiful yet distorted perspectives of the surrounding space. we already have a work of his on the estate, 'one- two-three' (2017), a curved structure that our visitors love. we also worked with a danish glass artist lene bødker for these beautiful glass vases with grape vines protruding from them. although we predominantly collect via commissioning, we can't stop adding new works to the collection if something catches our eyes. so we also added a new work from tracey emin, 'another 30 years.'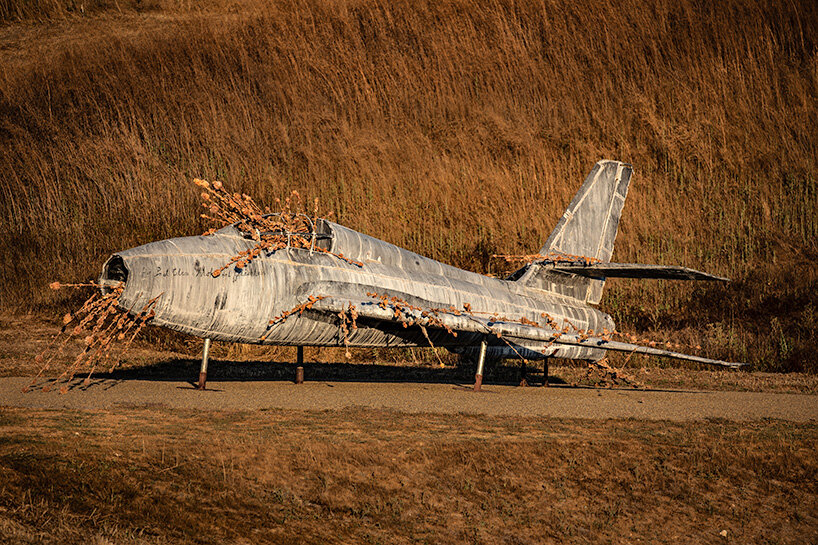 anselm kiefer, mohn und geda êchtnis, 2017 | image by gregory gorman
MW + AW (continued): donum home is surrounded by works. lynda benglis' tinted polyurethane fountain 'pink ladies' are immediately on the lawn, before you can catch a glimpse of jaume plensa's 'sanna' as it pops in-front of the rolling sonoma mountains and san francisco bay as the backdrop. we are also about to place ugo rondinone's 'nuns + monks' nearby. finally, we commission our artists to bring their work to our bottle labels, we have just produced our first donum blanc de blancs. subodh gupta's placed his 'people tree', a 10-meter-high stainless-steel banyan tree that is located high on a hill is now on a limited-edition label. we like to see the completion of donum home and the welcoming of these new works, as a further celebration of our philosophy of bringing together fine wine, art, sustainable farming, design and architecture. we have some more works coming later in the year and we can't wait to present them to our community.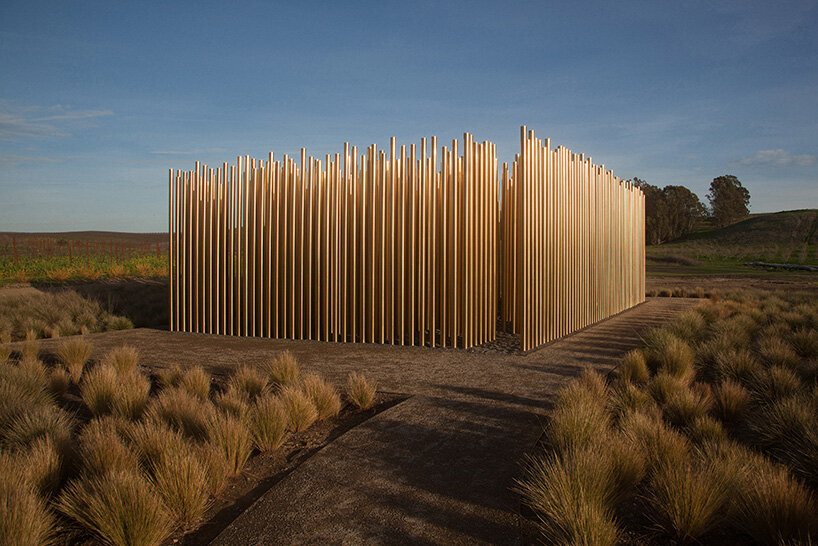 gao weigang, maze, 2017 | image by robert berg
interview continues with david thulstrup:
DB: what spatial or material elements most important to you as an architect have you integrated into the reimagination of donum home?
david thulstrup (DT): the donum estate is a place to return over and over again — not only to taste the wine or experience the compelling art collection but for its familiarity and feeling of home. to create a seamless experience, I drew from local elements that connect all architectural interventions in a harmonious manner. being scandinavian, I value simple and pared-back spaces that create a sense of calmness. for the re-imagination of donum home, it was especially important to enhance and support its essence through the application of honest materiality such as californian granite and american walnut. combined with the play of light, setting an unpretentious yet unforgettable mood was key in the overall design language. most importantly, donum home celebrates the crossover between private and public — an element that I am extremely passionate about. after all, I love to create environments that feel welcoming and approachable.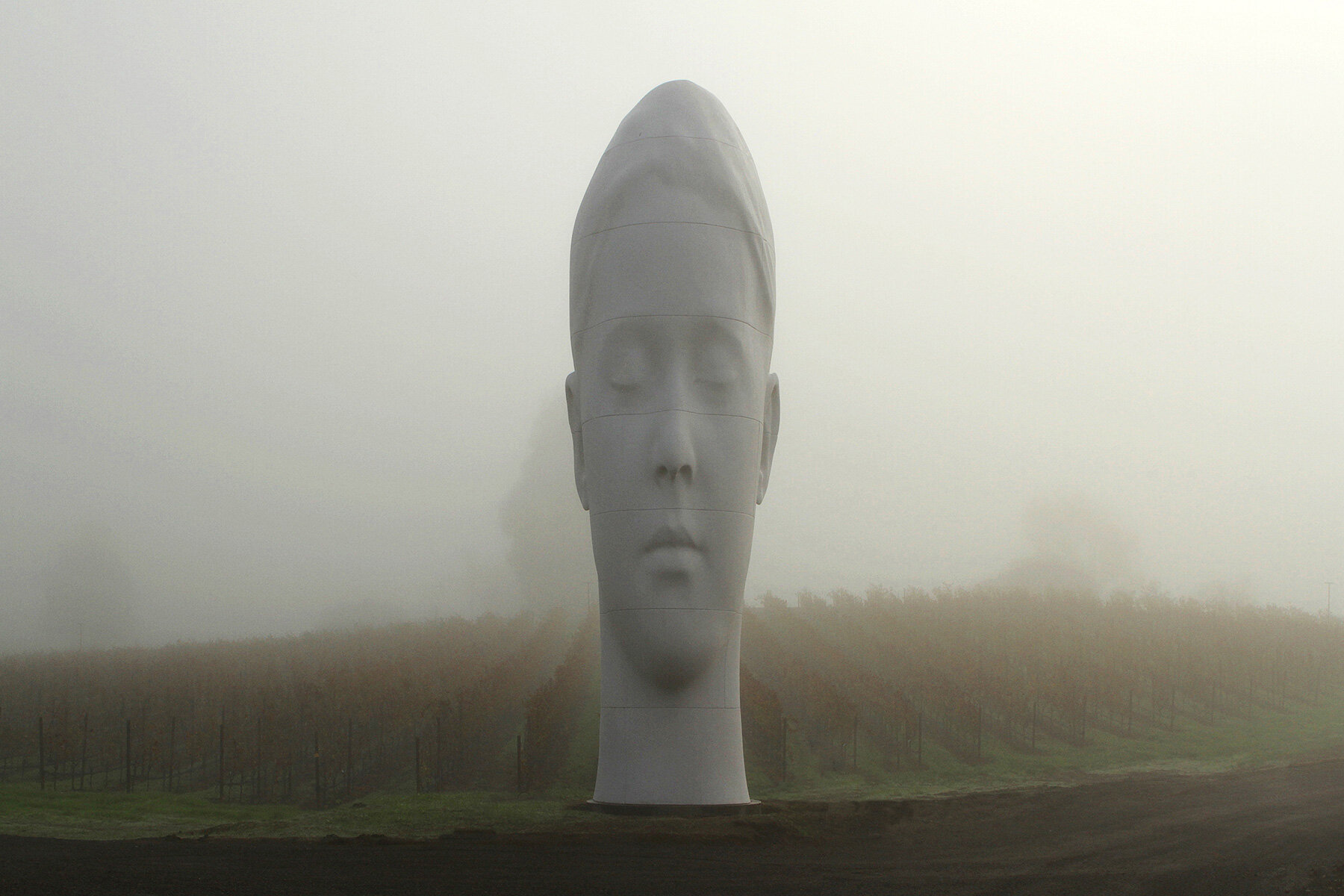 jaume plensa, sanna, 2015 | image by anthony laurino
DB: in what ways were you inspired by the landscape, site, and donum art collection as you began the architectural transformation?
DT: on my first-ever visit in the summer of 2019, I immediately fell in love with the light. growing up in a country that is chasing light throughout all seasons of the year, it feels natural to celebrate it, especially when it's as abundant as in sonoma county. for example, the way the light hits the landscape of donum — in particular, the dramatic shadow play that's continuously evolving in the eucalyptus grove at aitken's interactive sonic installation 'sonic mountain' — sparked the idea of implementing rattan screens that can filter it. instead of creating enclosed walls, the screens act as dividers between the hallway and tasting rooms as a way to create a connection between the interior and the landscape using light.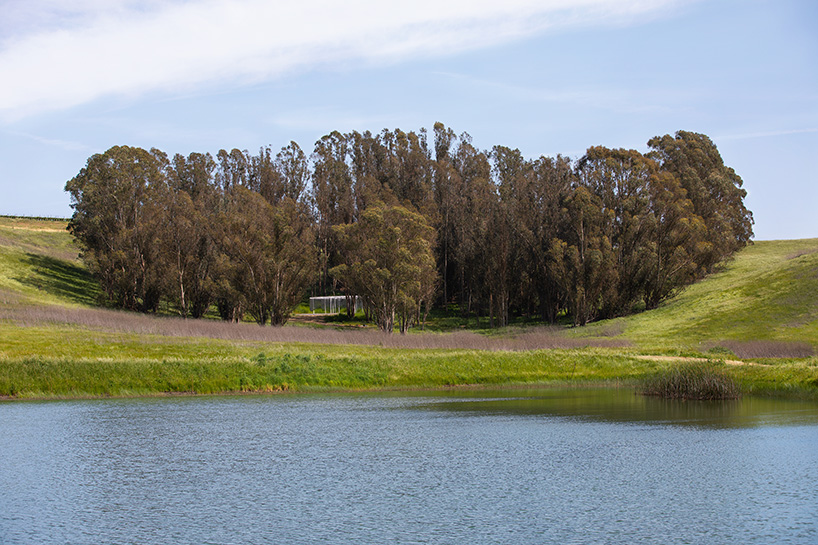 doug aitken, sonic mountain (sonoma)
read more on designboom here
DT (continued): the same seamless connection to the surrounding natural elements can be noticed in the custom vase design, 'grapes', by lene bødker. introducing her to the estate's values and vision sparked the idea to integrate the actual leaves and fruits of the vines. it's not apparent at first glance but once you start noticing the details, you're in for a treat. lastly, art has previously already played a role in past projects — but always in a very subtle way. that's why working with allan and mei was a true delight, and the rare trifecta of beautiful landscapes, art and wine a unique starting point for the reconfiguration of donum home. I feel honoured to see my concept in the company of incredible artists such as tracey emin, louise bourgeois, lydia benglis and jeppe hein.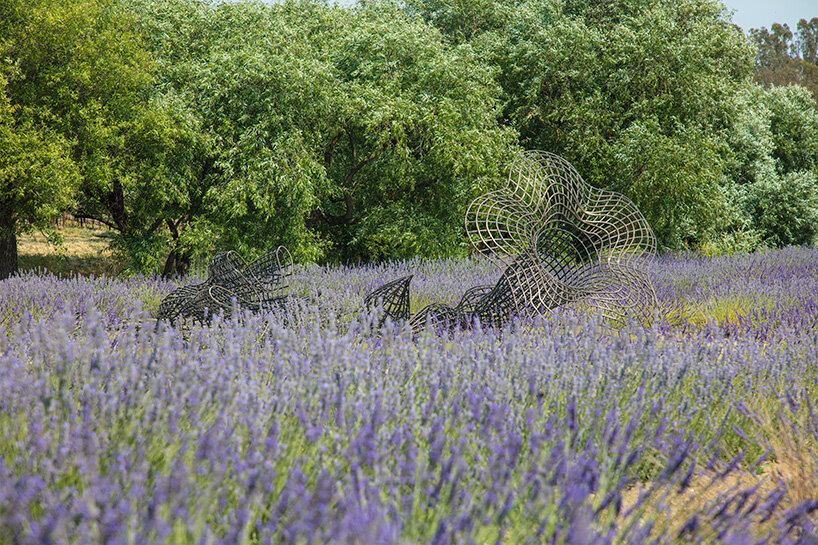 sopheap pich, morning glory, 2017 | image by robert berg
DB: in addition to its architectural intervention, the donum home also features a range of custom furniture pieces — overall, what atmosphere did you hope to create with this holistic integration of object and space?
DT: for me, one of the most important principles that runs through every project like a read thread is the integration of a site-specific and holistic approach. looking at everything from a refined, architectural point of view, no object or volume is isolated. quite the opposite: it's all about how everything fits — from materiality, light fixtures, interventions to furniture pieces — and interacts harmoniously with its environment. for donum, introducing custom furniture was a means to enable coherence between objects and space, and ultimately foster a sense of holism from the inside-out. I wanted visitors to fully immerse themselves in the experience and encourages mei's and allan's vision to integrate all human senses.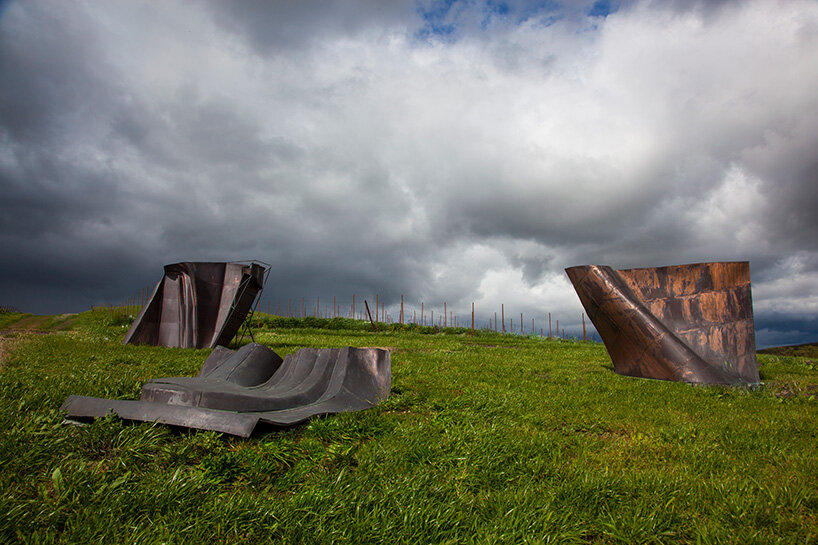 danh vo, we the people, 2010-14 | image by robert berg
read more on designboom here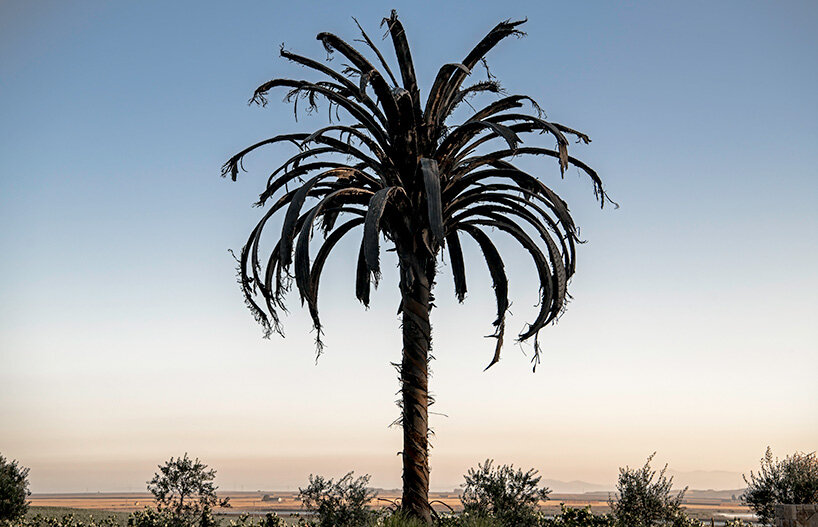 douglas white, black palm, 2011 | image by gregory gorman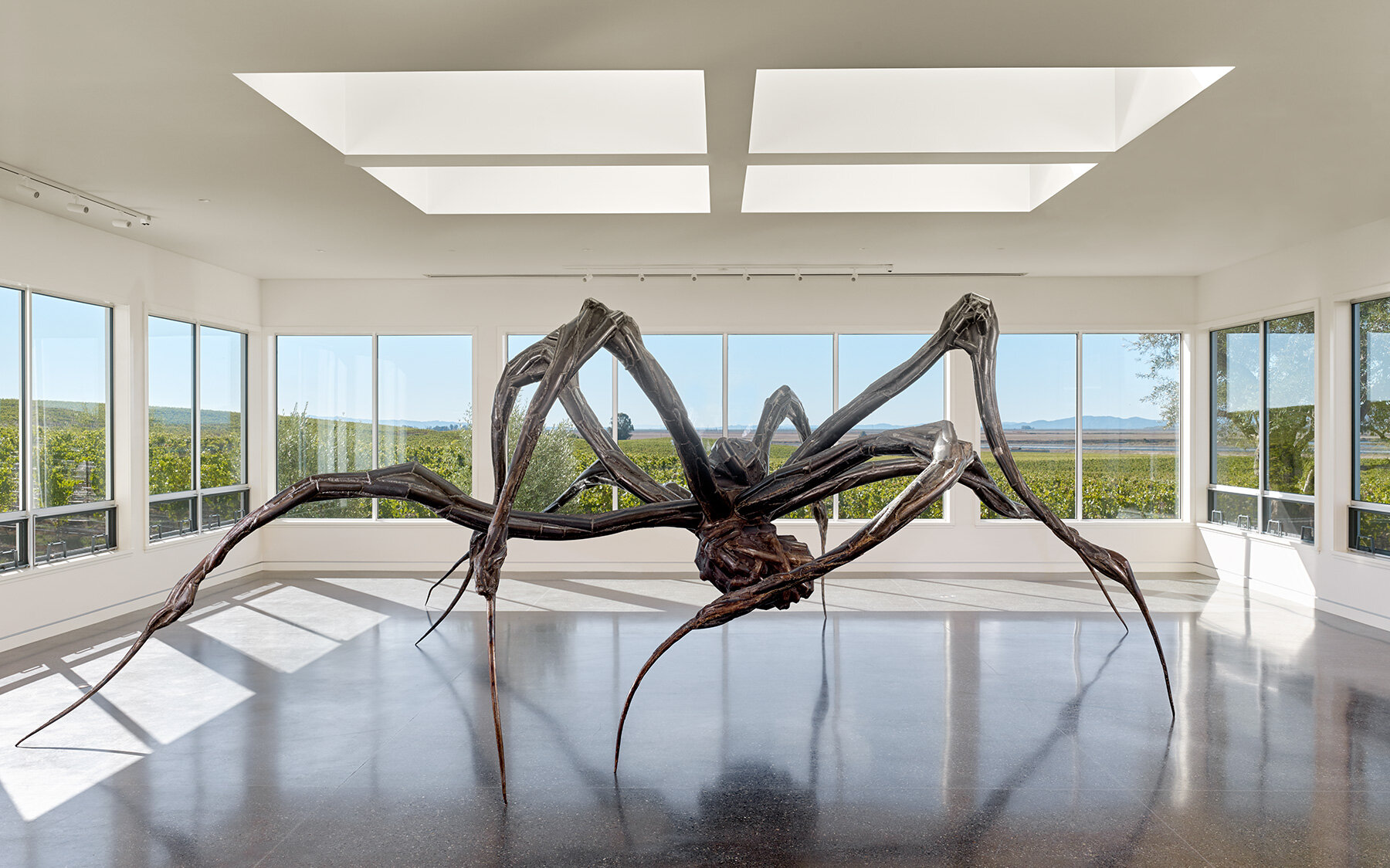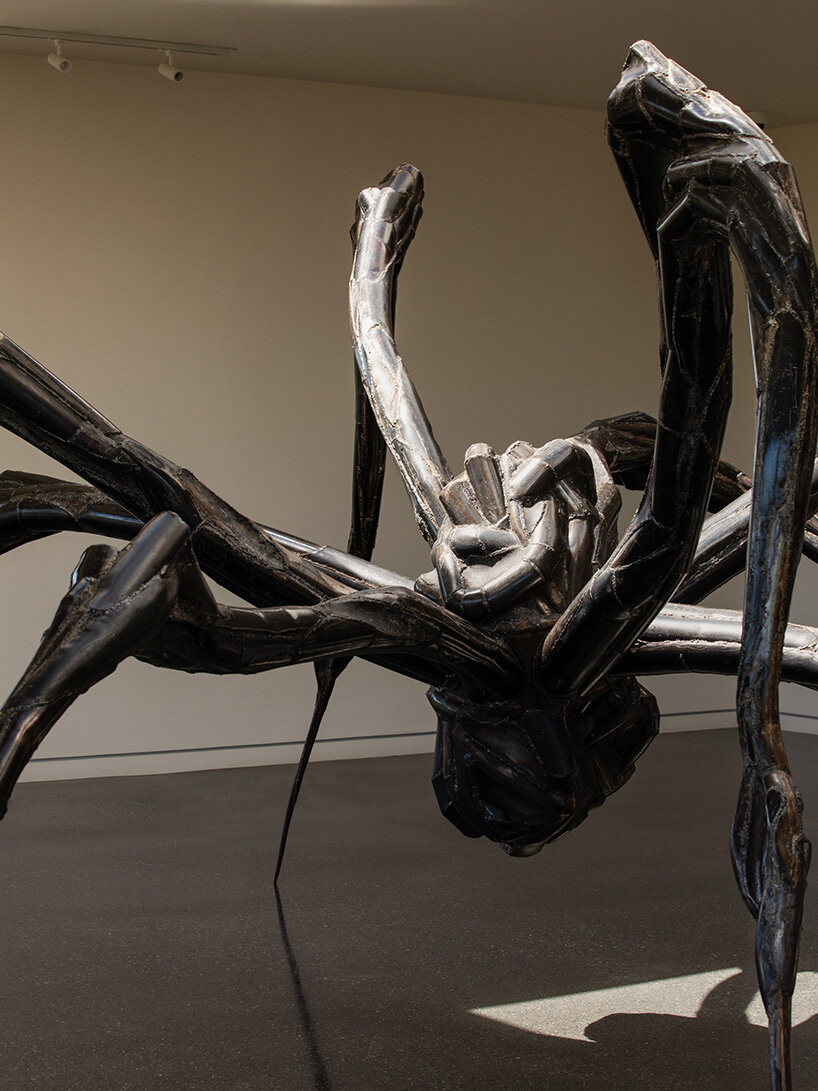 image by by eric petschek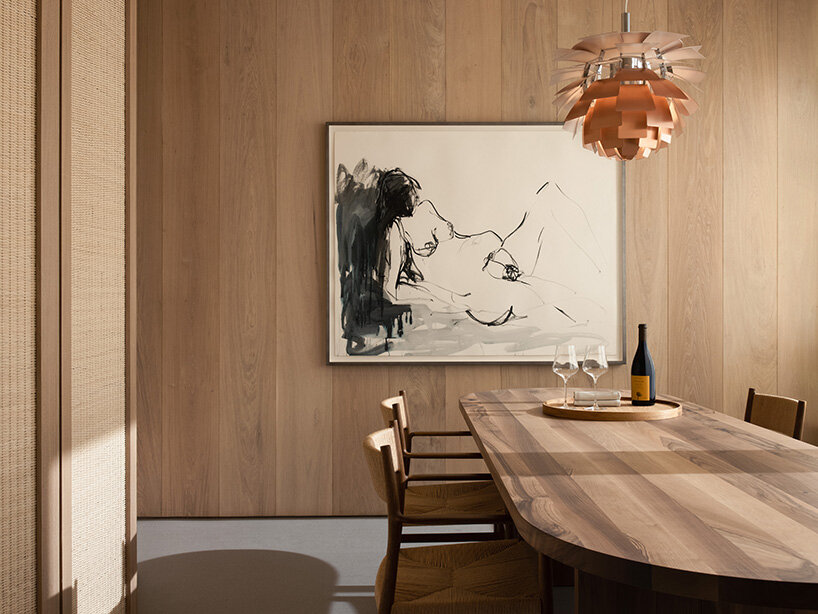 image by by eric petschek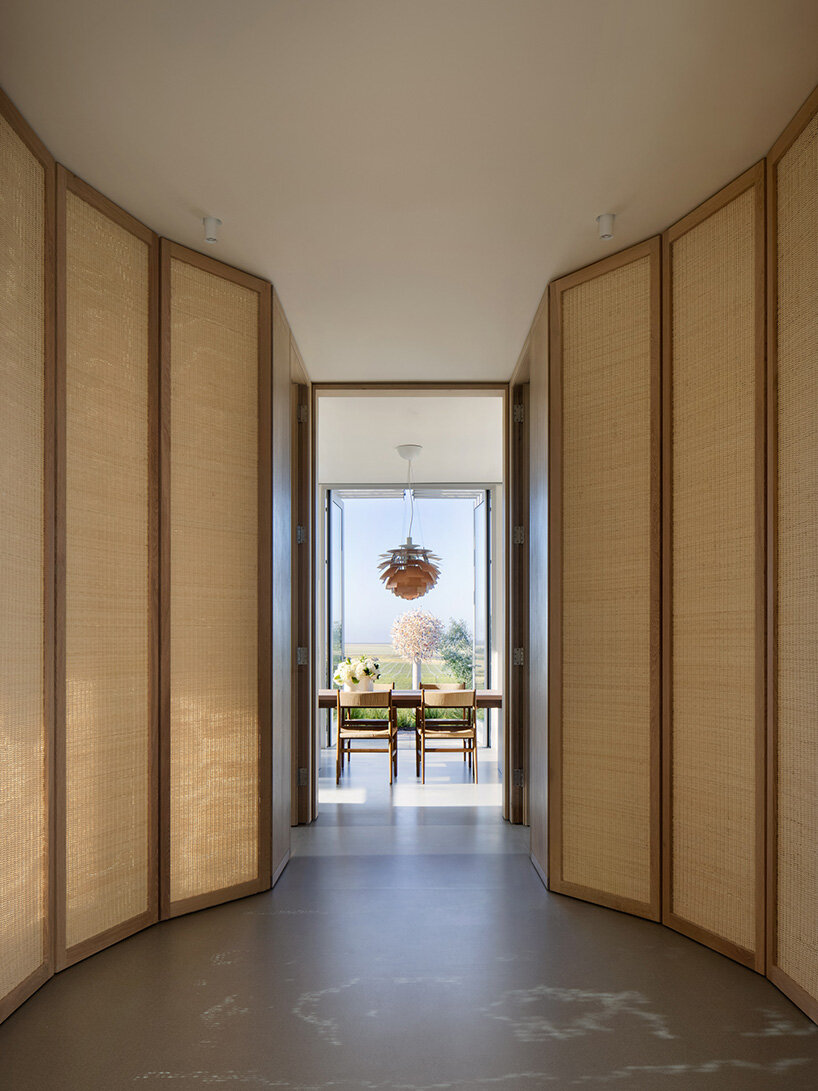 image by by eric petschek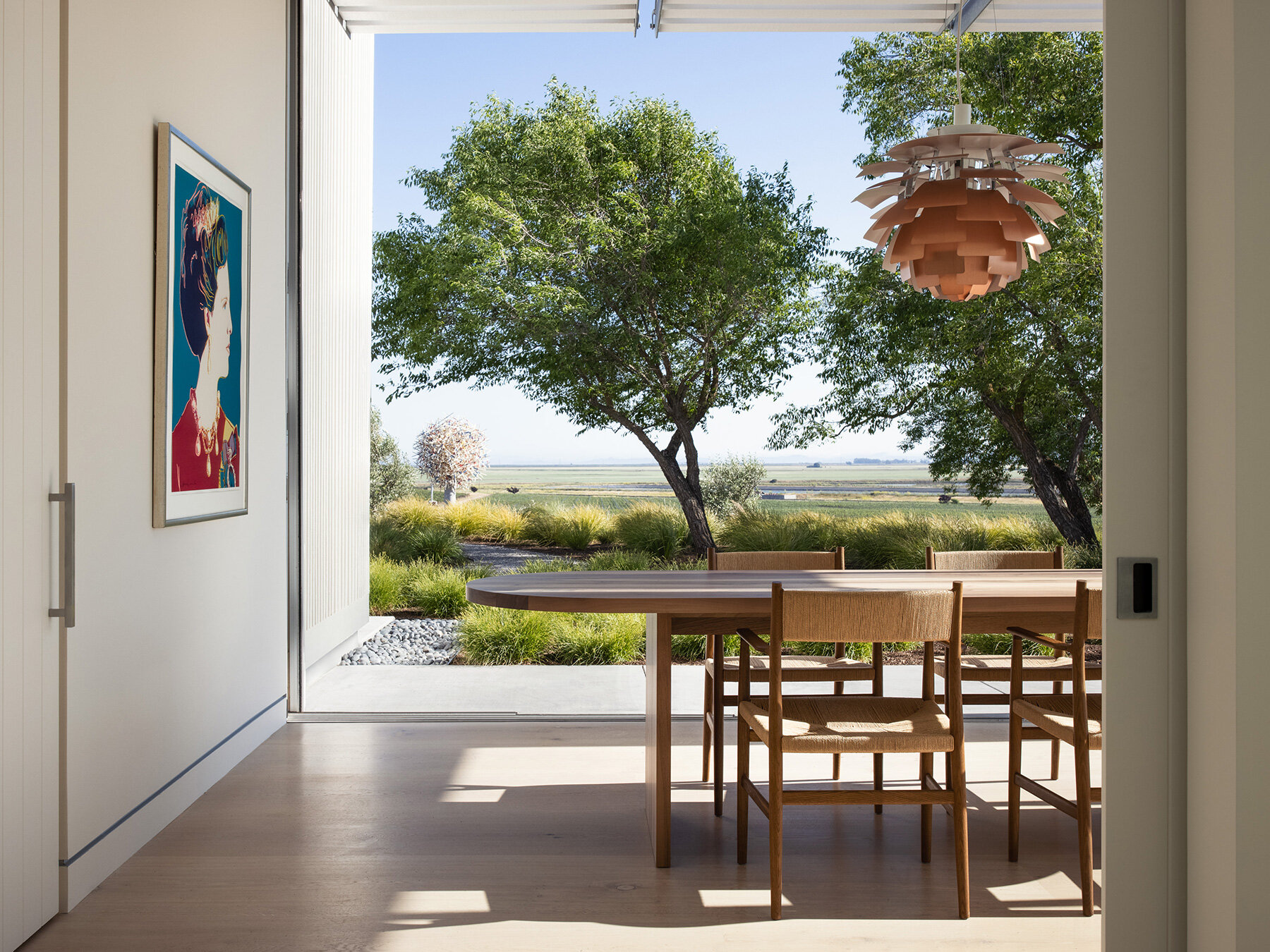 image by by eric petschek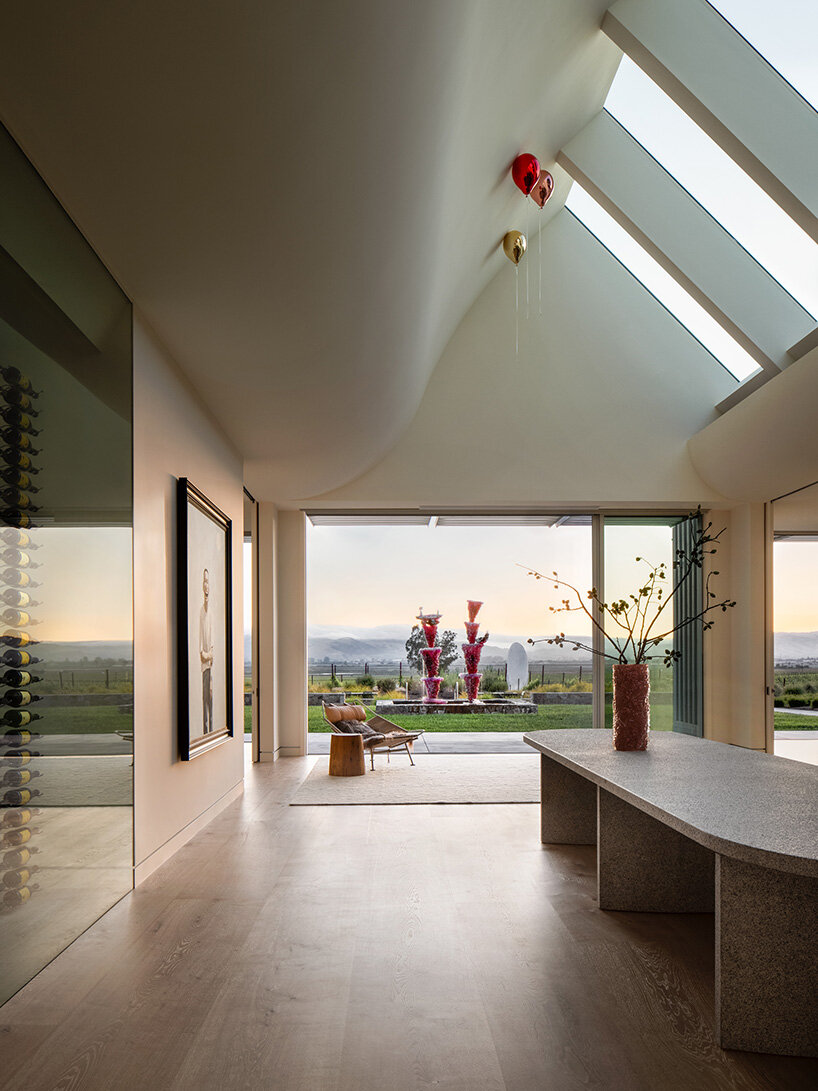 image by by eric petschek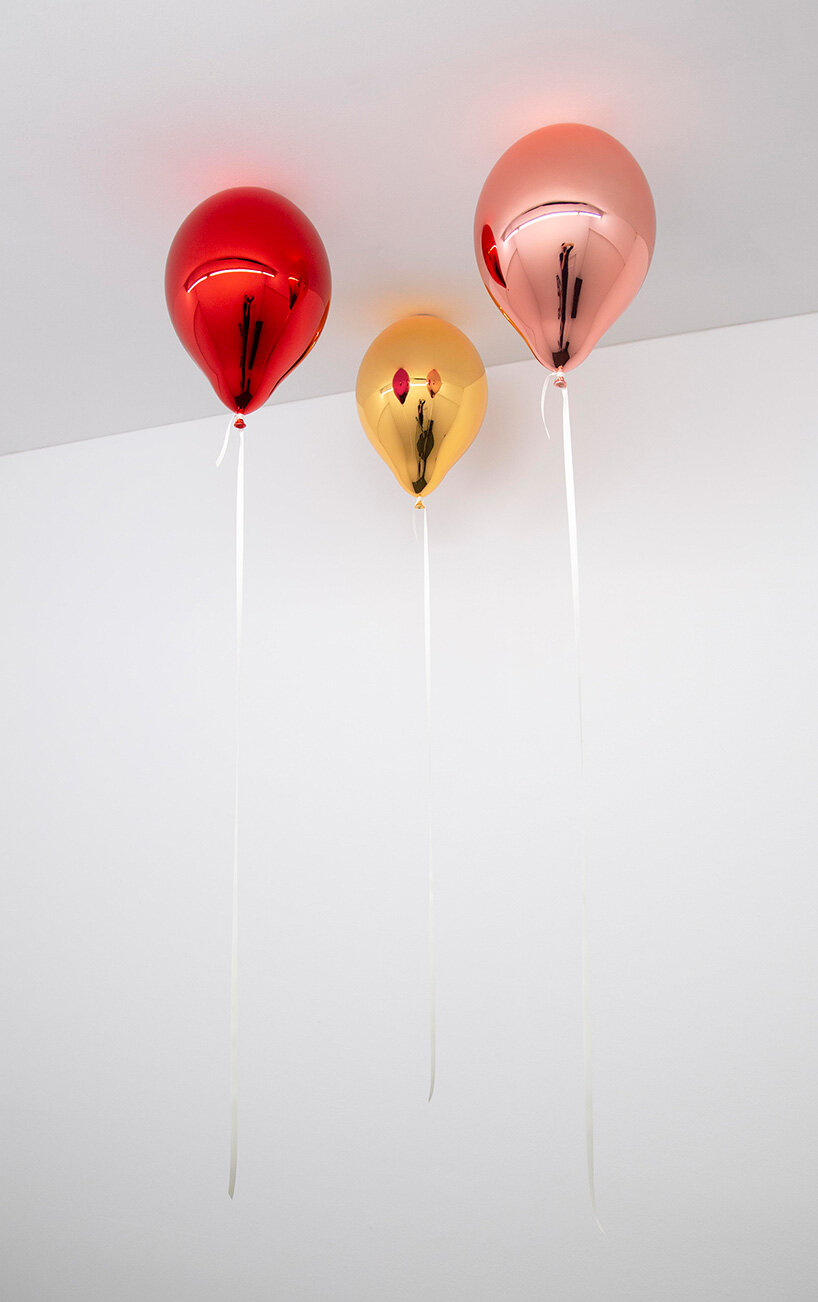 jeppe hein, chardonnay mirror balloon, rose mirror balloon, and red wine mirror balloon, 2020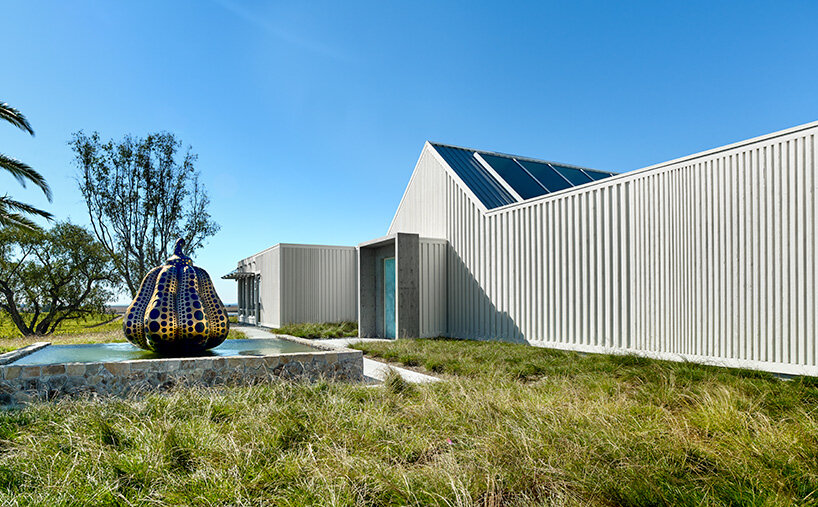 external view of the donum home by MH architects
nina azzarello
I designboom
jun 21, 2021
a diverse digital database that acts as a valuable guide in gaining insight and information about a product directly from the manufacturer, and serves as a rich reference point in developing a project or scheme.
designboom will always be there for you
milan, new york, beijing, tokyo

,
since 1999