during miami art week, chinese artist sun xun unveiled a large-scale bamboo installation that blends traditional craft with cutting-edge technology. presented by swiss watchmaker audemars piguet for its annual art commission in partnership with art basel, 'reconstruction of the universe' is a multifaceted project that includes an immersive environment made from bamboo alongside architectural, sculptural, and auditory elements. presented outside of the pavilion is a 3D film animation by sun xun called 'time spy'; inside, an exhibition space hosts traditional scroll paintings, ink drawings, and spherical light projections. 

gently curved bamboo shoots take on a wavy shape
image © audemars piguet, photo by benoit pailley (also main image)
a sinuous roof made up of 1,300 madake timber bamboo poles takes shape above an elevated, ocean-side platform located between 21st and 22nd streets and miami beach drive. these rods curve gently from the floor to the sky in a slight S-shaped configuration, forming a canopy above an intimate exhibition area. this large bamboo structure is illuminated after dusk, lighting up the sequence of branches in an array of vibrant hues — acting as a beacon from the beach and afar. 'I have drawn upon years of experience and worked with a team of over 100 art students to realize this artwork,' sun xun describes. 'I am pleased to see that what I imagined on paper here exactly one year ago has now taken shape.'

the rods curve gently from the floor to the sky, forming a canopy overhead
image © audemars piguet, photo by benoit pailley 
also presented as part of 'reconstruction of the universe' is 'time spy' — a 10-minute-long film animation made using traditional chinese illustration methods. sun xun currently oversees a large and ever-expanding animation studio to realize his increasingly complex film productions. each of the nearly 10,000 frames of 'time spy' is an individually crafted woodcut — a project which required the assistance of hundreds of art and design students. visitors are invited to view the 3D animation on a screen placed outside of the bamboo installation area through custom glasses, also designed by the artist.

the roof shelters an intimate exhibition area lined with framed woodcut prints
image © designboom
the audemars piguet art commission, initiated in 2015, challenges artists to investigate themes of complexity and precision, and the inherent links between science, art, and nature. presented during art basel miami beach, sun xun's installation is the initiative's second annual commission.

the sinuous roof is made up of hundreds of individual bamboo shoots
image © designboom

a detail view of the bamboo curvature reveals leaves still attached to the rods 
image © designboom

the installation is located between 21st and 22nd streets and miami beach drive
image © designboom

by night, the bamboo pavilion is illuminated by vibrant lights that make it visible from afar 
image © designboom

inside the exhibition area, a curved wall of bamboo rods canopies overhead 
image © designboom

a variety of framed woodcuts — stills from the accompanying animation — are on view 
image © designboom

sculptural projections are interspersed throughout the exhibition area  
image © designboom

visitors are invited to view the 3D animation on a screen placed outside of the installation
image © audemars piguet, photo by benoit pailley 

view of 'reconstruction of the universe', presented during miami art week 2016
image © audemars piguet, photo by benoit pailley 
from beijing to miami — the journey of sun xun's 'reconstruction of the universe'
video courtesy of audemars piguet
dec 11, 2016
dec 11, 2016
dec 01, 2016
dec 01, 2016
nov 23, 2016
nov 23, 2016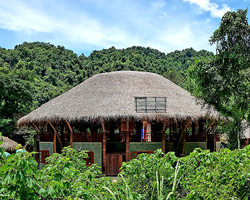 jul 12, 2017
jul 12, 2017
jun 21, 2017
jun 21, 2017
jun 14, 2017
jun 14, 2017
jan 17, 2017
jan 17, 2017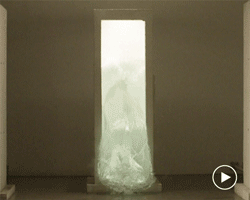 dec 21, 2016
dec 21, 2016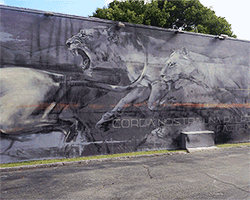 dec 18, 2016
dec 18, 2016