dec 08, 2010
susan philipsz: turner prize winner 2010
susan philipsz, winner of the turner prize 2010 photo © wheelzwheeler / haydn
quite the variety of artists were selected as the 2010 turner prize nominees: sound artist / sculptor susan philipsz, painters angela de la cruz and dexter wood and film artists otolith group (angalika sagar and kodwo eshun), but it is the 45 year old glasgow native philipsz who has walked away with what is considered to be the most prestigious art award in britain.
susan philipsz lowlands, 2008 / 2010 clyde walkway, glasgow © the artist, courtesy glasgow international festival of visual art photo: eoghan mctigue courtesy of the tate
philipsz was nominated for her work 'lowlands' presented at the glasgow international festival of visual art and 'long gone', exhibited in the group exhibition 'mirrors' held at the museo de arte contemporanea de vigo, spain. she is the fourth woman to win the turner prize, and the first person to win with a sound installation. the turner prize 2010 exhibition will run at the tate britain in london until january 3rd, 2011. you can follow the turner prize year by year here.
the winner was announced at the tate britain, and the £25, 000 prize was presented by miuccia prada. on the night of the ceremony, the celebratory event was dominated by a group of art students protesting against the government's education cut backs. susan philipsz spoke with the guardian  giving the protesters support and sympathizing with them saying, 'I support artists against the cuts.(…) I was a student protesting. I think they have every right to protest. I don't think they should cut the grants. my heart goes out to them.'
susan philipsz was born in glasgow in 1965. she student at the duncan of jordanstone college of art, dundee (from 1989 – 1993) and the university of ulster (1994-1995). in her work, she uses her own voice to create sound installations that play upon and extend the poetics of specific, out-of-the-way spaces. she currently lives and works in berlin.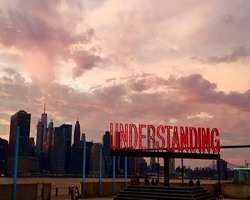 oct 22, 2016
oct 22, 2016
may 12, 2016
may 12, 2016
dec 07, 2015
dec 07, 2015