takashi murakami invites guests into dark world of shiny gold, in an extensive exhibition exploring the multifaceted universe of the japanese super-star artist. titled 'MURAKAMI vs MURAKAMI,' the exhibit is an immersive experience featuring more than 60 paintings and sculptures, plus drawings, video, and wall and floor art.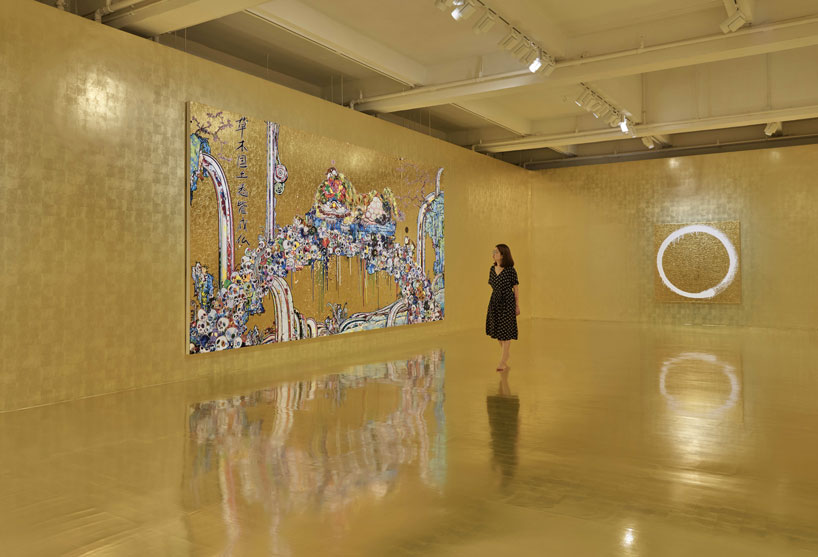 all images © 2019 takashi murakami/kaikai kiki co., ltd.
photos by kitman lee
MURAKAMI vs MURAKAMI takes over all three stories of tai kwun's JC contemporary art gallery, encapsulating the artist's mix of elite art and pop culture, combining a cute 'kawaii' aesthetic with a dark undertone. his signature flower icons and superflat signature style is obsessively and repetitively combined and represented, decorating both walls and canvases. meanwhile, figures of tan tan bo, the artist's alter-ego based on a manga character by japanese manga author mizuki shigeru, appear as phantoms writhing while spewing out bodily fluids in glorious psychedelic colour.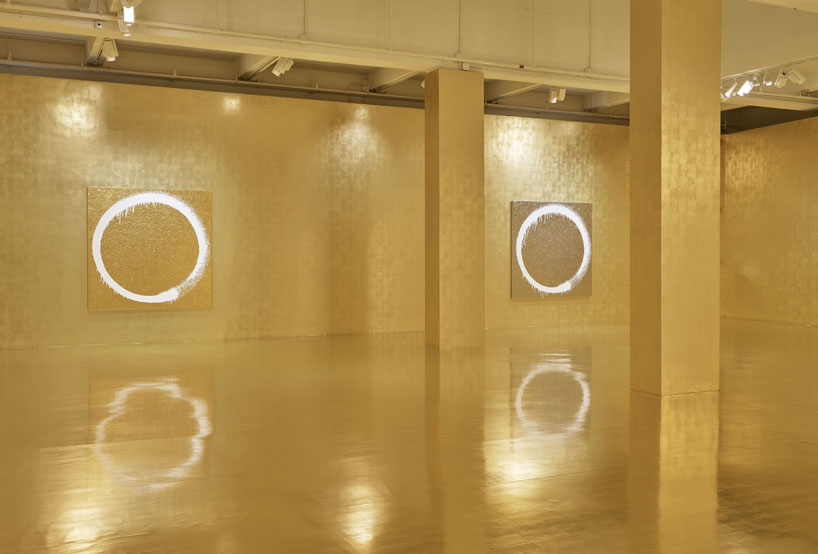 the main hall of the exhibition perfectly demonstrates the artist's mélange of high and low, its highlight a large gold-leaf clad 4.5-metre-tall sculpture 'the birth cry of a universe', shown here for the first time in its final version after 14 years of preparation. it presents a majesty flustered and disturbed, collapsing under its own weight, resting on a floor decorated in skulls, which force visitors to traverse a scene of devastation— as visceral memento mori, an object kept as a reminder of the inevitability of death.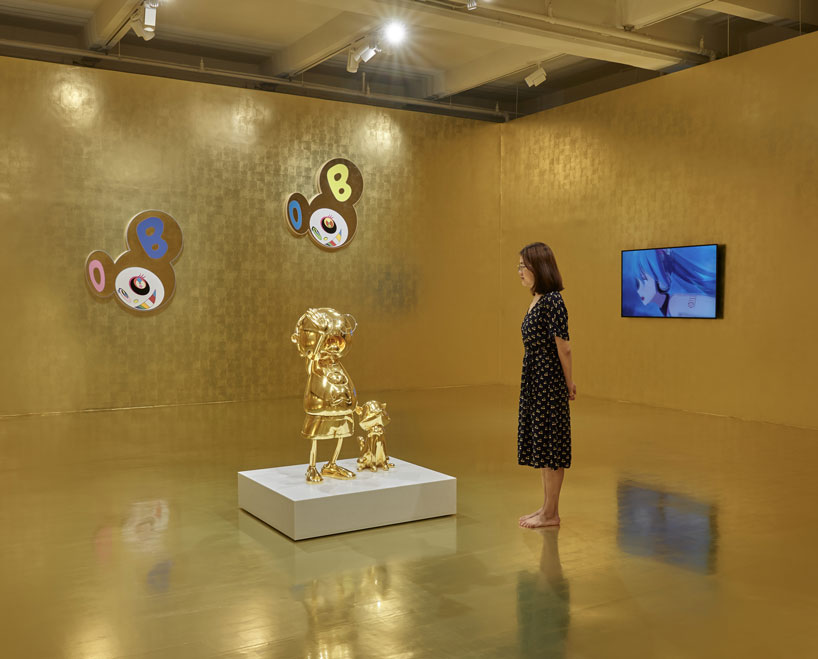 elsewhere, protruding faces and distorted appendages make up figures borrowed from british artist francis bacon, capturing the psychological turmoil that underpins the series of works. murakami, who has long been drawn to the way bacon works with the human form, describes him as a 'kindred creative spirit' and since the early 2000s, has pursued this multifaceted series of works as part of his homage to artists both western and japanese.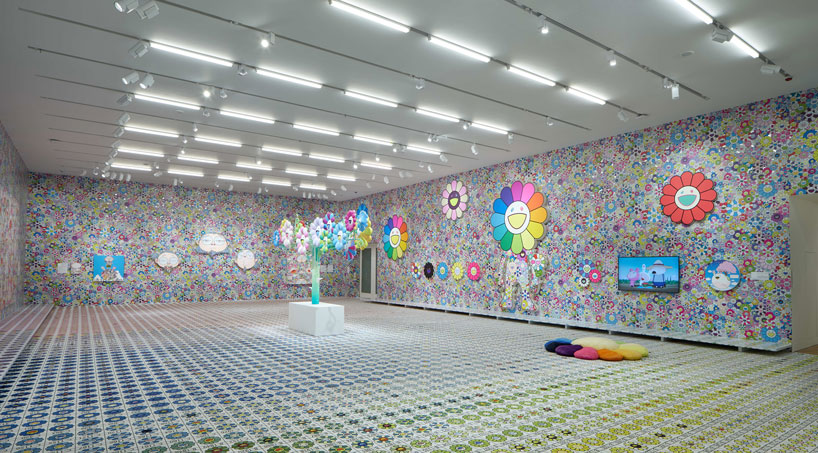 'under the cute surfaces, however, lurk darker visions of trauma and pain, forging strange and singular scenes of a dark wonder,' reads a statement from the gallery. 'this in part reflects the artist's anxiety about nuclear power, especially in the wake of the fukushima nuclear meltdown—but also echoes the broader postwar trauma in japan that resulted from the detonation of two atomic bombs and the subsequent flood of american culture.'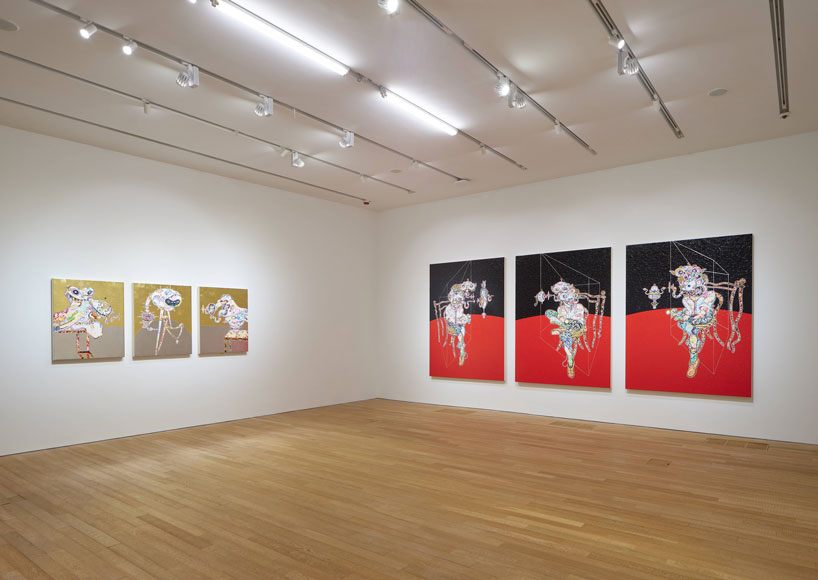 kaikai and kiki, two mischievous characters that reoccur in murakami's artistic practice, are featured throughout the exhibition, both in superflat style and as sculptures. 'kaikai' is the child figure with the rabbit ears while 'kiki' is the figure with three eyes and fangs for teeth. 'kaikai kiki', which are inscribed on their ears respectively, can be translated as 'supernatural' or 'weird' and was the phrase used to praise the blend of weirdness and refinement in the works of the sixteenth-century japanese painter kanō eitoku.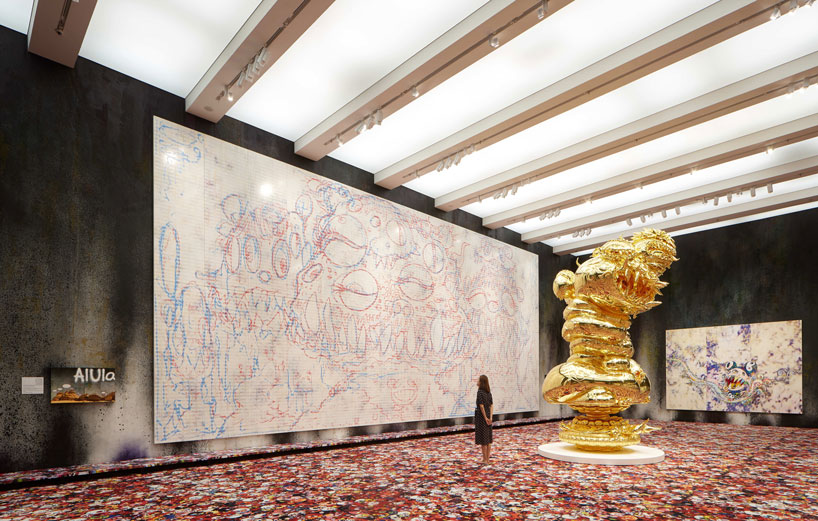 known as the japanese andy warhol, marakami pays tribute to the iconic pop artist with a series of paintings, entitled 'enso'. hanging in a space which is drenched in gold, it gestures towards warhol's silver factory, a studio decorated in tin foil and silver paint. some are spray-painted over gold and silver while some are painted over embossed patterns of skulls.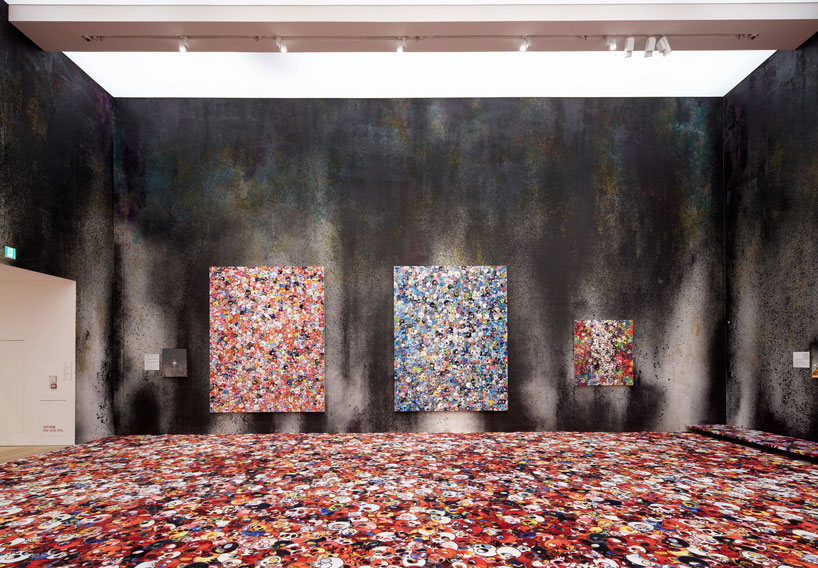 murakami offers a meditative space as a contemplative finale to the exhibition, his use of gold recalling the sacred aura of religious icons, figures, and spaces throughout history. he also harks back to japanese tradition, using the enso (literally 'circle') to symbolize emptiness, unity, and infinity in zen buddhism.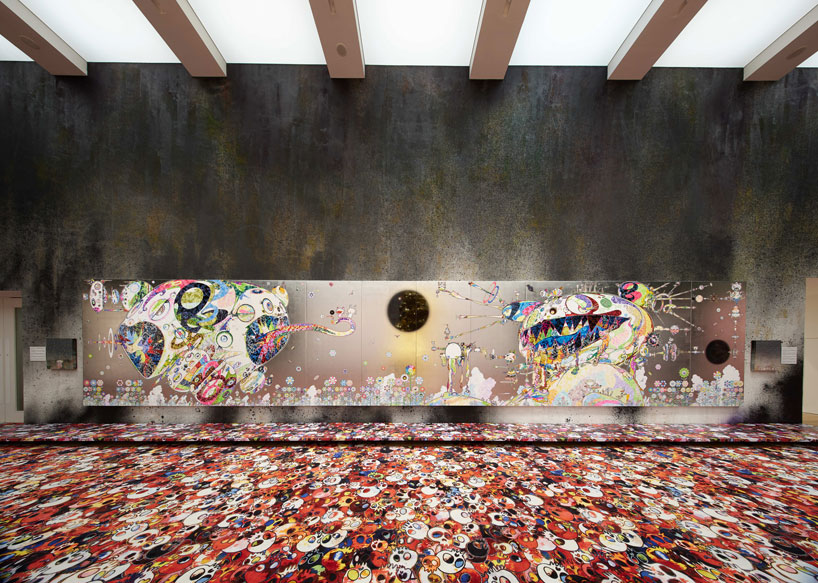 also on display are eight colorful costumes, borrowed from murakami's wacky wardrobe. he is known for dressing up and partaking in zany 'cosplay' seen in japanese subculture.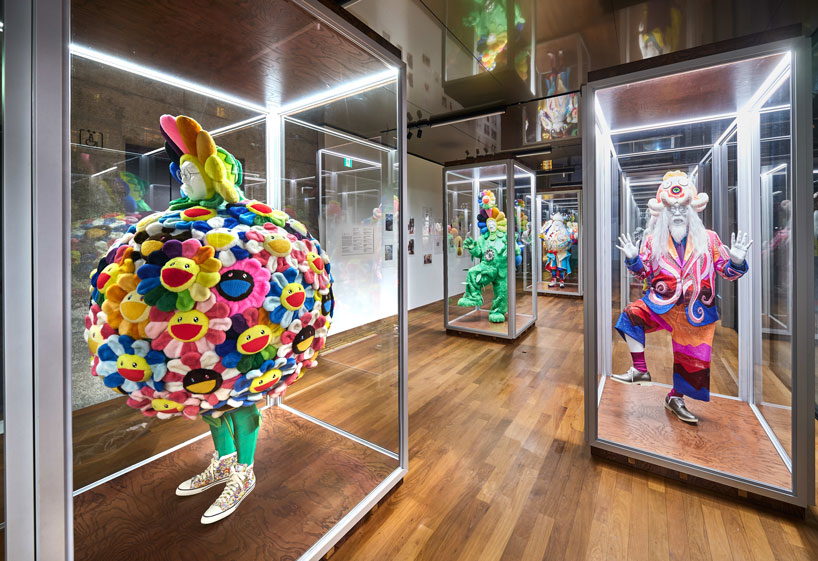 a special pop-up store is open alongside the exhibition, which sells neon and wallpaper works by takashi murakami as well as tai-kwun exclusive items made by the artist for the occasion of the exhibition.
tai kwun contemporary is also hosting a wide range of public programming and educational events including videos by takashi murakami, which will be screened regularly on the laundry steps, as well as a public discussion with takashi murakami, gunnar b kvaran (director, astrup fearnley museet, oslo and co-curator of imagine brazil), and tobias berger, the head of arts at tai kwun.
MURAKAMI vs MURAKAMI is on display from 1 june to 1 september 2019, at the rai kwun contemporary in hong kong. you can purchase tickets at the gallery or online at ticketflap. you can also check the gallery site for guided tours, educational workshops, public talks and film screenings.
gold
(2 articles)
feb 04, 2019
feb 04, 2019
jul 02, 2020
jul 02, 2020
apr 25, 2019
apr 25, 2019
feb 05, 2019
feb 05, 2019
a diverse digital database that acts as a valuable guide in gaining insight and information about a product directly from the manufacturer, and serves as a rich reference point in developing a project or scheme.