japanese artist tatzu nishi — known for his temporary artspaces constructed to transform the bystander's interaction with common monuments or architectural details — is the subject of a solo exhibition at ANOMALY in tokyo. titled 'the real reasons for unbreakable habits and how to deal with them,' it documents his many large-scale projects that overturn our perceptions of reality, the public and the private, the monumental and the ordinary.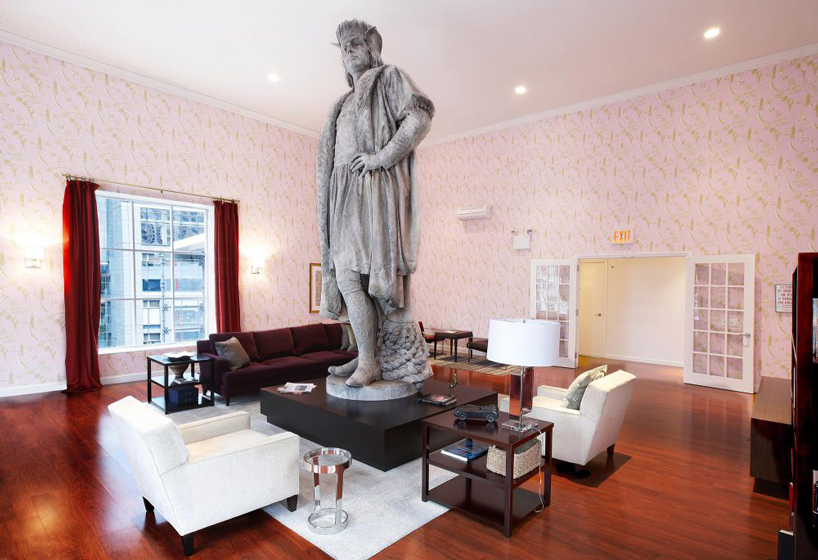 a perspective picturing the finished interior of nishi's finished artspace, image by tom powel (main image by go sugimoto / all images courtesy of the public art fund, NY), cover image: 'solo group show – taturo atzu, tatzu nishi, tazu rous, tatzu oozu, tatsurou bashi, tazro niscino', installation view at hab galerie, nantes, france, 2015, photo by bernard renoux © tatzu nishi
in 'the real reasons for unbreakable habits and how to deal with them,' nishi brings things that have an outdoor or non-artistic context into the indoors. the artist positions various everyday objects and tools that are ordinarily not seen in gallery space in a 'white cube.' it includes a large and heavy tree, fragments of a vehicle, and furniture and electrical appliances from home – everyday articles reveal their otherness when they are deprived of their usual context and set up in the space of a gallery.
signature of his practice, in which he brings art outside of the gallery setting, nishi is known for choosing major city landmarks as the sites of his artistic interventions. nishi's public artwork consists of a true-to-scale living room which has been built around a celebrated statue in new york and a temporary structure surrounding the clock face of the belltower belonging to ghent's sint-pieters train station.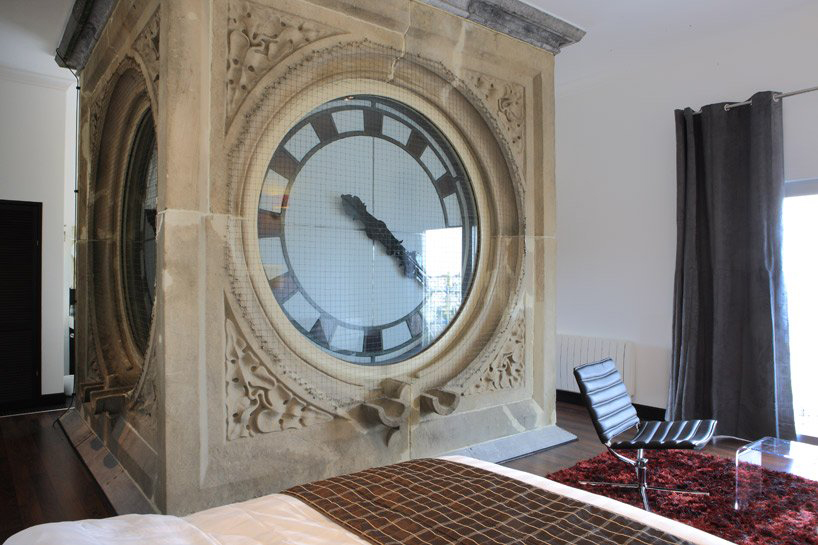 the sint-pieters clock face is located in the very center of the room
image © city of ghent
'I first showed an outdoor work in germany, where I live, 22 years ago,' says nishi. 'ever since, I have exhibited art only outdoors and worked hard in activities aimed at breaking down conventional outlooks while presenting new views of the world at the same time.'
'I did not want these activities to be confined entirely to the art scene; I wanted to explore the possibilities of art among the general public who are ordinarily not particularly interested in it. the interiors of movie theaters and museums are not the only places that stimulate people's imaginations, which must be available in their daily lives.'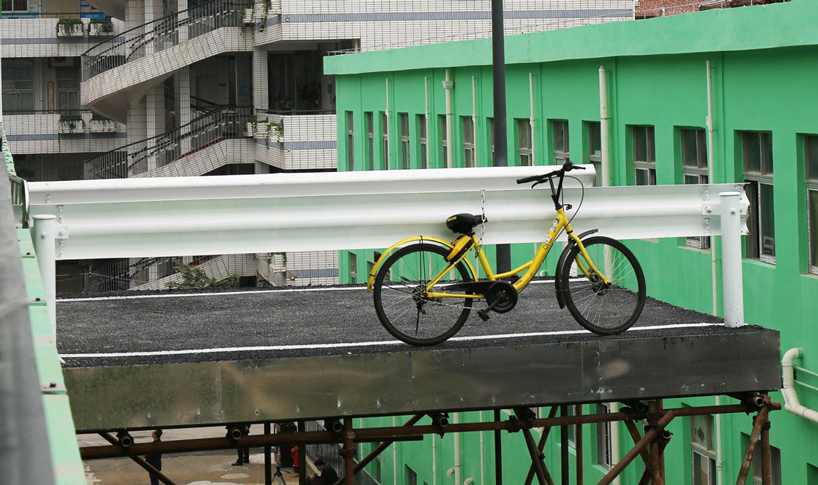 as part of the 2018 shenzen UABB biennale, nishi exhibited 'continue forever', a road suspended mid-air and penetrating a 3rd floor apartment (see more here…)
'without powers of imagination, none of us would be able to think about our own future. opportunities for exercise of the imagination are therefore indispensable for living and must be ensured. for these reasons, I have preferred outdoors to indoors, and particularly locations on city streets, as the venues for showing my works. I broke out of the narrow and boring world of the art scene, and had shows at galleries only about three times. this time will be my first solo exhibition in a gallery in about 10 years.'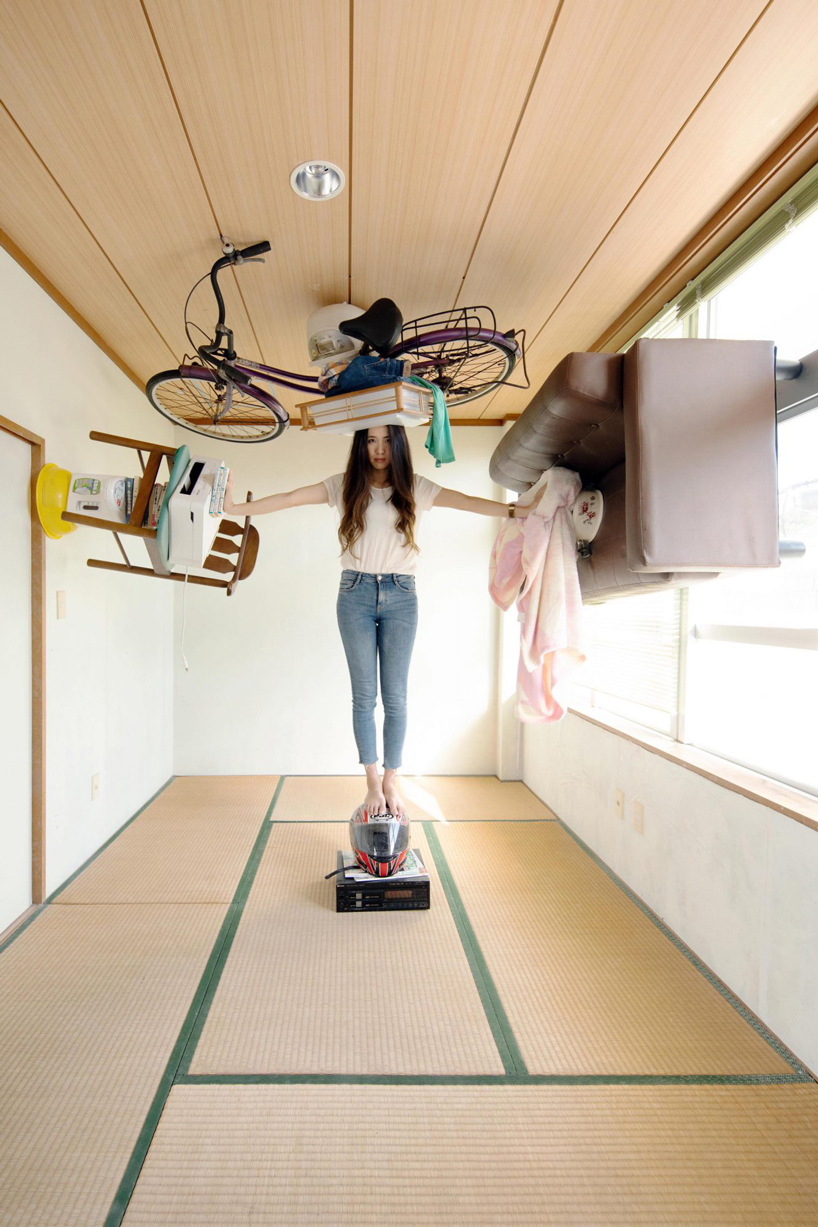 untitled (tentative title), 2019, lambda print, 160 x 106.6 cm © tatzu nishi
'for the anomaly exhibition, I am doing the opposite of my normal approach of displaying indoor trappings outdoors,' he adds. 'more specifically, I am preparing indoor displays of works that I made with materials from outdoors. by so doing, I hope to link the closed space of the gallery to the outside.'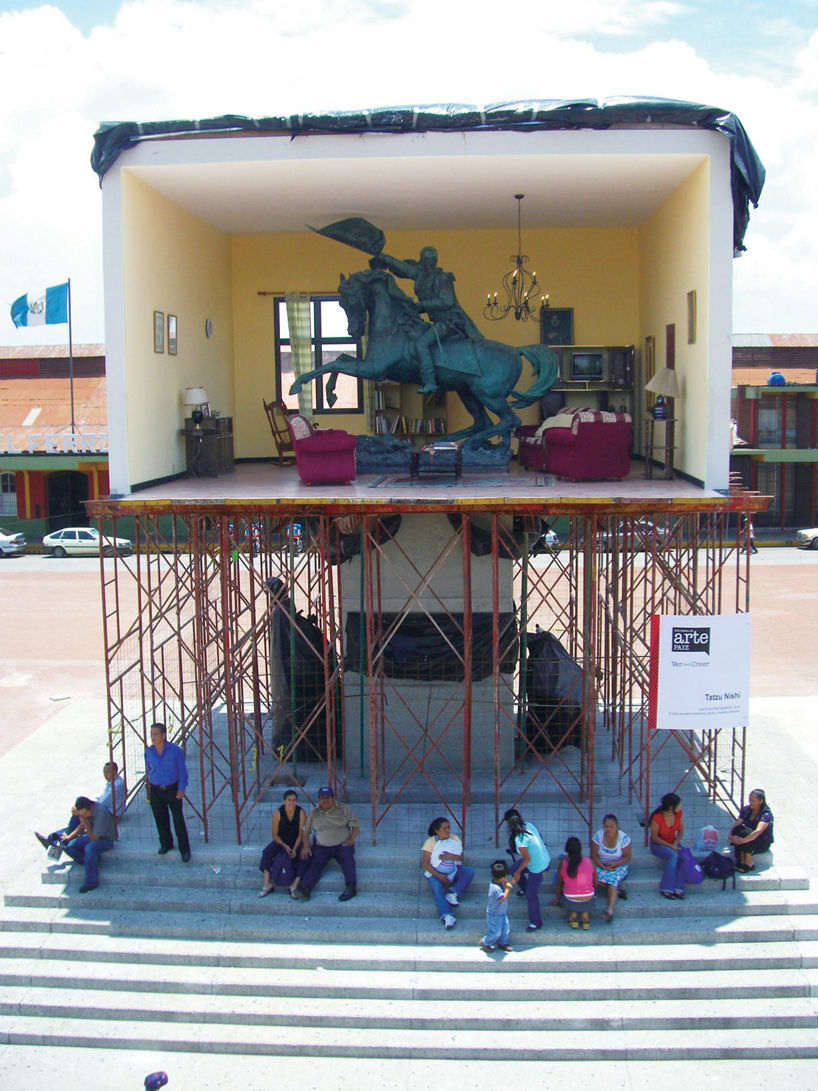 héroe, 2010, guatemala city, republic of guatemala, © tatzu nishi
'I am also showing works made with items around me that have not changed since my debut, in order to bring opportunities for thinking about art into the everyday life of the viewers. this is also bound up with one of the basic concepts behind my works, namely, the reversal of outdoors and indoors, and of the private and the public. the intent is the same as that of showing works outdoors, i.e., to thrust art into daily life.'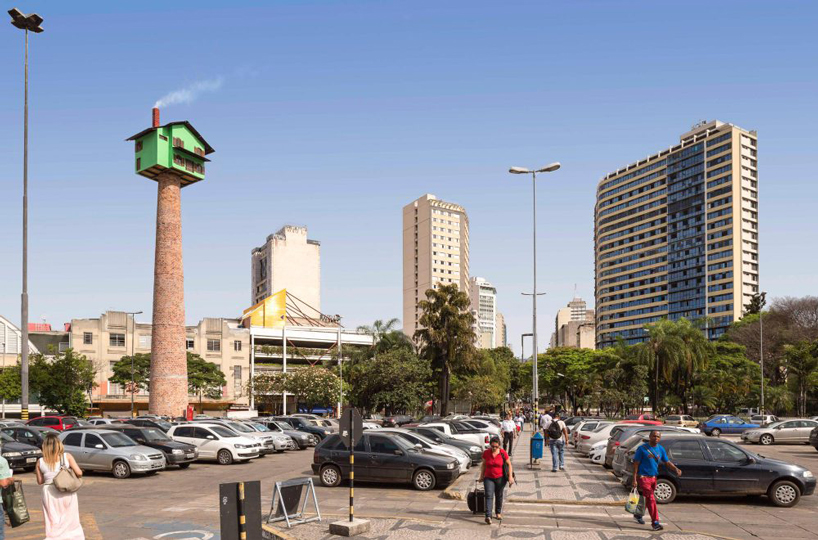 a correnteza de modernização, 2013, belo horizonte, brazil, photo by joana frança © tatzu nishi
'in my view, to inflate powers of imagination is the raison d'être of art in humanity. the amplification of these powers on the level of individual people exerts an influence on communities and countries, and may even determine the path to be taken by humankind in the future. in this sense, art really does have the power to change the world. I have been a dreamer since my childhood, and perhaps am dreaming even now.'
project info
artist: tatzu nishi
exhibition: the real reasons for unbreakable habits and how to deal with them
location: ANOMALY, japan, 〒140-0002 tokyo, shinagawa city, higashishinagawa, 1 chome−33−10 terrada art complex 4f
dates: saturday, january 25, 2020 – saturday, february 22, 2020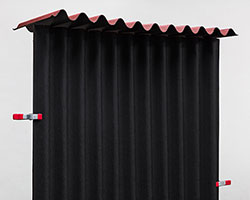 aug 02, 2020
aug 02, 2020
jul 27, 2020
jul 27, 2020
jul 26, 2020
jul 26, 2020
jul 24, 2020
jul 24, 2020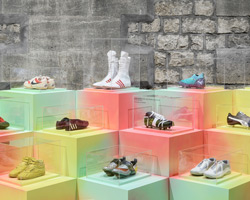 jul 08, 2020
jul 08, 2020
jun 12, 2020
jun 12, 2020
aug 04, 2020
aug 04, 2020
aug 04, 2020
aug 04, 2020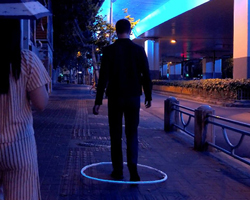 jul 29, 2020
jul 29, 2020
jan 11, 2018
jan 11, 2018
jul 16, 2014
jul 16, 2014
sep 20, 2012
sep 20, 2012
a diverse digital database that acts as a valuable guide in gaining insight and information about a product directly from the manufacturer, and serves as a rich reference point in developing a project or scheme.