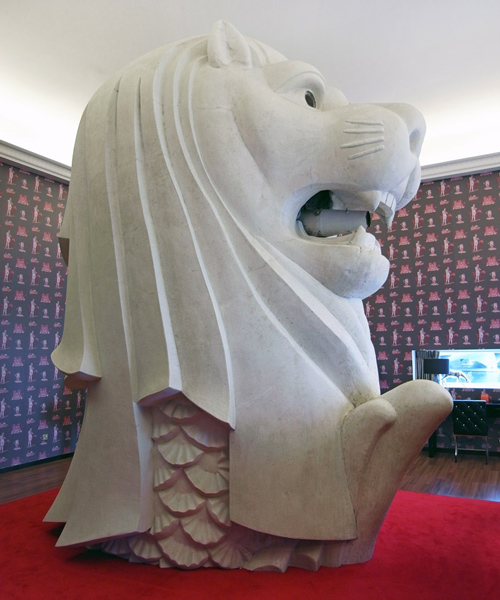 mar 31, 2011
tatzu nishi opens the merlion hotel installation in singapore
following up on our preview article about the merlion hotel by japanese artist tatzu nishi, designboom now brings you some interior photo shots of this temporary hotel suite installation, especially created for the singapore art biennale. a luxurious hotel room has been built around singapore's beloved iconic landmark — the 70-tonne white cement monument 'the merlion'.

the merlion hotel during public viewing
image © designboom
the merlion is the main symbol of singapore, a hybrid animal that pays metaphorical tribute to the city's name and history. the lion element refers to the city's original name, 'singapura' ('lion city'), while the fish torso honours its maritime heritage. the creature was dreamed up as a logo for the singapore tourist board in 1964 – and, having proved popular, was enshrined in statue in 1972. it will revert to being a tourist landmark on june 6, 2011. tatzu nishi offers local and international audiences an entirely new relationship to this globally recognized symbol.

the merlion is the main symbol of singapore
the merlion hotel is open during the day for public viewing and in the evening for overnight stays. members of the public can book a one-night stay between 4 april to 5 may for two adults at the special rate of 150 singapore dollars nett. the hotel is fully furnished with a double-bed, bathroom, amenities, personalised room check-in, dedicated merlion hotel butler as well as breakfast at the fullerton hotel singapore. check-in: 8.30pm7 /check-out: 8.30am. reservations are made on a first-come-first-served basis. bookings can be made here: dial (+65) 6332 9870, between 10am – 5pm (GMT +8).

the merlion
image © designboom
designboom (DB): are there three keywords behind your artistic concept?
tatzu nishi (TN): funny, violent, sexy. the fun part is to overthrow common sense, stimulating people's imagination by instantly turning things upside down. violent refers to art that should be revolutionary. sexiness arises where private and public aspects are mixed.

the merlion within the room
image © designboom
DB: by transfiguring private and public, you also keep playing with what you call the 'name changing project'.
TN: I have changed my name several times. right now I am tatzu nishi, but I am operating under such aliases as tazro niscino, tatsurou bashi, tatsu oozu, … i change every two years or so. as a public means identifying an individual, the name is the closest thing to a person.

right behind the bed
image © designboom
DB: an outdoor location is different from a museum or gallery, people do not need to travel to with the intention to see art…
TN: average citizens as housewives or company employees are part of my audience. isn't art originally the oposite of nature? my definition of art is to keep suggesting alternative views to the general public. an artist is not somebody who goes out and expresses correct opinions whatsoever. sometimes we stimulate positive thoughts, just by saying negative things. art doesn't need to be logical and it doesn't have to render any service to society. art continues to provide this world with different perspectives, but art must possess enough influential power to do things like improving society, adding more freedom to society (which does not necessarily mean ' making it a better place to live' — this is somewhat paradoxical).


image © designboom
DB: essentially you 'repack existing environments'?
TN: I'm kind of 'internalizing the exterior' (and externalization of the interior). in the middle of consumer culture, tmy act of packaging not only integrates exterior elements into interior settings, but addresses the privatization of public spaces. historical monuments or public constructions are turned into decorative items of the private space — I see it as 'implementing exclusiveness' — superficially advocating openness. it reflects the present situation of power issues in the realm of public space. for example, in parks, benches are fitted with extra armrests to prevent people from using them for sleeping, public monuments are covered by advertisements…


the vanity table is lacquered black, wallpaper graphics created by tatzu nishi
image © designboom
the wallpaper, created also by tatzu nishi, features patterns of sir stamford raffles, the founder of modern singapore, alongside the merlion, a chinese temple and the marina bay sands building. the exclusive furniture was provided by king & king wong, a malaysian furniture retailer, residing in singapore.

wallpaper graphics created by tatzu nishi
image © designboom

souvenir basket with short city guide, the singapore biennale program and the merlion stuffed animal
image © designboom

image © designboom

bathroom with view to the marina bay sands building
images © designboom

visitors commenting positively in the guest book
image © designboom
the biggest challenge for tatzu nishi — when coming up with the idea of the merlion hotel — was 'getting permission'. the project has been made possible thanks in part to the support of the singapore tourism board and the urban redevelopment authority.

tatzu nishi is the first guest sleeping at the merlion hotel
image © designboom

tatzu nishi
portrait © designboom

image © designboom

the merlion hotel facade
image © designboom

the merlion statue – not covered
image © designboom
the merlion hotel is one of the over 150 works by 63 artists from 30 countries, presented at the singapore biennale 'open house' program.
in its third edition, the singapore biennale (SB2011) is led by artistic director matthew ngui and curators russell storer and trevor smith, and is organized by the singapore art museum (SAM) of the national heritage board and supported by the national arts council, singapore. open to the public from march 13 to may 15, 2011.
as the leading biennale in southeast asia, SB2011 situates contemporary art from singapore and southeast asia within a broad international conversation. the title 'open house' is conceived not as a theme but as an invitation or 'open doors' onto contemporary artistic practice. artists' practices are not simply grounded in describing or portraying subjects in the world, but are often actual attempts to exchange information, translate experiences and trade places and perspectives. 'open house' suggests the crossing of thresholds between public and private, where boundaries and borders are made permeable. it is in this fluid space that contemporary art often emerges, out of a need to bridge the gaps between the experiential and the psychological, and between social and political hierarchies.
may 17, 2011
may 17, 2011
apr 29, 2011
apr 29, 2011
apr 27, 2011
apr 27, 2011
apr 03, 2011
apr 03, 2011
apr 03, 2011
apr 03, 2011
apr 02, 2011
apr 02, 2011
jan 23, 2020
jan 23, 2020
jan 11, 2018
jan 11, 2018
jul 16, 2014
jul 16, 2014
apr 17, 2011
apr 17, 2011
feb 25, 2011
feb 25, 2011
dec 14, 2010
dec 14, 2010
a diverse digital database that acts as a valuable guide in gaining insight and information about a product directly from the manufacturer, and serves as a rich reference point in developing a project or scheme.