interview with illustrator tavis coburn
tavis coburn graduated from california's art center college of design with a BFA in illustration. since then he has created numerous works for leading publishing, advertising, music companies in north america and europe. his illustrations are influenced by 1940s comic book art, the russian avant-garde movement, and printed materials from the 1950s/60s.
designboom: what originally made you want to become an artist / illustrator?
tavis coburn: originally I wanted to become a comic book artist, but the more I found out about how that industry ran, and that you were a cog in a much bigger wheel, the more I realized that it wasn't going to be for me. in high school, one of my art teachers brought in an architectural illustrator to speak to our class, for me at the time it seamed like an interesting job. a year or so later in my high school library I came across and old illustration sourcebook. it was full of great work, and at the time a lot of editorial, and advertising work but I started seeing illustrations that really amazed, and excited me. I thought, this could be a way to make art everyday and call it a job.
I look back on my journey now it's had lots of positive moments, with great projects,and great clients, with periods were I felt like I was doing great work and was on a creative high to brutal lows were I wanted to quit making art, and hated my work, fighting periods of depression combined with decades of substance abuse.
I'd put my work in front of everything and everybody and just shut the world out, it was my pattern for getting into what I thought was a good head space to make what I thought was great work. it wasn't a very healthy way to live my life and everything slowly started to fall apart to the point where I ended up in a treatment centre, sitting on a bed in a small room wondering if I would ever be able to make a piece of art again if I was not under the influence of drugs and alcohol.
fast forward today, and my journey feels like it's just getting started. I make my family the priority, I make time to do things that make me happy, and I try not to sweat the small stuff when it comes to the day in day out of working for yourself as an illustrator. I'm excited again to try new things, streamline my process, use a color that might feel uncomfortable, good healthy stuff that keeps the creative juices flowing.




virgin marussia F1 racing
DB: how would you describe your approach?
TC: every project is different they have there own set of problems and possible solutions, sometimes those final solutions take longer than others, some have better outcomes that others. I've learned to go with the flow of each piece of art, some are really smooth sailing start to finish others the amount of friction they give you is punishing whether it's from the client or from the actual piece of art I'm trying to create.
I work in a fairly traditional way in terms of the steps it take from start to finish. if we are talking about my process, my early work was really analog, hand painting the elements in my work, using the computer very little to just compose and separate the art, print film and screen print the final. however, today the means in which I go about making my art is 99% digital. even though I strive for my final art to look anything but being digitally created. it's gone from me having a 2000 square foot loft in downtown LA, half of that space was living the other half was a fully equipped screen printing studio to my current studio which is 1/8 of that size I have a book shelf, couple of chairs and two desks, the main desk has three monitors, the second a wacom cintiq and mac pro with a SSD HD lots of ram and a fast graphics card. I don't even have a pencil on my desk. big change, but it's 2015 and at this point in my life, this is how I make my art, it will most definitely change over the next few years, I want to do more personal work and if that means shutting the computer off, and painting an 8ft canvas than that's what I'll do if it means really pushing the digital process into a body of work that could live along side a traditional painting in a gallery then I'll do that. for me process is a big thing, that's why I'm still OK with dealing with such a long time consuming process everyday to make my art.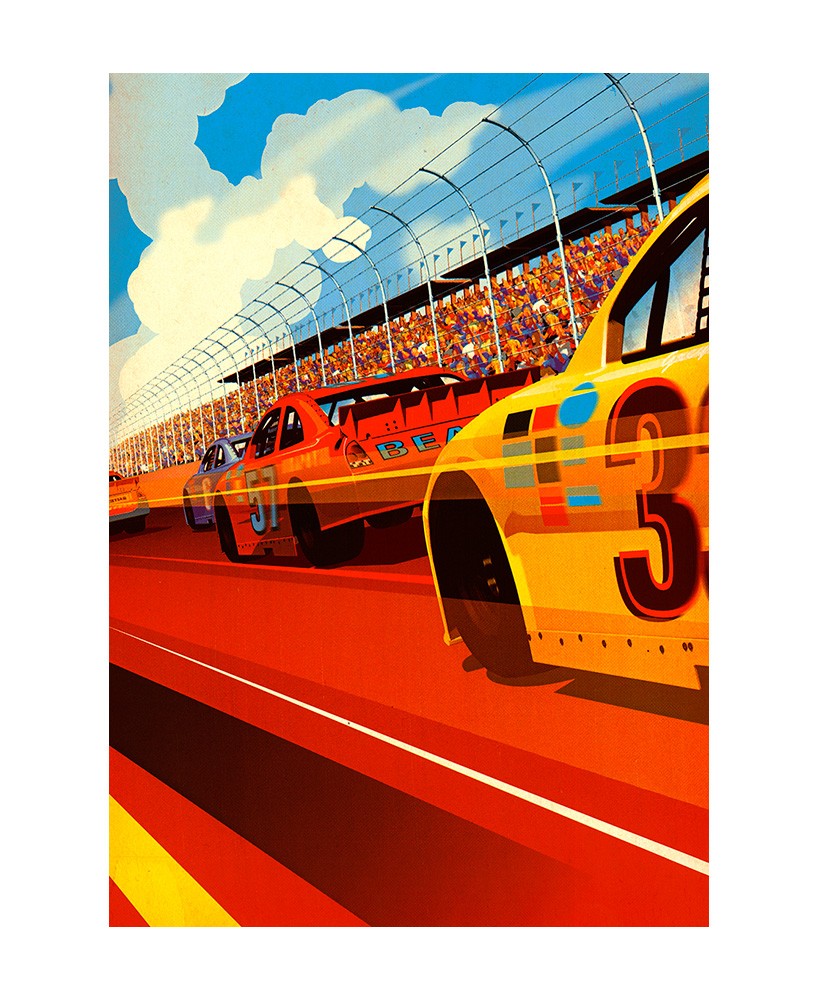 for fox sports
DB: who or what has been the biggest single influence on your way of thinking?
TC: there really hasn't been a single influence. I love illustrations from the 30's on into the 70's, and even the 80's these days. however some of my biggest influences are modern artists that came out of new york in the late 70's- 80's like warhol, and basquiat. lately I've been all over the place. mostly it's vintage work I come across, I have a nice collection of fortune magazine from the 30-60's they are as much an inspiration to my work as any piece of art, but my work walks that line a bit between design and illustration or maybe design and art. the older I get the more I dislike the word illustration it marginalizes us as a skilled craftsman, rather than artists.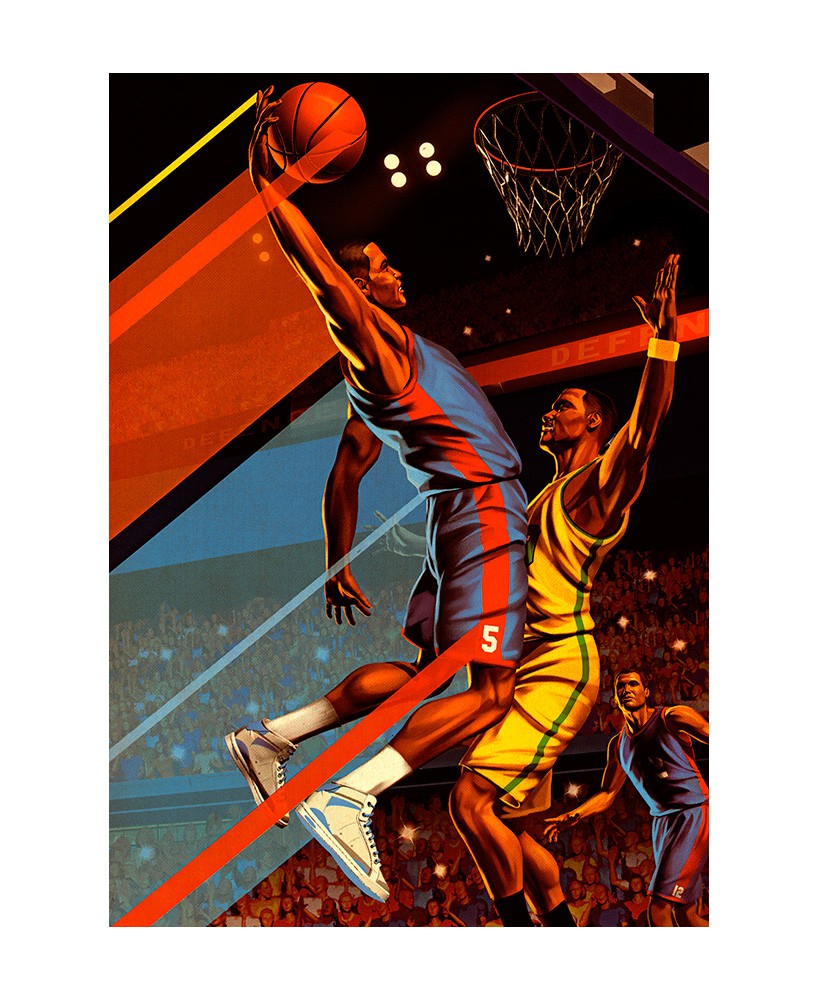 for fox sports
DB: has anyone or anything recently challenged your views on art or illustration?
TC: no not really, the past few years have been a really amazing time for illustration. there are so many great artists all over the world and the variety of styles and personalities is really awesome and great for the industry. am I feeling good about illustration currently? yes. are we having a huge issue with lousy budgets? and work being stolen? yes. combined with the public being pretty ignorant about the time and effort that goes into each piece of illustration. we have a long way to go, but the overall environment for good creative work is really strong.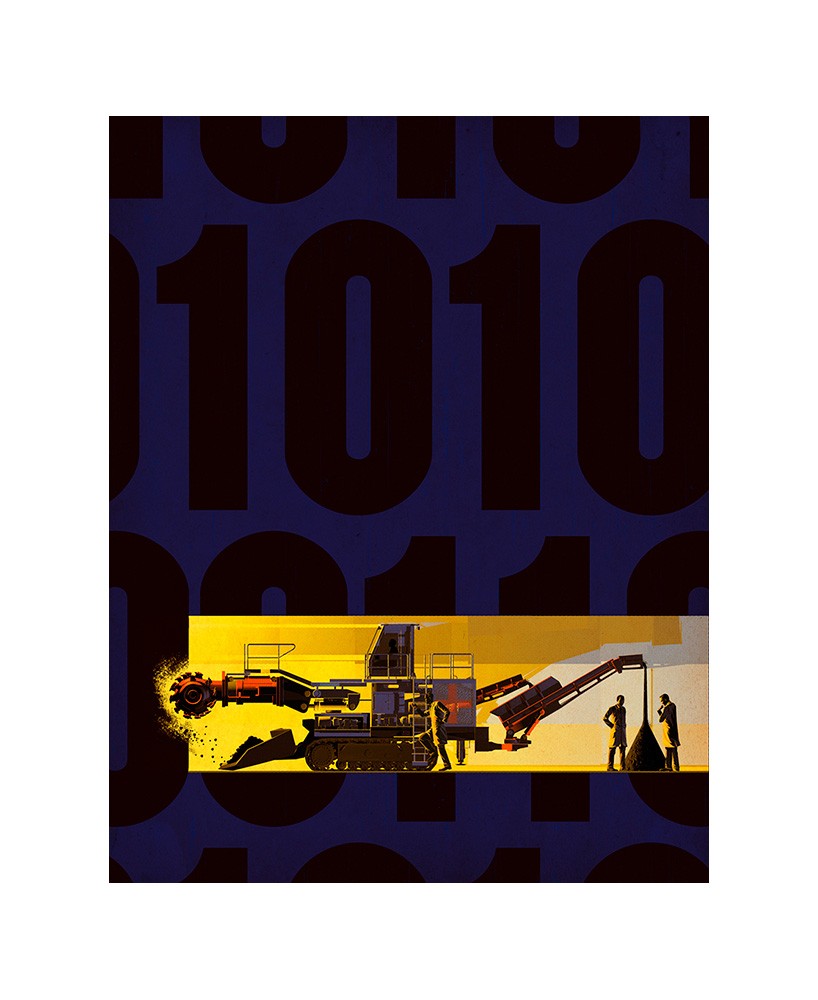 for the standard medical journal
DB: what would you say is your strongest skill and how have you honed that skill over the years?
TC: my painting skills are pretty strong, I also like composing spaces as well. color, maybe comes third. painting is just one of those things I've found in my life that requires practice, I wish I could say daily but sometimes that doesn't happen. I like having a good couple weeks of heavy painting jobs, those get me into a good groove, and there is no warm-up time at the start of the day you just sit down and start painting. the weeks where I'm maybe digitally sculpting elements more or dealing with comps and ideas, then have to knock out a painting that day it takes a bit to dust off the cobwebs even if it's only been a few days or a week since I painted last. funnily I find the same goes for my tennis game, play a few times a week and I can really get into a good flow. so much of painting is mechanical once you get to a certain level that it's a lot like playing a sport the more you play and, practise the better you get.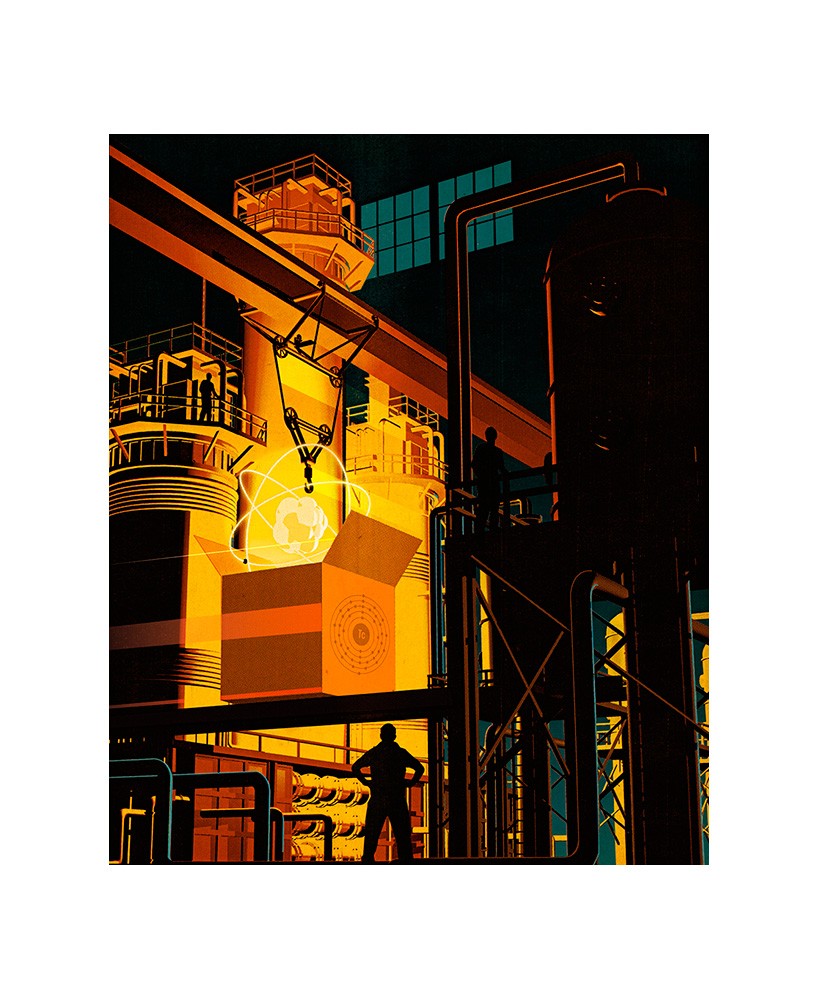 for pronto magazine
DB: what materials do you enjoy working with the most?
TC: currently, a lot of my day is spent working with Z-brush. I really love it, it makes the impossible possible a lot of the time. I sculpt most if not all of my elements in Z-brush even add color and some painterly strokes to the models. I also use cinema 4D and VUE for some backgrounds, and to check out some different light options.
working digitally and especially with CG applications, the software companies are always improving their product, adding more options, and power to the programs, so it's really just about finding a good mix of tools for myself to get that image that's in my head out and into the final piece of art. the other thing about working with the digital sculpting programs is that anything you sculpt can very easily be made into an actual sculpture with our current arsenal of 3D printers which is very cool. I also find that in a lot of cases I'm still having to pull out the traditional materials to create a stroke that becomes a brush capture in photoshop or a charcoal rubbing on a piece of paper from the wall of my studio to get something that would make a convincing road texture.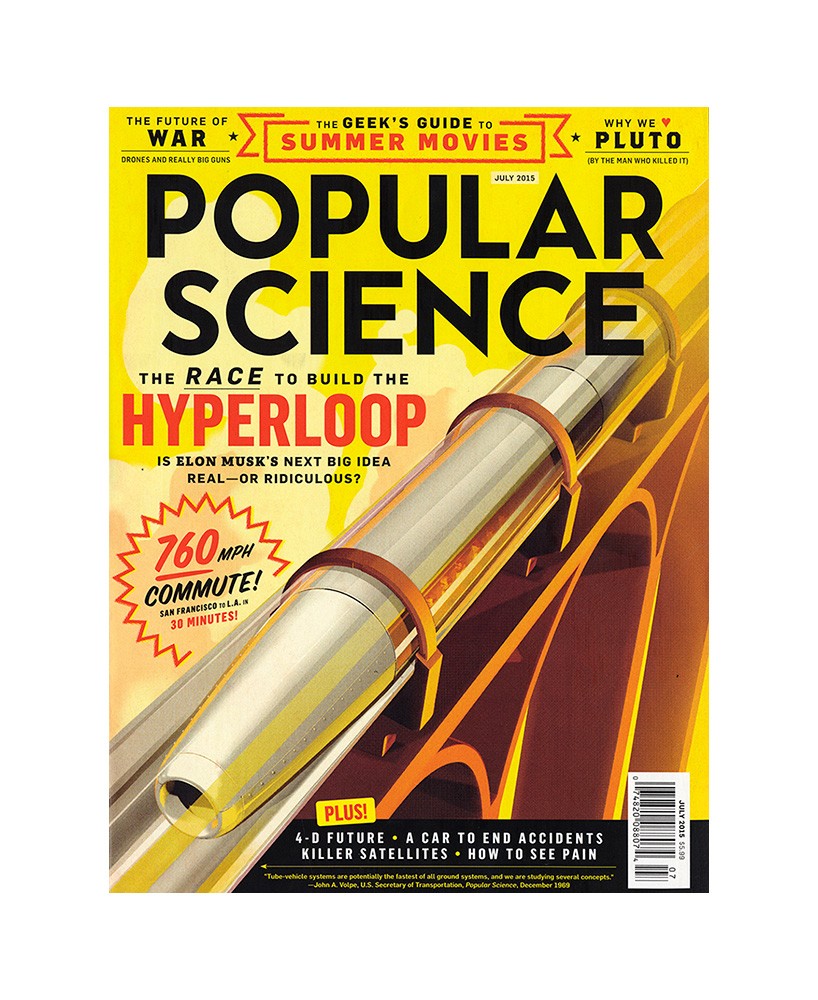 for popular science magazine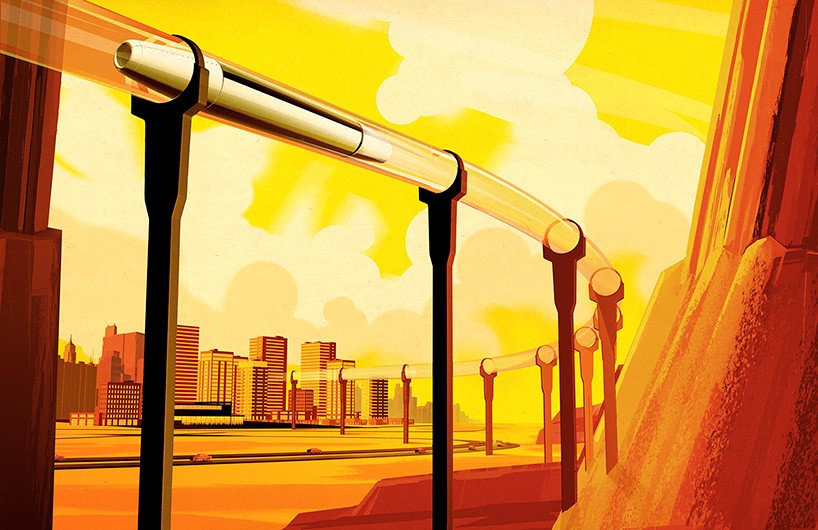 for popular science magazine
DB: what are your thoughts on specialisation vs generalisation?
TC: my thoughts at least for myself is that over the years my jobs have come from a lot of different sources, editorial, advertising, marketing, and client direct. lots of sports, technology, sci-fi and figurative work. I like it that way. keeps things interesting. as much as I love illustrating cars, I couldn't see myself doing it everyday I would want to do other things.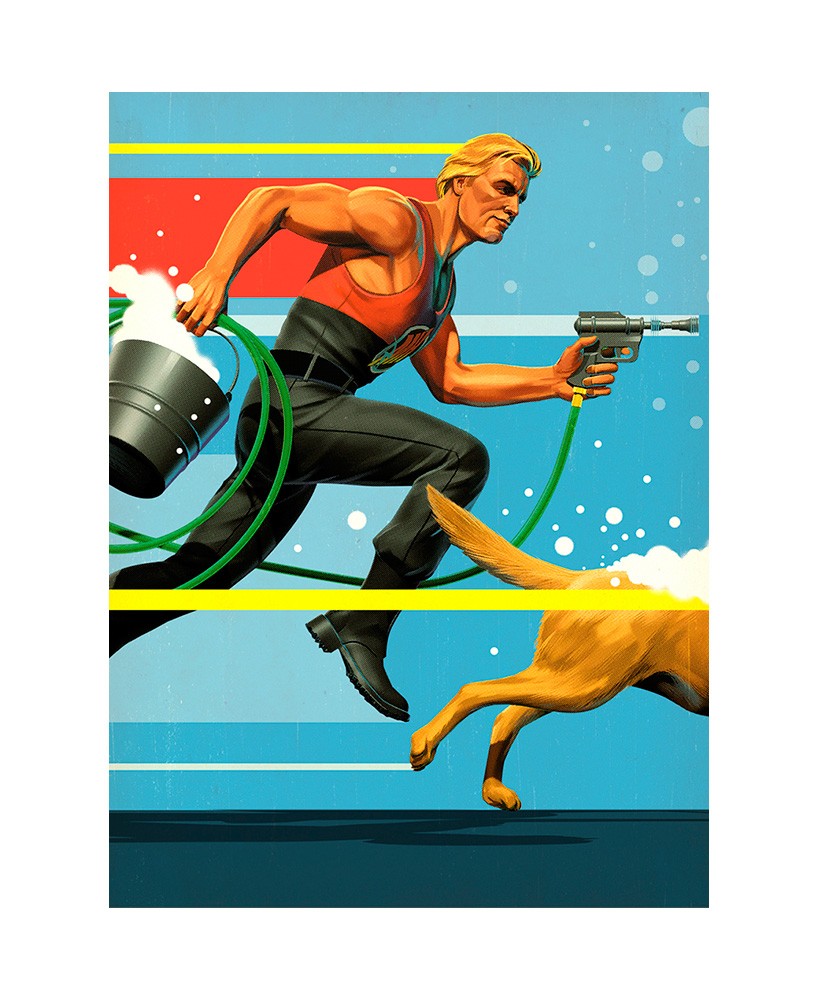 for men's health
DB: how have blogs, tutorials, forums etc. influenced your work?
TC: not much, besides program tutorials. I might poke around a few art and illustration blogs on a quiet day, I see some great stuff, but I try and not let it influence my art. I find music will tend to influence my art more than other current illustrations. I'm a huge techno junkie, and years ago pursued a bit of a DJ career but, in the end choose to concentrate on the art rather than the music. that said , I'm sort of been picking away at starting to DJ again, it's something I really love,and it came pretty natural, but with a busy career, and family, it might be tough to make that happen again. never say never but yeah that genre of electronic music has shaped, and influenced my work for decades.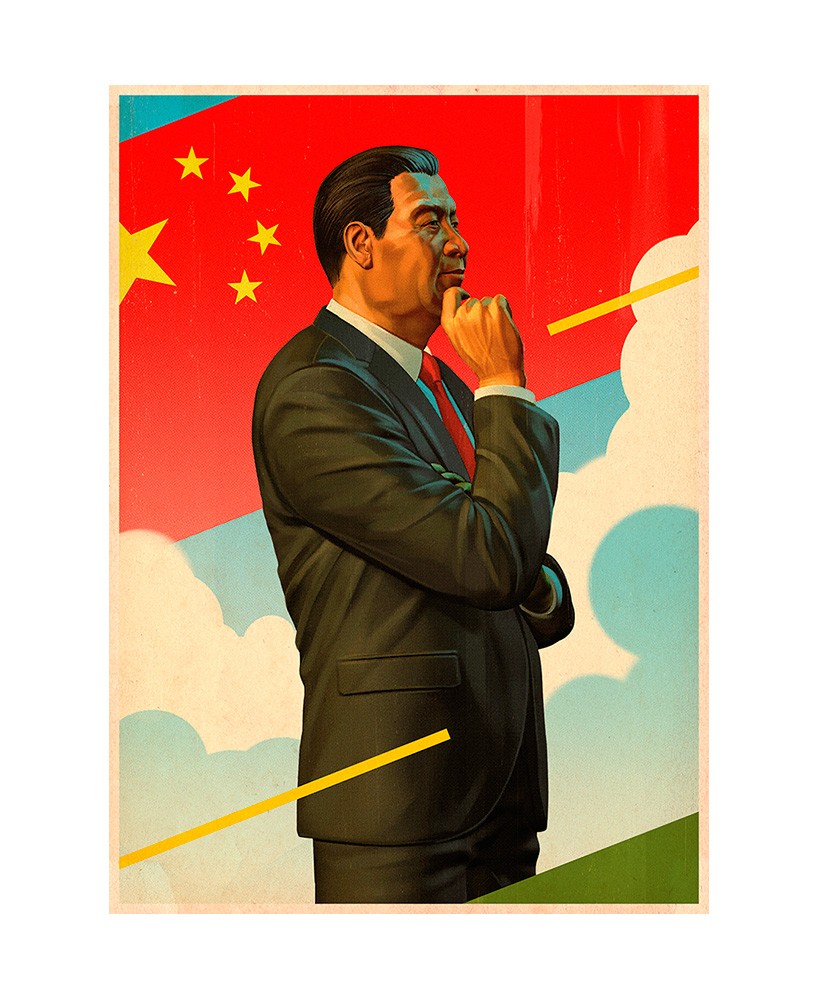 for the new yorker
DB: what are you currently fascinated by and how is it feeding into your work?
TC: to carry over from the last question, techno, especially from producers/DJ's like chris colburn, yan cook, ryogo yamamori, josh wink, and oliver deutschmann just to name a few. these guys make really nice minimal detroit style techno, but it's got some grit to it and when you really listen to it there is so much going on it's great – it makes me want to make better, smarter, more simplified art. I love a single image that says as much as a illustration, but has just 5 or 6 elements. the producers I mentioned are great craftsmen, they build each track with such precision, yet it feels really alive like a being or a place. I love that they can paint a picture with sound. it's really inspirational.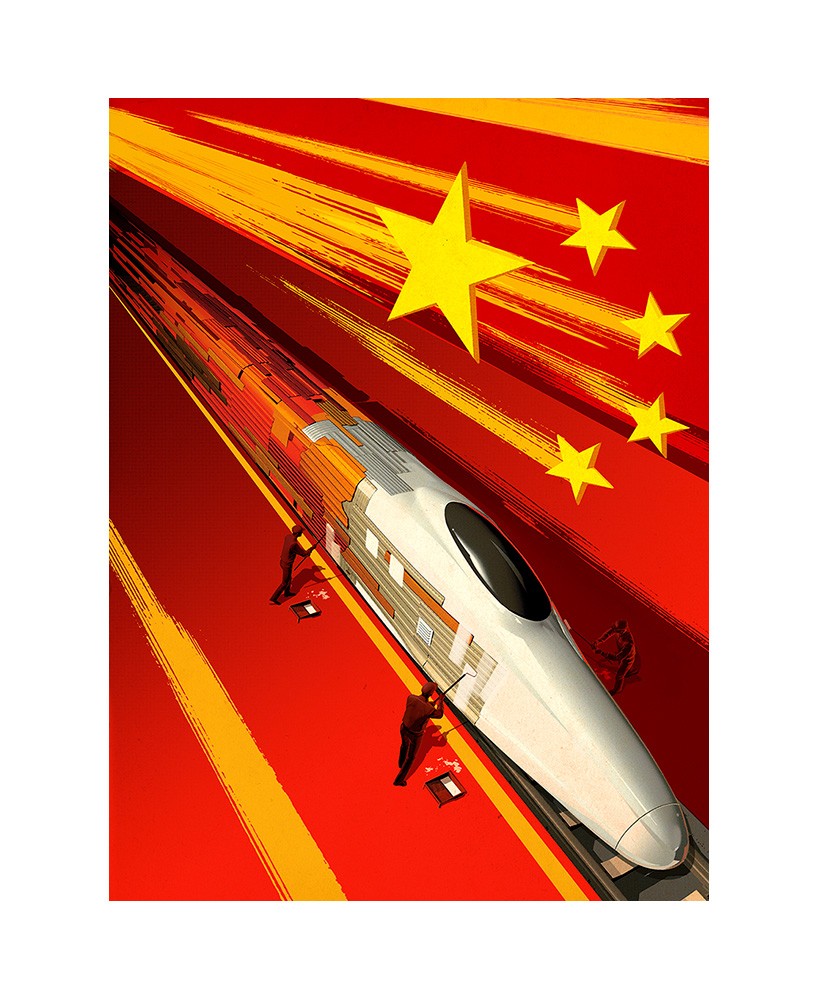 foreign policy
DB: what are you passionate about besides your work?
TC: skateboarding. I stopped for a long time, then when I decided to make some major life changes I realized it was something I loved doing and missed greatly. I started going to the local parks with my son and that was it, I was hooked again. I try and skate a few times a week now – and am slowly working on skating some bigger ramps and bowls – stuff I never got to experience 20-25 years ago. that said, age does make you a little less careless, falling hurts a lot more now than it did when I was 18!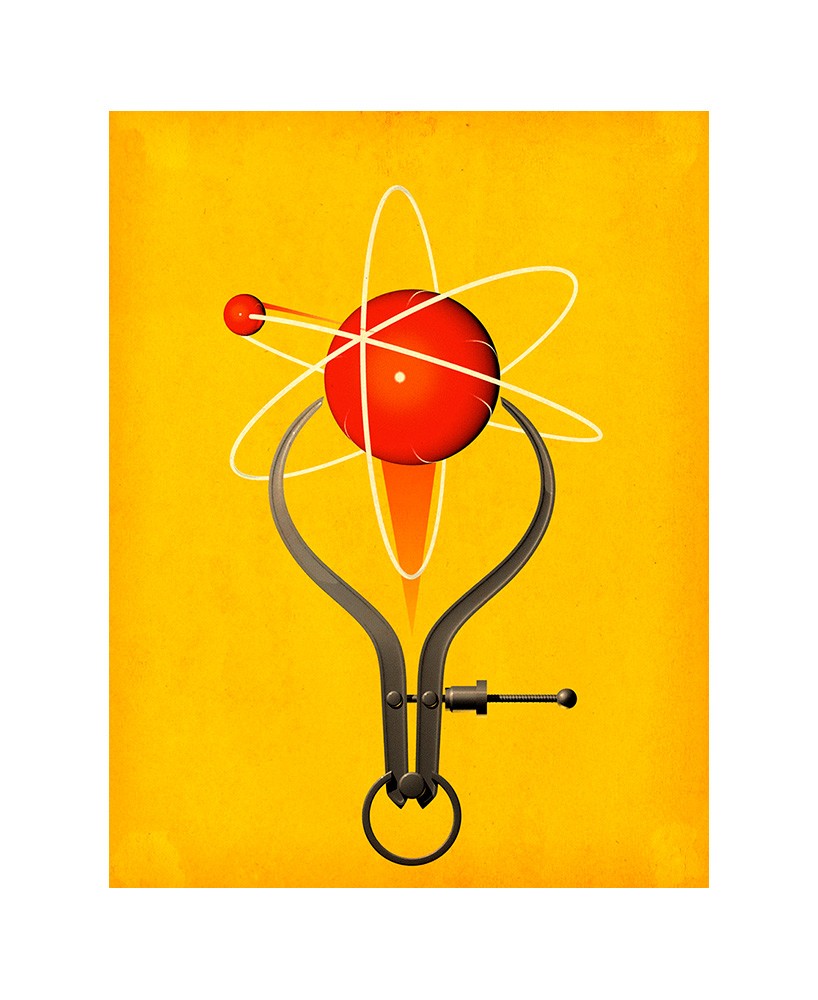 scientific america
DB: do you have any superstitious beliefs or personal rituals?
TC: no not really, in the process of getting rid of the drugs and the alcohol I've done a lot of soul searching, and have had to get really honest about who I am and what's going to make me happy, and part of that is having balance and structure in my life. I find I'm searching for more spiritually, but at times it still eludes me, but other times skateboarding comes very close. my kids have made me a better man and my wife is really supportive and understanding of the long hours and emotional roller coasters that certain projects tend to take on. all in all I just try and make the most out of my day and not get too buried in my work. I try and look at my life and work as a whole rather than a bunch of separated pieces.
rituals? good coffee for sure, good music, open window with some fresh air if it's not the middle of winter. keeping my studio clean and free of clutter as much as possible.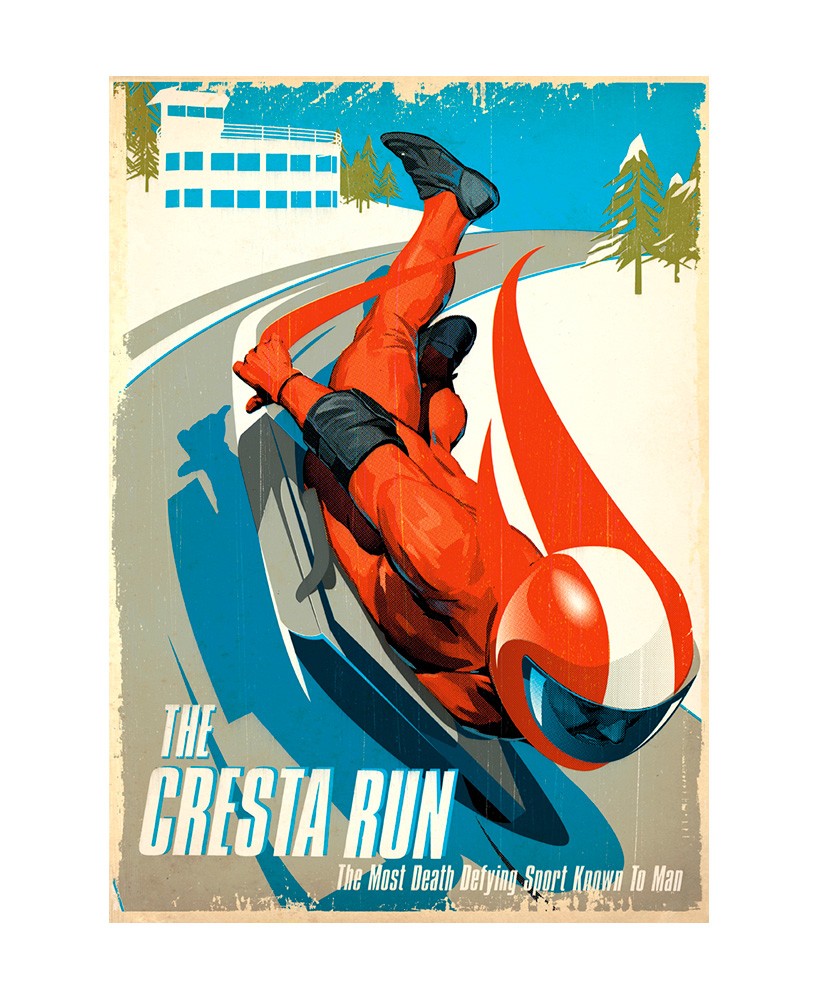 cresta run
DB: what's the best piece of advice you have heard and repeat to others?
TC: make art from your heart rather than your head.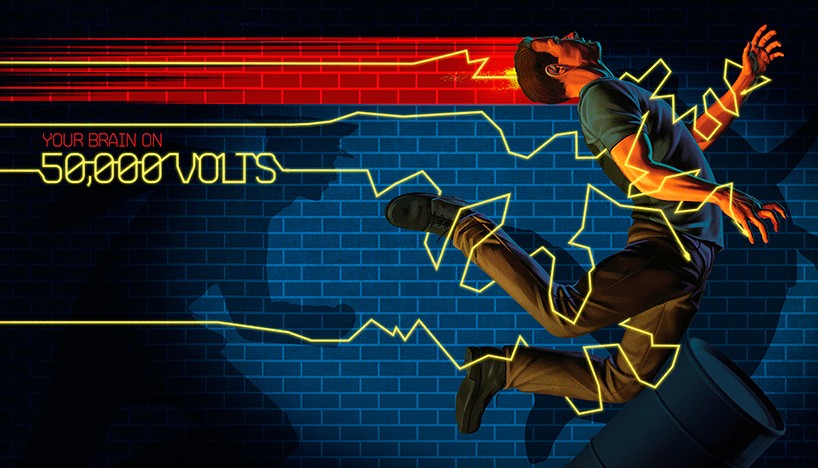 for exel magazine
DB: what's your personal motto?
TC: learn something new everyday.
a diverse digital database that acts as a valuable guide in gaining insight and information about a product directly from the manufacturer, and serves as a rich reference point in developing a project or scheme.
designboom will always be there for you
milan, new york, beijing, tokyo

,
since 1999