scientist and artist carsten höller highlights miami art week 2017 in a three-night-only collaboration during art basel with milan-based arts institution, fondazione prada. titled 'the prada double club miami', the piece is set in a 1920s film studio complex, formerly an ice factory, and comprises of an internal club and an outdoor tropical garden.
the prada double club miami – opening night
fondazione prada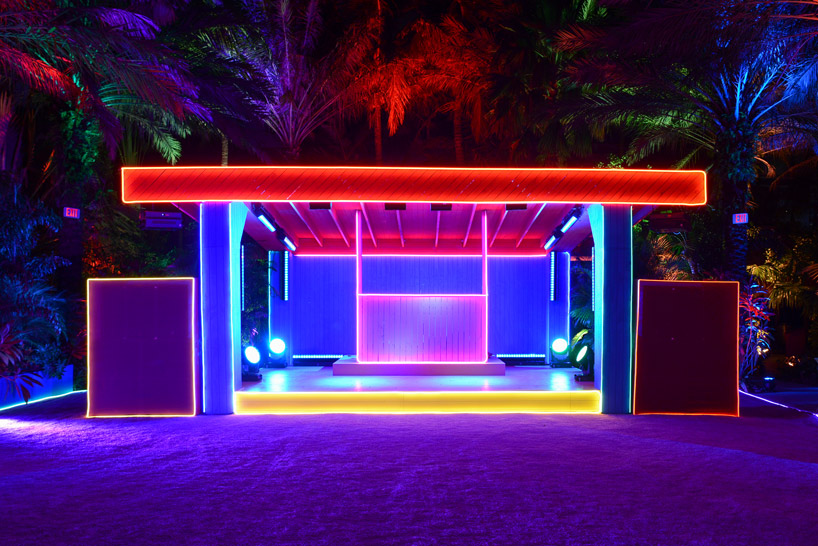 the installation is be experienced as a real night club, presenting two combatting spaces
images courtesy of fondazione prada and casey kelbaugh unless stated otherwise
the installation continues höller's investigation into two-sidedness, experienced by invited guests as a fully functioning nightclub; a live-act that sees a temporary dance hall of two sparring designs: one grey and colorless and the other brightly hued. each space is dedicated to showcasing talent, hosting international live music acts and DJs, including wyclef jean for the opening night. after attending the preview designboom caught up with höller…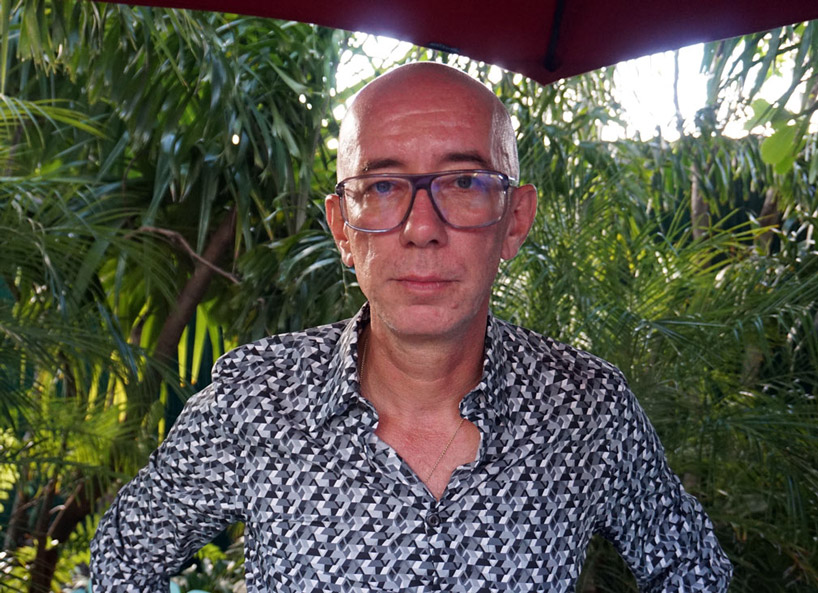 carsten höller © designboom
designboom attended the PRADA CLUB opening night in miami
designboom (DB): how is the 'double club' here in miami drawn from your previous work, particularly your 'double club' in london?
carsten höller (CH): this is a very different concept. most of the work I do is around the idea of a 'double club'. I have also been working with these mushrooms, which have a slice in the middle… but the first time that I made a 'double club' was 2004, except it was not a club, but the idea of two halves somehow fit together. there was a show in marseille [at the musee d'art contemporain], that was completely mirrors. there were two entrances, and in the middle, a symmetrical room. the rooms on each side showed the same work, but on the other side. it's quite a big museum, so you would go into the space and you'd see a work, and then you go to the other side and you'd say 'wait a minute, I've seen this'.
in the same year, we had an exhibition in stockholm [at färgfabriken] called 'one day one day'. there was a long space where we had only one work shown, but people didn't know that this work was changing from day to day. so one day it was one work, and another day it was a different one. we had a movable exhibition wall, but you couldn't see that. somebody would climb inside the wall from above and open it up. there were wheels inside and you could move the wall to show one work, then another — just like that. we made two press releases, two openings, and two websites. if you went to the website itself, it was random which one you would land on. it was interesting because press and newspapers would describe the work and the next day someone would say 'I didn't see this!'.

the prada double club miami – night two
fondazione prada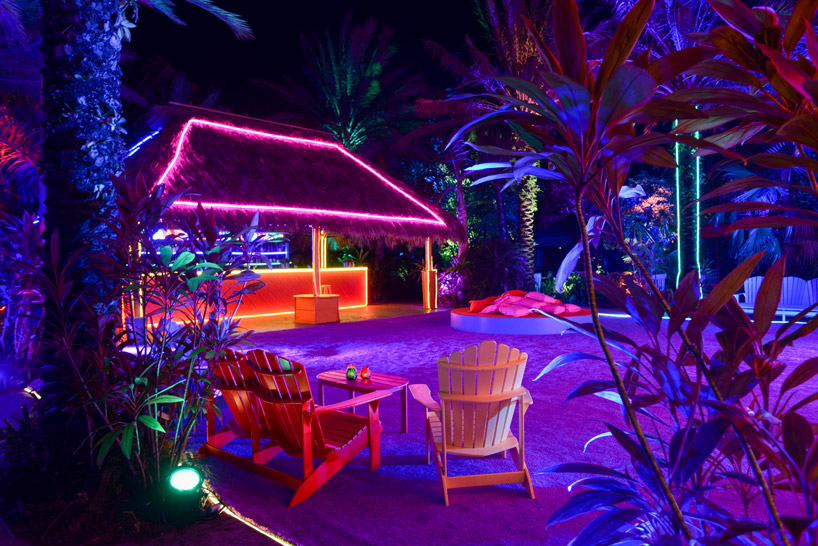 the outdoor space is lit in varying bright colours,
DB: and the 'double club' in london?
CH: the 'double club' was a nightclub, a restaurant and a bar. it's like here (in miami), but you don't have a restaurant here. it was really about two different identities: congolese — I'm a big fan of congolese music — and the so called 'western' idea. whatever you call 'westernness'. it was in 2008 and 2009, but the website is still on: thedoubleclub.co.uk. in the beginning it was a catastrophe!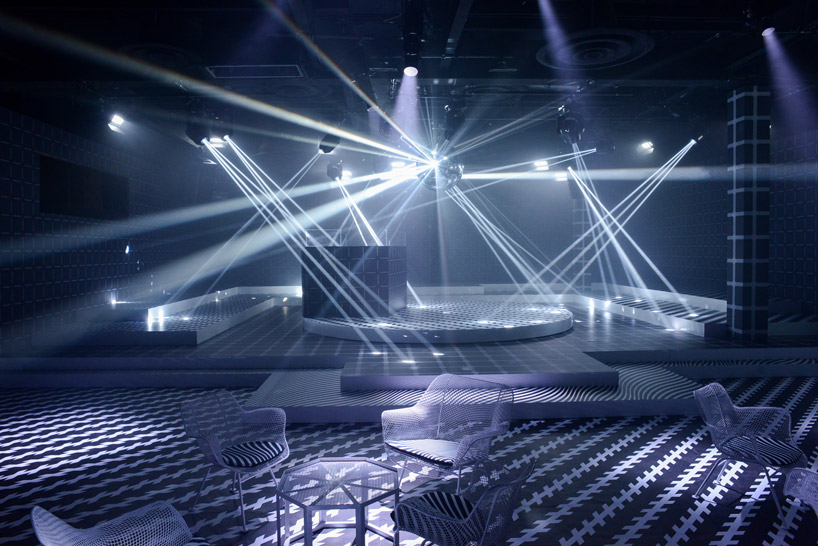 inside a monochromatic dance floor makes up the focal point for the nightclub interior
DB: why?
CH: because nobody came! we were a bit delayed, so then we had the opening in the middle of the financial crisis, which nobody could forsee — november 2008. then in england, the weather is not so good. so if people go out they go to christmas parties. for about six weeks, only some people came. we were also in a part of london where there was really nothing else to do. you had to commit your evening to it. but we had everything — bar, restaurant, disco…and the idea was to be not where the others were, but in the middle between east and west london. then i remember exactly january 2, the most unlikely day of all! who goes on out january 2? but it was packed! and then it became the place to be and everybody talked about it. it was open. after 6 months, it was going so well, people were saying 'don't close!'. it was open until july.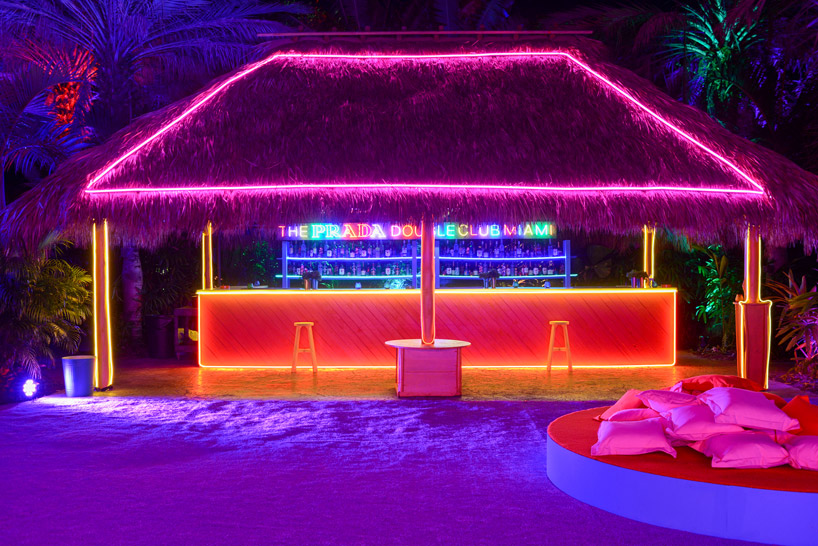 a hawaiian-esque shack features the outdoor bar
DB: can you talk about the concept here?
CH: the concept is two different spaces that are right next to each other, and share time and space, but they don't mix. it's even more an art project than the one in london because it's about colors. when you see it at night, there are crazy colors outside. instead, when you go inside, it's not only black and white, but 100% black and white, including the bar and the drinks and the people that work there. they will all have face paint on and sunglasses so you don't see their eyes. when you go into the space, it's like going into a black and white movie. you feel like a foreign element. the lighting inside is also totally white. the only thing I couldn't do is the emergency signs. we tried everything, but it's impossible, but actually I think its ok. even the DJ's displays will be back and white…the cables — everything! outside, it's the opposite. the doors to the space are monochromatic grey with moving patterns and optical illusions, then outside it's a hyper chromatic color explosion in miami style.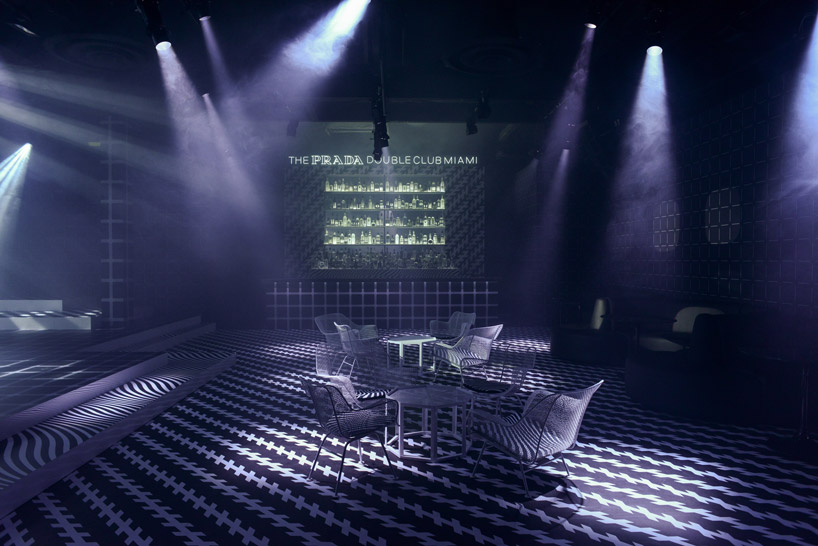 carsten höller continues his investigation into the concept of two sided-ness
DB: what do you expect the reaction to be? do you expect anything crazy to happen?
CH: there are crazy things happening all the time! I don't know how it will be tonight, because I have never been in miami during art week, so let's see how it goes. but for me its a really interesting concept.you have a proposition of two things together that make a strange entity, but the entity consists of a gap. there's one extreme and another. you are in the middle, and this place — in the middle — I'm interested in. it not about mixing things up, it's about two things happening at the same time. I wanted to see people come outside to the color. you'll feel pale in comparison to your surroundings. it's black and white inside and wes anderson gone wild psychedelic outside.
dec 15, 2017
dec 15, 2017
dec 07, 2017
dec 07, 2017
dec 04, 2017
dec 04, 2017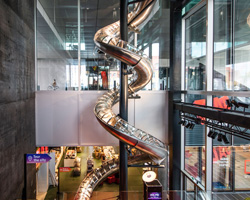 jun 11, 2020
jun 11, 2020
apr 20, 2019
apr 20, 2019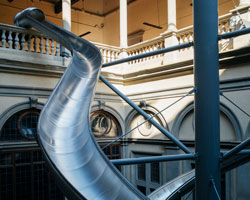 apr 20, 2018
apr 20, 2018
feb 21, 2020
feb 21, 2020
feb 04, 2020
feb 04, 2020
jan 30, 2020
jan 30, 2020
dec 23, 2017
dec 23, 2017
dec 22, 2017
dec 22, 2017
dec 11, 2017
dec 11, 2017
a diverse digital database that acts as a valuable guide in gaining insight and information about a product directly from the manufacturer, and serves as a rich reference point in developing a project or scheme.