nov 10, 2008
tino sehgal at the fondazione nicola trussardi
tino sehgal & beatrice trussardi
[email protected]
tino sehgal is one of the most radical artists to emerge in recent years. his work is an art which only exists as a set of gestures and oral instructions carried out by trained interpreters for the entire duration of the exhibition. his art is completely immaterial; it can be experienced without involving any objects whatsoever. the 'staged situations' are interactive experiences that may not even initially declare themselves as works of art.
a visit to a tino sehgal exhibition is a sequence of encounters with living sculptures and people in movement, captured in hysterical poses or entwined in sensual embraces. at the entrance of the exhibition we participated in 'this is new,' in which an attendant quotes us museumgoers a headline from that day's papers: 'alitalia on strike'. first performed in 2003, the crude reality of everyday life invades the museum setting.
the show was on stage at the villa reale, a sumptuous building which still preserves its lavish decorations and priceless original furnishings in the frescoed and stuccoed halls. sehgal's work entertains a rich dialogue with history, but part of his work is to free art from the glut of material overproduction. this means that his pieces cannot involve the transformation of any material, in any way. there are no written titles, no instructions, no catalogs and (to the dismay of us) no pictures. sehgal has chosen to forgo all documentation and reproduction of his pieces, concentrating – like an obsessive exercise in self-discipline – on the uniqueness of art as a direct, physical experience: his work exists as a form of oral tradition, a legend, a tale that must be passed down and can be neither photographed nor illustrated. it is his belief that his generation must come up with alternatives of producing in different ways – a political rather than an artistic issue.
the villa reale museum in milan is housing a collection of 19th- and 20th-century masterpieces by figures such as
antonio canova, medardo rosso, paul cézanne, the futurists and many others.
the history of the villa is deeply rooted in milan's napoleonic period.
during our visit to the museum we especially liked a piece of 2004, first performed in frankfurt,
in which uniformed museum guards dance around us in the room and sing
'this is so contemporary, contemporary, contemporary'.
interior view of the villa reale – where the moment we entered the space, a guard came in and started stripping. a very fine performance. we wanted to know the title of the piece, and therefore had to wait. at the end, when he takes off (almost) all his clothing, he says the title and then puts his clothes back on. it was called 'selling out'.
another room of the villa reale – here we saw 'kiss' in which a couple in a slow motion embrace recreate kisses from familiar works of art.
in 'this is propaganda' (2002), art calls its own power of communication into question: a guard of the museum starts singing a haunting, melancholic song which seems to comment upon 'il quarto stato (painted in 1901) by giuseppe pellizza da volpedo, one of the most iconic painting in the history of italian art (here featured).
fondazione trussardi's curator massimiliano gioni with artist tino sehgal in front of the villa reale museum
tino sehgal is a british-german artist based in berlin. born in london in 1976, he studied economy and danced with xavier le roy and jerome bel. sehgal was the german representative to the venice art biennale in 2005. 'what interested me in dance was that it was a way of producing something and nothing at the same time.' he says. since then he has had solo exhibitions all over europe and is becoming a star. unlike many performance artists, is not protesting the art market itself. his work is specifically conceived to function within the art world's conventions. it is lent and exhibited, bought and sold. but there are no bills of purchases, every transaction is conducted orally, in the presence of a notary – a reflection on the value and the space assigned to art.
tino and dancers
more of tino's staff
for this exhibition sehgal auditioned more than 300 men and women of all ages, including actors, dancers, professional singers, and ordinary people with different backgrounds. about 70 people were selected to interpret his work: camouflaged among the guards and the visitors, dozens of interpreters engage the audience in a new theatre of the absurd.
tino sehgal's work seems to revel in its own contradictions. it is ephemeral yet fixed; intangible yet expensive, because part of his concept is that his interpreters be fairly paid. it is created with extreme, even obsessive rigor, yet it is subject to change, as the only record exists in the minds of those who see it. the last piece before we approach to the exit was 'this is critique' (2008), a new performance shown for the first time, in which the artist calls himself into question, stimulating an animated discussion with visitors about his own approach.
the fondazione nicola trussardi continues its commitment to produce works of today's most interesting artists for
the forgotten monuments of the city of milan. with its initiatives, the art foundation turns milan
into an endless repertoire of coups de theatre: a nomadic museum, a moveable feast.
we hope you'll have a chance to see this first major solo exhibition in italy of work by tino sehgal
at the villa reale, modern art gallery, milan. it's on from november 11 through december 14, 2008.
free admission.
http://www.fondazionenicolatrussardi.com/movie_en.html
mar 26, 2018
mar 26, 2018
jul 15, 2015
jul 15, 2015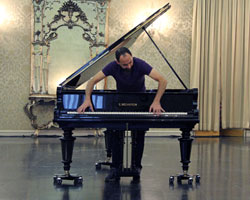 oct 23, 2013
oct 23, 2013
jun 05, 2013
jun 05, 2013
nov 16, 2012
nov 16, 2012
nov 14, 2011
nov 14, 2011
a diverse digital database that acts as a valuable guide in gaining insight and information about a product directly from the manufacturer, and serves as a rich reference point in developing a project or scheme.