if you want to get your hands on a pair of the exclusive, tom sachs-designed NIKEcraft mars yard 2.0s, you're going to have to work for it. 'the reward for good work is more work' is the mantra of one of 10 mental and physical obstacles that make up 'space camp' — a immersive consumer experience for NIKE based on sachs' studio practice.
set inside a vast industrial complex on new york's somewhat elusive governors island, the one-hour-long circuit puts the mind, body and character of willing participants to the test. those who complete the challenges are offered early access to purchase a pair of the just-released NIKEcraft mars yard 2.0s — the next generation of a design originally released in 2012.
designboom was one of the first 'space camp' inductees to experience the course.

indoctrination: tom sachs opens a fully-immersive 'space camp' on governors island
image courtesy of NIKE and tom sachs
upon entering, NIKEcraft 'space camp' visitors are guided to an impromptu cinema space — a room filled with NASA-emblazoned folding chairs and a foam board 'screen' — where they experience the world premiere of 'the hero's journey'. the short movie – written by sachs and artist/filmmaker van neistat — humorously follows the journey of an intern as she experiences the trials and tribulations of working in sachs' new york studio — some actual realities of the workplace, others wildly fictional and imaginative scenarios.

'space camp' visitors have their pictures taken and are given a 'NASA' ID card
image © designboom
three times a week, sachs and his team engage in their own 'space camp' rituals to start the workday. some are physical feats, while others are tests of manual dexterity — like tying a knot, or drawing a straight line. 'we started doing this because I noticed that as some people in the studio were getting older they were beginning to demonstrate the same physical symptoms of wear and tear that I had, and I was hoping to protect the young men and women who lay down their lives for our work — I didn't want them to have bad backs,' sachs explains.
since 2005, sachs and his team have followed medical pioneer and author pat manocchia's five essential exercises — deadlifts, lunges, chin-ups, push-ups and sit-ups. 'our space camp strengthens our bodies so they can be a solid foundation to make difficult decisions with our minds.'

a model contains cubbies, where sachs' studio members would keep their training equipment 
image by angela pham / BFA.com (also main image)
following this logic, NIKE + tom sachs' 'space camp' in new york brings elements of this studio routine to life. visitors meet with NIKE-clad characters throughout the course who outline the task ahead and challenge them to engage in a series of mental and physical tests. accessible for all levels of ability, these experiments range from hurdling over an actual pickup truck, to weaving through a disorienting maze of swinging pendulums. 'this course, like your life, is best when quality of experience is prioritized over speed,' sachs explains. 'we don't need to rush towards the end for it will surely be upon us. savor the moment. you have only one shot. so make it count.'
the reward for your 'good work' in each level? well, more work, but eventually — the NIKEcraft mars yard 2.0s.

sachs and his team engage in their own 'space camp' rituals to start the workday
image by neil rasmus / BFA.com
the shoes are the second edition of the NIKEcraft mars yard — the first of which sachs designed for NIKE back in 2012 inspired by his interactions with NASA scientists. sachs took the next five years to test the shoe, during which he learned things one could only learn through thorough everyday use. after experiencing the footwear first hand, sachs decided to re-design it. the result — a new, improved NIKEcraft mars yard with updated materials largely employed in their natural state. sachs' signature is seen in the red pull-tabs and swoosh.

diagrams illustrate the physical steps of five essential exercises 
image © designboom
'I have always embraced flaws,' sachs continues. 'the natural polyurethane midsole shows wear. the shoe shows evidence of experiences, even the little bits of tongue that may flake off are like forensic bread crumbs. people wear their scars with pride, so that's another reason why we don't polish the materials away — it's storytelling. rock your shoes dirty to say, 'I wear my shoes. I do things with my life. behold the evidence of my actions.'

before beginning the obstacle course, viewers watch the 40 minute long film, 'the hero's journey'
image by neil rasmus / BFA.com

after completing a series of physical exercises, participants are 'rewarded' by doing 'more work' in the next room 
image courtesy of NIKE and tom sachs

a mental obstacle tests participants ability to control a small mechanical helicopter  
image courtesy of NIKE and tom sachs

visitors must carefully move a toy helicopter from one 'landing pad' to another, carrying objects along the way
image © designboom

the helicopter challenge: harder than it looks
image © designboom

a further room tests participants ability to complete proper push-ups
image courtesy of NIKE and tom sachs

sachs' illustrations of the NATO phonetic alphabet
image © designboom

a drawing of sol lewitt hangs on the wall 
image © designboom

participants must carefully draw a line as close as they can to the line before it, without them touching 
image © designboom

experiments include squatting beneath broomsticks, and hurdling over an actual pickup truck
image © designboom

'space camp' brings elements of this studio routine to life
image courtesy of NIKE and tom sachs

participants gain early access to the just-released NIKEcraft mars yard 2.0 shoes
image by angela pham / BFA.com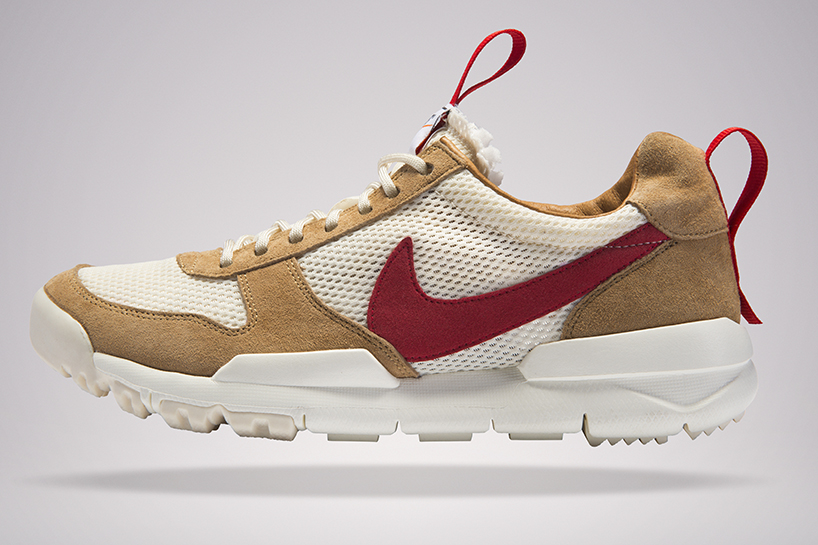 guided by NIKE designers, sachs took five years to test the shoe
shoe images courtesy of NIKE and tom sachs

materials are largely employed in their natural state — no dyes

two insoles are available: mesh (illustrated with knot-tying tools) and cork (featuring universe-inspired drawings)

the tread is inverted for more appropriate wear in urban environments
NIKE
(153 articles)
aug 16, 2017
aug 16, 2017
jul 28, 2017
jul 28, 2017
jul 09, 2017
jul 09, 2017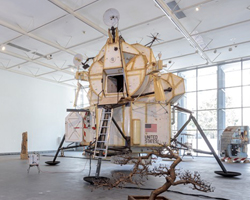 jan 18, 2017
jan 18, 2017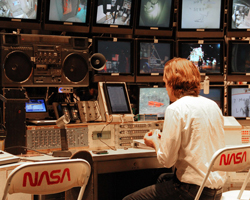 may 25, 2012
may 25, 2012
may 14, 2012
may 14, 2012