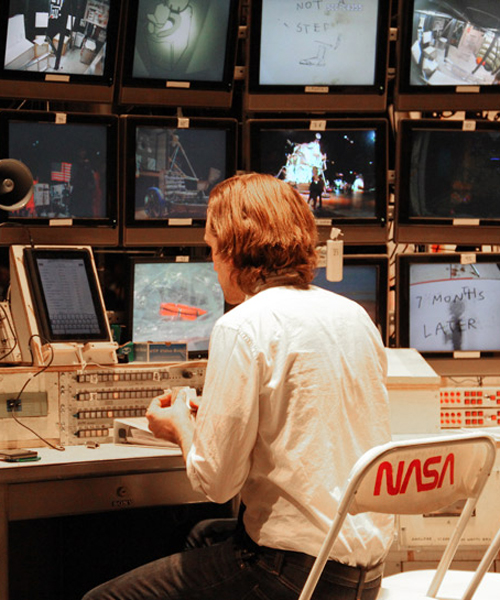 may 25, 2012
tom sachs: space program mars at the park avenue armory
while in new york for design week, designboom was able to visit american artist tom sachs' new space odyssey installation 'space program: mars' at the armory in new york city. the expansive exhibition is sachs' interpretation of the NASA mars missions, re-conceptualizing and actualizing many of the objects used in these expeditions including anything from mars landscape to launchpads to mission control to exploratory space vehicles. the immersive four-week art experiment has taken the 55,000 square foot gallery space into a massive assemblage of meticulously crafted space work objects fashioned in the artist's typical bricolage technique– from easily accessible materials available in his new york city home.

a man at work at the reconstructed mission control center
image © designboom
the exhibition is a manifestation of the artist's exploration in the recent realities of NASA closing their shuttle program, the beginnings of privatized space travel, the more polarized wealth disparity in the united states, and questions of creativity.
'space program: mars' is a demonstration of all that is necessary for survival, scientific exploration, and colonization in extraterrestrial environs: from food delivery systems and entertainment to agriculture and human waste disposal,' sachs says. sachs and his studio team of thirteen will man the installation, regularly demonstrating the myriad procedures, rituals, and tasks of their mission. the team will also "lift off" to mars several times throughout their residency at the armory, with real-time demonstrations playing out various narratives from take-off to landing, including planetary excursions, their first walk on the surface of mars, collecting scientific samples, and photographing the surrounding landscape.'

a detailed perspective of the monitors which comprise the 'NASA intelligence center'
image © designboom
this is the second space themed installation by the artist, as the first exploration of the galactic exhibition was displayed in 2007 with gagosian in his show 'space program'.

a detailed view of empty vodka bottles and a fisher-price xylophone found at mission control
image © designboom

a wide perspective of the 'space program: mars' exhibition in wade thompson drill hall which also housed ICFF's opening party
image © designboom

an assemblage of folding chairs on gradual steps are decorated with sach's interpretation of NASA's logo and face the exhibition space 
image © designboom

the 'indoctrination' center
image © designboom

sachs' tinkered interpretation of an observation unit, touching down on the surface of mars
image © designboom

three levitating bikes– two with milk crates and one with a rack– are parked outside the installation's building center
image © designboom

the rectangular pedestal housed a number of ordinary objects reconfigured to resemble a high-tech building and information center
image © designboom

a young man rests on a folding chair in the building center
image © designboom

image © designboom

a detailed view of the 'hot nuts' machine
image © designboom

a stand for food with the words 'red beans and rice' added in block letter components across the top
image © designboom

a detailed view of a miniature character guarding the bank of the red beans and rice stand
image © designboom

the open suitcase full of what seem to be small missiles having arrived to john f. kennedy airport on delta airlines
image © designboom

red raised components are placed throughout the gallery simulate the rough terrain of mars' surface
image © designboom

one space exploration vehicle is paused in what seems to be a permanent struggle over a mini martian mountain
image © designboom

left: two gallery goers dressed in sachs' lax NASA uniforms by a collection of land formations and a miniature tank
right: an additional view of the 55,000 square foot installation space
image © designboom

the found-object built tank rests in a repair shop
image © designboom

the massive space is open to the public to engage in sachs' exploration of mars
image © designboom

every-day material assembled sculptures are almost perfect replicas of objects NASA astronauts would have interacted with years ago
image © designboom

a camper-turned NASA space vehicle
image © designboom

an interior view of the converted transport object
image © designboom

the organizational system housing the gear and calisthenic exercises of the exhibition's astronauts
some of the crew gear shown here is part of 'NIKEcraft', tom sachs' design collaboration with NIKE footwear based on the 'space program: mars' project
image © designboom

space suits and the laboratory of the mars exploration installation
image © designboom

'space program mars: trailer' by tom sachs
jul 07, 2012
jul 07, 2012
jun 12, 2012
jun 12, 2012
jun 07, 2012
jun 07, 2012
jun 08, 2017
jun 08, 2017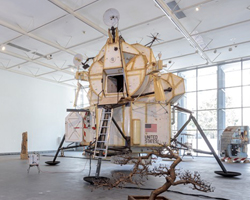 jan 18, 2017
jan 18, 2017
may 14, 2012
may 14, 2012