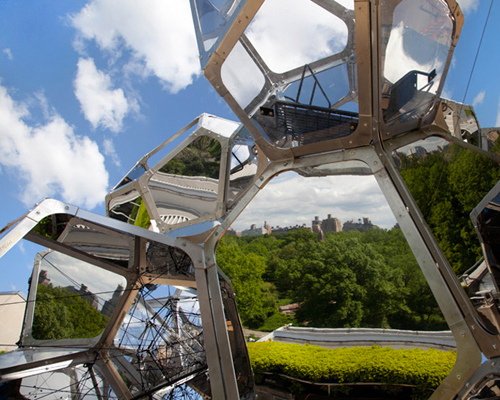 may 16, 2012
tomas saraceno: cloud city on the met roof
on the roof- 'cloud city' by tomás saraceno, 2012 54″ L x 29″ W x 28″ H glass (shiny, mirrored, transparent), steel joints, steel cables all images © tomás saraceno
tomás saraceno on the roof: cloud city at the metthe metropolitan museum of art, new york city, new york, USAon now until november 4th, 2012
argentinian artist tomás saraceno has developed his first major commissioned, site-specific installation in the united states for the roof of the metropolitan museum of art in new york city entitled 'cloud city'. the geodesic dome has been built from sixteen interconnected modules in the museum's iris and b. gerald cantor roof garden measuring fifty-four feet long, twenty-nine feet wide and twenty-eight feet high. the angular and bubbled form of the piece is comprised of glass segments cut in non-identical geometric shapes held in place by steel joints, reinforcements and steel cables.
the work recalls the artist's interest in chemistry, biology, physics, engineering, and cosmos, drawing its shape from bacteria, clouds, universes, foam and animals' neural communication networks. the habitat-like, clustered sculpture has been formed in saraceno's signature artistic approach, incorporating facets of architecture, complex geometries, biology and human involvement in order to aid in his continued investigation into experiential environments.
a view of the completed installation
the MET has made the installation accessible to a limited amount of museum goers for a small portion of time to experience panoramic views of central park and a high-rise vision of manhattan's cityscape from the interior of 'cloud city'. the alternately reflective, shined and transparent glass components create dizzying spatial illusions and a stunning aerial perspective of the picturesque city. the interactive sculpture is outfitted with a series of stairs within its structure, guiding its visitors to the uppermost modules of its non-linear body.
the finished work just after all segments had been put in place
saraceno again attempts to re-conceive of a familiar environment, picturing this scene through new lens provided by a new built as a participatory contingent sub-environment for which the gallery-goer is required to interact with. due to the particular limitations such as weather, ticketing and dress code enforced upon visitors, the MET has created a webpage for the geodesic dome with news updates and instructions for those who wish to enter the installation in order to maintain the sculptural integrity of the piece.
left: 'tomás saraceno on the roof: cloud city' right: a view of manhattan from the inside of the sculpture
a ground perspective, looking up to view of the look-out pods at the top of the sculpture
the installation pictures the cityscape upon its oddly-shaped reflective surfaces
each of the sixteen modules were transported to the met on the back of an open-bed truck
the pods were then lifted with a crane and placed on the flat roof of the museum
the interconnected components are secured into one piece measuring fifty-four feet long by twenty-nine feet wide and twenty-eight feet high
several workers belay from the steel frame of the structure in order to secure the oddly-shaped mirrored, shiny and transparent glass components
the massive geodesic sculpture in progress
the visitor may look out to the street below through transparent panes of glass, while the reflective surfaces mirror the observer's own image inside the dome from various angles
the 20 ton structure is anchored to the roof of the museum by a series of steel cables
artist's conceptual montage
artist's conceptual montage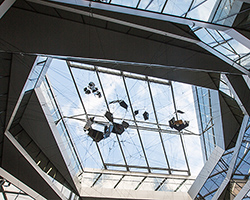 jul 22, 2015
jul 22, 2015
aug 14, 2013
aug 14, 2013
jun 21, 2013
jun 21, 2013
feb 01, 2013
feb 01, 2013
nov 01, 2012
nov 01, 2012
nov 01, 2011
nov 01, 2011