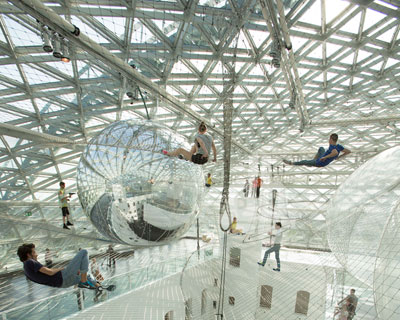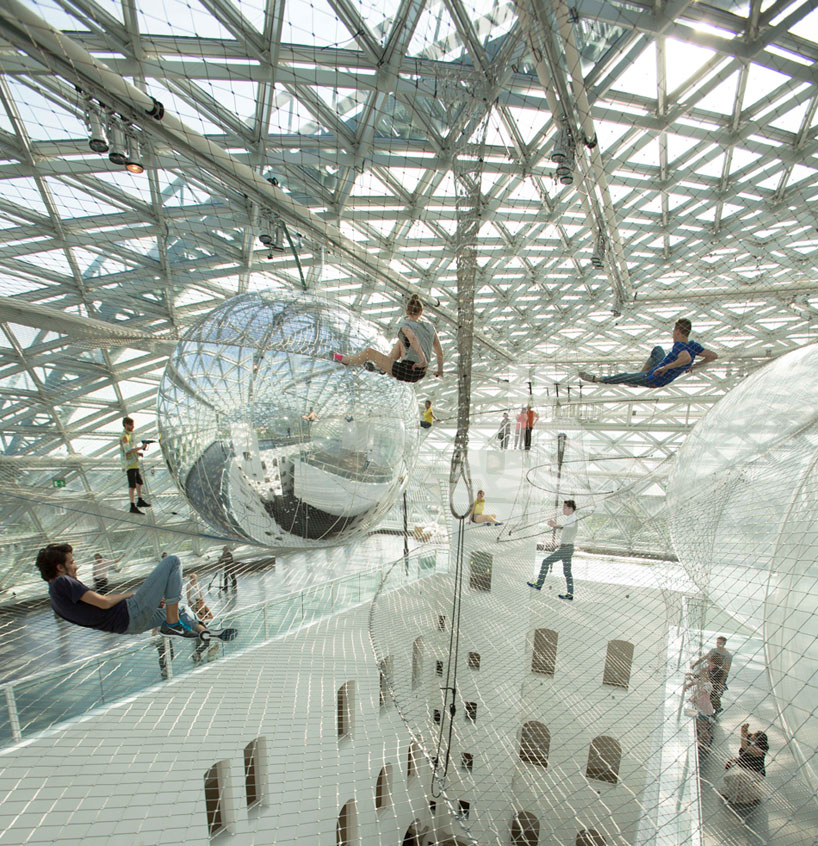 jun 21, 2013
tomas saraceno puts you in orbit

tomás saraceno – in orbit
kunstsammlung nordrhein-westfalen, k21 ständehaus, © tomás saraceno
photo © studio saraceno
tomás saraceno – in orbit
kunstsammlung nordrhein-westfalen, k21 ständehaus
on beginning june 21st, 2013 
tomás saraceno's large-scale installation 'in orbit' is suspended at a height of 20 meters, high above the piazza of the K21 ständhaus (kunstsammlung nordrhein-westfalen) in düsseldorf. opening, june 21st, 2013 the work sees the argentinian artist cover an area of 2500 m2 (across three floors), with a safety net construction composed of floating 'levels' separated by a series of large spheres; air-filled PVC balls reaching up to 8.5 meters in diameter each. positioned just below the glass cupola of the cultural institution, the expansive interactive space offers those museum visitors brave enough to climb up onto the sprawling web, the opportunity to perceive the world from new heights and vantage points, in which gallery patrons below are merely depicted as miniature figures moving in our world. those who do not wish to extend themselves into this state of suspension and remain grounded can still experience the themes of falling, floating and flight which saraceno wishes to express; they instead observe bodies in orbit, tumbling in the latticework, appearing as if they are swimming in the sky.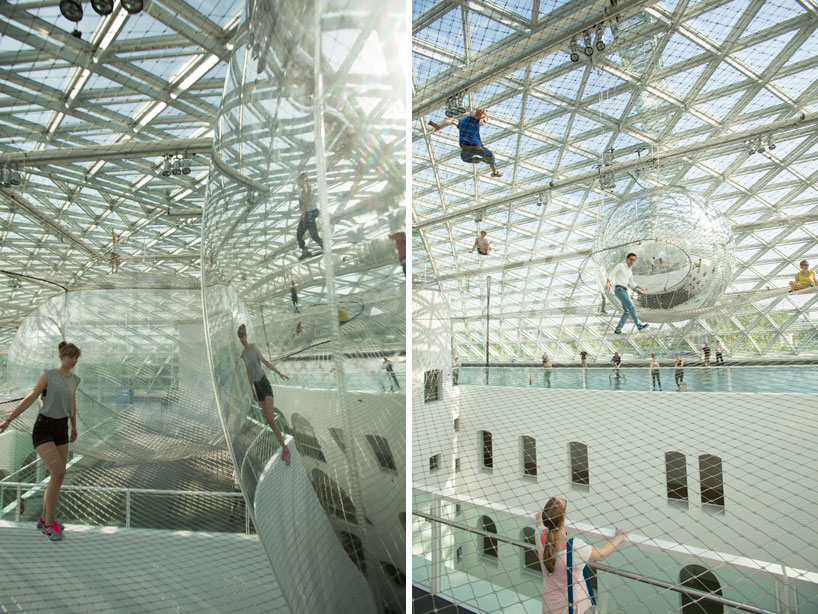 tomás saraceno – in orbit
kunstsammlung nordrhein-westfalen, k21 ständehaus, © tomás saraceno
photos © studio saraceno
the artist's material choices underscore his notions of flow and lightness. 'when I look at the multilayered levels of diaphanous lines and spheres, I am reminded of models of the universe that depict the forces of gravity and planetary bodies. for me, the work visualizes the space-time continuum, the three-dimensional web of a spider, the ramifications of tissue in the brain, dark matter, or the structure of the universe. with 'in orbit,' proportions enter into new relationships; human bodies become planets, molecules, or social black holes,' he says.
his largest opus to date, 'in orbit' is also the artist's most 'visually light'–in which he references and makes associations to the stability of delicate spider webs and the fragility of soap bubbles–though its appearance is deceiving as the entirety of the piece weighs 3000 kg, with the largest of the massive beads coming in at approximately 300 kg. the observation of nature and its phenomena fuels the conceptual development of saraceno's work, trademarks for which he has become known for. this particular installation at K21 stãndehaus is the culmination of his three year collaboration with engineers, architects and arachnologists–experts on spiders and spider webs. having studied the various methods of different spiders and the way in which they construct their webs, saraceno incorporates their functionality, beauty and strength into his own artistic praxis.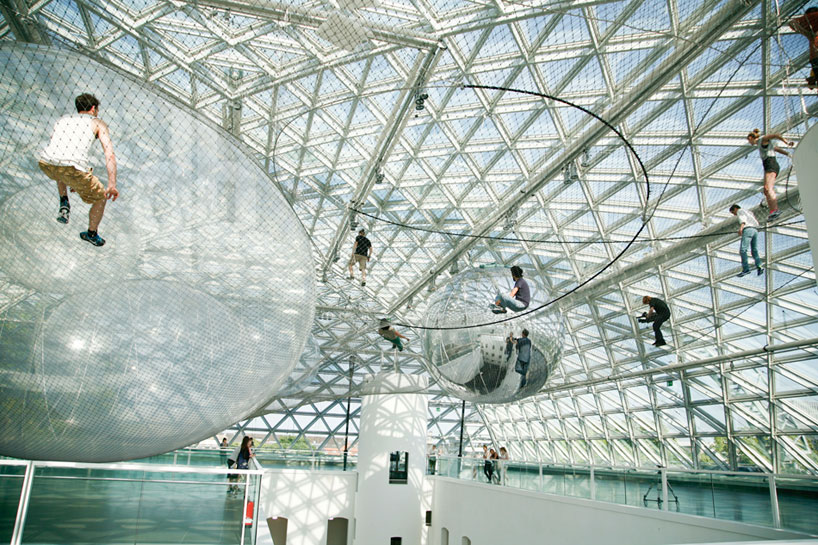 tomás saraceno – in orbit
kunstsammlung nordrhein-westfalen, k21 ständehaus, © tomás saraceno
photo © studio saraceno

tomás saraceno – in orbit
kunstsammlung nordrhein-westfalen, k21 ständehaus, © tomás saraceno
photo © wilfried meyer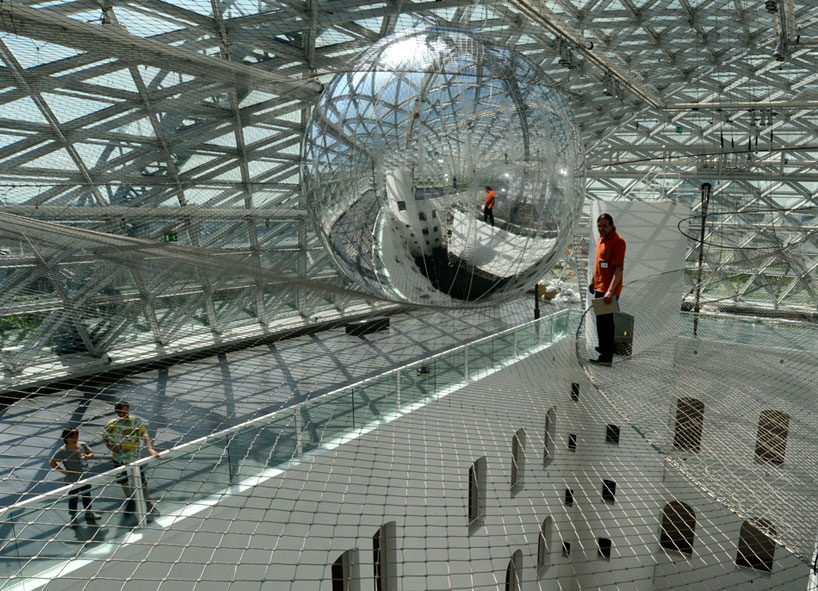 tomás saraceno – in orbit
kunstsammlung nordrhein-westfalen, k21 ständehaus, © tomás saraceno
photo © wilfried meyer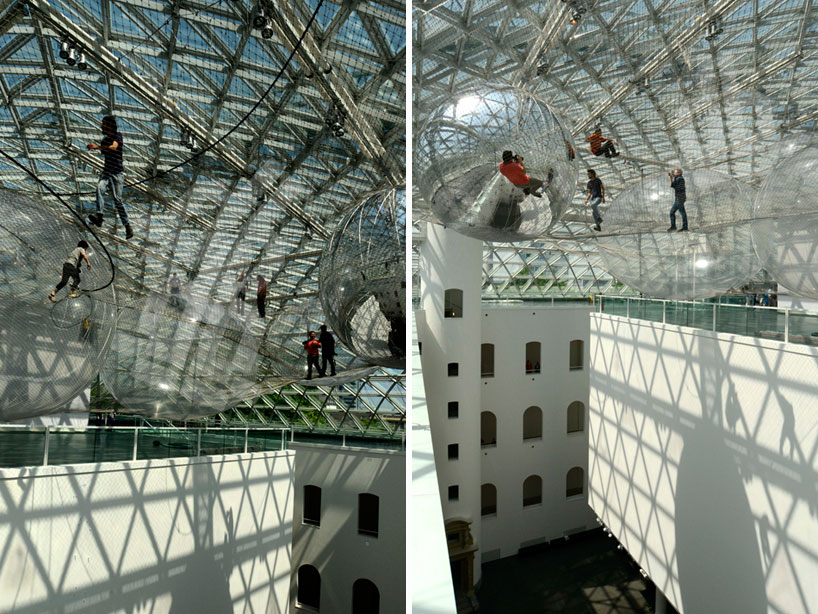 tomás saraceno – in orbit
kunstsammlung nordrhein-westfalen, k21 ständehaus, © tomás saraceno
photos © wilfried meyer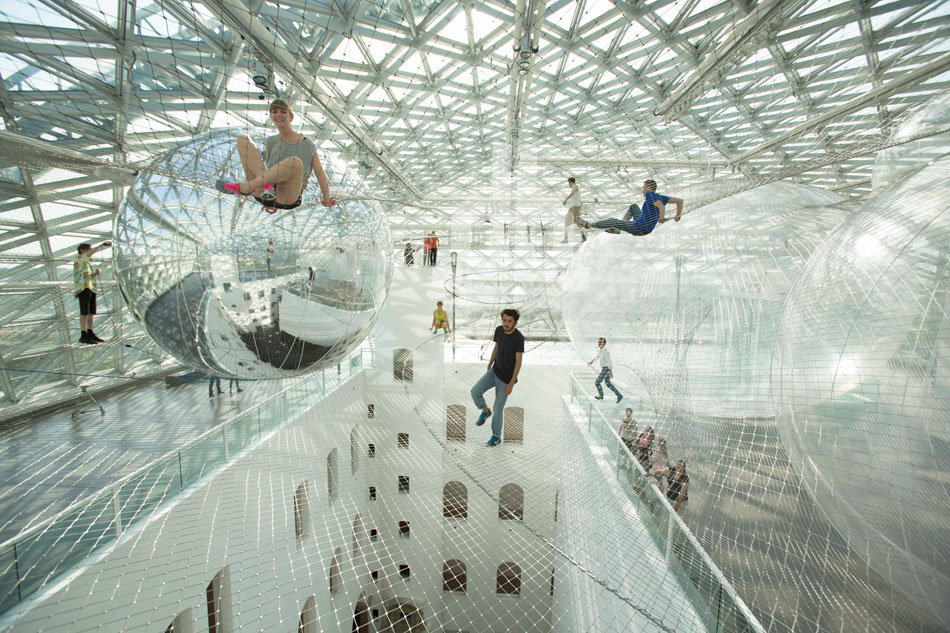 tomás saraceno – in orbit
kunstsammlung nordrhein-westfalen, k21 ständehaus, © tomás saraceno
photo © studio saraceno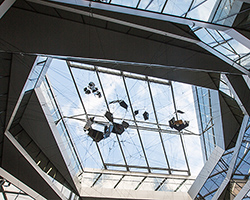 jul 22, 2015
jul 22, 2015
aug 14, 2013
aug 14, 2013
feb 01, 2013
feb 01, 2013
nov 01, 2012
nov 01, 2012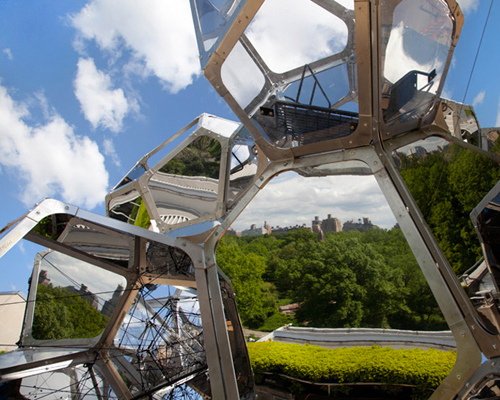 may 16, 2012
may 16, 2012
nov 01, 2011
nov 01, 2011