jan 08, 2013
tony oursler x david bowie: where are we now? video
still from david bowie 'where are we now' video by tony oursler
american artist tony oursler directed the video for david bowie's new single 'where are we now?' – watch it here.
the video, which is set in a workshop / studio is instantly recognisable as oursler's workwith a video of bowie's face projected onto a conjoined doll's head, (the other head has a video of a silent woman projected on to it).
read designboom's interview with oursler
this haunting scene is intersected with footage of the auto repair shop beneath the apartment bowie lived in whilst in berlin during the late 1970s. along with this are stark images of the city at the time and a lyric constantly raising the question 'where are we now?'
here's some more info on the new release from bowie:
to mark his 66th birthday, the glam-rock legend released his first song in 10 years without warning. 'where are we now?' is the lead single from bowie's new album, 'the next day,' which comes out in march, two weeks before his retrospective opens at the victoria and albert museum.
selected stills from david bowie 'where are we now' video by tony oursler…
mar 15, 2017
mar 15, 2017
mar 29, 2014
mar 29, 2014
jan 09, 2013
jan 09, 2013
oct 26, 2010
oct 26, 2010
nov 02, 2008
nov 02, 2008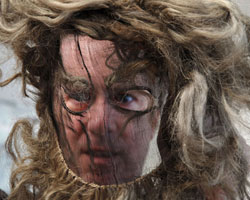 jul 31, 2008
jul 31, 2008