TOP 10 art exhibitions of 2015
whether set within gallery institutions or as part of the public landscape, some of the most renowned, international creatives exhibited their new and most famous works around the globe this year. monumental in scale, discipline, material and theme, the installations shown have immersed audiences in an impactful and significant experiential context. from olafur eliasson's expansive light-and mirror-filled showcase within one of the most magnificent baroque edifices in vienna, to banksy's outdoor art-filled bemusement park, 2015's exhibitions blew us away. take a look below at 10 of designboom's most popular art exhibition features this year.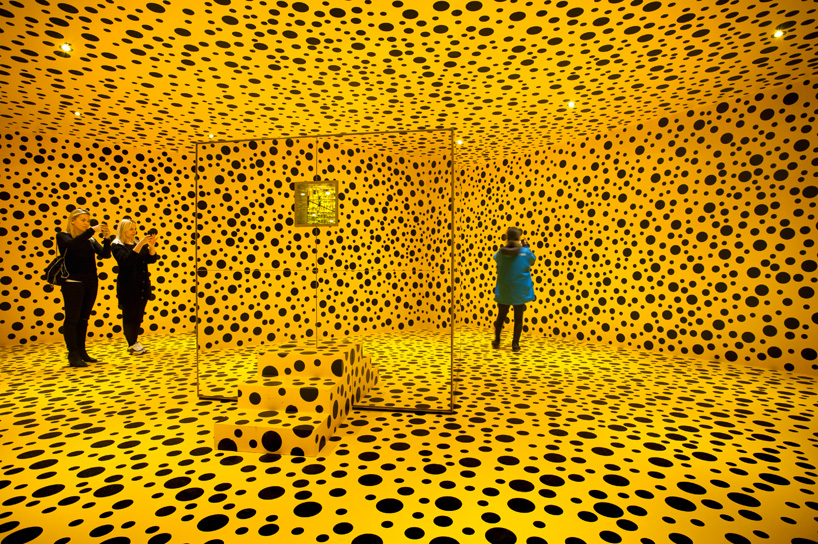 photo by kim hansen / courtesy of the louisiana museum of modern art
yayoi kusama
 : in infinity
louisiana museum of modern art, denmark
september 17, 2015 — january 24, 2016
taking over the south wing of the louisiana museum of modern art, legendary japanese artist yayoi kusama presents her first comprehensive retrospective exhibition in scandinavia. 'in infinity' unfolds the artist's oeuvre in chronological order, offering multiple works that embody her thematic and enduring fascination with cosmological and psychological spaces. visitors are welcomed into an artistic experience replete with polka-dotted rooms, inflatable habitats, mirrored dwellings and a pumpkin-lined courtyard, forming an immersive series of all-encompassing installations. entire rooms, walls, floors and ceilings of the louisiana are canvassed in soft forms and starkly contrasting dots in black, yellow, white and red, wrapping viewers within kusama's boundless visual universe.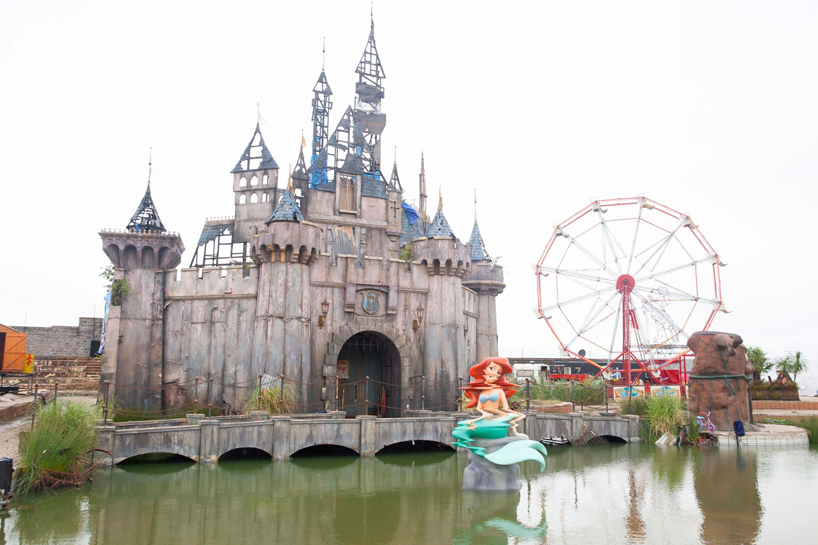 photo by alicia canter for the guardian
banksy : dismaland
weston-super-mare, UK
august 22 — september 27, 2015

at the end of august, british artist banksy opened a new exhibition called 'dismaland', set in the british seaside town of weston-super-mare. the sinister and immersive show, featuring work by damien hirst, jenny holzer and david shrigley — to name a few, occupied the remote site for a total of only five weeks. the 'bemusement' park's official site warns of uneven floor surfaces, imagery unsuitable for small children and swearing. additionally, dismaland boasts three large galleries, a hand crafted miniature world by artist jimmy cauty and a gothic sculpture park in a tiny big top tent. installations include a masked figure sitting on carousel; an armour-plated riot control vehicle equipped with sniper posts, grenade launchers and now – a children's slide; and an immersive sculpture of paparazzi photographing a dead cinderella after a pumpkin coach crash.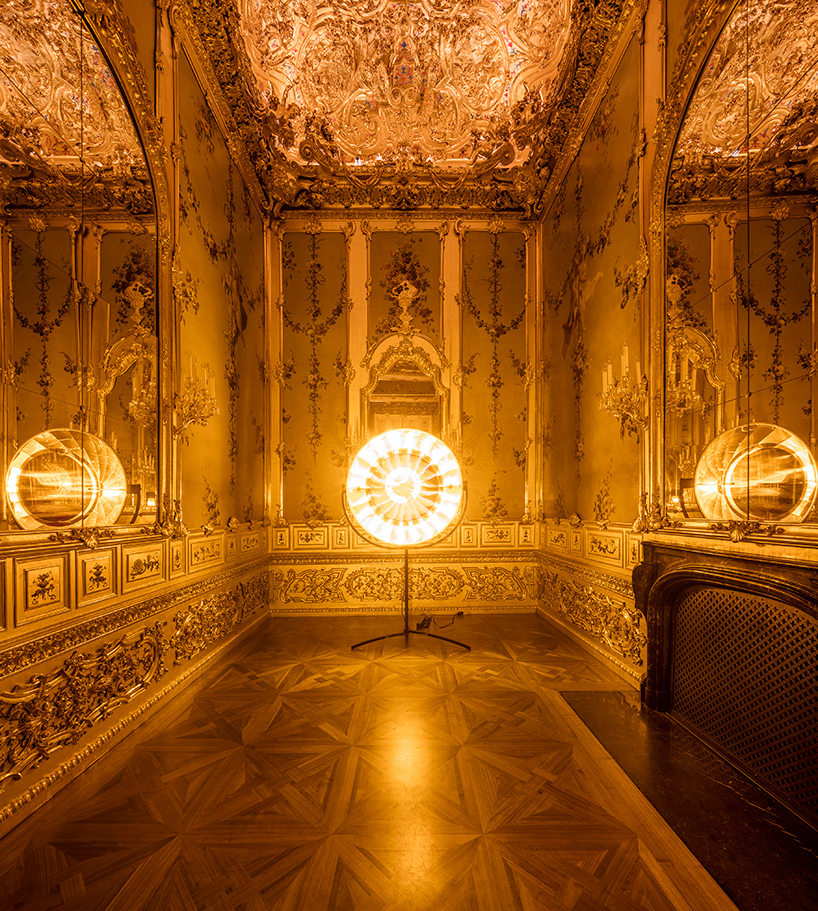 installation view of eye see you, 2006
photo by anders sune berg, © 2006 olafur eliasson
olafur eliasson : baroque baroque
the winter palace of prince eugene of savoy, vienna
november 21, 2015 — march 6, 2016
within one of the most magnificent baroque edifices in vienna, olafur eliasson presents a significant selection of artworks from the private collections of thyssen-bornemisza art contemporary (TBA21) and juan and patricia vergez. the exhibition 'baroque baroque' — hosted inside the winter palace of prince eugene of savoy in the austrian capital — is sited beneath stunning gold-clad ceilings and within intricately ornamented rooms, offering a unique pairing of art, aesthetics, and world views from two vastly different time frames. surprising similarities between the danish-icelandic artist's installations and their ornate surroundings become subtly evident; through the use of projections, shadows, and reflections, the artworks invite the viewer's active participation by mirroring, fragmenting, and inverting their position within space.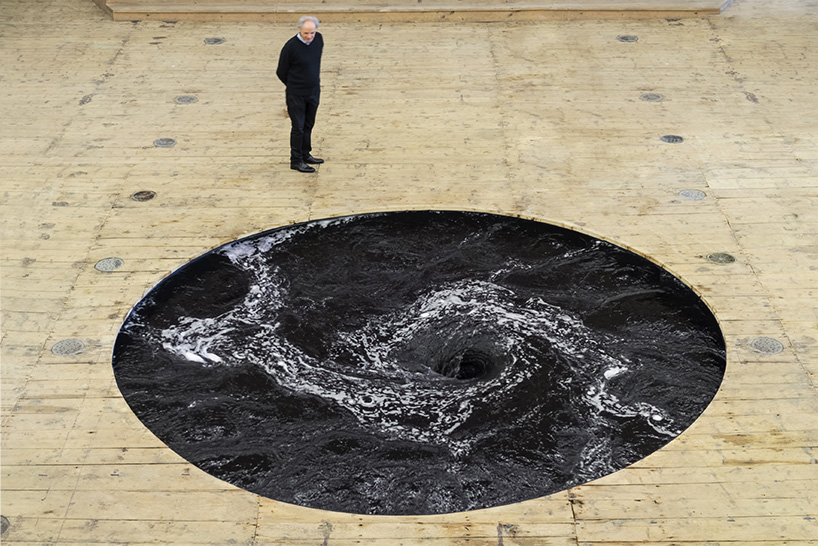 descension, 2015
photos by ela bialkowska, okno studio, courtesy the artist and galleria continua, san gimignano/beijing/les moulins
anish kapoor : descension
galleria continua, san gimignano
may 2 — september 5, 2015
anish kapoor returns to italy with 'descension', infilling san gimignano's galleria continua with specially conceived installations and artworks for the gallery's vast former cinema and theater space. amongst a series of new sculptures in alabaster, a collection of work in stainless steel and large-scale, fiberglass interventions throughout, is the installation in the stalls area, 'descension', from which the exhibition takes its name. previously presented during the kochi-muziris biennale in india, the seemingly black bottomless hole of dark water ceaselessly spins down into the floor, dragging the viewer into its menacing abyss.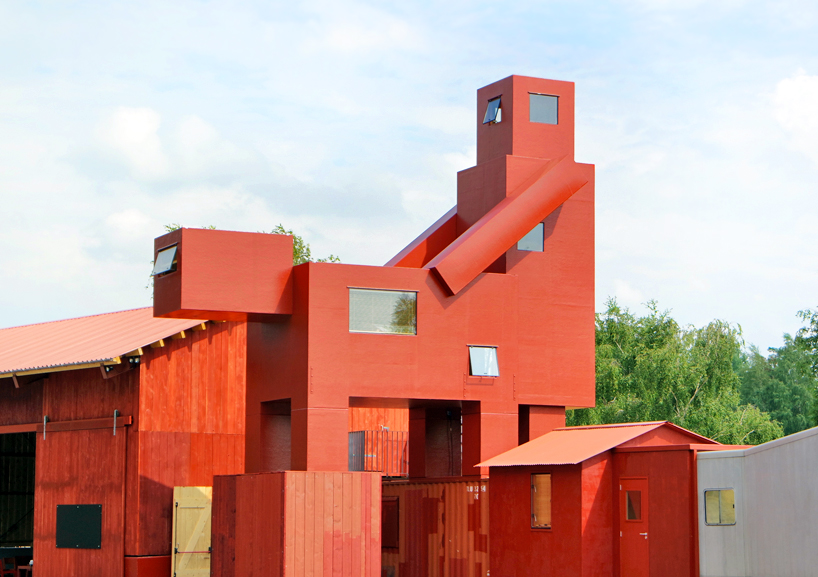 photo by atelier van lieshout
atelier van lieshout : the good, the bad and the ugly
ruhrtriennale festival, bochum, germany
august 15 — september 26, 2015
forming a lively and chaotic place for visitors to the annual ruhrtriennale festival, atelier van lieshout has channeled recurrent themes of sexuality, humor and human existence for the outdoor exhibition titled 'the good, the bad and the ugly'. the series of sculptures, habitats and immersive environments that form the monumental art village comprises a collection of both iconographic pieces and new works, each embracing a duality between dark and humorous motifs. iconic existing pieces and sculptural spaces are distributed around the former industrial ruhrgebiet site including 'bar rectum', a cocktail cafe that takes its shape from the human digestive system; 'the heads, claudia & hermann', two hollow, face-shaped dwellings; and 'refectorium', a theater, meeting point, restaurant and foyer.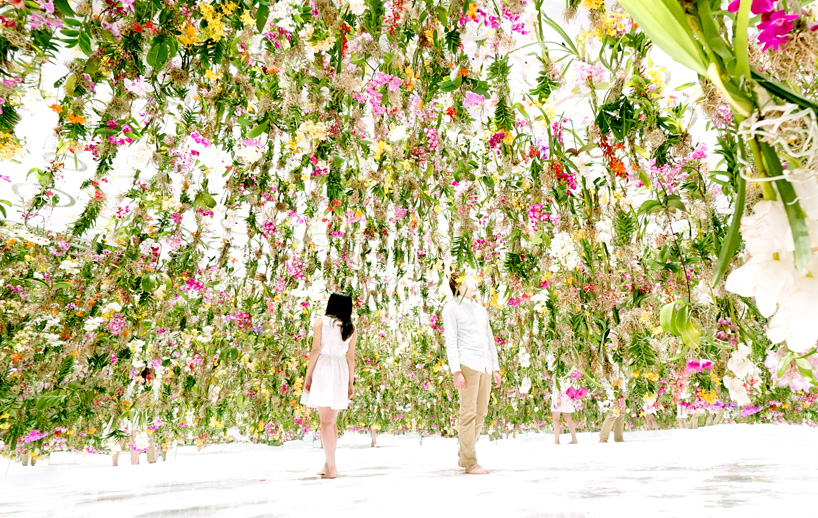 image courtesy of teamlab
teamlab : floating flower garden
miraikan national museum of emerging science and innovation, tokyo
november 29, 2014 – may 10, 2015

visitors to the miraikan national museum of emerging science and innovation may find themselves immersed in a kinetic maze of botanical life, comprised of more than 2,300 suspended flowers blooming in a vast white space. the installation by teamlab invites exhibition viewers to experience 'floating flower garden' as a place of both interaction and tranquility, enveloped in a thick abundance of delicate pink petals and lush greenery. as entrants to the expanse move closer to the flower-filled space, the colorful blossoms most near to the viewer rise upwards, slowly, all at once, creating a hemispherical space surrounding them. this ephemeral void is constantly evolving and changing position with each movement within the exhibition and, if many people move closer to one another, the dome spaces link up to form one single, massive cavity.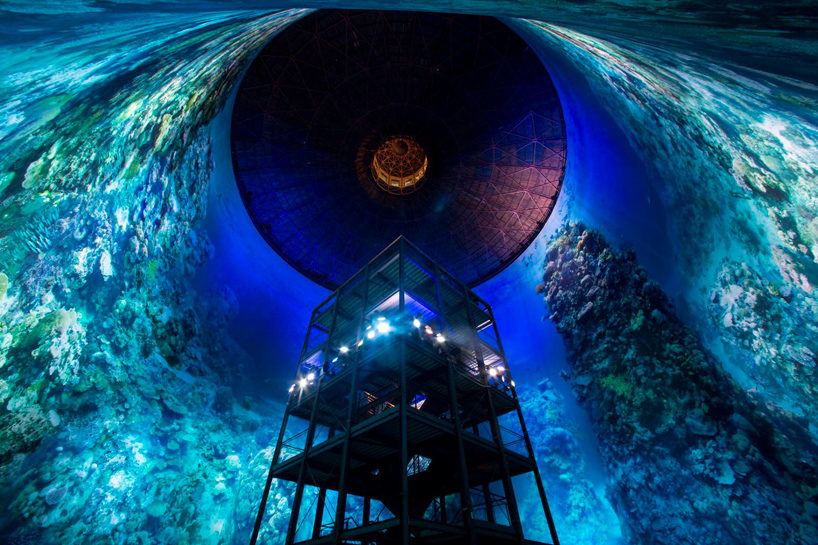 image by tom schulze © asisi
yadegar asisi : great barrier reef
the panometer, leipzig, germany
october 3, 2015 — january 15, 2017
within the panometer in leipzig, germany — a visual panorama displayed inside a former gasometer — berlin-based artist yadegar asisi projects a 'great barrier reef' onto a giant circular screen, surrounding visitors in imagery of the underwater world of australia's coral reef. presented at 1:1 scale, the display spans about 3,500 square meters — 32 meters high and 110 meters in circumference — transporting visitors on a visual expedition to the largest coral reef on earth. the hyper-realistic art space shows a vibrant display of colors, the submarine world of corals and sea plants and animals, revealing their interactions through dynamic, changing light conditions.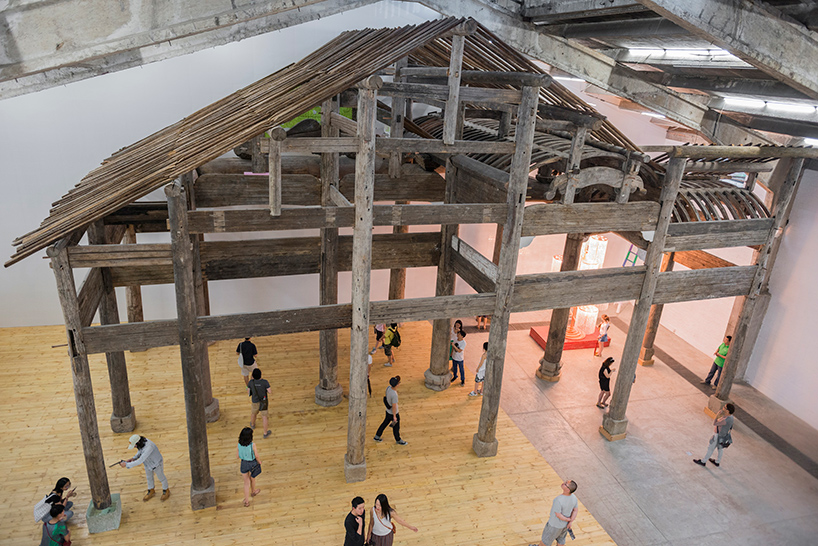 installation view of 'wang family ancestral hall'
photo by oak taylor-smith
ai weiwei
galleria continua, beijing in cooperation with tang contemporary art center
june 6 — december 6, 2015
for the first time in his life, chinese artist ai weiwei shows a solo exhibition in his home country, following the development of the project from conception to realization on site. curated by cui cancan and presented by galleria continua, the exhibit is spread across the gallery's beijing space and the adjacent tang contemporary art center, crossing the wall that divides the two rooms. the body of work conceived for the two spaces represents an ambitious process that is emblematic of ai weiwei's complex nature and personal history, as well as the key points around which his art revolves. in addition to an overarching social and political awareness, the work embodies a respect for the chinese tradition combined with the reinterpretation of ancient themes in a contemporary context.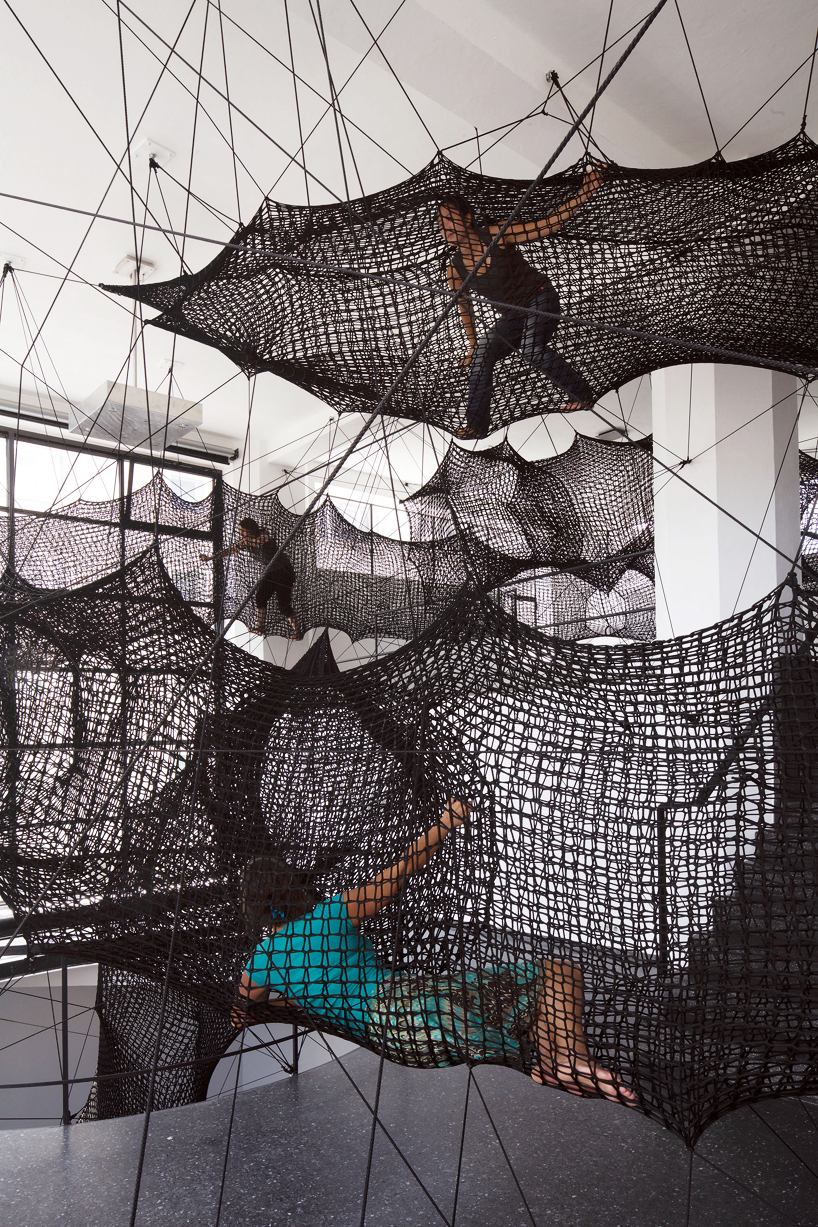 photo by günter richard wett
numen/for use : tube
architekturforum tirol, austria
july 16 — october 10, 2015

austria's architekturforum tirol hosted an interactive installation constructed of stitched safety nets, which suspend in and around the surrounding surfaces of the generous gallery space. croatian-austrian design collective numen/for use realized 'tube' using numerous elastic strings tethered to the ceiling and walls, forming a centipede-like tunnel for visitors to traverse through. dispersed structural support allows for an even distribution of forces that causes the sensation of free floating for the person inside. as they climb, creep and wiggle their way through the jagged progression of the 'tube', entrants encounter irregular diagonals and oblique perspectives that allow them to experience the architectural environment from unexpected angles. the human crawler moves through a mesh artery which supports the body but lets the eyes explore the outside landscape, universally adaptable to new contexts and spaces.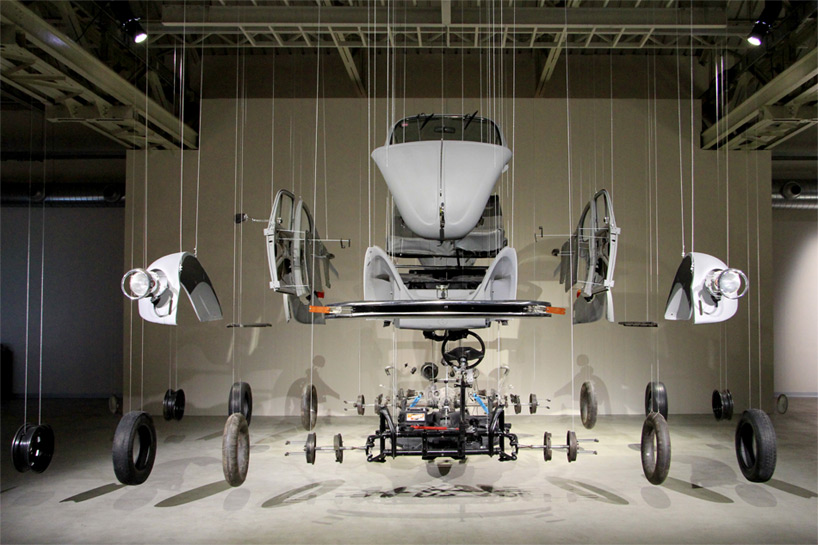 general view of 'cosmic thing'
image © designboom
damián ortega: casino
hangarbicocca, milan
june 5 — november 8th, 2015
hangarbicocca in milan presented 'casino', the first solo exhibition of damián ortega in italy — a retrospective that offers a survey of the various forms and mediums in which he works. for the past twenty years, ortega has presented himself as one of the most significant contemporary artist on the global stage. through his creative practice he has reformulated the notion of sculpture through everyday objects, his act of deconstruction and aggregation becoming the representation, in which parts are suspended in an exploded view of sorts — with matter, energy and transformations being the core themes of his artistic research. and so, the title 'casino' ('mess' / 'chaos' in italian) is fitting as ortega presents the known world as a complex physical system, something that is not entirely controllable to man, within the hangarbicocca's 'shed' space.
nina azzarello
I designboom
dec 09, 2015
KEEP UP WITH OUR DAILY AND WEEKLY NEWSLETTERS
a diverse digital database that acts as a valuable guide in gaining insight and information about a product directly from the manufacturer, and serves as a rich reference point in developing a project or scheme.
designboom will always be there for you
milan, new york, beijing, tokyo

,
since 1999