TOP 10 exhibitions of 2013
yayoi kusama in her 2013 solo exhibition 'I who have arrived in heaven' at david zwirner, new york
courtesy david zwirner and yayoi kusama studio inc.
photo by will ragozzino

the art world boomed this year, with some of the most renowned, international creatives in the field exhibiting their new works around the globe. the artworks and installations shown immersed the audience in an impactful and significant experiential context, each monumental in scale, discipline, and material. from yayoi kusama's mesmerizing infinity rooms — still garnering hour long wait times for a glimpse — to the chilling water photography of edward burtynsky, 2013's presentations blew us away. take a look below at designboom's most popular articles this year about exhibitions.
yayoi kusama exhibits dizzying infinity rooms and paintings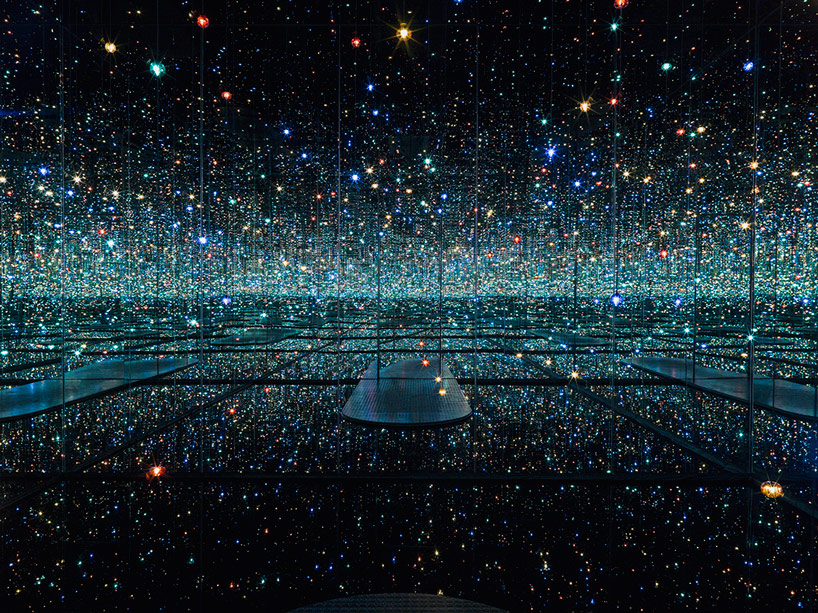 infinity mirrored room – the souls of millions of light years away, 2013
wood, metal, glass mirrors, plastic, acrylic panel, rubber, led lighting system, and acrylic balls
113 x 163 3/8 x 168 1/8 inches (287 x 415 x 427 cm)
courtesy david zwirner and yayoi kusama studio inc. photo: maris hutchinson.
yayoi kusama: I who have arrived in heaven
david zwirner, new york
november 8th – december 21st, 2013
with a six decade-long career behind her, the famed japanese artist yayoi kusama shows no signs of slowing down, presenting a monumental of new and recent work at david zwirner gallery in new york. her distinguishing themes of universal infinity, endlessness, and the cosmic realms are reflected in twenty-seven new large scale paintings, two immersive sculptural rooms, and a video installation, of which the exhibit 'I who have arrived in heaven' is comprised, spanning the gallery's three consecutive locations. kusama's amalgamation of pop and minimalist art have manifested as hypnotic architectural interventions within david zwirner gallery, dizzying the visitor in illuminated mazes of sound, light, and color.
99 animals flock together for cai guo-qiang exhibition

'heritage', 2013
99 life-sized replicas of animals, water, sand, drip mechanism; installed dimensions variable
commissioned for the exhibition 'falling back to earth', 2013;
proposed for the queensland art gallery collection with funds from the josephine ulrick and win schubert diversity foundation through and with the assistance of the queensland art gallery | gallery of modern art foundation
photograph by natasha harth, queensland art gallery | gallery of modern art
cai guo-qiang
queensland art gallery | gallery of modern art (qagoma), australia
november 23rd, 2013 – may 14th, 2014
encompassing all 3,000 square meters of GOMA's ground floor is 'falling back to earth', an immersive exhibition by cai guo-qiang, encompassing both new and recent works reconfigured for the space. amongst the chinese artist's artwork presented for the first time is 'heritage 2013′, a tremendous installation comprising 99 replicas of wild animals situated around the circumference of a water pool. lowering their heads into the crystal blue lake, the placed species stand on powder white sand and simulate a mass drink from the oblong reservoir filled with 170 tons of water. tigers, bears, zebras, giraffes and kangaroos illustrate 'seemingly a peaceful gathering of predator and prey, the menagerie of heritage conveys an almost reverential solemnity, in a lyrical utopian vision loaded with uncertainty' describes russell storer, exhibition curator.
ron mueck's figurative sculptures at fondation cartier, paris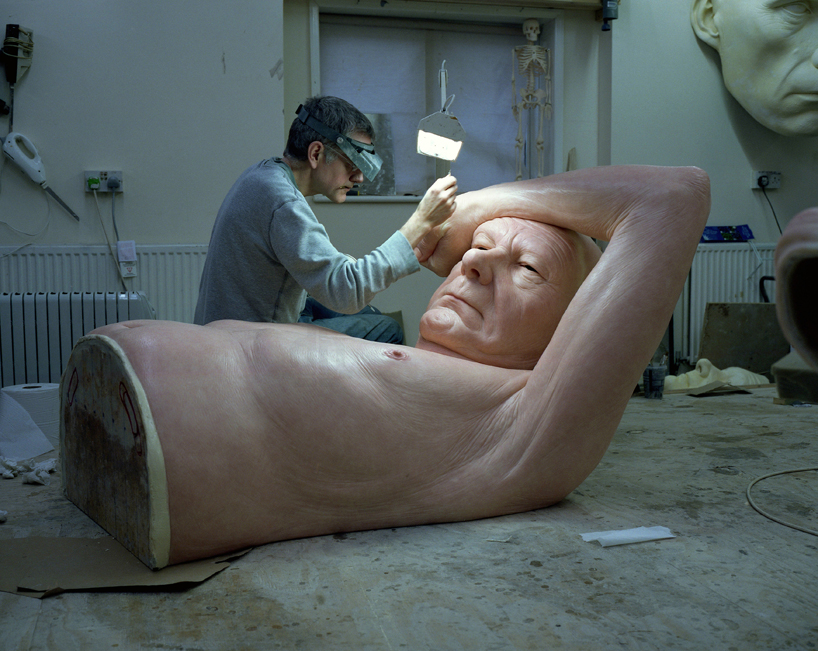 ron mueck working on a piece created for the exhibition at fondation cartier pour l'art contemporain in paris
image © ron mueck
photo © gautier deblonde
ron mueck

fondation cartier pour l'art contemporain, paris

april 16th – september 29th, 2013

the first major exhibition in europe since 2005 of ron mueck opened at the fondation cartier pour l'art contemporain, paris this year, 
unveiling new work by the highly acclaimed london-based artist. the show highlights mueck's distinctive rendition of realism and powerful use of scale, proportion and placement. meticulously detailed human 
figures draw from the worlds of pop art and hyper-realism, each capturing the relationship between two entities. in addition to the artworks, 
a new film recording their creation has been made for the occasion by french photographer gautier deblonde, revealing the reclusive artist at work. 
the documentation emphasizes the delicacy of mueck's skill and pulls into focus his ability to resonate with the collective human condition 
through figurative sculpture.
henrique oliveira: baitogogo at palais de tokyo, paris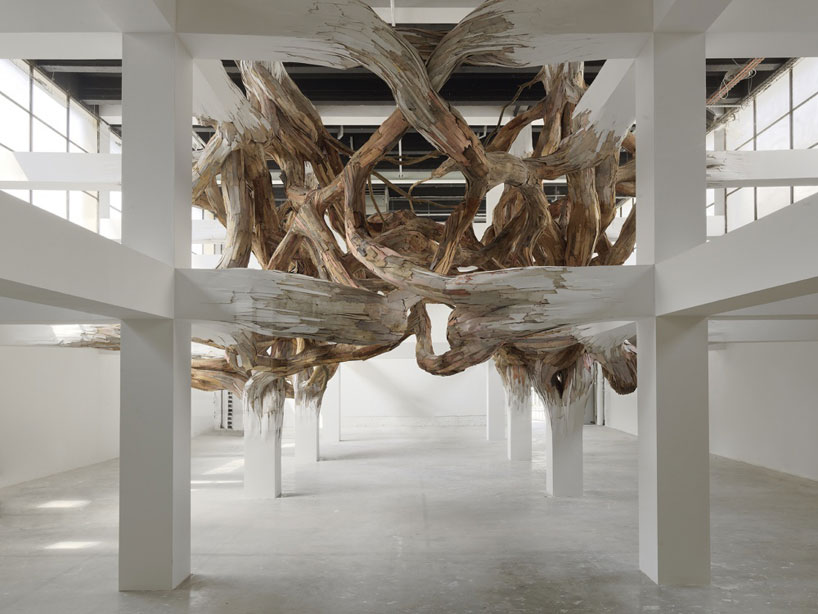 henrique oliveira, 'baitogogo'
view of the exposition
palais de tokyo, paris
photo © andré morin
henrique oliveira
palais de tokyo, paris
june 21st – september 9, 2013
a complex network of organic material invades the architecture at the palais de tokyo in paris, for brazilian artist henrique oliveira's 'baitogogo'. the installation is a matrix of sculptural vegetation — unraveling, twisting, and plunging from existing pillars and beams. the massive form is both a hybrid of mediums and disciplines as well as a dimensional synthesis of site-specific structural elements. oliveira, known for his architectural integrations, manipulates the space by both extending and multiplying the columns, encasing the viewer in a dizzying circuit of knotted, root-like material. in a communion of urban design, plant life, and biology, the artist generates an immense audience reaction to the unexpected fusion of sculpture and space.
james turrell at the guggenheim new york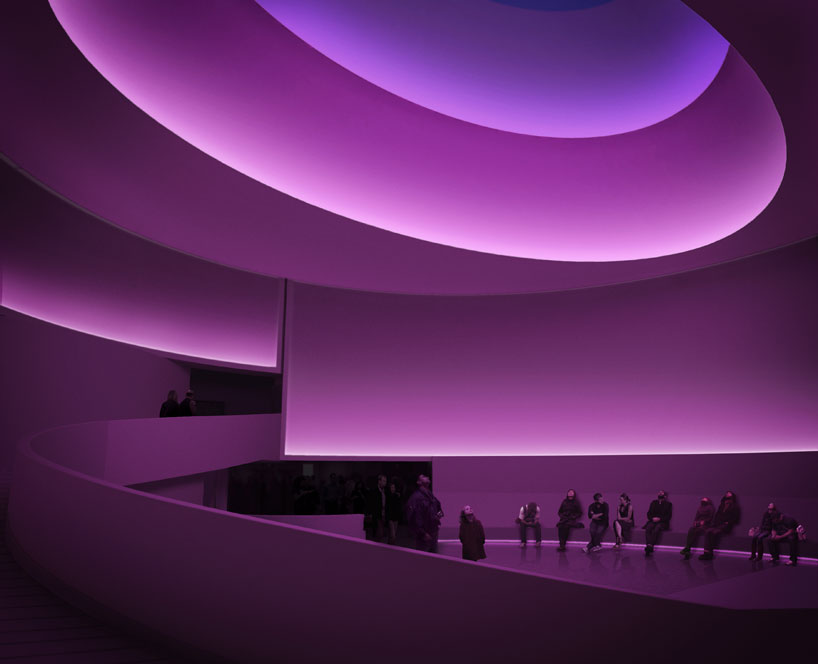 james turrell
rendering for aten reign, 2013
daylight and led light
site-specific installation, solomon r. guggenheim museum, new york
image © james turrell
rendering: andreas tjeldflaat, 2012 © solomon r. guggenheim foundation
james turrell
guggenheim museum, new york
june 21st – september 25th, 2013
conceived for the guggenheim museum, new york, james turrell's 'aten reign' recasts the rotunda of the frank lloyd wright-designed building into an enormous illuminated void of shifting artificial and natural luminescence. for his first solo exhibition in new york since 1980, the artist continues his in depth exploration of the perception of light, color and space, re-imagining the central volume of the cultural institution as an immersive light-filled space, with strong references to his ongoing 'roden crater project' (1979- ). opening on the summer solstice, turrell dramatically reimagines the museum's architecture, offering a dynamic visual experience through the modulation of color emitted through the round chamber.
tomas saraceno puts you in orbit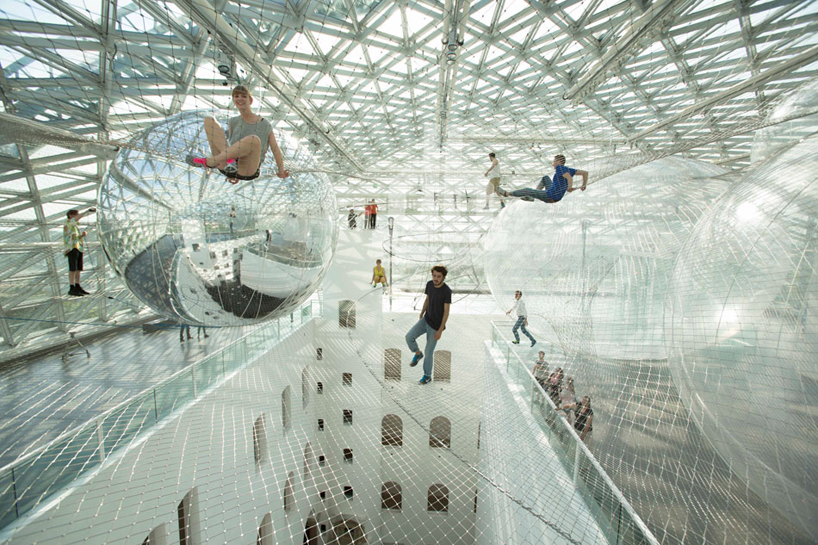 tomás saraceno – in orbit
kunstsammlung nordrhein-westfalen, k21 ständehaus, © tomás saraceno
image © studio saraceno
tomás saraceno: in orbit
kunstsammlung nordrhein-westfalen, k21 ständehaus
june 21st – autumn 2014 (estimated)

tomás saraceno's large-scale installation 'in orbit' is suspended at a height of 20 meters, high above the piazza of the K21 ständhaus in düsseldorf. the work sees the argentinian artist cover an area of 2500 m2 (across three floors), with a safety net construction composed of floating 'levels' separated by a series of large spheres; air-filled PVC balls reaching up to 8.5 meters in diameter each. positioned just below the glass cupola of the cultural institution, the expansive interactive space offers museum visitors brave enough to climb up onto the sprawling web the opportunity to perceive the world from new heights and vantage points, in which gallery patrons below are merely depicted as miniature figures moving in our world.
edward burtynsky water photography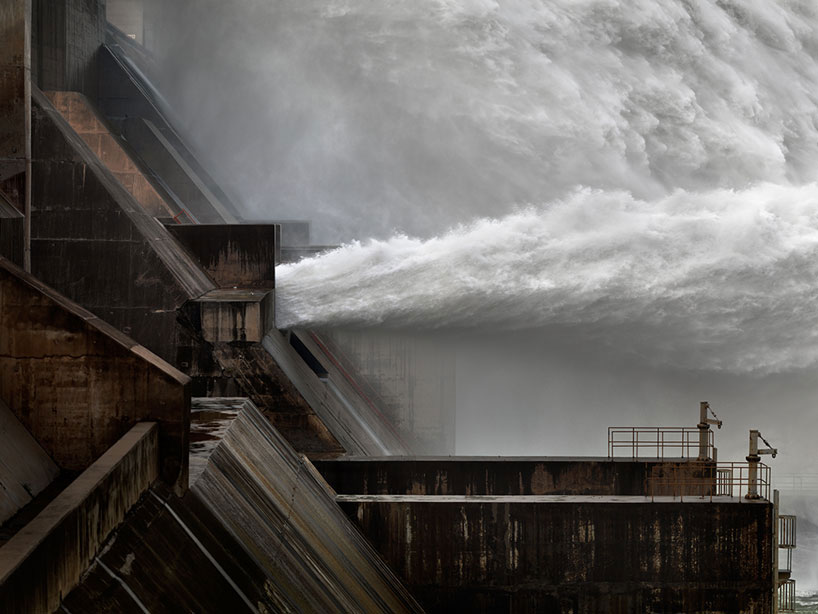 xiaolangdi dam #1, 2011
yellow river, henan province, china
chromogenic print
image courtesy of edward burtynsky/nicholas metivier gallery
edward burtynsky: water
nicholas metivier gallery, toronto
september 5th – october 12, 2013
canadian photographer edward burtynsky has presented a series of images titled 'water' at nicholas metivier gallery in toronto. throughout the body of work, burtynsky personifies water, exposing its vulnerability, capability, and power. juxtaposing these visuals, in other images from the set, is the complete absence of water, focusing instead on the consequence of its deficiency. each shot carries the viewer through a complex sojourn — encompassed in rugged landscapes, complex patterns formed by icy rivers, and thick swarms of bathers flocking to the sea. the project documents the world's water supplies, spotlighting the burden that manufacturing and consumption bear on earth's natural resources.
better out than in: banksy's NYC street art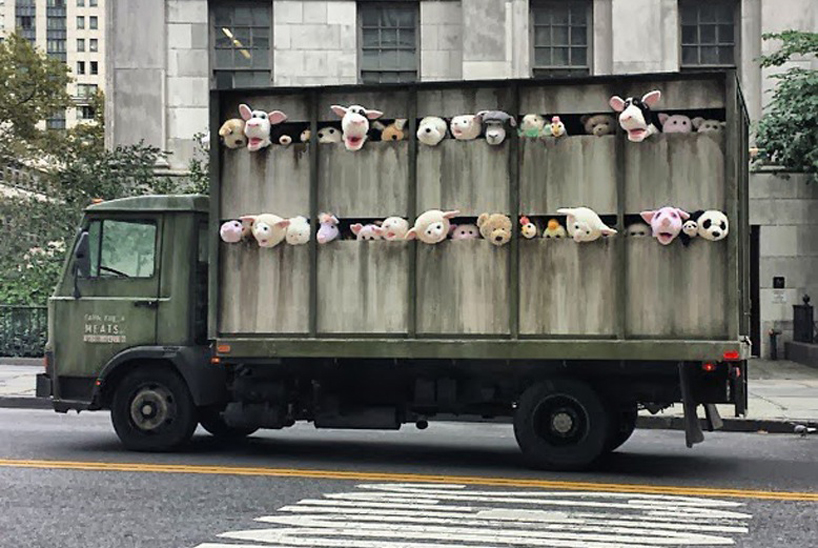 the sirens of the lambs – day 11
image courtesy of banksy
throughout the month of october, UK artist banksy took to the streets of NYC for a public exhibition of his work. the various interventions making up the 'better out than in' project took place around the city and employed different surfaces and disciplines — the artist wrote on walls, staged a live performance, and mobilized stuffed animals on a truck — showcasing one of the new pieces everyday to the public. designboom recapped the four weeks of street art, which you can take a look at here: week 1, week 2, week 3, week 4.
do ho suh constructs a home within a home at MMCA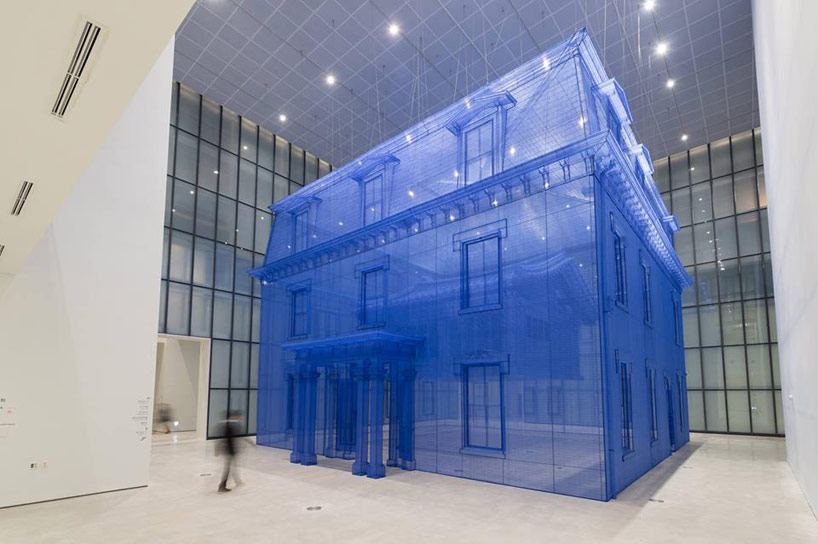 do ho suh, 'home within home' (installation view)
museum of modern and contemporary art, seoul, korea
november 12, 2013 – may 11, 2014
courtesy mmca, korea
do ho suh: home within home
national museum of modern and contemporary art, korea
november 12th, 2013 – may 11th, 2014
a mammoth, transparent fabric reproduction of a three-story town house fills the exhibition room at MMCA, korea. artist do ho suh's 'home within home within home within home within home' is an immserive, sculptural space constructed from his craft-characteristic silk medium. a full-scale recreation of the residential building in providence, rhode island — the artist's first address in the united states — surrounds 'seoul home,' a replica of a traditional korean style dwelling, where he was raised as a child. the latter structure is suspended from the ceiling, floating between the multi-layered panels of semi-opaque, jade-colored textiles that encompass it.
ai weiwei's S.A.C.R.E.D. depicts scenes from his incarceration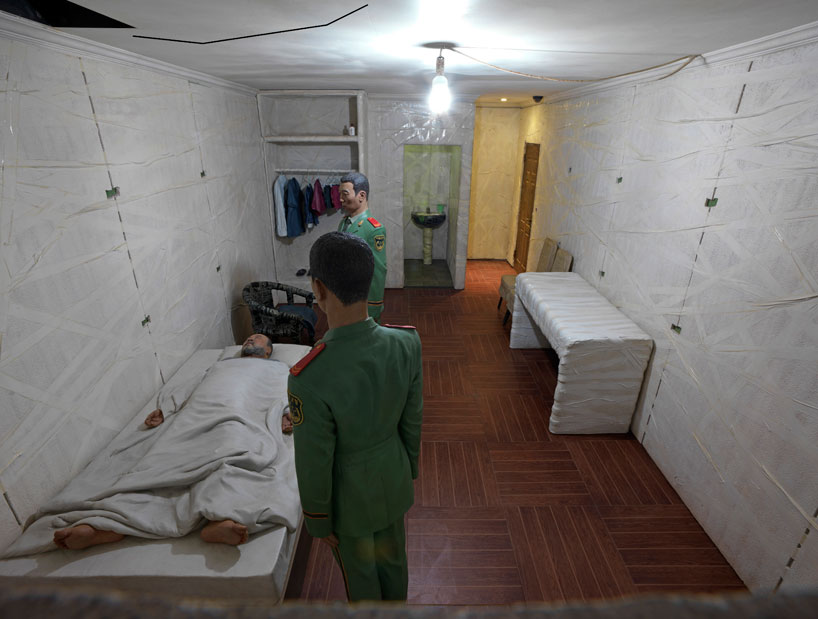 ai weiwei, S.A.C.R.E.D., 2011-2013
six-part work composed of (i) Supper, (ii) Accusers, (iii) Cleansing, (iv) Ritual, (v) Entropy, (vi) Doubt
six dioramas in fiberglass and iron, each 377 x 198 x 153 cm
installation view,chiesa di sant' antonin, 2013
courtesy, the artist and lisson gallery
the 2013 venice art biennale marked the first time that ai weiwei has responded to his detainment in the form of a public exhibition. his installation 'S.A.C.R.E.D' is a six-part work composed of iron boxes depicting scenes from the chinese artist's 81-day incarceration in 2011. divided accordingly: (i) Supper, (ii) Accusers, (iii) Cleansing, (iv) Ritual, (v) Entropy, and (vi) Doubt, each unit has small openings — similar to those found on a prison cell door — which viewers may peer into the dioramas where ai weiwei has positioned realist models of himself with his captors, documenting painstaking moments of his captivity in detail, and the surveillance he was under during all times (meals, bathing, going to the washroom, sleeping).
nina azzarello
I designboom
dec 19, 2013
a diverse digital database that acts as a valuable guide in gaining insight and information about a product directly from the manufacturer, and serves as a rich reference point in developing a project or scheme.
designboom will always be there for you
milan, new york, beijing, tokyo

,
since 1999