see designboom's TOP 10 stories archive:



TOP 10 ART EXHIBITIONS OF 2016
monumental in scale, discipline, material and theme, some of the most renowned, international creatives exhibited their new and most famous works around the globe this year. whether set within gallery institutions or as part of the public landscape, the exhibitions have immersed audiences in an impactful and significant experiential context. from kanye west's 'famous' nude celebrities to maurizio cattelan's return to the art world, take a look below at 10 of designboom's most popular art exhibitions of 2016.
CHIHARU SHIOTA'S LABYRINTH OF RED YARN AT BLAIN|SOUTHERN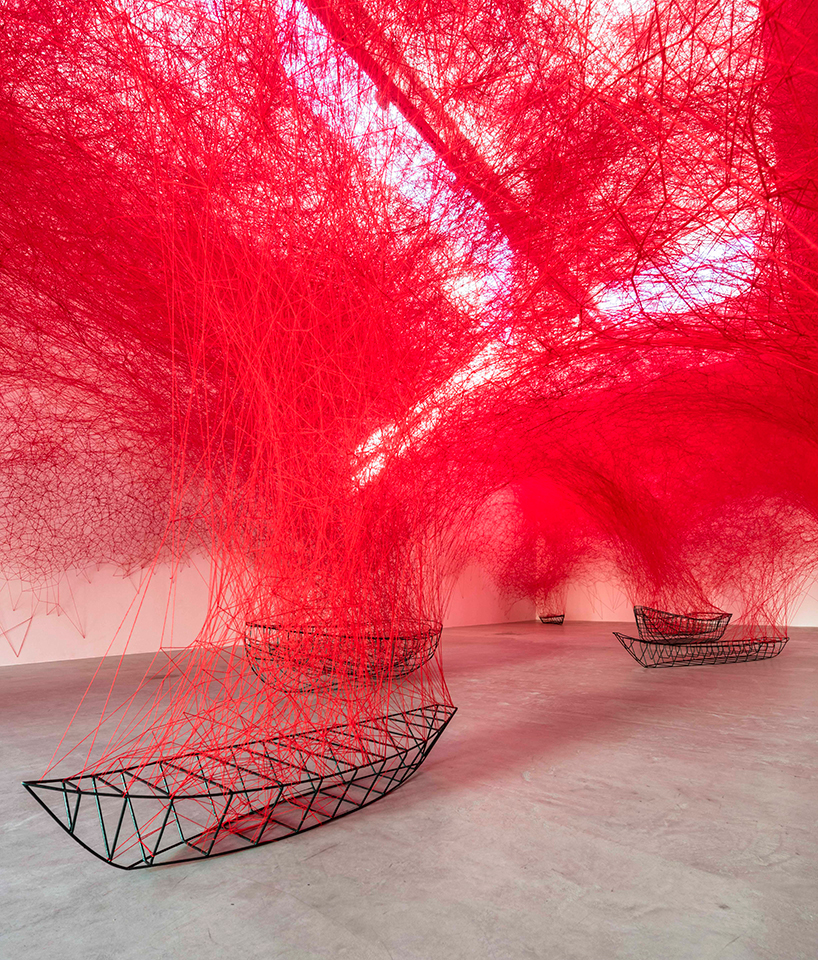 image courtesy the artist and blain|southern / photo by christian glaeser
chiharu shiota's 'uncertain journey' was a monumental, site-specific exhibition at berlin's blain|southern, presented from september 17 – november 12, 2016. the japanese artist is best known for her immersive, intricate installations made of woven thread, such as the key in the hand, which she presented for japan at the venice art biennale last year. 'uncertain journey' revolves around a powerful red artwork that dominates the gallery's vast atrium. shiota's exhibition filled blain|southern's central space with dense webs of red yarn that seemingly grow from the ceiling and surrounding walls. stretching throughout the volume, the complex mesh labyrinth reached down towards a series of hollow, sculptural boat hulls that rested on the floor of the gallery.
read more about this exhibition on designboom here.
KANYE WEST'S 'FAMOUS' NUDE CELEBRITIES AT BLUM & POE GALLERY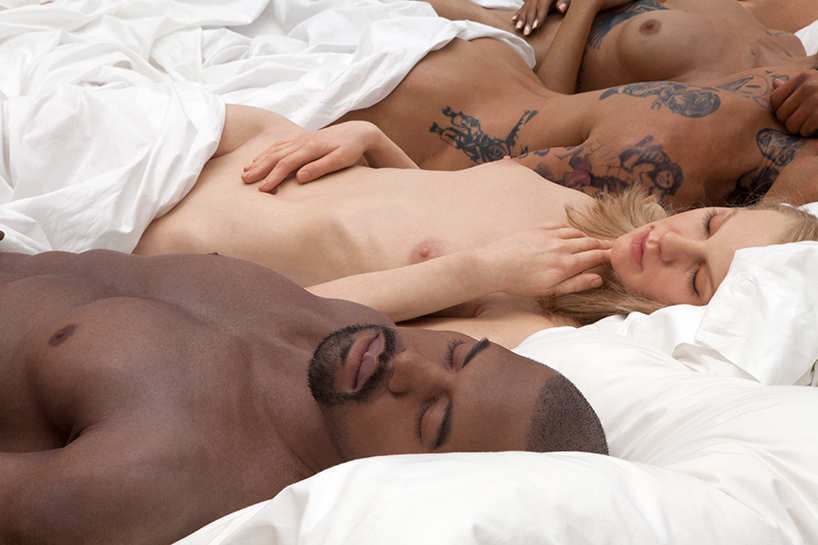 image © kanye west | photo by sam kahn | courtesy of the artist and blum & poe, los angeles/new york/tokyo
kanye west's music video for the song 'famous' became an instantly controversial and polarized topic of discussion. its blatant depiction of 12 celebrity figures nude in bed stirred both high praise for its artistic and visionary attributes, and sharp criticism for its provocative and unorthodox content. as part of a limited, two day show from august 26 — 27, los angeles gallery blum & poe exhibited west's mixed media art installation. the sculptural milieu of semi-nude sleeping figures included the likes of taylor swift, kim kardashian, donald trump, george W. bush, rihanna, bill cosby, and west himself.
read more about this exhibition on designboom here.
MAURIZIO CATTELAN RETURNS TO THE ART WORLD AT THE MONNAIE DE PARIS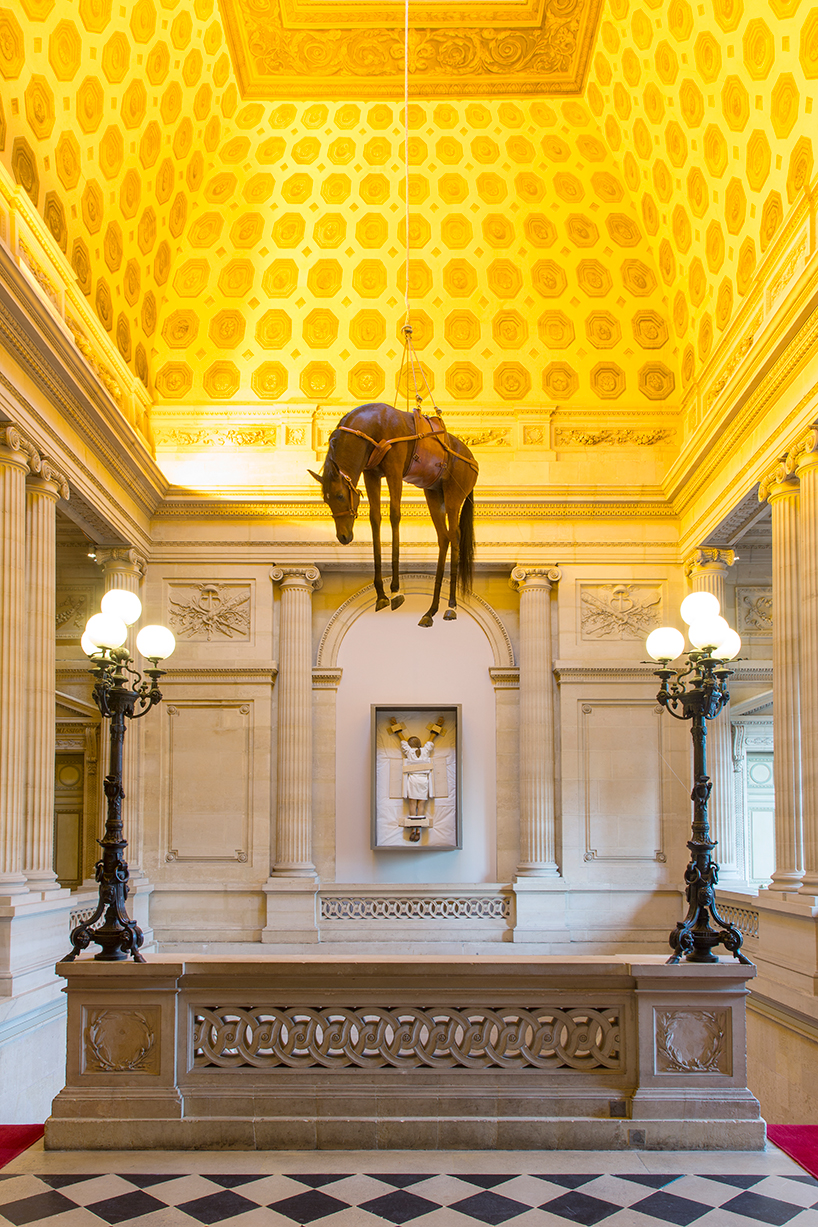 image by zeno zotti
maurizio cattelan returned to the art world after a five year hiatus by staging a major exhibition — his largest in europe to date — at monnaie de paris. on view from now through january 8, 2017, 'not afraid of love' puts a selection of cattelan's most famed work in conversation with each other, forming a new perspective on the artist's manifold oeuvre. the exhibition sees the installation of cattelan's most representative works around the neoclassical edifice's 18th century salons. the pieces are staged as an itinerary through which a personal view of his artistic career is provided. the selected pieces are regarded by cattelan himself as some of the most important and emblematic of his opus.
read more about this exhibition on designboom here.
A MAGICAL 'GARDEN OF WHISPERS' BY HANS OP DE BEECK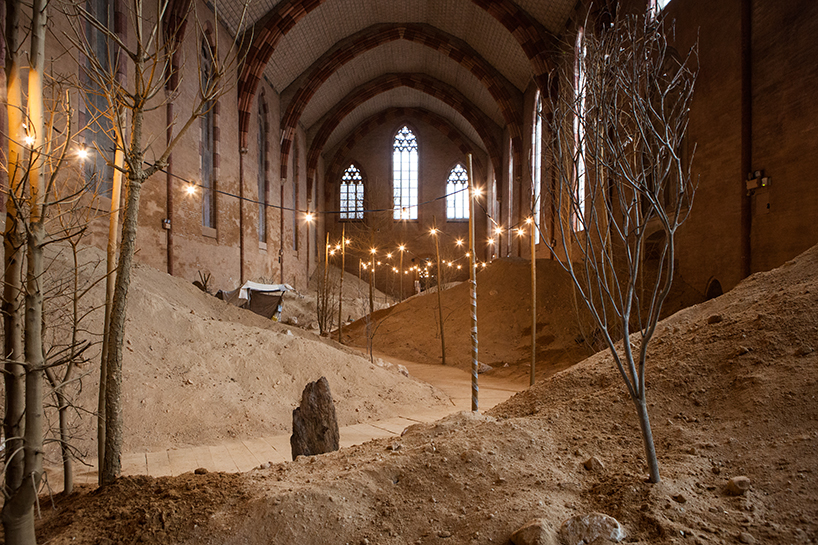 image © studio hans op de beeck
within the gothic church of the jacobins in toulouse, artist hans op de beeck staged an immersive, environmental exhibition that led visitors through 'the garden of whispers'. op de beeck wove a makeshift wooden pathway through the vast, inner expanse of the 13th century brick edifice, snaking through large dunes of sand, bare tree branches, simple strands of light, and a full-scale campsite. sculpted onsite, the exhibition became an 'emotion-oriented courtyard', where visitors were promoted to introspectively reflect on the scenes around them.
read more about this exhibition on designboom here.
TEAMLAB'S LARGEST IMMERSIVE DIGITAL ART EXHIBITION IN TOKYO

image courtesy of teamlab
this year, japanese collective teamlab presented its largest digital art exhibition to date. in tokyo, a 3,000 square meter showcase was structured as a labyrinth of virtual experiences, where visitors engage in a sequence of immersive artworks. major pieces — both new and previously exhibited — were scaled up to larger-than-life proportions, inviting the audience into a kaleidoscopic and multi-sensory expanse of color and light. viewers could experience works like 'wander through the crystal universe' — the largest of its kind to date; 'floating in the falling flowers', held within an enormous dome space; and the infinitely stretching water artwork 'drawing on the water surface created by the dance of koi and people — infinity'.
read more about this exhibition on designboom here.
OLAFUR ELIASSON'S SPATIAL INSTALLATIONS AT THE PALACE OF VERSAILLES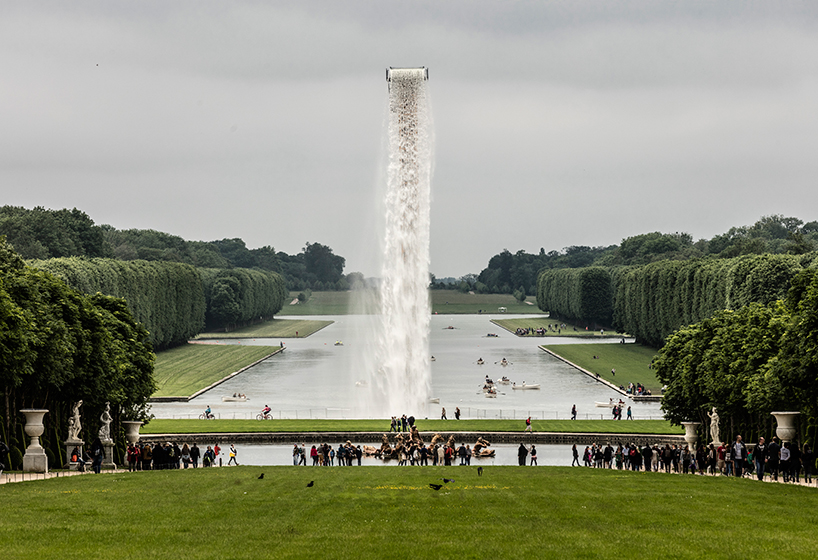 photo by anders sune berg / courtesy of the artist, neugerriemschneider, berlin; tanya bonakdar gallery, new york © olafur eliasson
for the last eight years, the palace of versailles has hosted a series of exhibitions that see internationally-acclaimed artists form a dialogue between their own work and the architecture of the french landmark. last summer, olafur eliasson brought a sequence of spatial interventions to versailles — with waterfalls, fog, mirrors, and light landscapes installed around the gardens and château interior. 'the versailles that I have been dreaming up is a place that empowers everyone,' eliasson says. 'it invites visitors to take control of the authorship of their experience instead of simply consuming and being dazzled by the grandeur. it asks them to exercise their senses, to embrace the unexpected, to drift through the gardens, and to feel the landscape take shape through their movement.'
read more about this exhibition on designboom here.
AI WEIWEI'S EXHIBITION OF GARMENTS GATHERED FROM REFUGEE CAMPS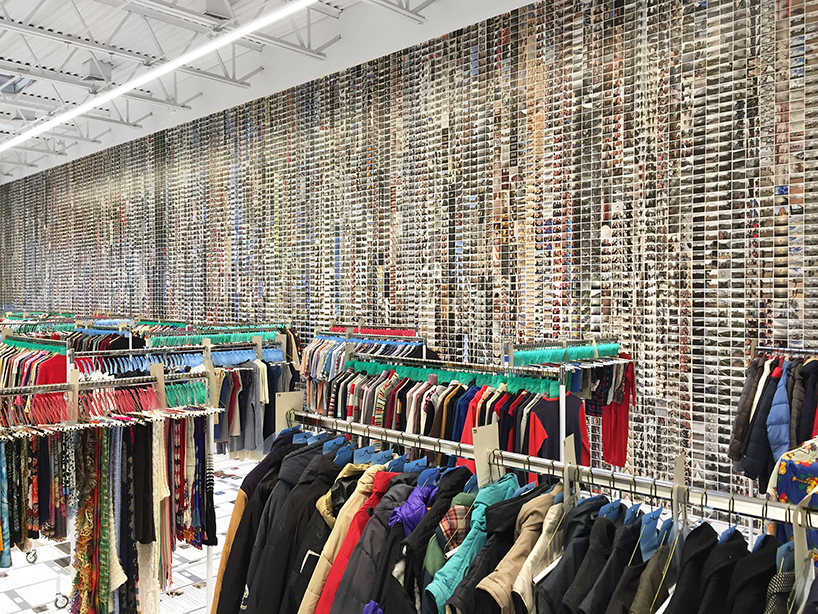 image © designboom
ai weiwei's ongoing engagement with the global refugee crisis reached a monumental milestone with the opening of 'laundromat' at new york's deitch projects. the exhibition brings together thousands of materials collected from an informal refugee camp in idomeni — a small village in northern greece and official border crossing into the republic of macedonia. at its peak in spring 2016, up to 15,000 men, women and children — mostly from syria, afghanistan or iraq — spent weeks in dire conditions with scarce food and harrowing sanitary conditions. in may 2016, idomeni was shut down, displacing the thousands of refugees living there. in a rush to mobilize, many left behind clothes, shoes, personal mementos and photographs. ai weiwei has collected, washed, organized and now exhibited these objects in new york as a poignant and powerful testament to a human condition at a tumultuous moment in time. through his work, he has become one of the most important advocates of human rights.
read more about this exhibition on designboom here.
HUANG YONG PING AT PARIS' GRAND PALAIS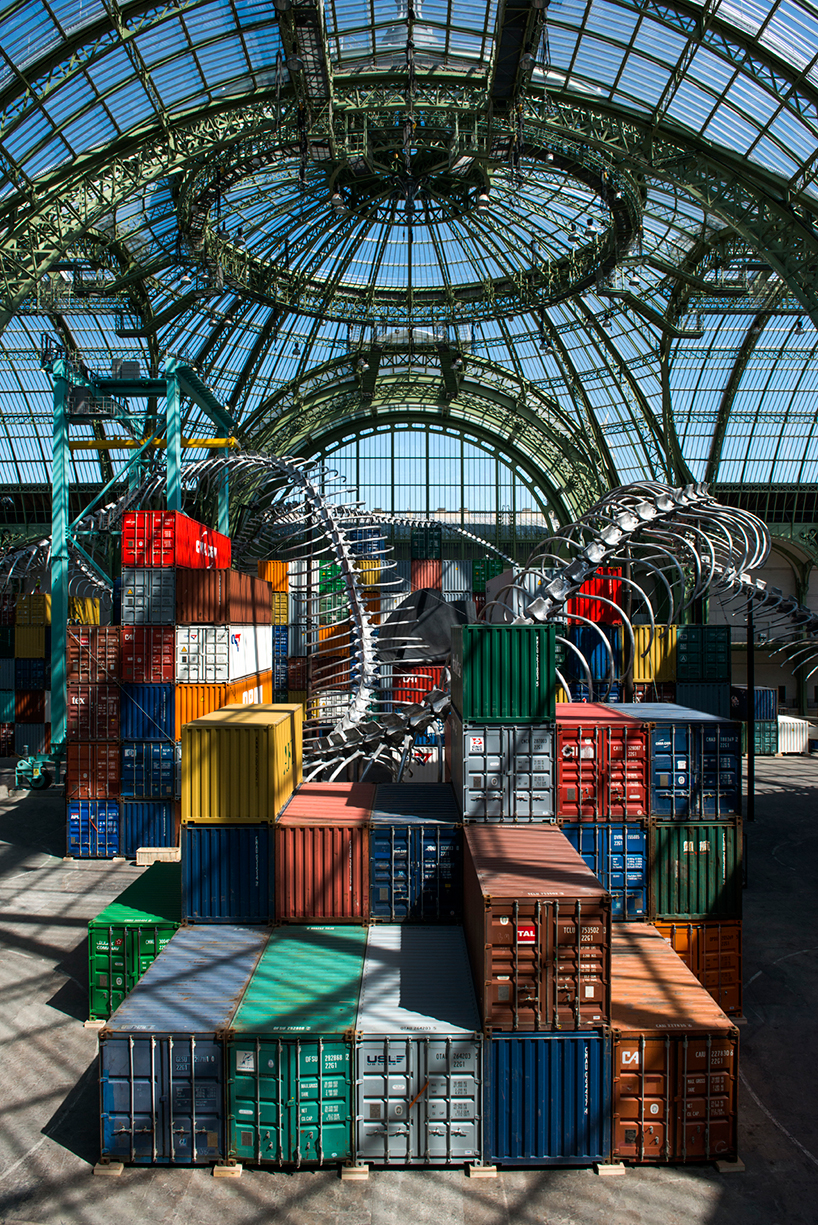 image © adagp, paris 2016 / courtesy of the artist and kamel mennour, paris | photo by didier plowy for rmn-GP
beneath the immense glass dome of the more than 13,000 square meter nave of paris' grand palais, franco-chinese artist huang yong ping formed an immense immersive exhibition for monumenta — now in its 7th edition. 'empires' — organized by the réunion des musées nationaux in collaboration with the french ministry of culture and communication — intended to serve as a symbol of today's economic landscape. huang yong ping used the architecture of the industrial-age grand palais to represent political and economic powers, the rise of new geographical regions, the decline of ancient empires and the arranged emergence of new candidates for power.
read more about this exhibition on designboom here.
CARSTEN HÖLLER AT HANGARBICOCCA, MILAN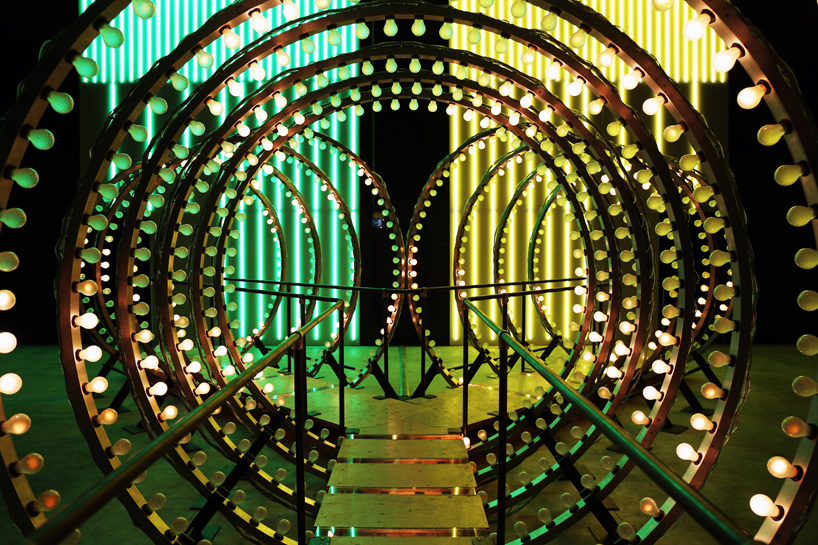 'Y', (2003) | image © designboom
milan's hangarbicocca hosted 'doubt' from april 7th – july 31st, 2016 — a solo exhibition of artist carsten höller that contained more than 20 works that invite visitors to engage, and become a part of them; blurring the line between the spectator and the performer. directly involving the viewer in his art, höller's practice revolves around the search of new ways of inhabiting our world: 'some of the works on this exhibitions are there to give you the possibility to produce experiences, and I'm even using this word, feelings, in order to get closer to something that has nothing to do with predictability,' he states.
read more about this exhibition on designboom here.
LIU BOLIN APPROPRIATES CLASSICAL MASTERPIECES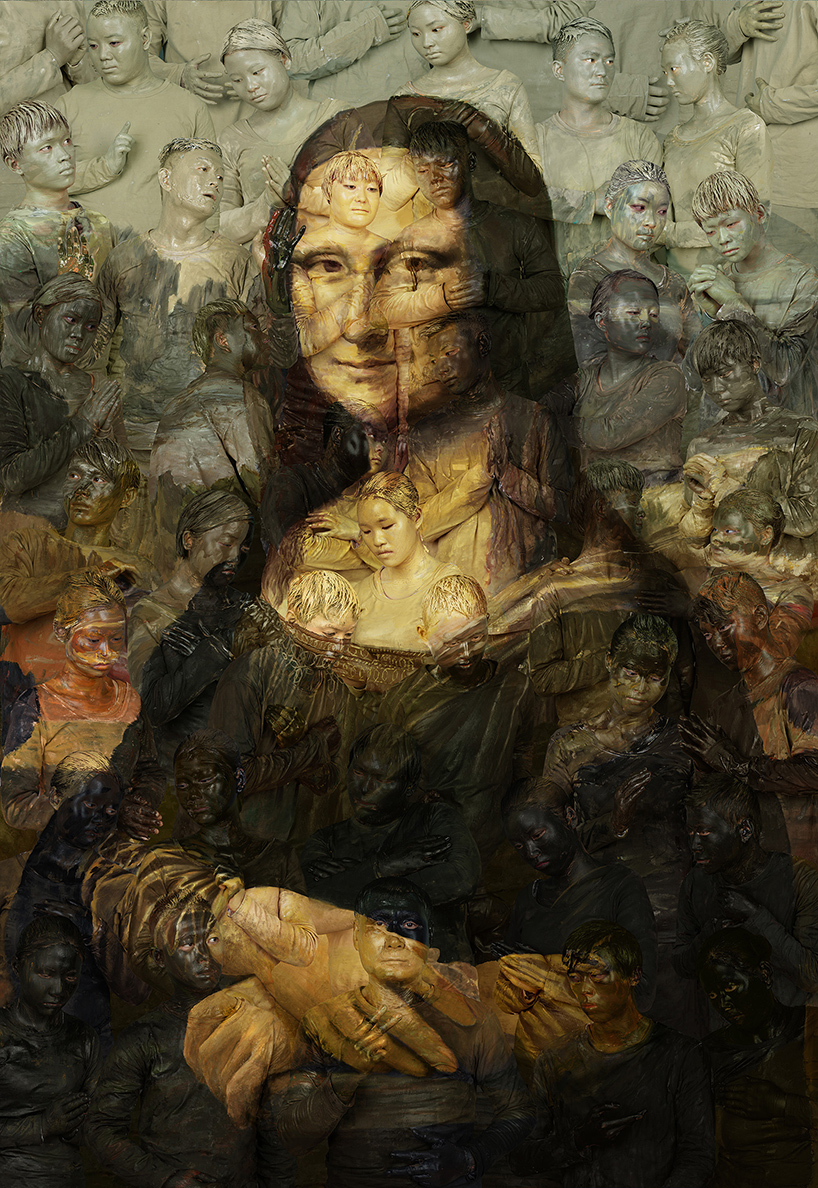 image courtesy klein sun gallery, © liu bolin
liu bolin makes a major shift towards the virtual world for 'art hacker', a solo exhibition at klein sun gallery on from november 17 — december 23, 2016. the world-renowned chinese artist, widely known as 'the invisible man' for his camouflaged body art, has completed a new series of work that appropriates two classical masterpieces — da vinci's mona lisa and picasso's guernica. juxtaposing these works is an image that depicts tianjin's devastating explosion at a container storage station in 2015. bolin meticulously recreates these three compositions using human subjects as his canvas, using complicated and precise hand-painted camouflage.
read more about this exhibition on designboom here.
Save
Save
nina azzarello
I designboom
dec 08, 2016
a diverse digital database that acts as a valuable guide in gaining insight and information about a product directly from the manufacturer, and serves as a rich reference point in developing a project or scheme.
designboom will always be there for you
milan, new york, beijing, tokyo

,
since 1999