the most exciting and hotly anticipated exhibitions this year offered immersive and participatory experiences, engaging visitors with urgent topics that spanned from small to monumental in scale. from an underwater art exhibition that aimed to raise awareness of plastic pollution, to an AI-powered 'machine hallucination' in new york, 2019 packed a host of compelling and often provocative shows in museums and galleries around the globe. continuing our annual round up of the year's most talked about stories, we look back the TOP 10 art exhibitions of 2019 featured on designboom over the past 12 months.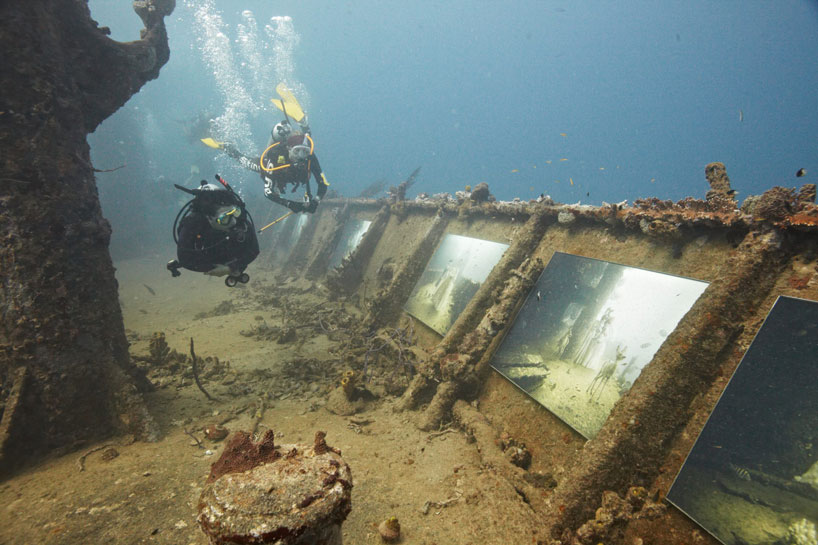 image via plastic ocean
the first on our list of TOP 10 art exhibitions is vienna-based photographer andreas franke's 'plastic ocean' project underwater, in a bid to raise awareness of plastic pollution. the underwater exhibition, which was available to anyone brave enough to descend to depths of 40 to 50 meters, contained 24 of franke's portraits of people drowning in a sea of plastic. 'plastic ocean' was shown underwater from may 25 – august 25 aboard the wreck of the the USS general hoyt s. vandenberg off the coast of key west, florida, with divers from around the world invited to check out the installation.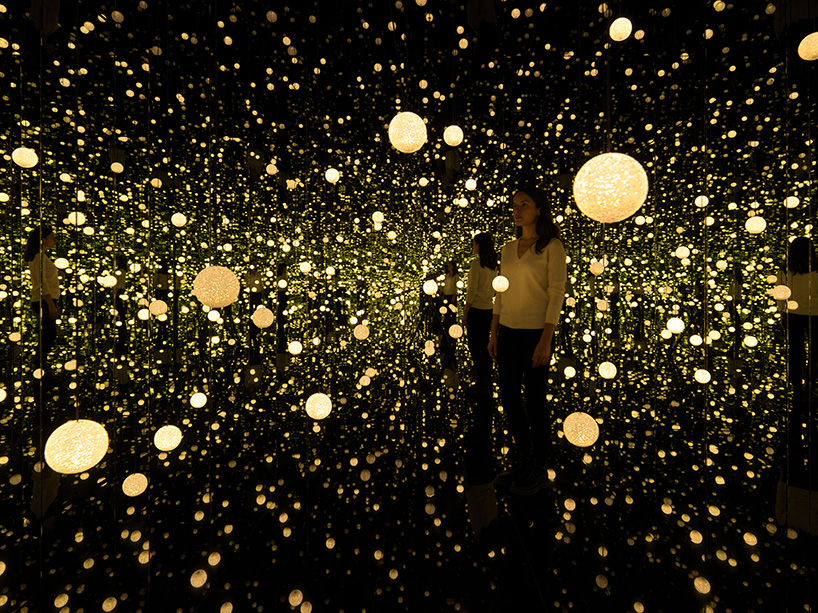 image courtesy of david zwirner
yayoi kusama's long-anticipated 'EVERY DAY I PRAY FOR LOVE' opened to the public through december 14 at david zwirner gallery in new york. the two-story exhibition comprised four segments that highlight the artist's latest additions to her collection of paintings, immersive installations, and sculptures. at free of charge, visitors will also have the opportunity to read personal poems of kusama's that have never been published before. considered to be 'one of the most influential artists of the twentieth and twenty-first centuries,' states david zwirner gallery, 'kusama occupies a unique position within art history.'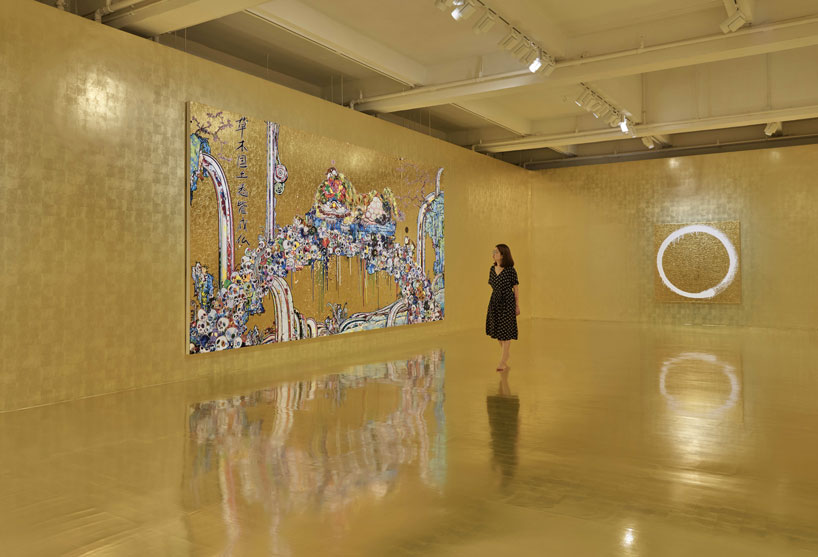 image © 2019 takashi murakami/kaikai kiki co., ltd. | photo by kitman lee
takashi murakami invites guests into dark world of shiny gold in an extensive exhibition exploring the multifaceted universe of the japanese super-star artist. titled 'MURAKAMI vs MURAKAMI,' the exhibit – presented from june 1 – september 1 — is an immersive experience featuring more than 60 paintings and sculptures, plus drawings, video, and wall and floor art and takes over all three stories of tai kwun's JC contemporary art gallery. his signature flower icons and superflat signature style is obsessively and repetitively combined and represented, decorating both walls and canvases. meanwhile, figures of tan tan bo, the artist's alter-ego based on a manga character by japanese manga author mizuki shigeru, appear as phantoms writhing while spewing out bodily fluids in glorious psychedelic colour.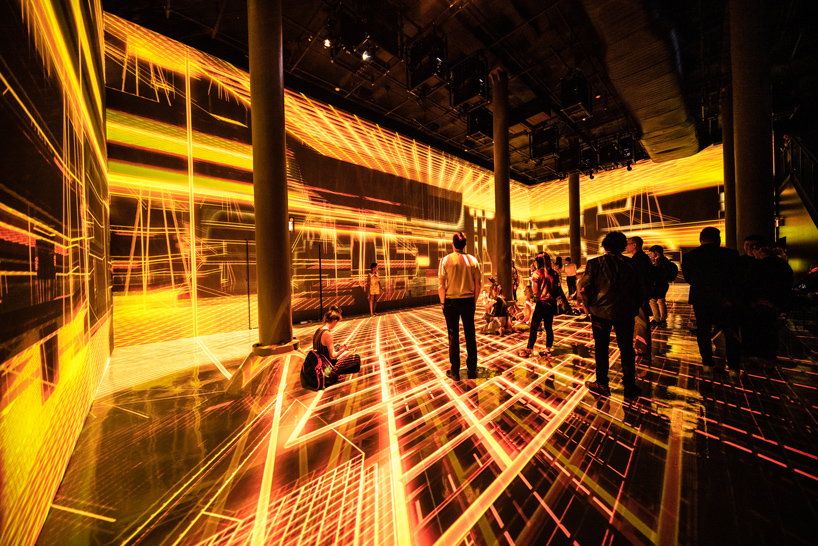 image courtesy of refik anadol
digital art presenter ARTECHOUSE presents its first exhibition in new york city: machine hallucination. generated by los angeles-based, turkish artist refik anadol. the immersive digital art exhibition – presented from september 6 – november 17 — is situated in chelsea market's historic boiler room, a 6,000-square-foot subterranean gallery space beneath the market's main concourse, which serves as a destination for cutting-edge and experiential exhibitions. 'machine hallucination' is the artist's first large-scale solo exhibition in new york and his first exhibition in the city to make use of artificial intelligence. the 'synesthetic reality experiment' makes use of machine learning algorithms on a dataset of more than three million images. each moment represents a wide-ranging selection of architectural styles and movements and reveals the hidden connections between these moments in history.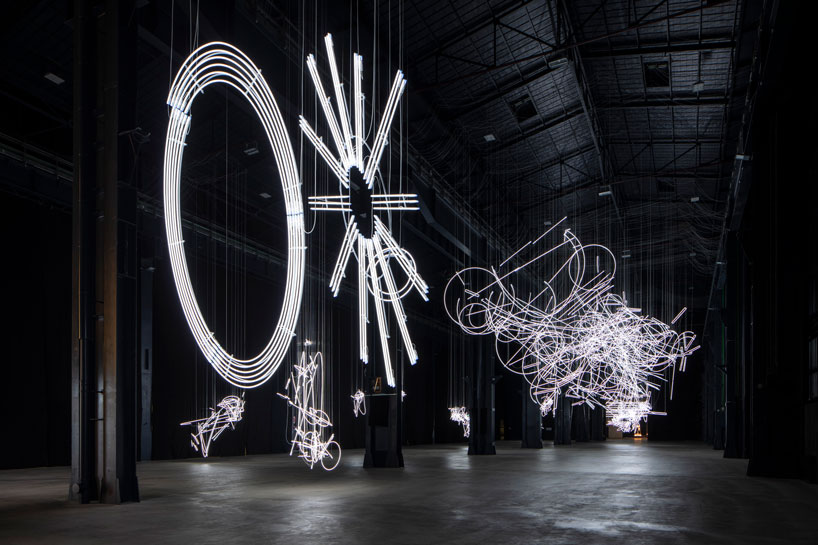 image courtesy of pirelli hangarbicocca
milan's pirelli hangarbicocca presents '…the illuminating gas' from october 31, 2019 – february 23, 2020 — the largest-ever solo exhibition of welsh artist cerith wyn evans. curated by roberta tenconi and vicente todolí, the exhibition presents 24 works, including historical sculptures, complex monumental installations and new productions. set over 5 thousand square meters of the navate and the cubo sections of pirelli hangarbicocca, the exhibition opens with seven imposing 20-meter-high light columns, 'starstarstar/steer (totransversephoton)'. consisting of a skeleton of tubular lamps assembled from cylinders of various heights, the work was made specifically for the occasion, creating a choreography of light and shadow that invades the low-light setting.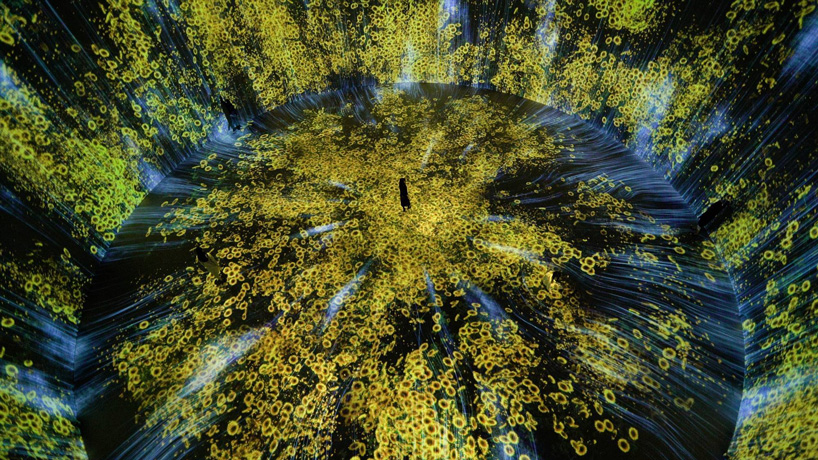 image courtesy of teamlab
also featured in our TOP 10 art exhibitions of 2019, art collective teamlab inaugurated the opening of a new art museum in shanghai in march with an immersive exhibition that explores water through digital manipulation. entitled 'universe of water particles in the tank' the exhibition transforms five massive former oil tanks that constitute a new ambitious and long-awaited museum project aptly named 'tank shanghai'. located inside a former oil reservoir, teamlab exhibits five installations spread throughout the space, using digital technologies to convey natural wonders. in the title work, 'universe of water particles in the tank, transcending boundaries,' an enormous waterfall appears to cascade down the interior of the tank, while other works will depict a year's worth of blooming seasonal flowers and a projection of waves that are connected to form a single, unbroken body of water.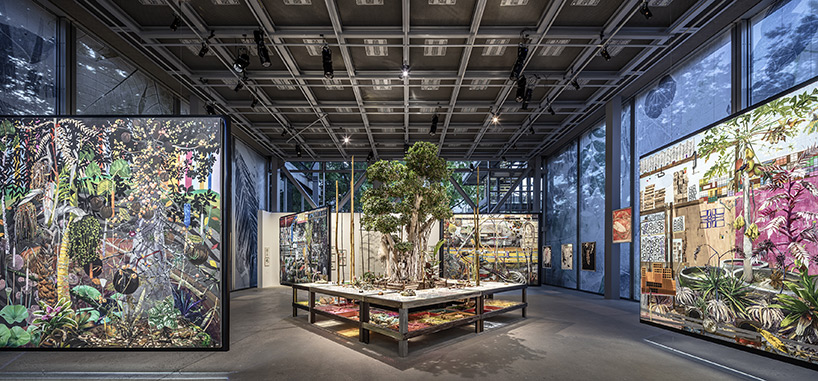 image by luc boegly
with the effects of deforestation — both human-driven and natural — being keenly felt around the world, an exhibition at fondation cartier pour l'art contemporain echoes the latest scientific research and seeks to shed new light on trees. bringing together a community of artists, botanists, and philosophers, the exhibit — which is on view in paris until january 5, 2020 — is organized around several large ensembles of works, giving voice to numerous figures who, through their aesthetic or scientific journey, have developed a strong, intimate link with trees. designboom attended the exhibition, aptly titled 'trees', to discover more about the botanical species and their unexpected qualities.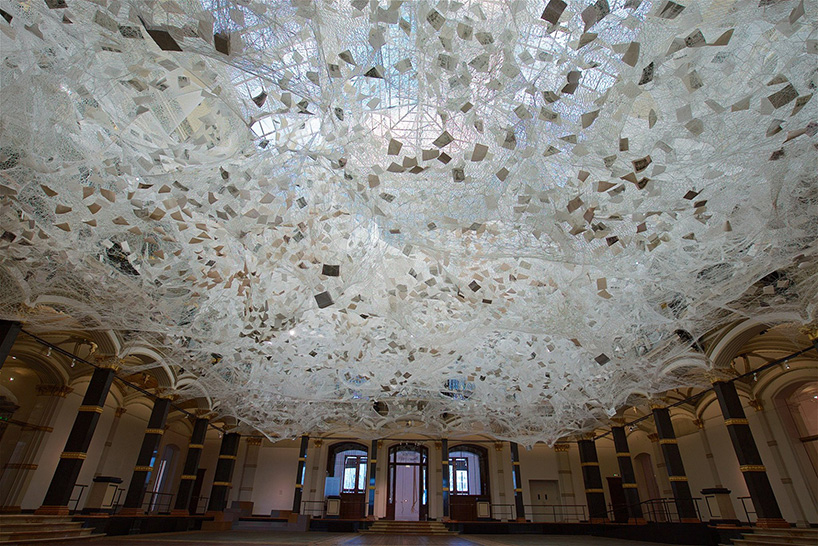 image by sunhi mang, courtesy of chiharu shiota
through june 16, 2019, berlin's gropius bau investigated the concept of craft and handmade processes in the city's contemporary art scene, taking its history as a former museum for decorative arts as a starting point. curated by natasha ginwala und julienne lorz, 'and berlin will always need you' sheds light on artists' practices in the city, with an an evocative series of existing and commissioned works that engage with traditional methods of production, aesthetics and materiality. as part of the show, artist chiharu shiota presents a monumental installation 'beyond memory', which infills the institution's colossal atrium.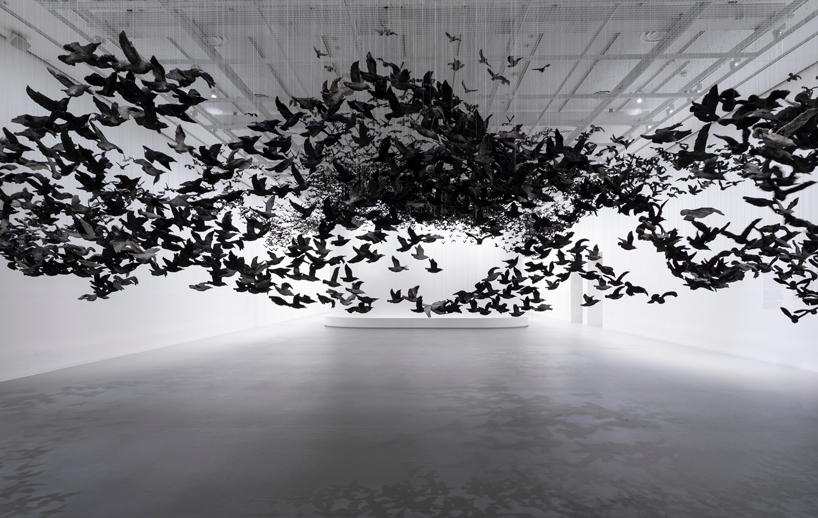 installation view of cai guo-qiang's murmuration (landscape) 2019 (detail)
realised in dehua, fujian province and melbourne, commissioned by the NGV
image © cai guo-qiang / photo © tobias titz photography
10,000 porcelain birds swarm overhead. in nature, when starlings such as these flock together like this, swooping with synchronized momentum, it is called a murmuration and for thousands of years, chinese philosophers, stoic warriors and the occasional emperor gazed up at murmurations in awe — but porcelain is white. each starling in this porcelain murmuration was first scorched black from gunpowder explosions by their creator, contemporary artist cai guo-qiang. then, they were suspended in stillness at NGV in melbourne from may 24 – october 13, aside emperor qin shihuang's army of terracotta tomb warriors.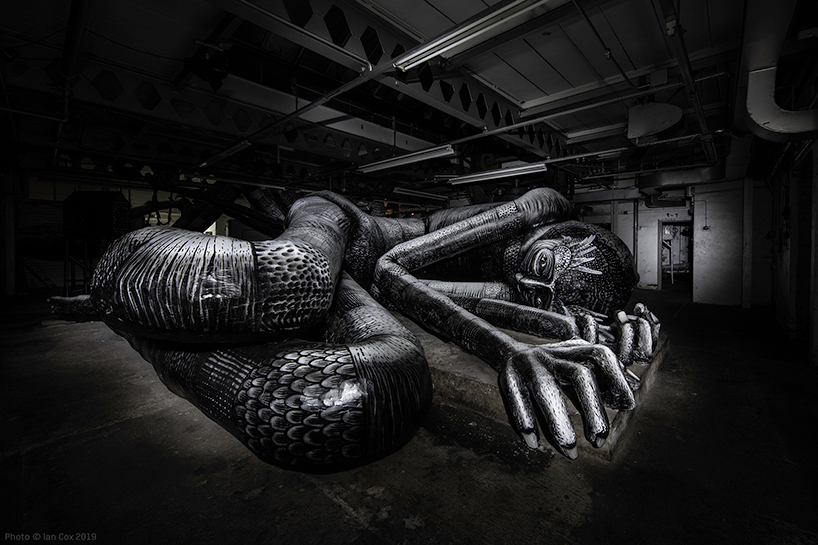 image by ian cox
a bestiary is an imaginary compendium of half-imagined animals; artist phlegm plays with these creatures a lot, but recently something eerie has happened. it seems that his largest and most cumbersome two dimensional beasts have leapt from their pages, grown the size of giants, lived full lives and have finally found refuge in this abandoned factory — a factory precariously located in phlegm's hometown, sheffield, UK — from march 15 – april 6. after spending the last couple of years working on impossibly small copper engravings and complex ink drawings the size of a couple centimeters, phlegm has unleashed his iconic recurring characters on a massive, 3D stage.
see designboom's TOP 10 stories archive:






nina azzarello
I designboom
dec 11, 2019
a diverse digital database that acts as a valuable guide in gaining insight and information about a product directly from the manufacturer, and serves as a rich reference point in developing a project or scheme.
designboom will always be there for you
milan, new york, beijing, tokyo

,
since 1999