see designboom's TOP 10 stories archive:




from digital installations built across an ancient mountain in japan to the monumental cages installed around new york city by activist-artist ai weiwei, 2017 saw a number of large scale installations completed around the globe. each of the projects — whether they be temporary, public, permanently fixed, interactive, or informative in nature — engaged audiences with a memorable experience, while challenging the definition of the term 'art installation'.
continuing our annual review of the year's BIG stories, we take a look at the TOP 10 art installations that caught our eye in 2017.
1 – a forest where gods live: teamlab unearths digital artworks across mifuneyama rakuen park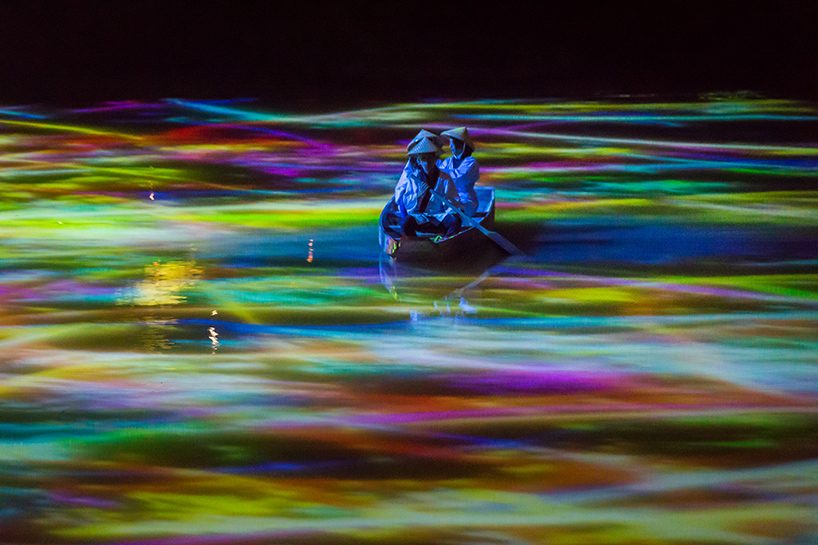 image courtesy of teamlab
in july, teamlab created 14 immersive installations to transform the mifuneyama rakuen park in saga into an open-air museum. each digital art experience is inspired by nature and intrinsically interwoven with the environment, magnifying the shapes, characteristics and fundamental facets of the landscape. visitors can roam through the park's seemingly-infinite trails to encounter teamlab's interventions, participating in an enchanting nighttime art adventure in the remote park.
2 – wooden penis erected atop austrian alps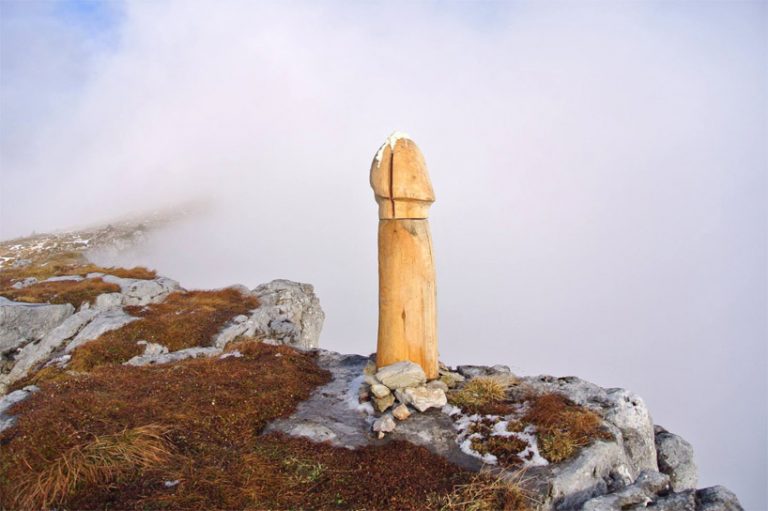 image courtesy marika roth
in november, an unknown artist secretly installed a giant and heavy male attribute overnight on peak ötscher in austria, a popular destination in the mountains. rumor has it that the land art piece evokes an archaic 'fertility cult' (the earliest example of a prehistoric phallic artifact was discovered in the 'hohle fels' / hollow rock, a cave in the swabian jura of germany).
3 – child curiously peeks over the US-mexico border in JR's installation on immigration
in september, french artist JR has placed the 70-foot tall image of a one-year old boy peeking over the edge of the US-mexico border. facing the united states and overlooking the californian landscape, the child peers over the wall with curiosity and interest at land on the other side. the project reacts to president trump's recent reversal of the DACA program — a policy that protects eligible immigrants, who came to the united states when they were children, from deportation.
4 – lorenzo quinn's support sculpture braces ca' sagredo hotel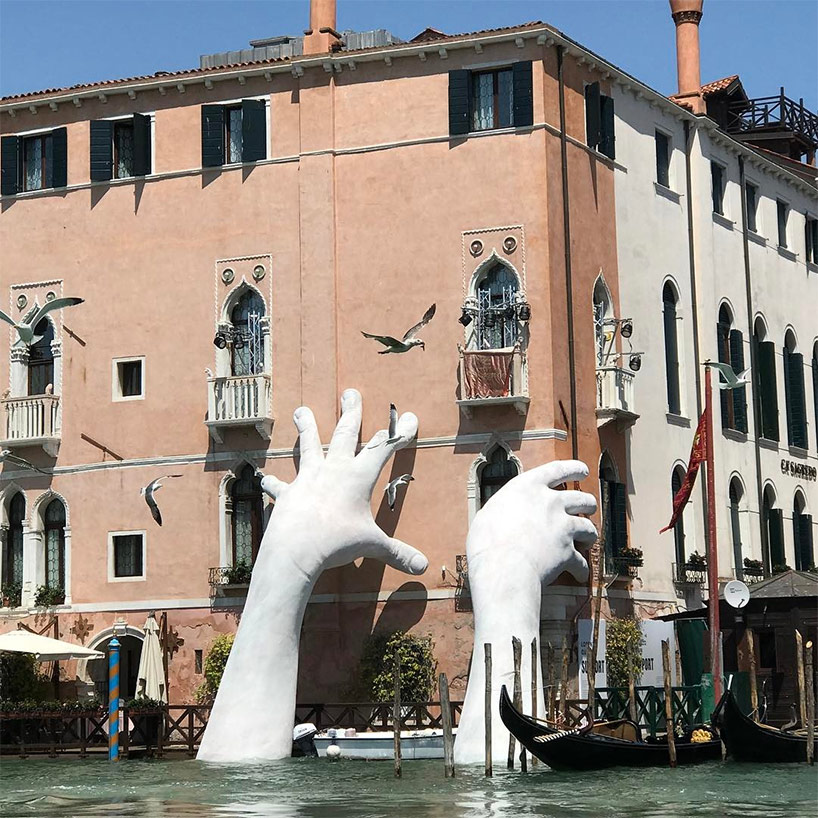 image © lorenzo quinn
during the venice art biennale 2017, italian artist lorenzo quinn erected a giant sculpture featuring two large hands emerging from the grand canal. represented by the halcyon gallery, the massive sculpture acts as a bold statement on the effects of global warming. quinn, known to use body parts – and especially hands – in his sculptures, uses the gigantic limbs as a force of nature that braces the canal-side structure, both reinforcing it in the face of decay while at the same time suggesting a force of nature equally capable of destroying it.
5 – paris' pigalle basketball court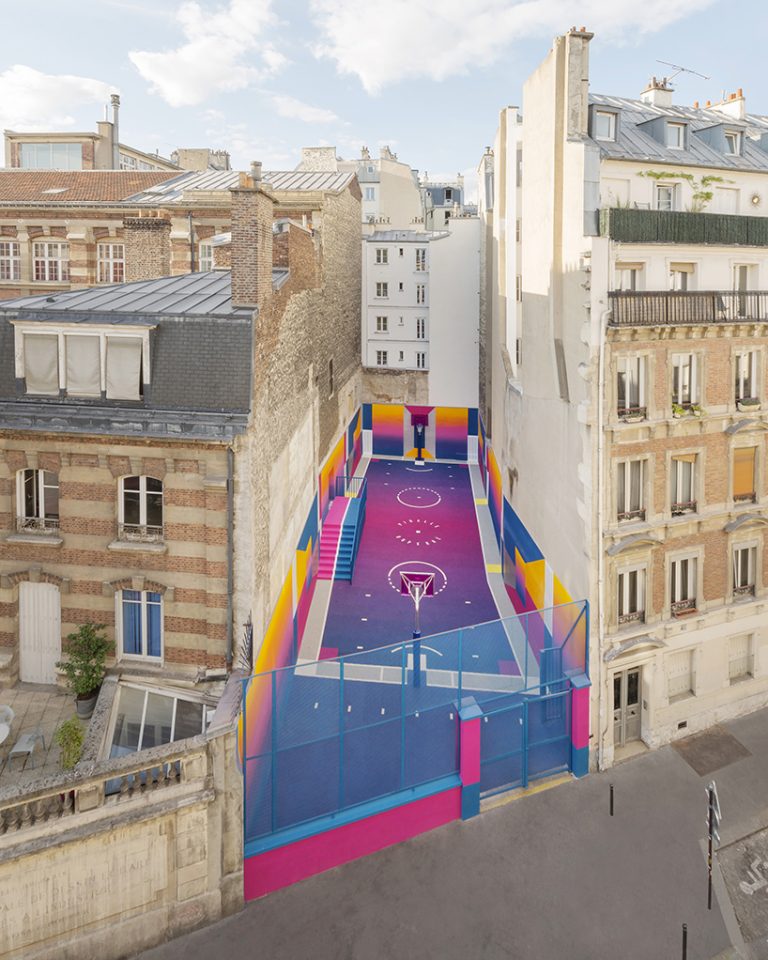 image by sebastien michelini
french fashion brand pigalle teamed up with parisian creative agency ill-studio and NIKElab to tranform a basketball court in paris into a colorful site with a fresh and funky aesthetic. the walls and floor are canvassed by a punchy palette of pink, purple, yellow, and indigo hues which correspond with pigalle's latest clothing collection inspired by the '90s basketball aesthetic. the court is sandwiched between a pair of apartment buildings in paris and is boldly contrasted with the surrounding parisian apartment buildings
6 – asad raza installs neon orange, interactive tennis court inside 16th century church in milan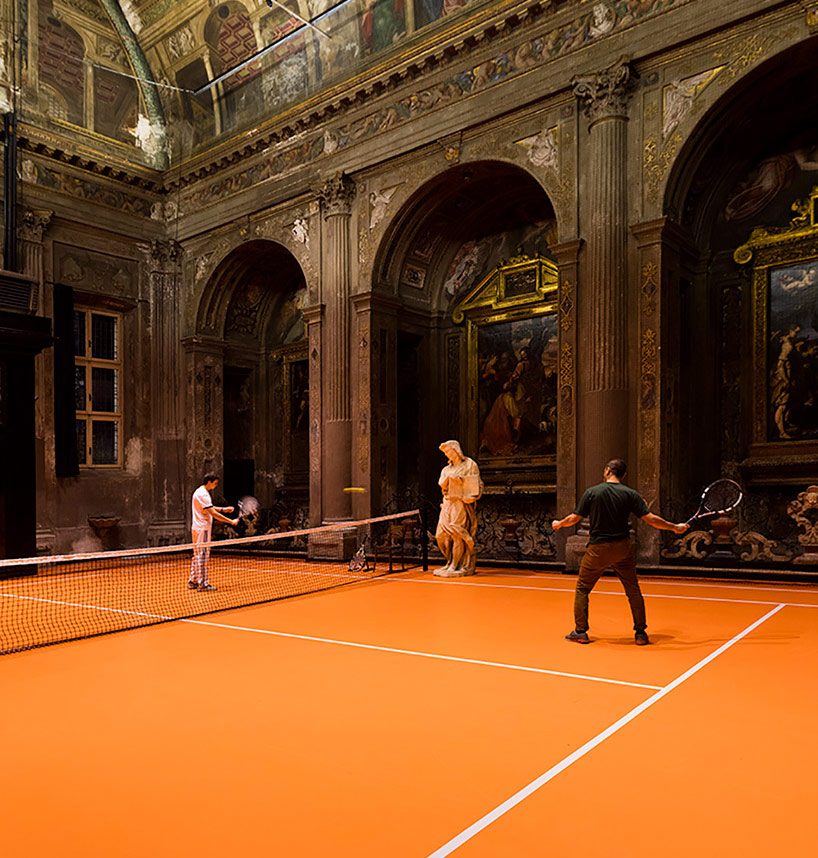 image © andrea rossetti
in november, artist asad raza has installed 'untitled (plot for dialogue)' within the interior space of a late 16th century deconsecrated church. in doing so, milan's la chiesa di san paolo converso has been re-purposed as a contemporary art space. raza's work explores how objects, humans, and non-human beings inhabit space through social practices. within the church's main interior space, the artist introduces a tennis installation, framed by the placement of lines, netting, racquets, iced jasmine tea, scent, and individual coaches. raza has re-purposed the church, a place in which many go to communicate with higher authorities, as a space of personal growth and recreation.
7 – marta minujín builds full-scale parthenon replica from 100,000 banned books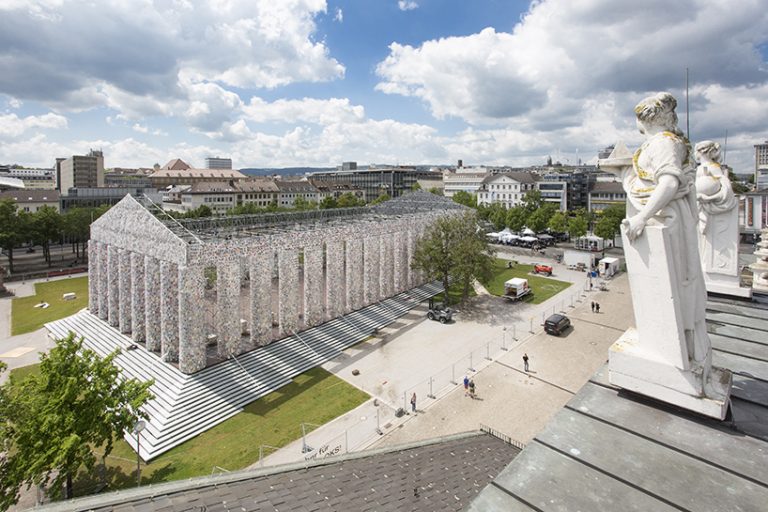 image © roman maerz
back in july, argentine artist, marta minujín created a full-scale architectural replica of athens' magnificent parthenon using 100,000 banned books from all over the world, collected from public donation. in homage to the history of the site, the colossal structure stands on friedrichsplatz — a park where thousands of books were burned during the 1933 'aktion wider den undeutschen geist' (campaign against the un-german spirit). 10,000 collected texts used to give shape to the installation have been secured in protective wrapping and mounted to a monumental colonnade and open roof structure, mirroring the architecture of the anicent greek temple.
8 – sperm whale lands on the banks of the seine river to raise environmental awareness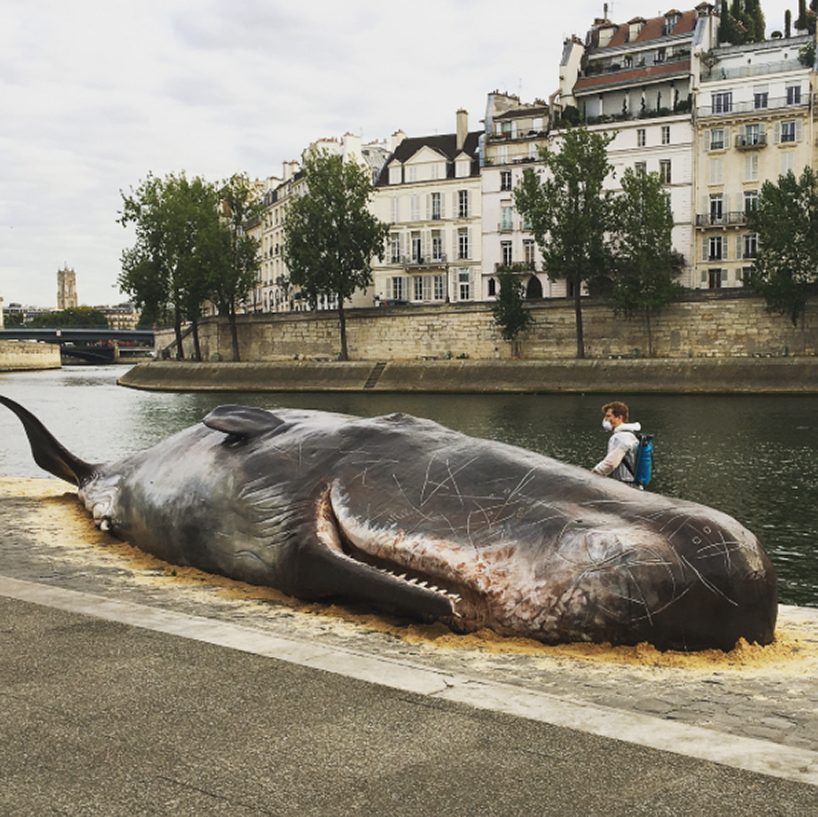 image by ARTS in paris
this is not the first time captain boomer collective has beached a whale on a public space. the artistic group has been doing it since 2013, when the first whale appeared in the thames river in london. since then, other cities like valencia, scheveningen, oostende, antwerp, duisburg and rennes have seen the installation too. to make the project even more believable, the large-scale, hyperreal installation is accompanied by actors dressed as scientists who are there to give more information about this problem and educate people about it.
9 – anish kapoor's endlessly spinning water vortex descends on brooklyn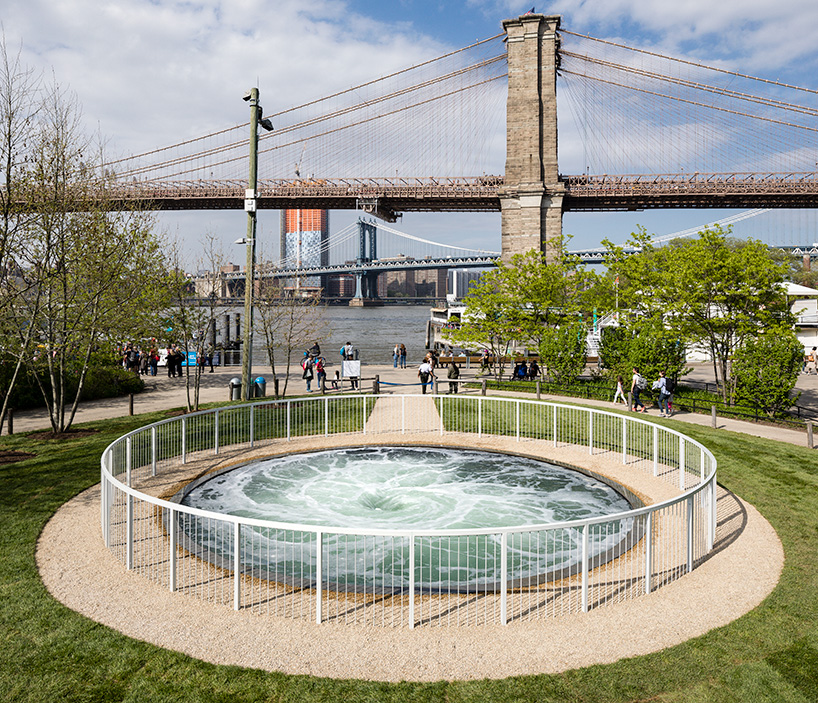 photo by james ewing, public art fund, NY © anish kapoor, 2017
back in may, anish kapoor's travelling installation, 'descension' was brought to new york city at pier 1 in brooklyn bridge park. the continuously spiraling funnel of water penetrates the earth, drawing viewers in to its mystifying and mesmerizing abyss. the work was presented by public art fund as part of its 40th anniversary season, and was unveiled during NYCxDESIGN 2017. spanning 26 feet in diameter, the liquid mass converges in a central vortex, as if rushing water is being sucked into the ground at brooklyn bridge park.
10 – doug aitken creates a mirror-clad 'mirage' in coachella valley's desert landscape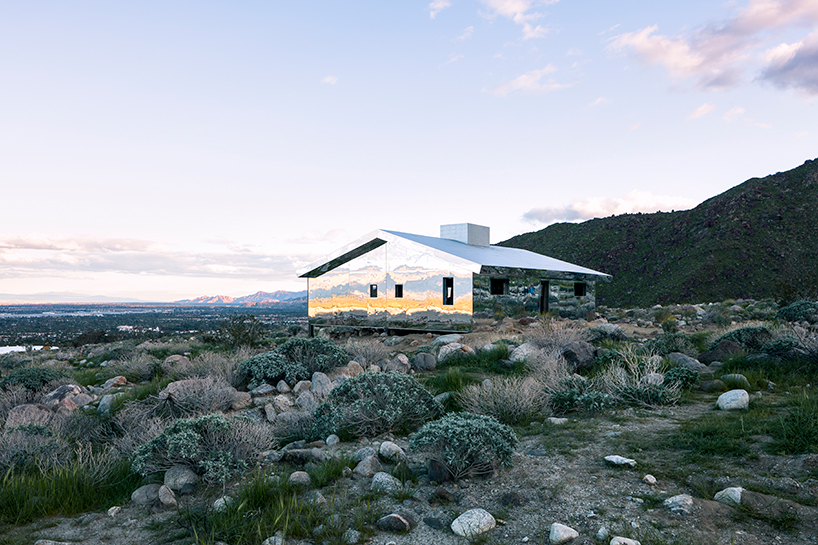 image by lance gerber / courtesy the artist and desert X
in february, doug aitken completed 'mirage' — a typical california ranch style house completely clad in reflective mirrored surfaces. sited at the juncture where the san jacinto mountain range opens up to the coachella valley, aitken's 'mirage' acts as a life-size kaleidoscope, reflecting the vast, arid landscape. framing and distorting its surroundings, the reflective installation changes throughout the day, creating a range of unique experiences. in thinking about the architectural aspects of the artwork, aitken drew from the iconic ranch typology and the rich history of the area, sourcing stylistic cues from frank lloyd wright's highly influential role in shaping the american west.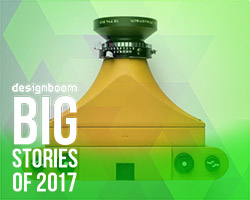 dec 21, 2017
dec 21, 2017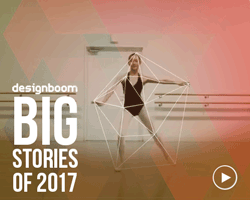 dec 20, 2017
dec 20, 2017
dec 19, 2017
dec 19, 2017
dec 18, 2017
dec 18, 2017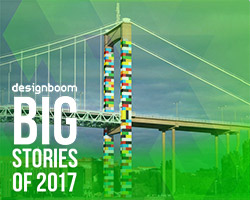 dec 15, 2017
dec 15, 2017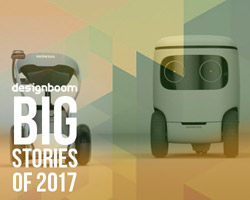 dec 14, 2017
dec 14, 2017
a diverse digital database that acts as a valuable guide in gaining insight and information about a product directly from the manufacturer, and serves as a rich reference point in developing a project or scheme.