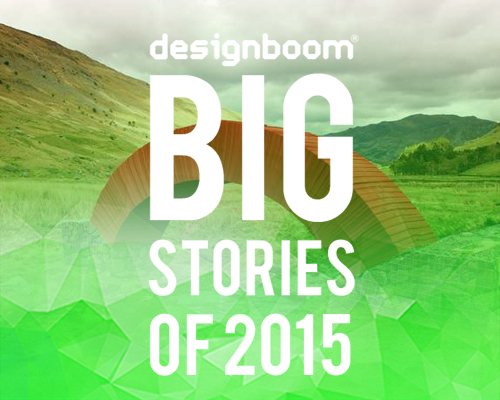 dec 20, 2015
TOP 10 reader submissions of 2015 - art installations

TOP 10 reader submissions of 2015 – art installations
art installations have been filling our world with mesmerizing compositions that give us immersive experiences impossible to forget. this year we received several thousand submissions from our readers, with designers, artists and architects from across the globe sending through a diverse range of works that we have shared with our audience over the last 12 months.
we believe that maintaining an open dialogue with creatives is extremely important, and we are happy to showcase the high level of original projects of our readership. from paper bridges, to projections on cathedral ceilings, we highlight 10 art installations from our reader submissions of 2015.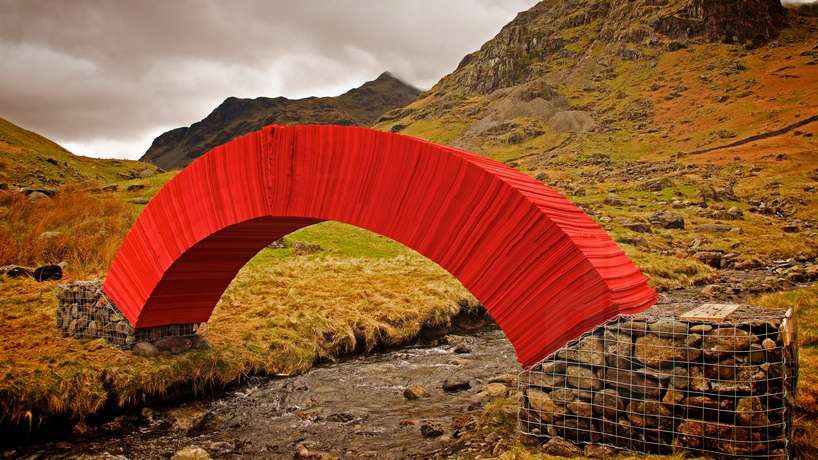 image © steve messam
perched above a stream in the rural lake district national park of cumbria, UK is a bright red foot bridge. asides from its peculiar color, the weight-bearing form has another unique characteristic, it's made entirely of paper. british environmental artist steve messam, as part of the 'lakes ignite' project by lakes culture, combined 20,000 sheets of poppy red paper and four tons of stone to create the piece.
stone-filled cages root the structure to the ground on either side of the river, with an additional wooden form to shape the arc of paper. once the foundations were placed, each sheet was inserted without adhesives or fixings, ending in a smooth, compact crescent. stationery was sourced from one of the UK's oldest paper manufacturers, james cropper, whose products are more commonly found in luxury brands' packaging.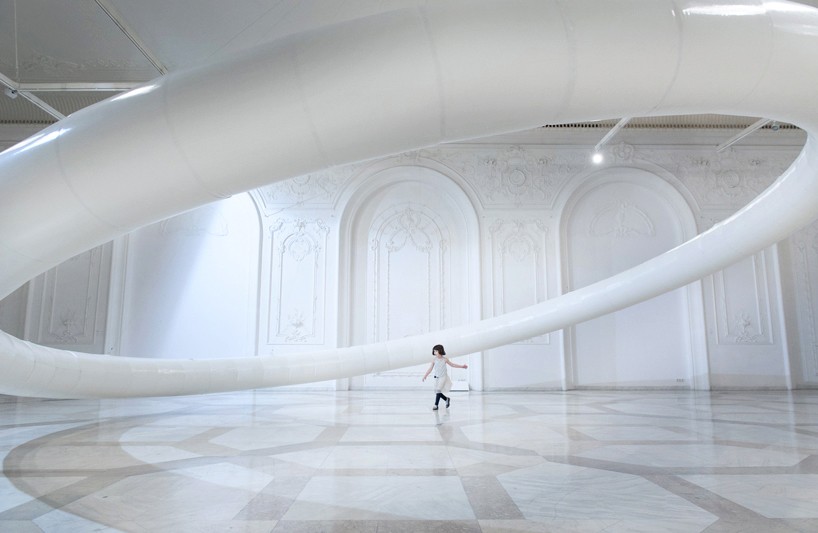 image courtesy of vincent leroy
the muzeul national de arta contemporana — MNAC — in bucharest, romania was the temporary home of the 'boreal halo' by french artist vincent leroy. inside the grand palace, the ten-meter diameter installation slowly rotates, casting a mesmerizing, hypnotic trance over the room. the mass of the object creates an interesting contrast to the stark solidity of the marble floors, striking a tense-balance that gives the structure a sense of lightness. undulating along its pre-determined path, 'boreal halo' fills the otherwise empty space, giving it light and changing viewers' perspectives. visitors to the installation are able to walk around and through, at times being caught in the interior.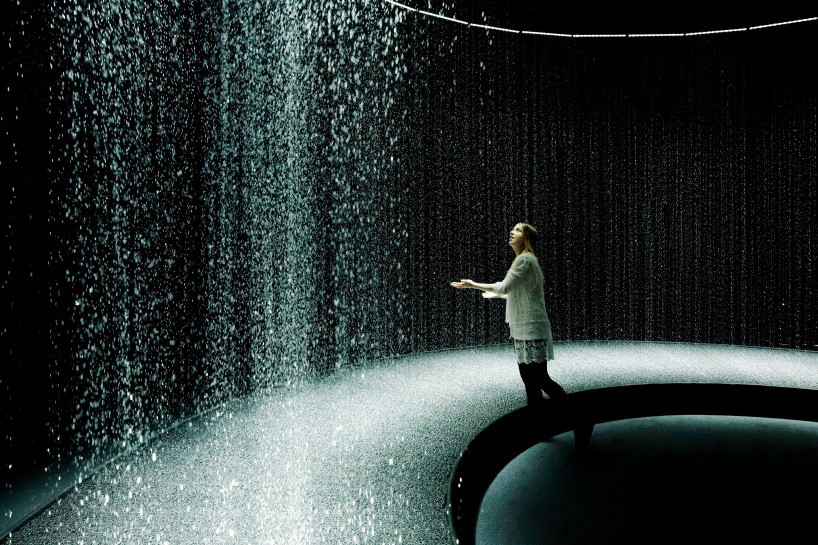 image © takuji shimmura
for the 2015 opening event of éléphant paname art and dance center, parisian DGT architects' presented 'light in water'. the installation was initially presented at milan design week 2011, and was revamped for exhibition once again. the site-specific exhibit provides an immersive and emotional experience via a cascading water fall and light show.
the work was presented in the oldest concrete dome in paris, which called for a circular adaptation to be created for the room. sixteen rings of slotted tubes run along the ceiling, filled with holes that individually leak 60 drops of water per second for a total of three tons of water that continually recirculates.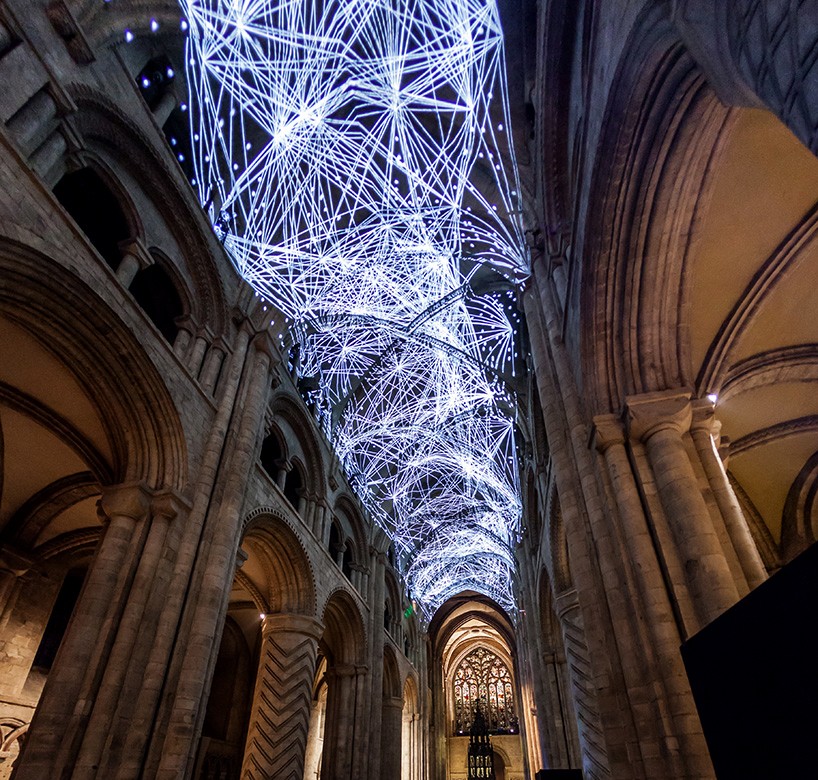 image courtesy of miguel chevalier
for lumiere durham 2015, the UK's largest light festival, miguel chevalier presented the premiere of his artwork 'complex meshes'. the installation took place at the durham cathedral, a building constructed at the end of the 11th century and which represents the most accomplished example of norman architecture in england. following chevalier's 'magic carpets', a projection on the floor of the casablanca cathedral in 2014, 'complex meshes' is a monumental illuminated artwork that highlights the ribbed-vault ceilings of the durham cathedral's central nave — a daring architectural feature which was ahead of its time, which announced the beginning of the gothic art style in architecture.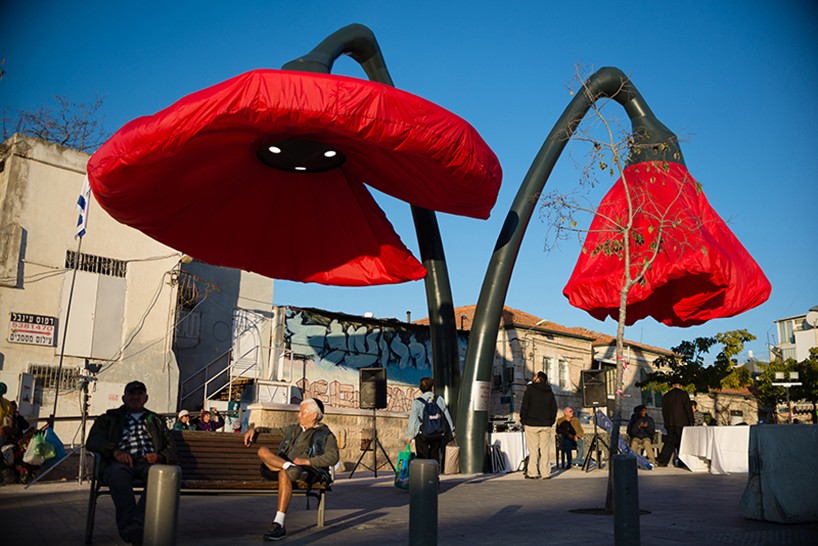 image © dor kedmi
created by HQ architects, 'warde' is an urban installation located in the heart of jerusalem. composed of four 9-meter high by 9-meter wide inflatable flowers, this project is part of the municipality's effort to improve the urban space of the city center and in this specific case, of the vallero's square poor condition. the square is currently divided by a tram line into two urban spaces where facilities such as waste composters and an electricity sub-station patchwork the landscape.
'warde's attempt was not to fight the chaos but instead to try and lighten up the urban space, by spreading around these four elements that have a hint of fantasy, and with their help, overcome the reality of the square. each one of the sculptures is separately inflated and reacts to the situation around it: whenever pedestrians walk by, the flowers are filled with air, therefore they open up and when people walk away, they deflate.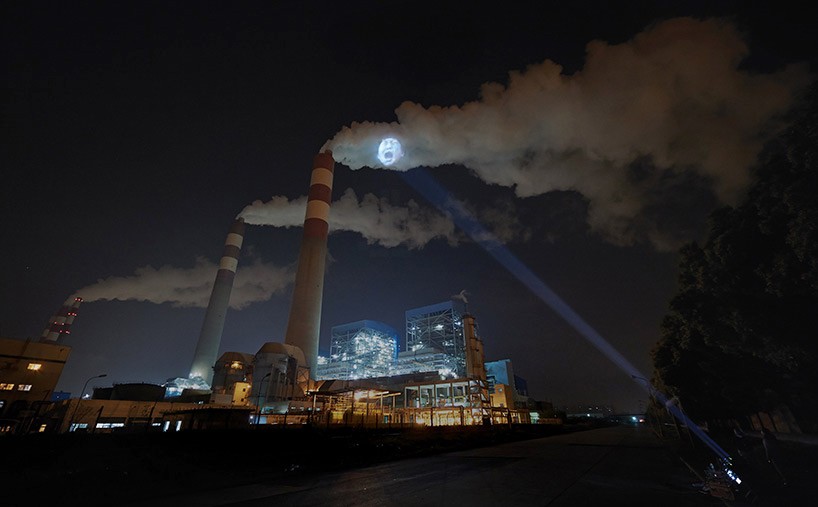 image courtesy of xiao zhu
xiao zhu is a chinese company dedicated to providing clean air to its citizens. the country sees more than 500,000 die every year from causes related in some way to extreme levels of airborne contaminants. like most socially conscious businesses, entering better products into the market is often only a small part of a larger equation; true change lies within education and protest. to make an impact, xiao zhu needed to show the people of china how crucial the issue is, and they did so in the most direct means possible.
in the dark of night, huge beams of light radiated skyward — and directly into the billowing plumes of various factories' smoke. visualized on the cloud-like canvases were dozens of pictures of chinese youth, shown in numerous stages of dismay, pain, and ultimately suffocation.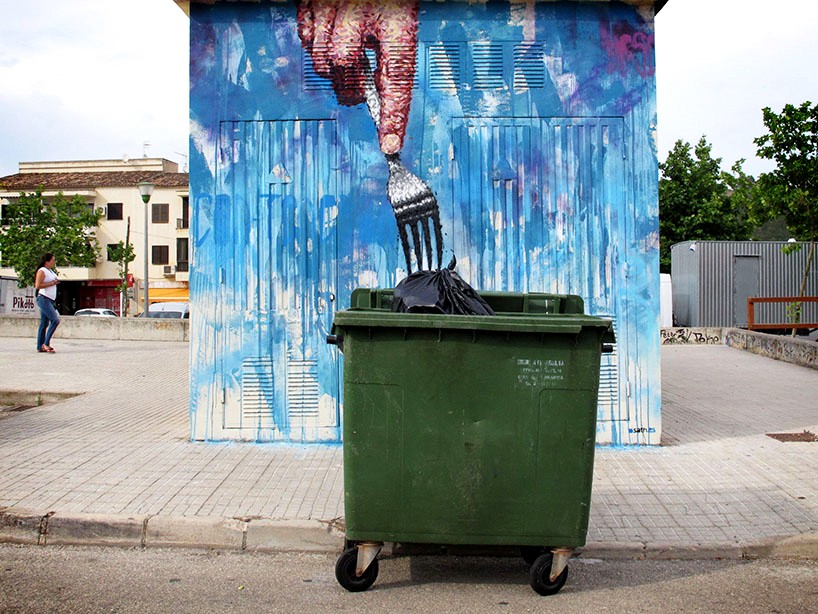 image courtesy of sath
street artist sath has been communicating his curiosities, thoughts, and commentaries since 2002. paint can in hand, sath uses figurative elements to create colorful compositions that teeter on the edge of surreal. every day life situations merge, transform, and surface once again in entirely different contexts. sath works primarily in spain and thailand, using the urban environment and canvas interchangeably.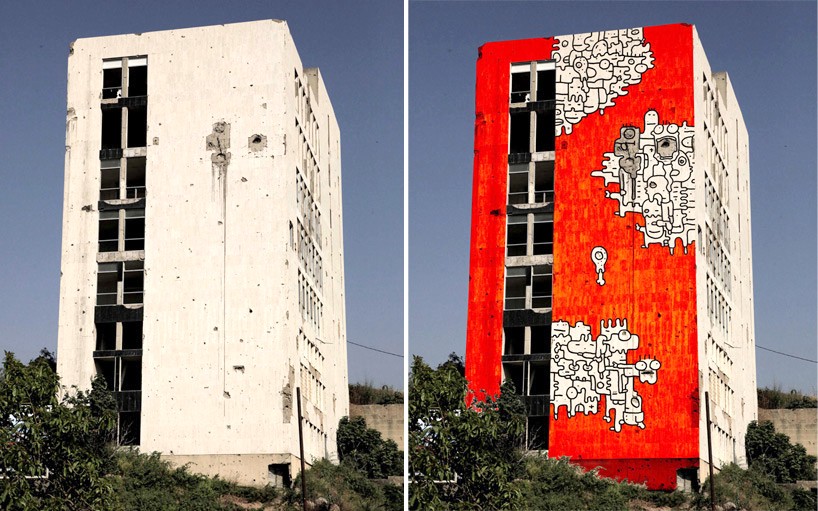 image courtesy of jad el khoury
25 years have passed since the end of the lebanese civil war. in that time, physical and emotional wounds have healed — but traces of the conflict still dot the landscape. bullet and rocket holes permanently scar dilapidated buildings, serving no purpose other than reminding witnesses of the barbarism of war. 'war peace' is an attempt to let those who lived it move on. created by lebanese interior architect and artist jad el khoury, the project features massive compositions of 'potato nose' characters that cover the sides of blown out structures. the works don't aim to erase the memory of what happened, but simply hopes to bring joy rather than despair.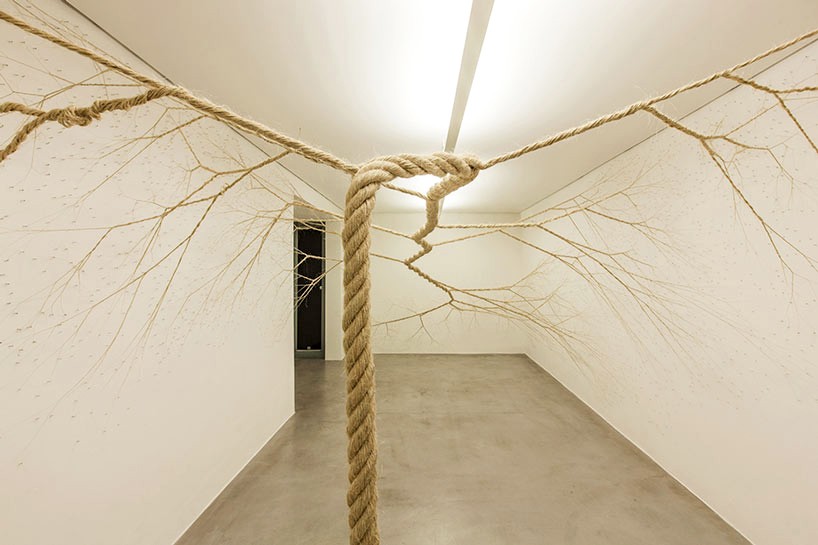 image courtesy of gui gomes
for over five years, artist janaina mello landini of mello+landini has continued the 'ciclotrama' series. the rope-based, site specific installations are physical maps displaying an assortment of paths, movements, and fluxes. the social cartography of individual networks show the infinite interconnectedness and interdependence of personal trajectories throughout a system, society, and the world as a whole.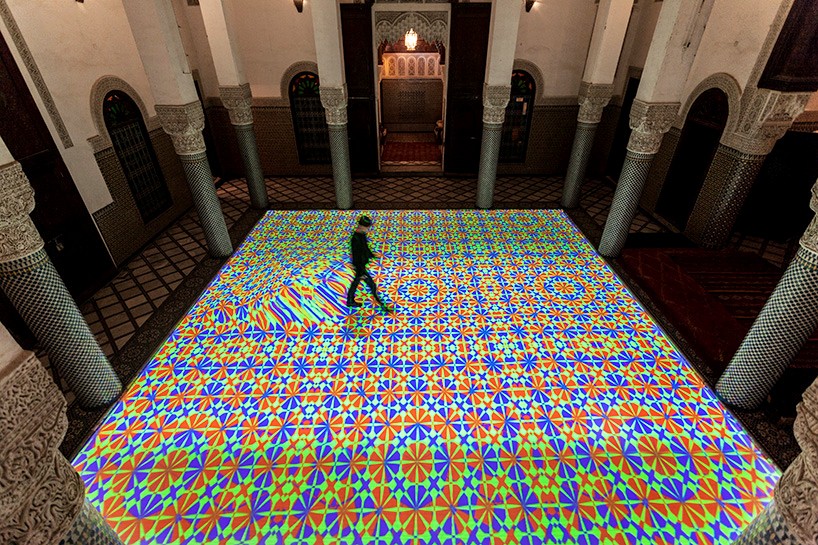 image courtesy of miguel chevalier
miguel chevalier was influenced by moroccan culture when creating 'digital arabesques 2015′, a generative and interactive installation shown in association with four french institutes in morocco. the work recreates moroccan artistic traditions with a digital medium, creating massive sensor-controlled carpets of light. multicolored digital scenes compose patterns reminiscent to the art of zelliges, arabesques, mosaics, and the world of mashrabiya–latticework.
to be part of this cultural network, we invite you to join the conversation and submit your work.
see other reader submission articles from the categories of art, architecture and design here.
dec 31, 2015
dec 31, 2015
dec 29, 2015
dec 29, 2015
dec 29, 2015
dec 29, 2015
dec 28, 2015
dec 28, 2015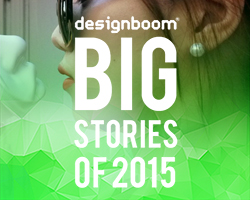 dec 27, 2015
dec 27, 2015
dec 26, 2015
dec 26, 2015
a diverse digital database that acts as a valuable guide in gaining insight and information about a product directly from the manufacturer, and serves as a rich reference point in developing a project or scheme.