see designboom's TOP 10 stories archive:



TOP 10 ART INSTALLATIONS OF 2016
from a 100,000 square meter golden pier that wrapped a floating dock on an italian lake, to the monumental structures built for burning man in nevada's black rock desert, 2016 saw a number of large scale installations completed around the globe. each of the projects — whether they be temporary, public, permanently fixed, interactive, or informative in nature — engages audiences with a memorable experience. continuing our annual review of the year's BIG stories, we take a look at the TOP 10 art installations that caught our eye in 2016.
CHRISTO'S FLOATING PIERS IN LAKE ISEO, ITALY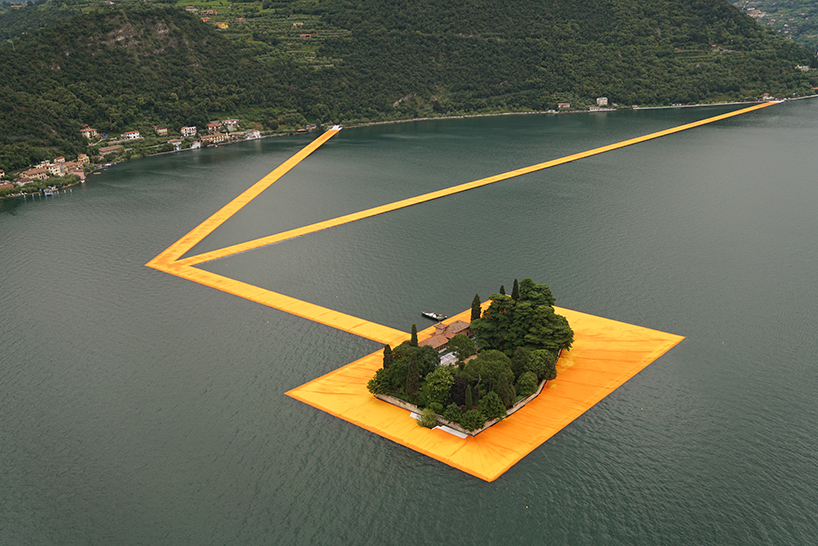 photo by wolfgang volz © christo
one of the most highly-anticipated projects of the year, christo's 'floating piers' comprised 100,000 square meters of shimmering yellow fabric that wrapped a floating dock and connected various points on italy's lake iseo. undulating with the movement of the waves, visitors experienced 'the floating piers' as they walked from sulzano to monte isola and on to the island of san paolo, which it completely encircled. the 3 kilometer-long walkway extended across the water, with surrounding mountains offering a bird's-eye view of a golden network of passageways that lead in and around the town. the fabric continued along 1.5 kilometers of pedestrian streets in sulzano and peschiera maraglio.
read more about this installation on designboom here.
JR INSTALLS LARGER THAN LIFE SIZED ATHLETES IN RIO DE JANEIRO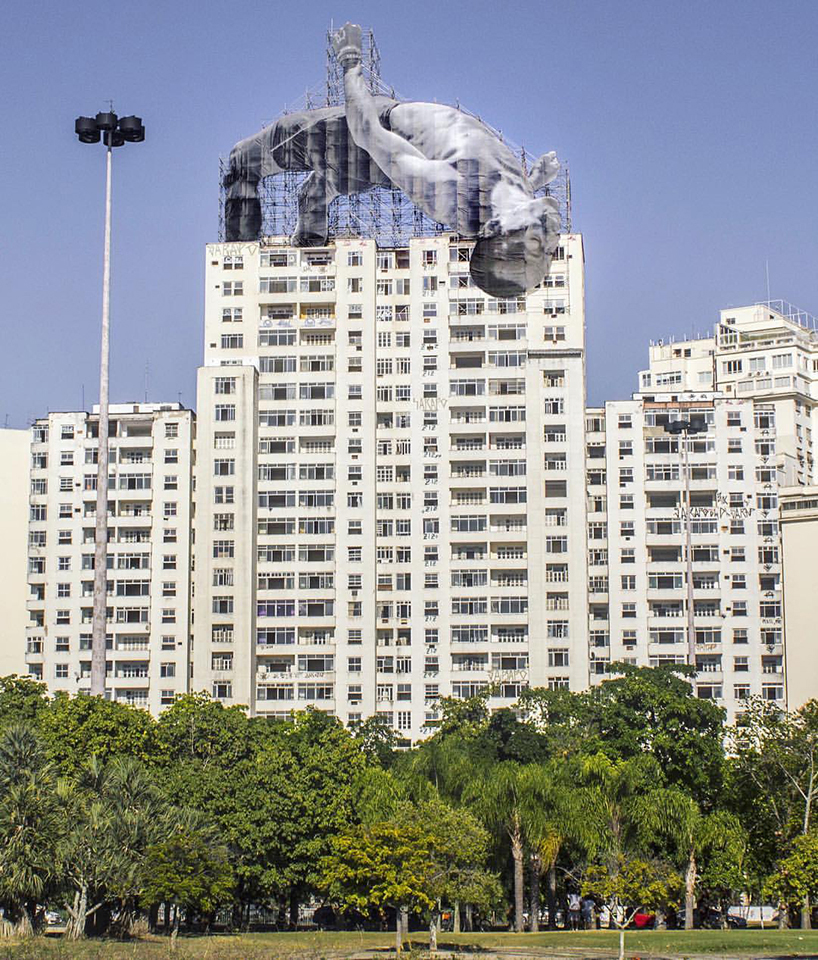 image courtesy of JR
in celebration of the olympic games in rio de janeiro, artist JR created two new public artworks in the city. the installations build upon the french artist's ongoing 'inside out' project, but adopt a completely novel material in their realization: construction scaffolding. JR depicted two larger than life athletic figures on metal poles, placed in dramatic locations across the urban landscape of rio. the first sculpture is installed on the roof of a large residential complex, comprising a massive arrangement of scaffolding canvassed by the massive image of a high jumping athlete. JR explains on his instagram that the monochromatic figure represents mohamed younes idriss — a 27 year old from sudan who lives and trains in cologne, germany.
read more about this installation on designboom here.
UGO RONDINONE ERECTS SEVEN MAGIC MOUNTAINS IN THE NEVADA DESERT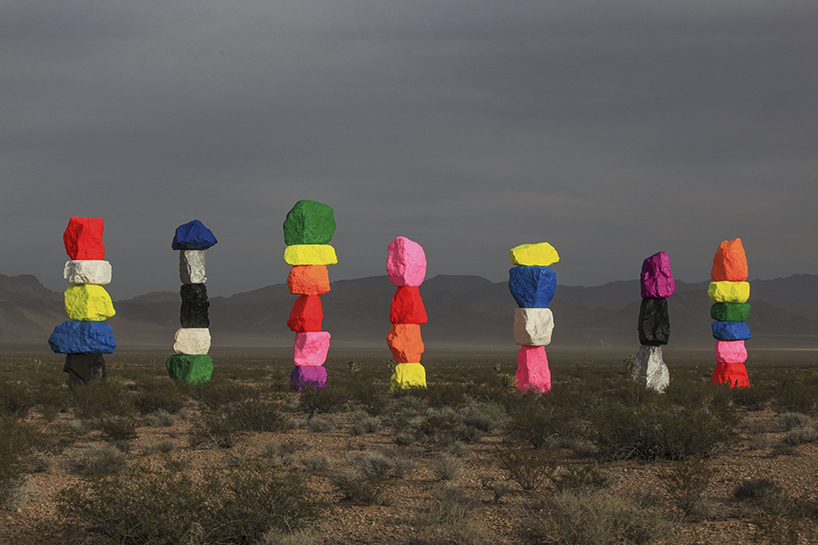 photo by gianfranco gorgoni /courtesy of art production fund and nevada museum of art
in the desert south of las vegas, nevada, swiss artist ugo rondinone erected a monumental installation that rises from the rocky terrain. presented by art production fund and nevada museum of art, 'seven magic mountains' comprised a sequence of colorful colossal stone configurations that seemingly defy gravity with their formations. the stacked shapes, reminiscent of naturally-occurring hoodoos, seem simultaneously balanced between stability and collapse. nearly five years in the making, these mammoth cairns evoked the art of meditative rock balancing, as they negotiate the landscape between geological formations and abstract compositions.
read more about this installation on designboom here.
LUDOVICO EINAUDI ORCHESTRATES FLOATING PERFORMANCE IN THE ARCTIC OCEAN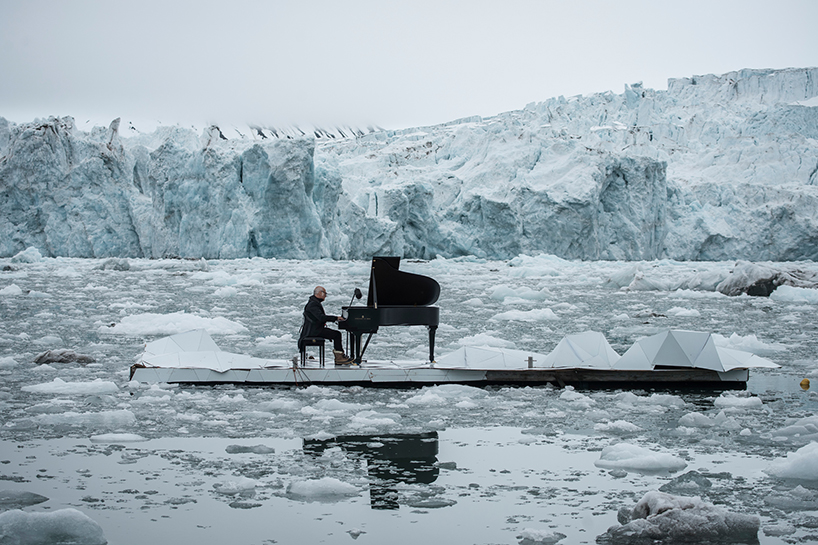 image © pedro armestre / greenpeace
this year, world renowned italian pianist and composer ludovico einaudi performed a historic concert set on a floating installation in the arctic ocean. against the icy backdrop of the wahlenbergbreen glacier in svalbard, norway, einaudi played one of his own compositions 'elegy for the arctic' for the first time. a monumental early retreat of sea ice as a result of climate change allowed for the construction of an artificial iceberg installation made from more than 300 triangles of wood, on which a grand piano sits. through his performance, einaudi added his voice to those of eight million people from across the world demanding protection for the arctic, from threats like oil drilling and destructive fishing.
read more about this live installation on designboom here.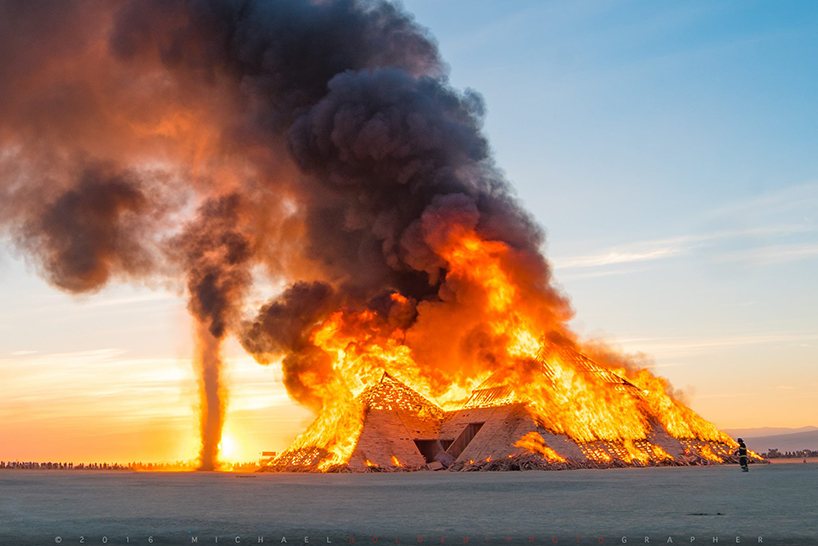 image © michael holden, @michael.holden.photographer
this year's burning man — the temporary metropolis erected annually in nevada's black rock desert — included mind-bending artworks installed across the desert landscape. these creative interventions have become an important aspect of burning man culture, with mutant vehicles, art cars, and the annually-built temple forming venues and visionary works for burners to experience and enjoy. this year's art theme 'da vinci's workshop' drew from the historic convergence of art, innovation and enlightened patronage that erupted in europe during the italian renaissance. featured projects endeavored to recreate this fusion of art, science and technology, making black rock city 'the epicenter of a new renaissance'.
read more about the installations on designboom here.
AI WEIWEI WRAPS BERLIN'S KONZERTHAUS WITH 14,000 REFUGEE LIFE JACKETS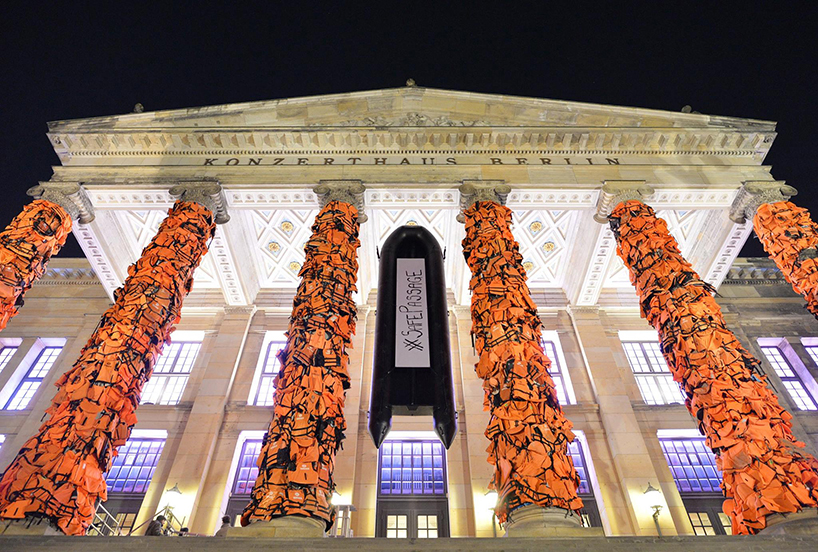 photo by oliver lang / courtesy of konzerthaus berlin
in an effort to draw attention to the ongoing humanitarian crisis, ai weiwei used refugee life jackets discarded and collected in lesvos to wrap the pillars of the landmark konzerthaus in berlin. the six columns that receive visitors to the concert hall were temporarily draped in 14,000 orange vests, each carefully attached to one another and affixed to the supporting colonnade. the sheer abundance of jackets used by the artist highlights the countless lives changed by the crisis, with every single vest reflecting the individual life of a man, woman or child whose landing at lesvos is just the beginning.
read more about this installation on designboom here.
YAYOI KUSAMA DOTS PHILIP JOHNSON'S GLASS HOUSE IN A RED POLKA PATTERN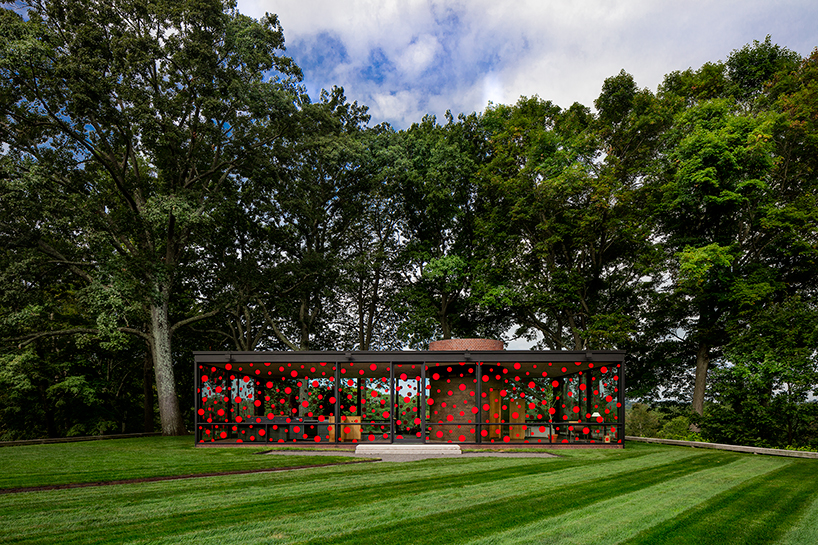 photo by matthew placek
yayoi kusama continued her engagement with philip johnson's legendary glass house by creating the experience of an 'infinity room' using the architecture itself. covered in red polka dots, the glass house became a one-of-a-kind 'infinity room', signature to kusama's oeuvre. 'my desire is to measure and to make order of the infinite, unbounded universe from my own position within it, with polka dots. – in exploring this, the single dot is my own life, and i am a single particle amongst billions,' kusama says. directly engaging with the architecture of site, large circular graphics wrapped the house's windows, walls and doors, complementing its structure and aesthetics. in a parallel scenario where philip johnson built the glass house as his own private universe, kusama too constructed an individual and personal world through the repeated representation of the polka dot.
read more about this exhibition on designboom here.
KATHARINA GROSSE COLORIZES ABANDONED AQUATICS BUILDING IN NY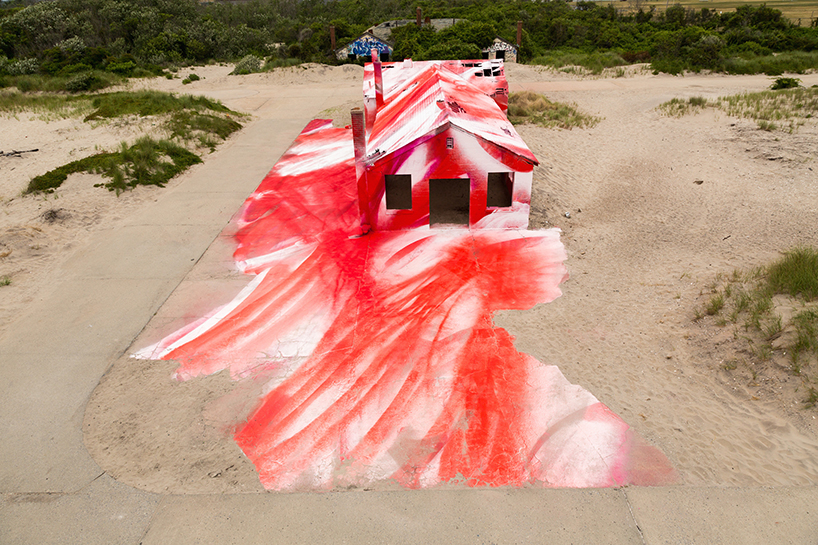 photo by pablo enriquez
german artist katharina grosse realized a site-specific installation at new york's fort tilden — a vast former army installation on the rockaway peninsula in queens. grosse turned its decaying aquatics building into a monumental artwork, reflecting the bold and vibrant colors of sunset in the rockaways by spraying brightly colored paint directly onto the structure. her approach — which has seen her color the landscape one of philadelphia's major transportation routes — highlights the potential of painting as a medium, and accentuates the character of this manmade structure and its natural surroundings. the installation also seeks to memorialize the building, which was rendered structurally unsound by hurricane sandy in 2012 and is set to be demolished in late 2016.
read more about this exhibition on designboom here.
EDOARDO TRESOLDI RESURRECTS ARCHEOLOGICAL REMAINS IN PUGLIA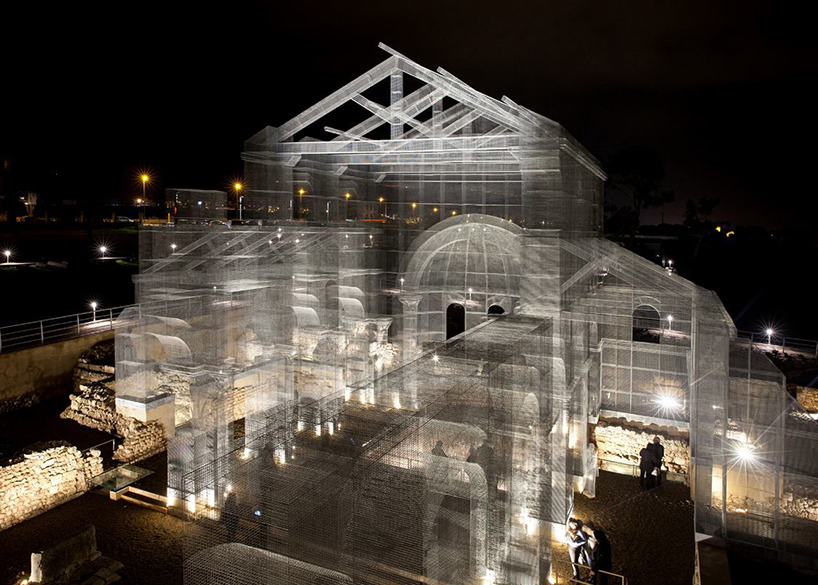 image © blind eye factory
in the southern italian region of puglia, the historic park of siponto is known as a site of great archaeological significance. alongside several artifacts emblematic of apulian-romanesque architecture, the land hosts the ancient remains of an early christian basilica, illustrating the town's role as one of the most important dioceses in the region. on the site of this early church, italian artist edoardo tresoldi constructed a monumental wire mesh installation that simulates the ancient town's architectural quality. the sculpture, titled 'basilica di siponto', occupied the vast space as a light and transparent volume, resurrecting the archaeological remains as a sculptural form for visitors to experience and explore. layers of mesh metal intersected and overlapped to form cavernous archways, soaring columns and a romanesque roof.
read more about this exhibition on designboom here.
BIANCOSHOCK HIDES MINIATURE UNDERGROUND ROOMS INSIDE MANHOLES IN MILAN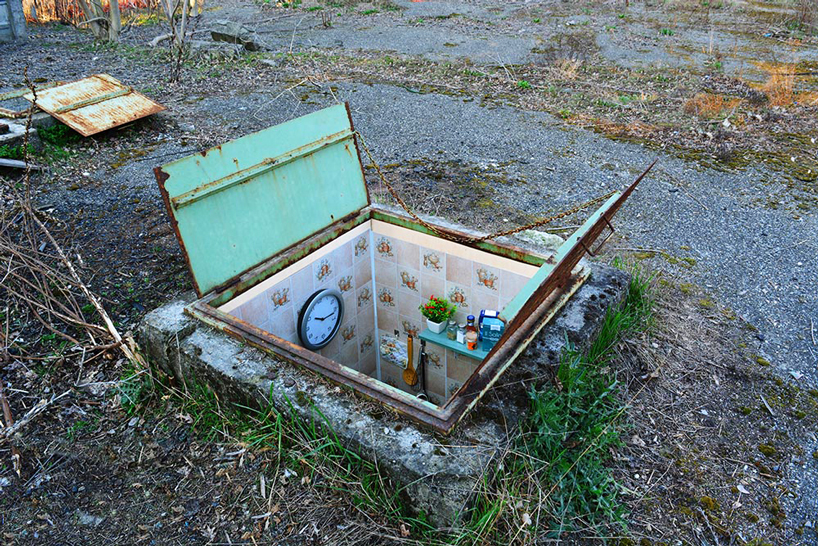 images courtesy of biancoshock
in the lodi district of milan, italian artist biancoshock turned abandoned manholes into subterranean dwellings. the three underground rooms created for the series 'borderlife' have been situated inside vacant maintenance vaults and hidden beneath heavy metal doors. the spaces included a tiny kitchen, with hanging utensils and a wall clock; a minuscule bathroom, with an attached shower and towel; and a small, wallpapered hallway featuring a painting and hat. the interventions intend to reflect upon the living conditions of people who are forced to inhabit severely confined spaces — particularly those who occupy manholes.
read more about this exhibition on designboom here.
Save
Save
Save
Save
Save
nina azzarello
I designboom
dec 15, 2016
a diverse digital database that acts as a valuable guide in gaining insight and information about a product directly from the manufacturer, and serves as a rich reference point in developing a project or scheme.
designboom will always be there for you
milan, new york, beijing, tokyo

,
since 1999