TOP 10 body art projects of 2014
whether painstakingly sewn, robotically drawn, or shaved away, 2014 saw a number of international artists using their limbs, hair and skin as a living canvas in their creative projects. these atypical mediums have been the starting points for artists such as ted lawson — who used his own blood to intravenously imprint a life-sized, nude self-portrait — and michael allen, who shaved a font from his face for 'alphabeard'. take a look below at designboom's most popular body art articles of 2014.
fantich & young implants teeth into the soles of mary janes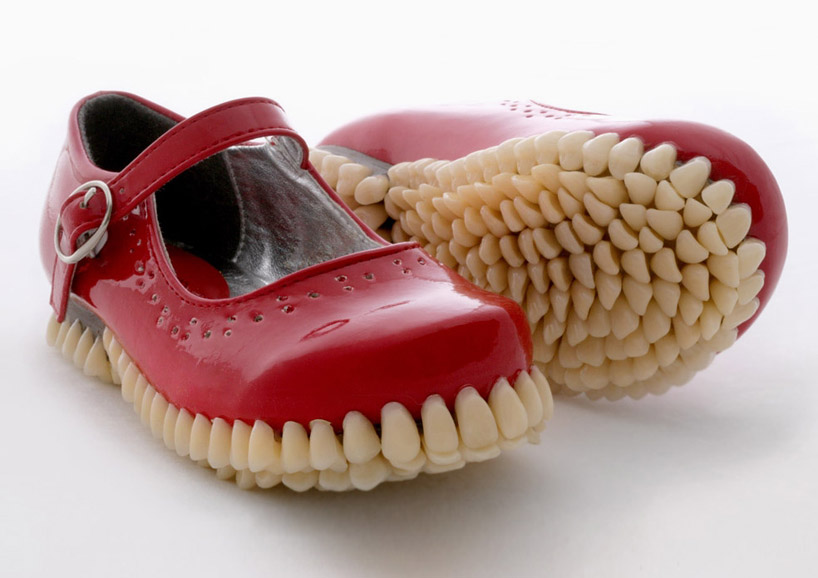 image courtesy of fantich & young
dominic young and mariana fantich of british studio fantich & young have added to their line of shoe sculptures with 'apex predator' for young girls. the pair of youth footwear are mary jane style, with hot red patent red surfaces and a buckled strap. at their sole, instead of the traditional rubber bottom, the creative duo have implanted hundreds of individual back and front teeth dentures into the base. the result transforms the otherwise adorable wearable into something a bit more sinister, resulting in a distributing twist on a classic childhood item.
robotic blood printer draws ted lawson's nude self-portrait

image courtesy of ted lawson
'drawing blood' takes on a different description for brooklyn-based artist ted lawson's 'ghost in the machine': a life-sized, nude self-portrait rendered from his own bodily fluid. fed intravenously to a CNC machine, lawson's blood traverses through the mechanical parts, while a robotic arm attached to the device — programmed to trace the designated illustration — carefully maps out the human form. 'I have always used many different technologies to create my work and the goal is usually to find a way to turn those towards something organic and human.' lawson tells designboom 'I'm generally not into doing selfies, particularly nude ones, but when I came up with the idea to connect my blood directly to the robot CNC machine, it just made too much sense to not try one as a full nude self-portrait.'
25 countries photoshop esther honig to make her beautiful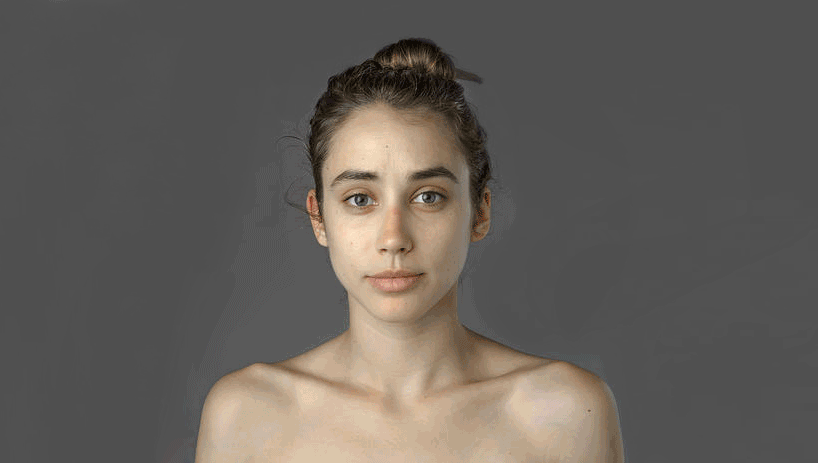 gif by designboom
the standard of what is considered to be beautiful is geographically relative, varying across cultures on a global level. in a project which manifests these tendencies on a visual scale, journalist esther honig has created a photographic series 'before & after', in which she contacted 40 individuals, from more than 25 countries and made a simple request: 'make me beautiful'. she sent an unedited photo of herself to graphic designers (some experts in their field, others amateur) to countries like sri lanka, ukraine, the philippines, and kenya, hoping that each creative would source their personal perception and cultural conclusions of beauty to enhance her original image. 'photoshop allows us to achieve our unobtainable standards of beauty' honig describes 'but when we compare those standards on a global scale, achieving the ideal remains all the more illusive.'
Y&R grow animal beards for schick's free your skin campaign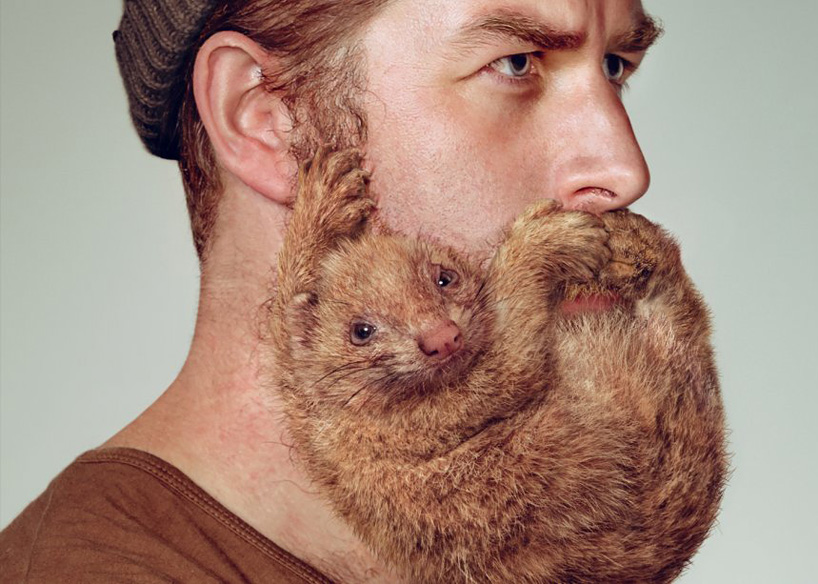 image courtesy of electric art
the beard trend has quickly become an international craze and grooming brands, like razor company schick, aim to encourage the regular trimming and upkeep of burly facial hair. for an advertising campaign, they've teamed up with Y&R new zealand to create a humorous and bizarre series featuring three men with 'beastly' beards. the overgrowing hair has become so burly and unkempt that it has turned into an animal, carrying the message that men should shave before their beards get out of hand. the 'free your skin' series sees the otherwise manly beards as fuzzy criters desperately clinging on to and hugging the mens' chins, warning scruff-lovers to manicure their mustaches before they turn feral.
michael allen shaves a font from his face for alphabeard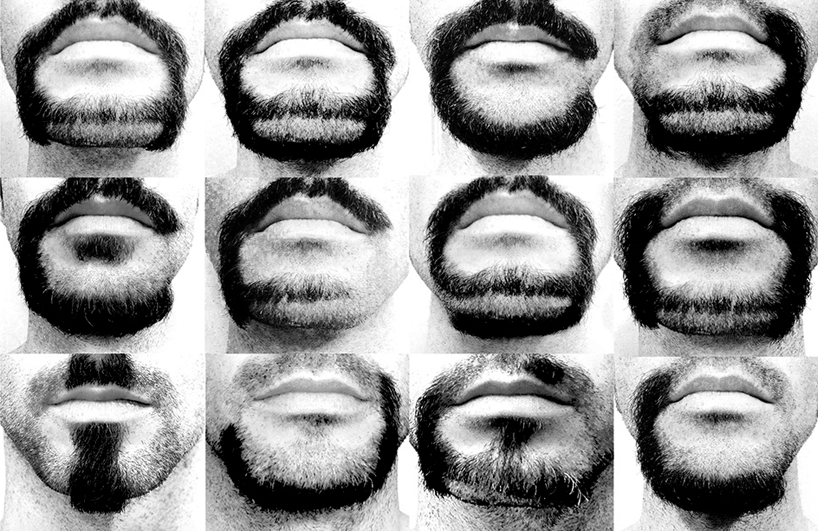 gif by designboom / image courtesy of michael allen
new york city-based designer michael allen has sacrificed many beards in the creation of a typeface shaved away from his own facial hair. for 'alphabeard', allen has carefully sculpted every letter of the alphabet from his beard, including punctuation — a period and a comma. bold and medium variations are formed from the thickness and thinness of the stubble, and hair growth in varying contours and linear arrangements creates each letterform.
the cut condenses 100 years of beauty in 1 minute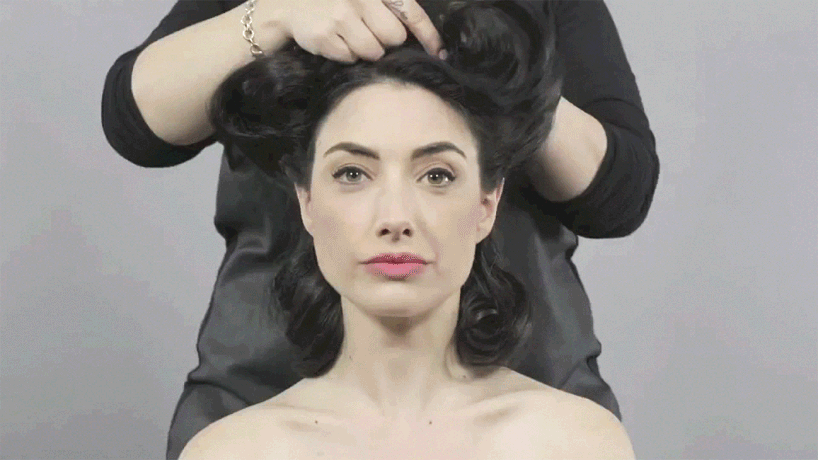 gif by designboom / video courtesy of the cut
throughout the last 100 years, the idea of beauty has drastically and quickly shifted in style and trait. hair trends, makeup design and aesthetic attitude have changed from decade to decade, with a female's overall appearance visually describing to which period of time she may belong. seattle-based creative agency the cut have created a 1-minute video which compresses the looks of every decade from 1910 to 2010. perfectly permed, pin-up-style locks and peachy lipstick define the 1940s, while minimal makeup and unfussy hair can categorize the early 1900s.
david cata sews portraits of his family into the palm of his hand
spanish artist david catá uses his body as a canvas for writing an autobiographical diary. the performance-cum-sculptural, self-inflicted pieces that make up the series 'a flor de piel' are portraits of the faces of people who have left their mark on the artist's life — family, friends, partners and teachers — sewn into the palm of his hand. 'their lives have been interwoven with mine to build my history' catá says, 'every moment lived stays in the memory to finally be forgotten. somehow, this fact is painful, since there are only material things and traces that people leave behind.' the woven flesh work establishes a symbiosis between union, separation, pain and love — a performatic and symbolic action of loss, and preserves the memories through memorial, corporal and videographic footprints.
physical skin manipulations by juuke schoorl reconsider the human body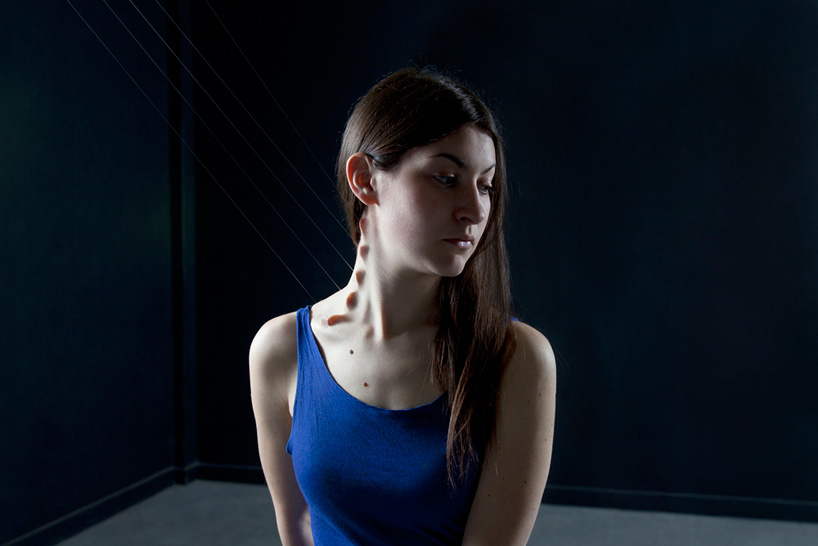 image courtesy of juuke schoorl
the mind bending skin manipulations photographed by dutch artist juuke schoorl warrant a double take: are these unnatural textures inherent characteristics of the individual's body, digital interventions within a computerized space, or are they physical molds applied to the surface of the subject? with her graduation project 'REK' (meaning 'stretch' in dutch) schoorl translated her fascination with the human body and its malleability into a series of images, exploring the aesthetic possibilities of our outer layer.
konstantin kofta mimics human anatomy with wearable accessories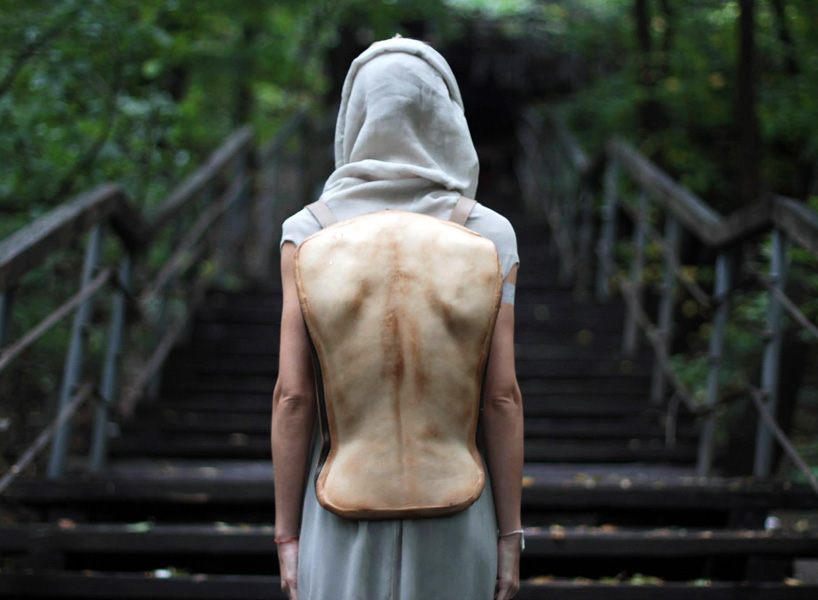 image courtesy of konstantin kofta
kofta — the kiev-based label of designer konstantin kofta — combines seemingly contradictory elements outside the traditional canons of the fashion industry, with garments and wearable accessories that evoke sensuality and surrealism while maintaining practicality. skin, bones, hands and feet are a few of the human-sourced elements which define a series of backpacks, shoes and handbags, each unexpected in its anatomical accuracy and realism. the designer's 'hug', 'born' and 'roots' collections thread a common theme around these corporeal motifs, linking visuals of praying and perched hands, skeletal segments and toes together in a series of couture items.
inside the archives of arkady bronnikov's russian criminal tattoo police files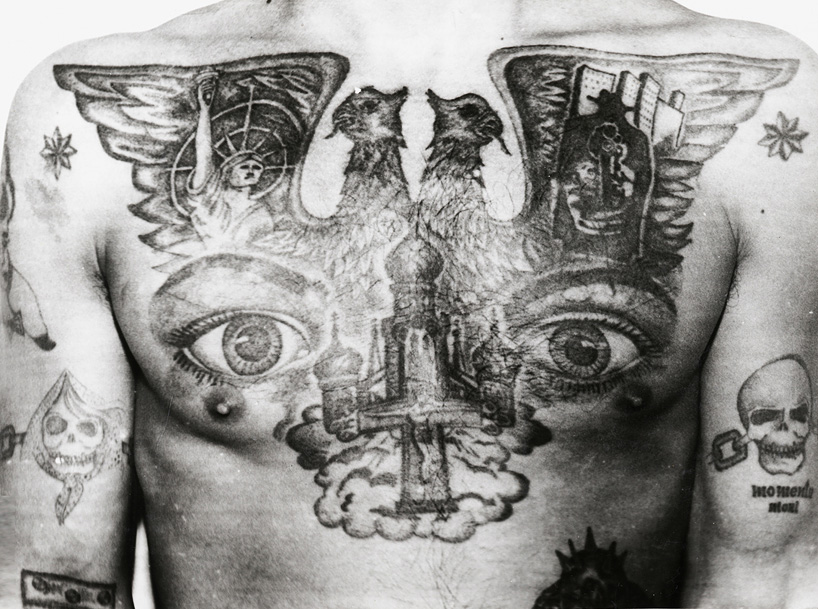 police files print no. 9 / © arkady bronnikov / FUEL
as senior expert in criminalistics at the USSR ministry of internal affairs for more than thirty years, arkady bronnikov can be regarded as russia's leading expert on tattoo iconography. from the mid-1960s­ to mid-1980s, he visited correctional institutions of the ural and siberia regions where he interviewed and documented images of convicts and their body art, going on to build one of the most comprehensive archives of this category. he regularly helped solve criminal cases across russia, exclusively granting the collection for police use, to aid in the identification of culprits and corpses. his photographs of nameless figures present a visceral representation of criminal society; their bodies illustrate an unofficial personal account of their history, imbued in symbolism and metaphor.
london-based design & publishing house FUEL acquired this collection of 918 photographs. a selection of these photographs has been published by FUEL in a book titled 'russian criminal tattoo police files', comprising over 180 photographs and accompanying texts from the arkady bronnikov collection and also featuring a 48-page section printed on pink paper with texts, mug shots and criminal profiling.
nina azzarello
I designboom
dec 11, 2014
a diverse digital database that acts as a valuable guide in gaining insight and information about a product directly from the manufacturer, and serves as a rich reference point in developing a project or scheme.
designboom will always be there for you
milan, new york, beijing, tokyo

,
since 1999