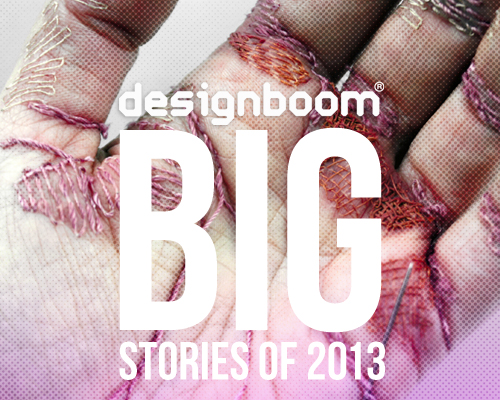 dec 31, 2013
TOP 10 body art of 2013
TOP 10 body art of 2013
above image courtesy of eliza bennett
whether intricately painted, painstakingly sewn, crudely drawn, or dramatically sculpted, 2013 saw a number of international artists using human bodies, limbs, hair, and skin as the canvas in their creative projects. these atypical mediums have been the basis of works like 'the double faced girl' — drawing directly onto the face — and 'a woman's work is never done' — embroidering into the skin — to sculptures and art objects that appropriate bodily attributes in their materialization, as in the skin furniture series and eyelash jewelry. take a look below at designboom's most popular body art articles of 2013.
eliza bennett embroiders a self-inflicted sculpture into her flesh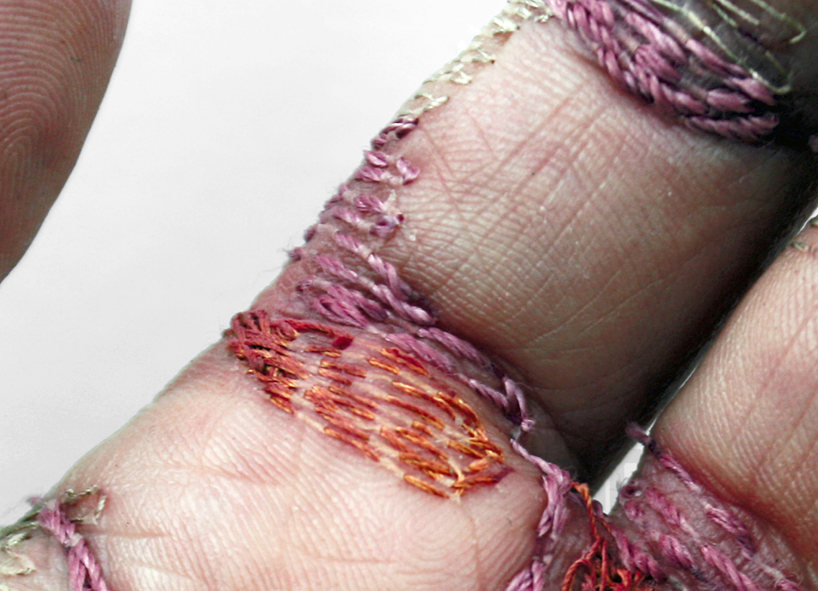 image courtesy of eliza bennett
using her own skin as a canvas, british artist eliza bennett has realized a self-inflicted sculpture, woven into the palm of her hand. 'a woman's work is never done' results as an incredibly worn-looking hand, overworked and fatigued. by using intricate embroidery techniques — traditionally used to symbolize femininity — and applying it to a context of its opposite, bennett challenges the pre-conceived notion that 'women's work' is light and easy.
portraits of the double-faced girl by sebastian bieniek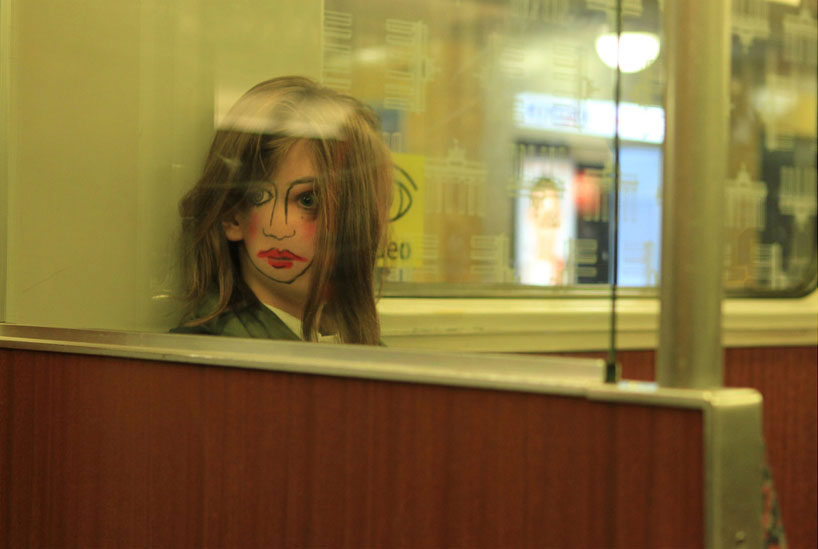 doublefaced no. 22
image courtesy and © sebastian bieniek
berlin-based artist sebastian bieniek unfolds the story of a two-faced female in his series of photographs 'doublefaced'. using an eye pencil and lipstick, bieniek simply draws an image of a face onto the side of skin. the sketch includes only one eye: carefully placed hair hides the rest of the face from view, revealing one, moving eye of the model. the 22 photographs of the hybrid girl expose her routine, capturing the daily life of a female with two faces.
designboom talks to the invisible man liu bolin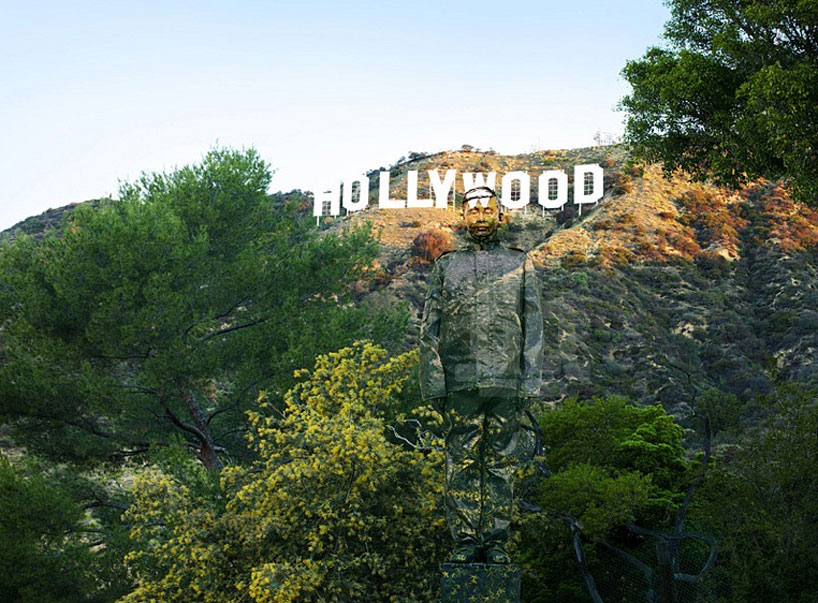 liu bolin, hiding in california no. 2 – hollywood, 2013
photograph, 44 1/4 x 59 inches (112.5 x 150 cm)
in 2013, chinese artist liu bolin has returned to new york's eli klein gallery for 'mask', a multifaceted exhibition that featured new photographs of bolin camouflaged in iconic settings across new york and california as well as a series of sculptures that offer a critical take on traditional peking opera masks. the photographic works include not only new pieces in bolin's 'hiding in new york' project, but also a new series entitled 'hiding in california', that finds the artist nearly invisible against the backdrop of the TED talks stage and hollywood sign among other landmarks.
sculpted skin furniture by jessica harrison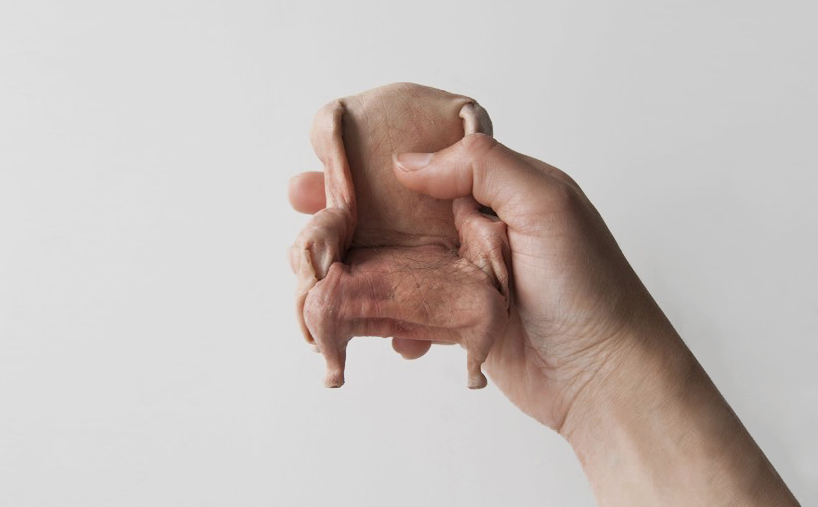 'high back chair', 2009
mixed media
7.5cm x 6cm x 9.5cm
image courtesy of jessica harrison
persuaded by a fascination in human anatomy and bodily functions, UK-based artist jessica harrison sculpts miniature pieces of furniture with materials made from casts of her own skin. each of the small objects are representations of interior items, and are built from the relief of molded structures duplicated from the palms and backs of her hands. a mix of mediums, like unruly strands of hair, complete each figurine in the 'handheld' series, seeking to consider the relationship between interior and exterior spaces of the body.
david lynch's hair and its fine art equivalent


a lynchian bouffant is compared to katsushika hokusai's 'the great wave' in 'the painting' by jimmy chen
what is david lynch known for? some say his films, others would argue his hair. san francisco-based creative jimmy chen has married the iconic variations of the filmmaker's hairstyles with the equivalent in famous artworks. the grid, entitled 'the painting', puts monet's water lilies side by side with a perfectly groomed lynchian bouffant, or perhaps van gogh's starry night can be likened to a silvery shock of hair.
ariana russell's ephemeral skin compositions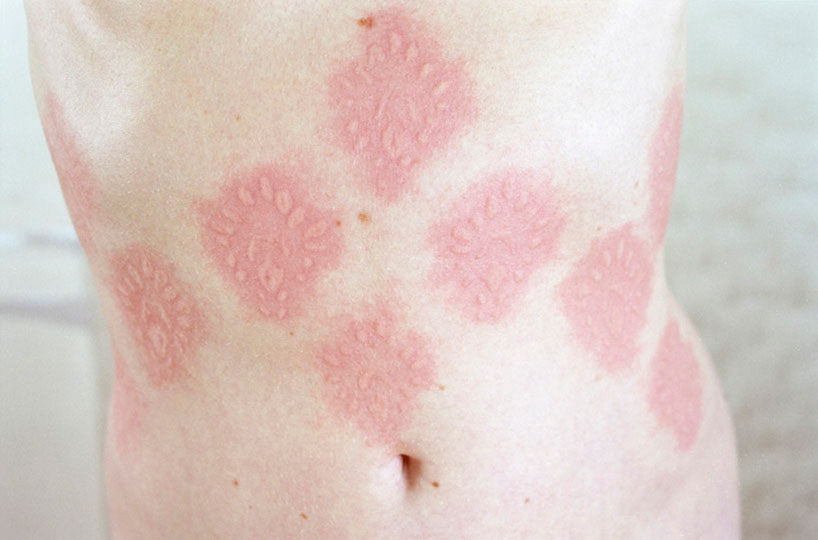 image courtesy of ariana russell
american artist ariana russell responds to the unique components of her skin to draw painless, temporary, and ephemeral designs on her body, visible just long enough to photograph the results. russell has a skin condition called dermatographia, where her immune system releases excessive amounts of histamine, causing temporary welts to appear when the surface is lightly scratched. she adopted the affliction as part of her creative process, rather than being frustrated by her skin's sensitivity and translucency, eventually embracing the flaw and recognizing it as an unconventional source of influence and the foundation of her craft.
ghostly expressions leak through covered faces by ana de orbegoso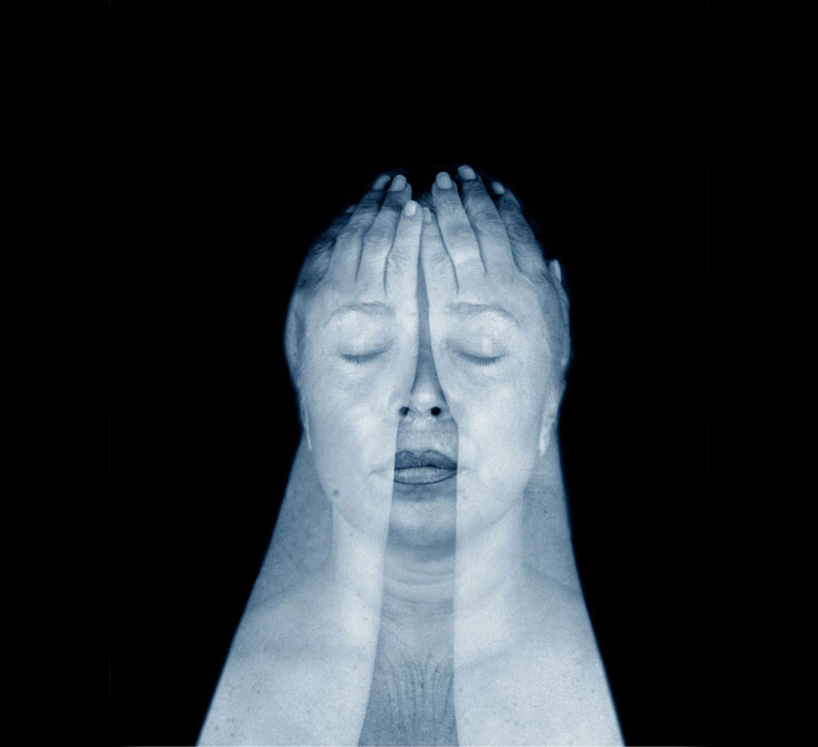 image courtesy of the artist
new york-based artist ana de orbegoso has presented her opus titled 'invisible walls' in an exhibition titled 'paralleling narratives' – a photographic exploration of the barriers which have become embedded into the essence of human beings. the composite images depict the hazy contours of an expression leaking through a hand-covered face – each person's own diaphanous hands symbolizing their own individual, barely perceptible, barrier. this project is about those 'invisible walls' that disconnect us both from each other and from different aspects within ourselves.
made to dislike accessories by remedios vincent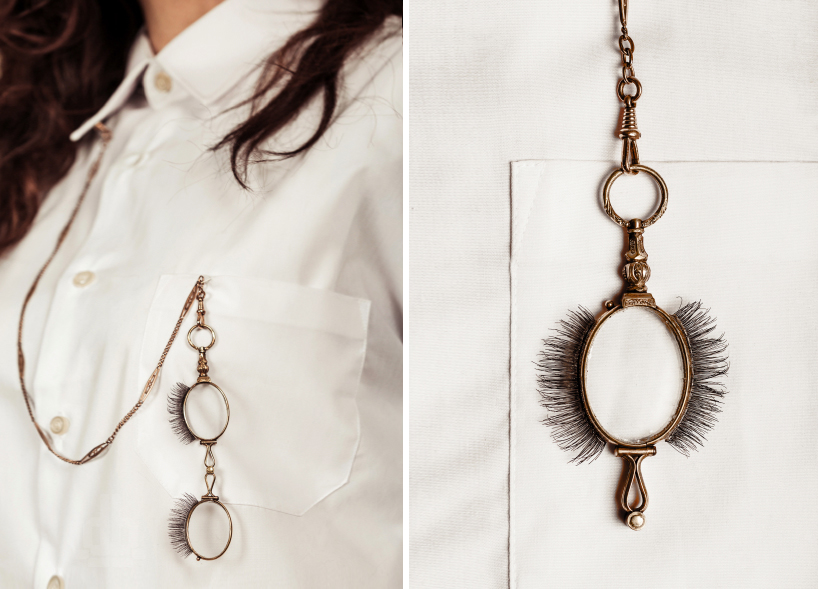 image courtesy the artist
spanish artist remedios vincent experiments with objects that are no longer fit for their original purpose, however, when appropriated to a new context, are granted a new life. the handcrafted collection, titled 'made to dislike', have been created using items bought in antique shops, most of them in existence for more than a century – giving them each their own rich history, fixed with various humanistic elements like teeth, eyelashes, and faux eyeballs.
RMIT students paint anatomical man into human textbook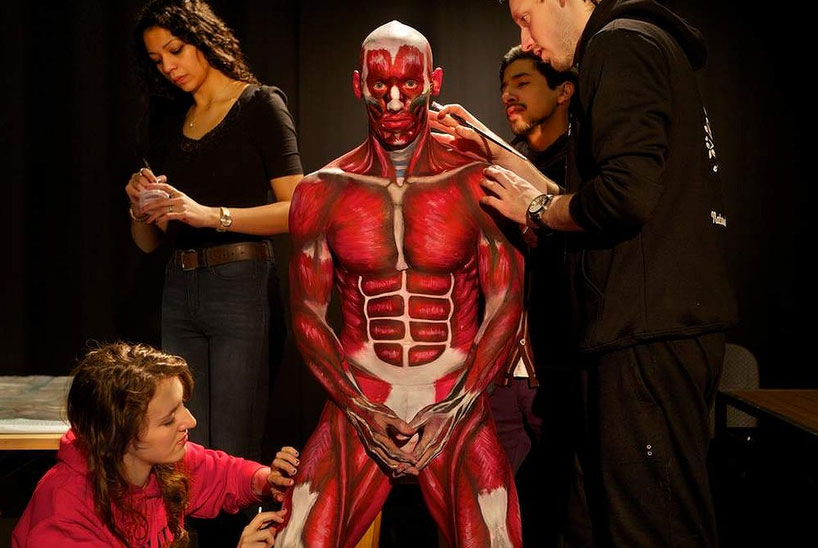 image courtesy of the age © simon o'dwyer
as a response to a national decline in the amount of time spent on anatomy in university courses, royal melbourne institute of technology professor dr. claudia diaz developed an innovative educational approach to engage graduates in their study. a student volunteer was fully transformed into a highly-detailed, and biologically accurate anatomical man. with the help of body paint and models, a team of five students meticulously concealed his entire body in layers of pigment, painstakingly coloring the muscles and tendons to be scientifically sound, in an indication of what the human body would look like if it were to be stripped of the skin.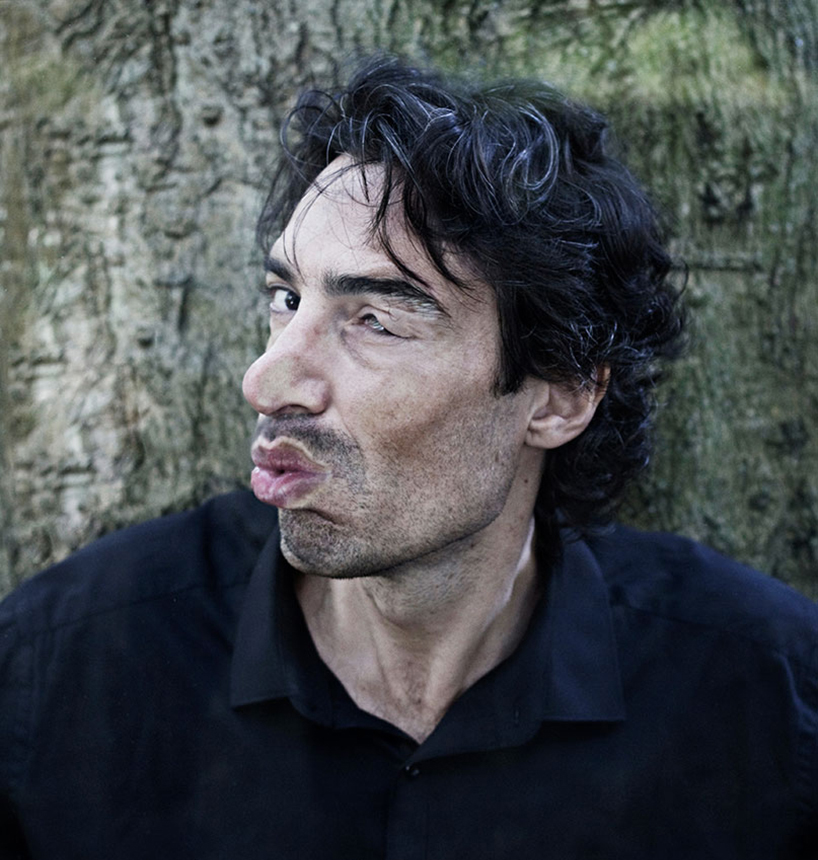 image © rut mackel
the photographic project 'the ugly truth' by rut mackel explores the ugliness and the beauty that exists collectively within each of us – by drastically transforming faces from aesthetically attractive to something more unpleasant. the images were created through having framed glass pressed against the face of a model in order to encourage various face distortions. mackel offers to challenge our perception of attractiveness by provoking change through a sudden shift in appearance, and attempting to recognize what emotional responses are consequently triggered.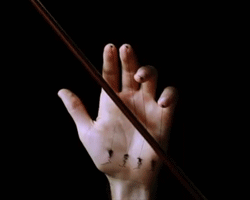 may 22, 2020
may 22, 2020
mar 11, 2020
mar 11, 2020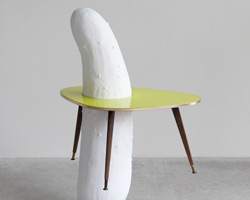 jan 19, 2020
jan 19, 2020
dec 27, 2019
dec 27, 2019
dec 15, 2019
dec 15, 2019
jun 07, 2019
jun 07, 2019
dec 31, 2013
dec 31, 2013
dec 31, 2013
dec 31, 2013
dec 31, 2013
dec 31, 2013
a diverse digital database that acts as a valuable guide in gaining insight and information about a product directly from the manufacturer, and serves as a rich reference point in developing a project or scheme.