see designboom's TOP 10 stories archive:



TOP 10 BODY MANIPULATION ART PROJECTS OF 2016
whether they be painstakingly sculpted, digitally designed, or robotically etched, 2016 saw a number of international artists using their own limbs, hair and skin in their creative projects. these atypical mediums have been the starting points for artists such as patricia piccinini — who created a digital 'person' designed to survive today's high-impact road traumas, and anahell — who used visual trickery to transform her friends into a collection of curious creatures. as we continue our annual round-ups, take a look below at designboom's TOP 10 body art projects of 2016.
GROTESQUE 'GRAHAM': THE ONLY PERSON DESIGNED TO SURVIVE A CAR CRASH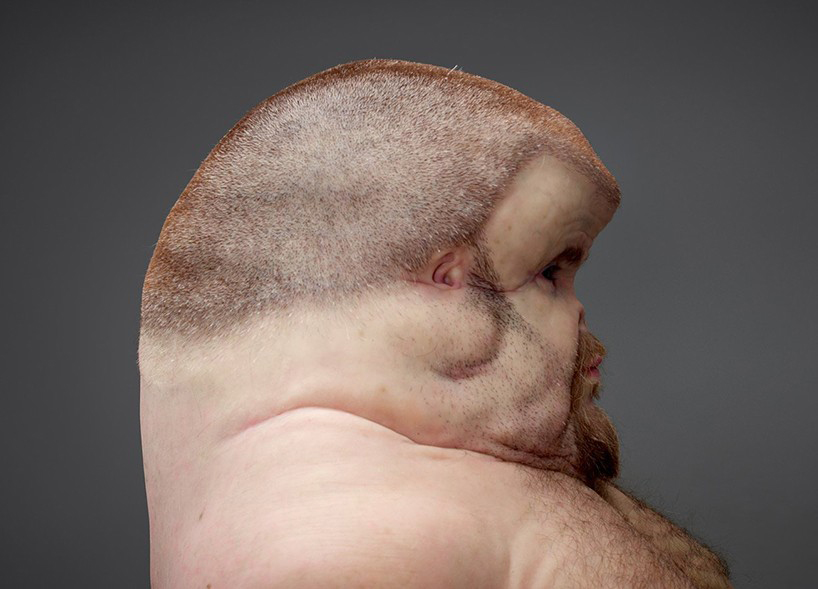 image courtesy of TACVictoria
this bizarre and bafflingly deformed figure is the physical embodiment of an inconceivable idea: he is the only 'person' designed to survive today's high-impact road traumas. in an effort to highlight the susceptibly of the human body to the forces of a car crash, australia's transport accident commission collaborated with a leading trauma surgeon, a crash investigation expert and artist patricia piccinini to realize 'graham'. this interactive, lifelike sculpture demonstrates our vulnerability to collisions, and aims to reduce deaths and injuries on the road.
read more about the project on designboom here.
REAL-LIFE LEGO: THE CREEPY CHILDHOOD TOY YOU DON'T WANT TO PLAY WITH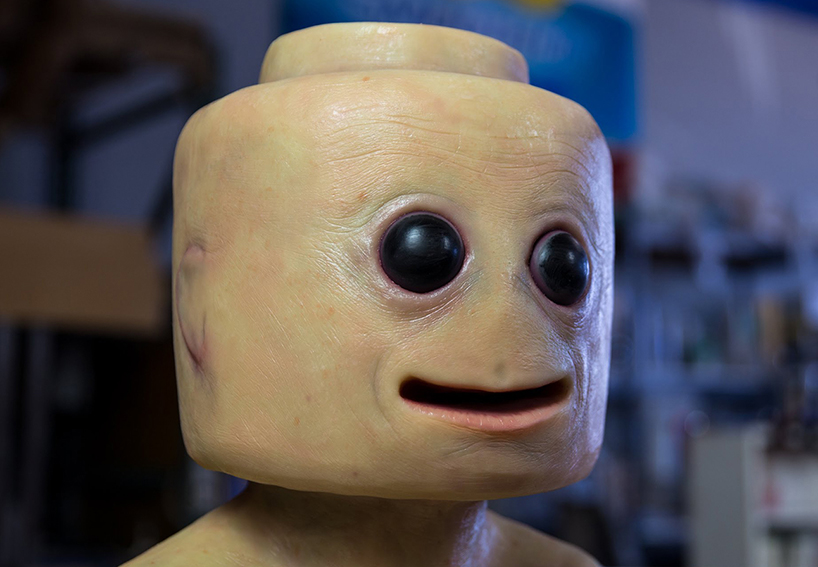 image courtesy of tested
this real life LEGO may forever ruin your merry memories of building blocks. 'creepyfig' — a play on the word 'minifigure' used to describe LEGO's tiny toy people — is a human-scale plastic figurine in the form of a wearable mask. bearing a yellow-tinted skin-like texture, giant claw-shaped hands, and black beady eyes, the uncannily sculpted hybrid-human was created to match the dimensions and facial features of the original toy — with a hauntingly lifelike twist. in collaboration with frank ippolito, an artist who specializes in makeup for film and TV, video network 'tested' used pounds of clay to sculpt around a human-scale form, where malleable material adds volume to a cylindrical head.
read more about the project on designboom here.
BENT-OVER FIGURES AS HYBRID-HUMAN CREATURES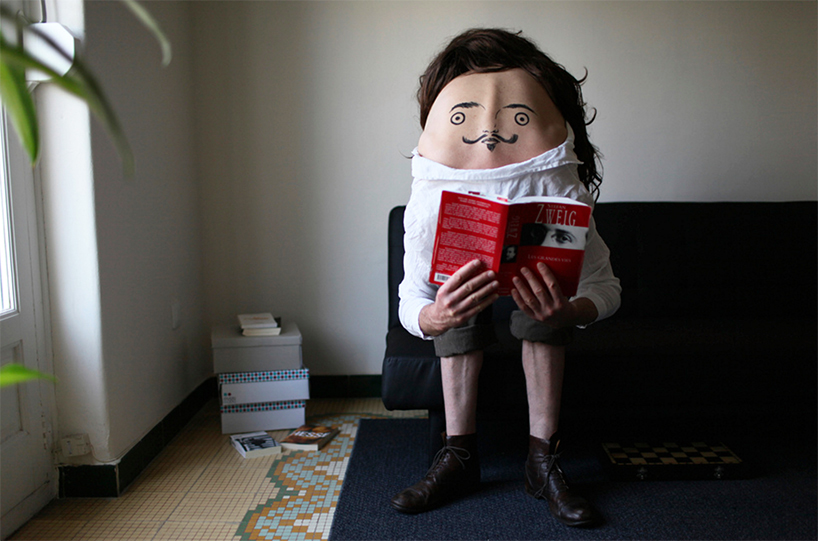 image courtesy of anahell
photographer anahell's series of 'secret friends' uses simple, visual trickery to transform friends and family members into a collection of curious creatures. figures bent in half are photographed with the skin on their backs exposed, where anahell illustrated elementary facial features like eyes, noses and mouths. the careful placement of clothing and wigs turns these upside-down subjects into distorted living things, which bear lifelike qualities but are undeniably inhuman at the same time. 'secret friends are playmates, reflections, villains, strange and wonderful creatures from another world, the kind that children create when they're alone,' the artist says.
read more about the project on designboom here.
JOSÉ CARDOSO'S PLAY-DOH PEOPLE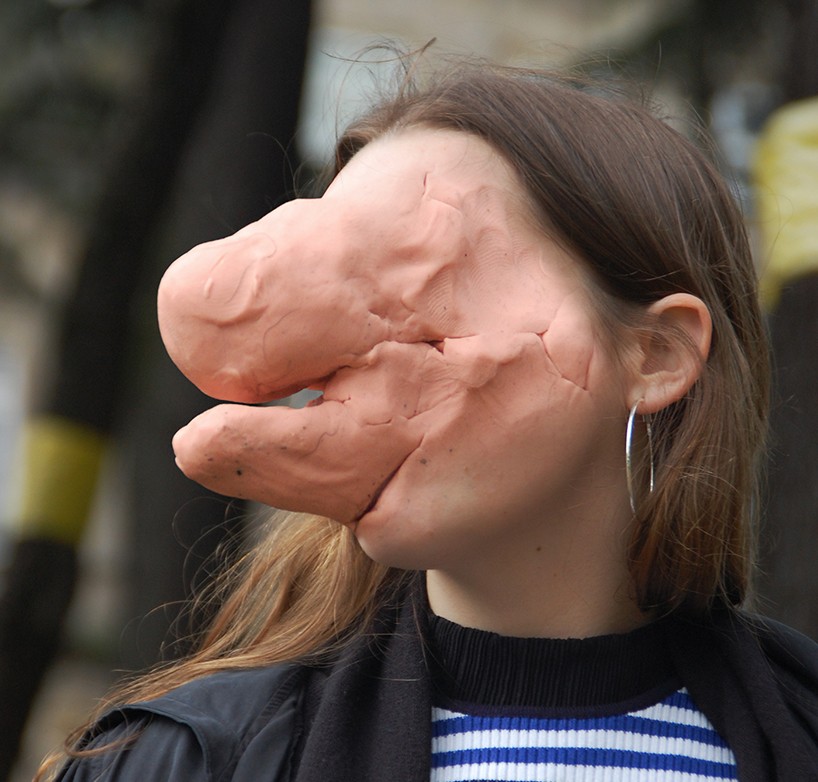 image courtesy of josé cardoso
in homage to the gory visual effects found throughout artist chris cunningham and david cronenberg's most famous films, graphic designer and illustrator josé cardoso has completed a collection of headshots that blends classic photography and basic sculpting. as a low budget tribute to old-school special effects from movies like 'videodrome' and 'rubber johnny', the porto-based artist mixed hand-sculpted play-doh with digital photographs to create strange and surreal portraits of himself, his family and his friends. these 'faces' bear warped and distored shapes crudely molded from malleable materials, seamlessly integrated into images of real human figures. while undeniably eerie and curiously bizarre, the images include strangely familiar facets of reality that are both recognizable and alien at the same time.
read more about the project on designboom here.
VACUUM SEALED COUPLES IN INTIMATE SPACES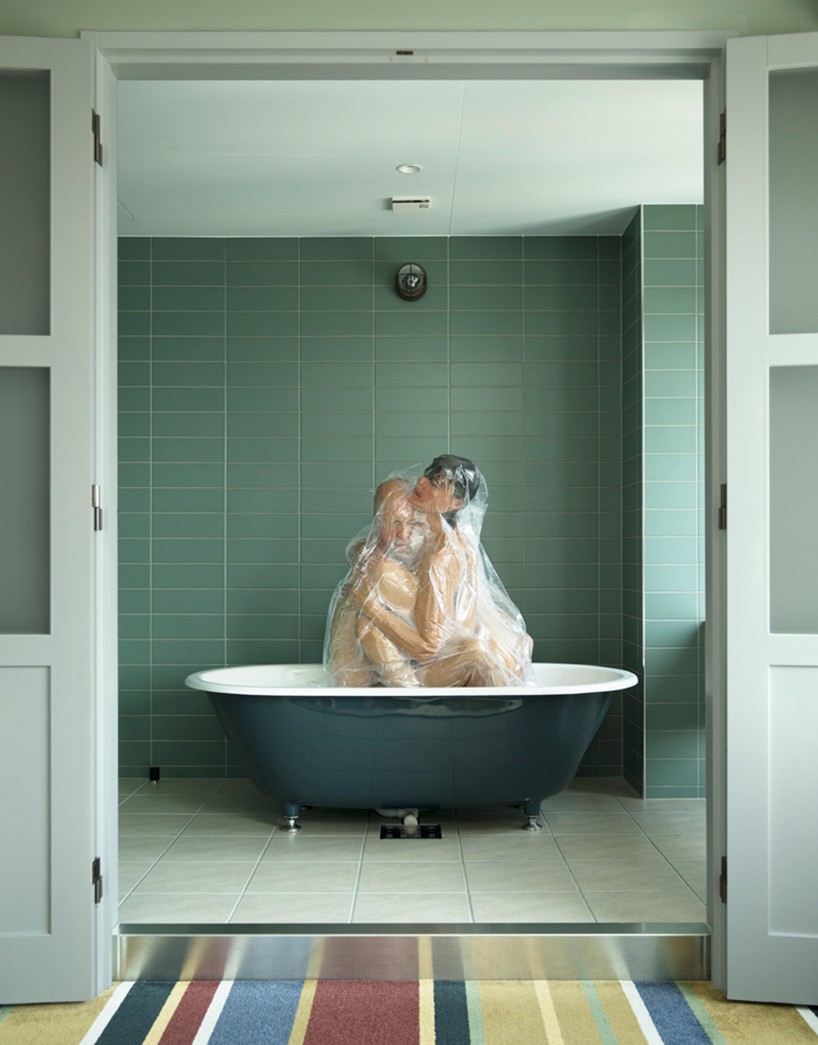 image courtesy of photographer hal
tokyo-based artist photographer hal continued his collection of vacuum sealed couples with the series 'flesh love returns'. pairs of people have been tightly wrapped in a thin layer of plastic and photographed in an extreme, yet ephemeral moment. expanding on the first iteration of the project — which featured couples photographed on sheets of brightly colored paper, the second series is shot in private, intimate spaces — such as the couples' homes, workplaces, and favorite meeting places. 'I make them choose a place for shooting,' the artist says. 'men and women are attracted to each other, and try to become one. this fundamental desire carries an energy that affects all matter in the world. I wonder: what is the reason we have to make such an effort to become one — possibly we were originally one? I intend to visualize this power of love by adhering and unifying couples.'
read more about the project on designboom here.
STEVEN BURTON DIGITALLY DELETES EX-GANG MEMBERS' TATTOOS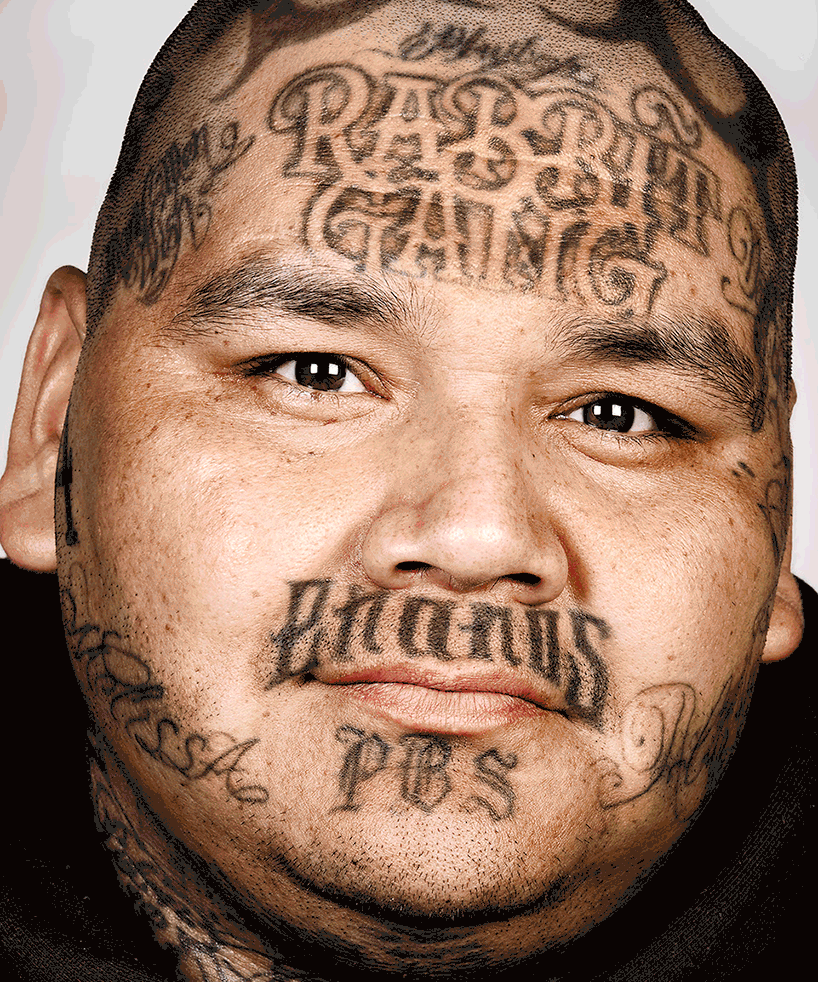 image courtesy of steven burton
photographer steven burton developed a deeply personal, and profoundly poignant project that profiles former gang members, demonstrating two conflicting yet compelling visions of their identity. for the series 'skin deep', burton meticulously, digitally removed gang tattoos from each subject's face and body, liberating them from the judgement cast by society based on their unfamiliar, and therefore intimidatory appearance. for the ex-gang members profiled, burton's resulting images were emotionally charged.
read more about the project on designboom here.
FRÉDÉRIC DOAZAN'S COSMETICALLY CONCOCTED 'SUPERVENUS'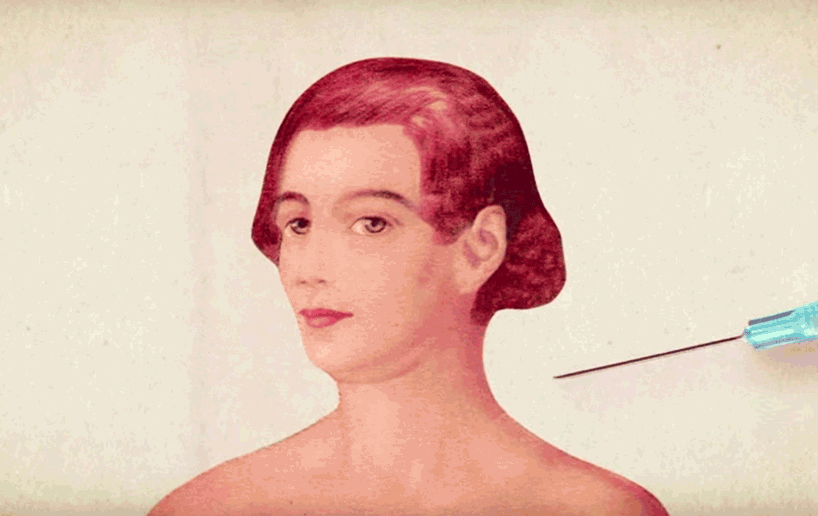 gif courtesy of frédéric doazan
the story of 'supervenus' unfolds frame-by-frame in a hilarious and horrifying sequence of scenes. the darkly humorous short film by french experimental filmmaker and animator frédéric doazan puts the viewer in place of a deranged plastic surgeon who, in real time, cosmetically creates 'the new goddess of beauty.' rendered as if torn from the pages of a vintage medical book, the movie opens with a drawn female figure probed and poked at by human surgical hands looming above. needles enlarge her cheekbones and remove girth from her neck, while scalpels slenderize and dissect her bodily anatomy. leg lengthening, sun tanning, breast enhancing, hair transplanting and brain lobotomizing ensues, finally forming a cosmetically-concocted, make-up painted personality that could hardly be considered human — and it doesn't end there…
read more about the project on designboom here.
FRENCH DESIGNERS REALIZE ROBOTIC TATTOO TECHNOLOGY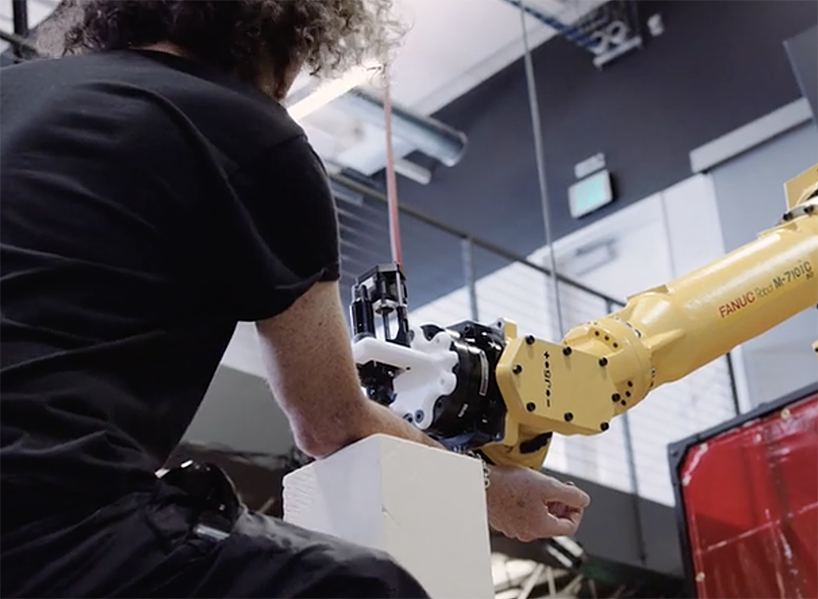 image courtesy of pierre emm and johan da silveira
french designers pierre emm and johan da silveira created 'tatoué' — an industrial robot arm that can autonomously draw intricate tattoos on humans. using 3D scanning technology, the body part is captured and uploaded to dynamo design software that converts the form into a geometric language the computer can understand.'tatoué' uses exactly the same needle and ink as traditional tattoo guns. the artists created their latest robotic arm during their four-month artist-in-residence program at san francisco-based software company autodesk. the program allows artists to own everything they create, but requires them to share their technology on an open source platform.
read more about the project on designboom here.
JASON BRIGGS' GROTESQUE PORCELAIN OBJECTS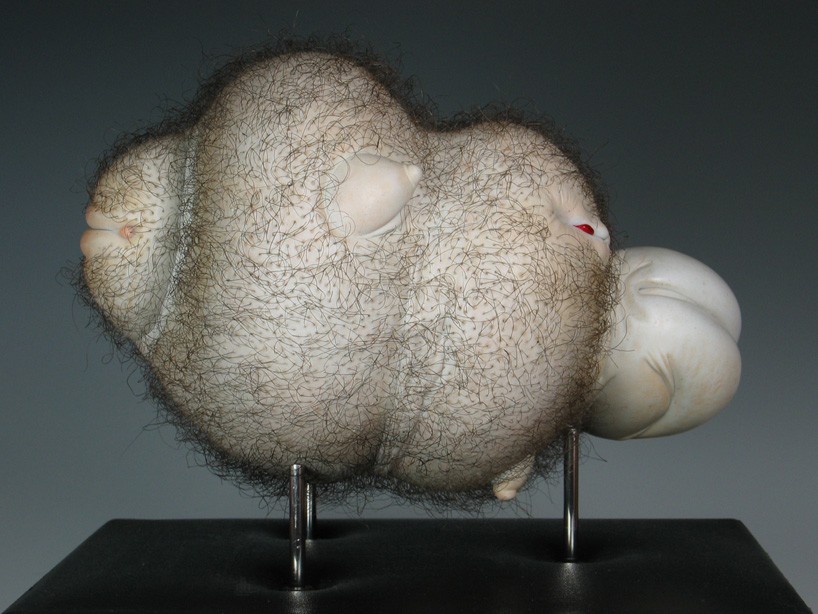 image courtesy of jason briggs
the art of jason briggs expresses strong sexual references, with hints of fetishism — at once abstract, but laced with figurative forms and life-like textures, bordering on being erotic and pornographic, with a sense of surrealism. invoking a sense of temptation and desire to grab, pinch, poke, push, squeeze and stroke their flesh-like surfaces, jason briggs' sculptures also question the often sterile experience of not being able to have physical contact with an artwork. briggs uses pure white high-fire porcelain to render each object. he starts with a loose idea of the forms he wishes to use—compact, concealed, deflated, elongated, full, pregnant, slender, squat—eventually assembling two or three of these together by pushing and wrapping them into one another to create an abstract shape.
read more about the project on designboom here.
FLORA BORSI COMBINES HUMAN + ANIMAL FEATURES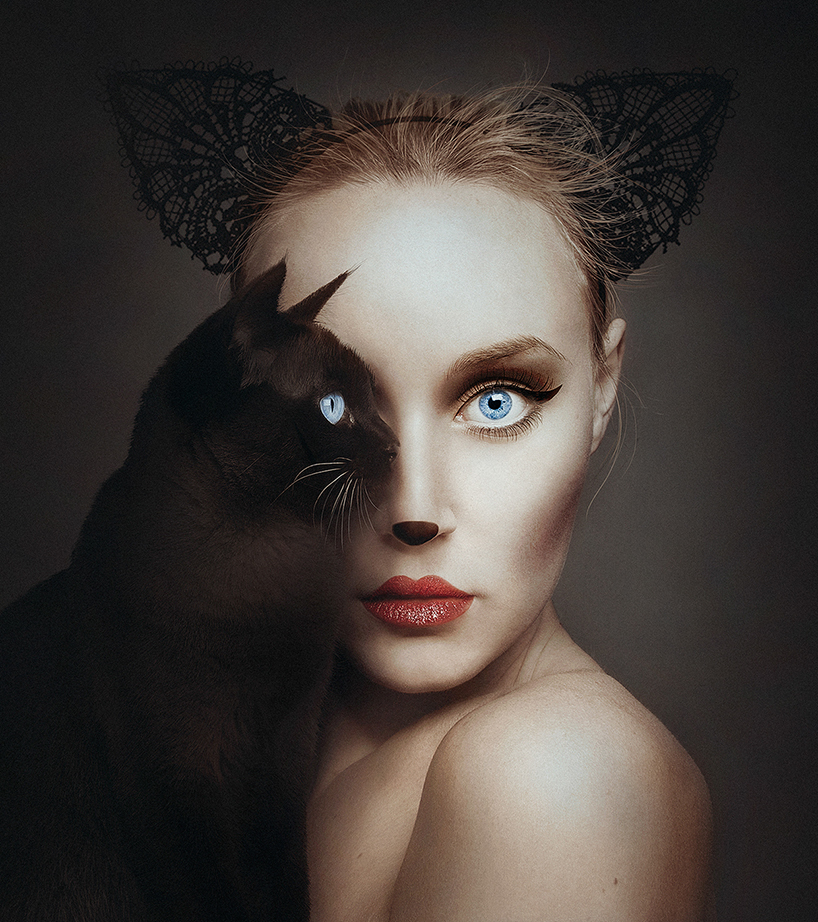 image courtesy of flora borsi
forming a likeness between the animal kingdom and the human form, hungarian artist flora borsi formed the series 'animeyed', which creates curious hybrid beings from two different species. the collection of self-portraits sees borsi situated side-by-side six separate creatures: a cat, dove, blowfish, goldfish, snake and hare. for each composition, borsi matched her own hairstyle, makeup, and eye color to match the characteristics of each animal, dying her hair orange to mimic the hue of a goldfish and painting her face snow white to match the texture of a dove. as the artist stares at the camera facing frontwards, one of the animals conceals part of her face, matching their own eye above where hers would be revealed. the effect forms hybrid entities that play with the perception of the viewer and cleverly display the physical similarities between the human and animal features.
read more about the project on designboom here.
Save
Save
Save
Save
Save
nina azzarello
I designboom
dec 19, 2016
a diverse digital database that acts as a valuable guide in gaining insight and information about a product directly from the manufacturer, and serves as a rich reference point in developing a project or scheme.
designboom will always be there for you
milan, new york, beijing, tokyo

,
since 1999