nothing quite makes an impression like a large piece of art, enveloping the viewer and dominating a space. it can be a fully immersive experience or a standalone piece that's overwhelmingly large, both have the potential to turn a museumophobe into an art fanatic. from twisting escalators set in a parisian department store, a memphis-inspired mega mural, and the world's first underwater coralarium, 2018 was a wonderfully diverse year for large scale art.
continuing our annual review of the year's BIG stories, take a look at the TOP 10 large-scale artworks featured on designboom over the past 12 months.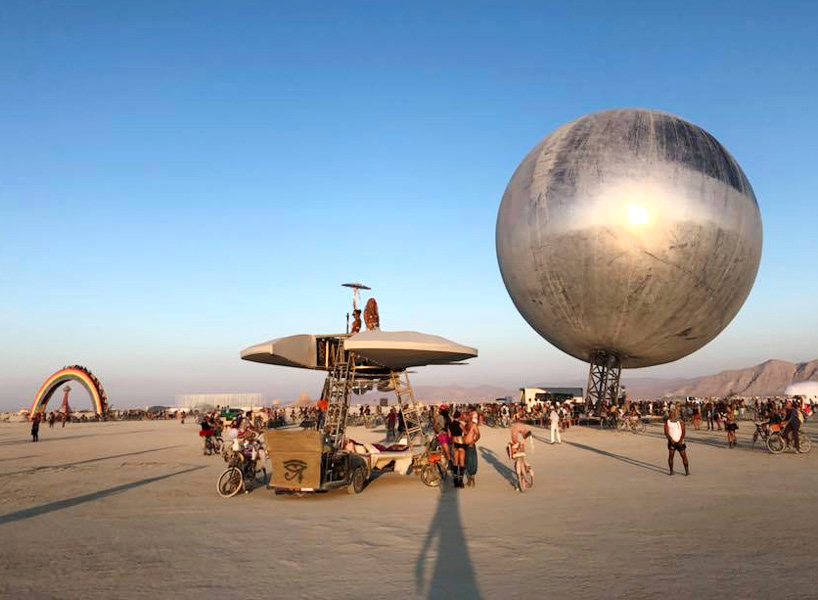 image by kai-uwe bergmann
at this year's burning man a giant reflective sphere designed by bjarke ingels and jakob lange was installed. the inflatable piece was proposed as a scale representation of the earth's surface with an impressive diameter of over 25 meters (83 ft). it was conceived as a 'mirror for earth lovers', reflecting the evolving desert community beneath it whilst serving as an enormous way-finding device.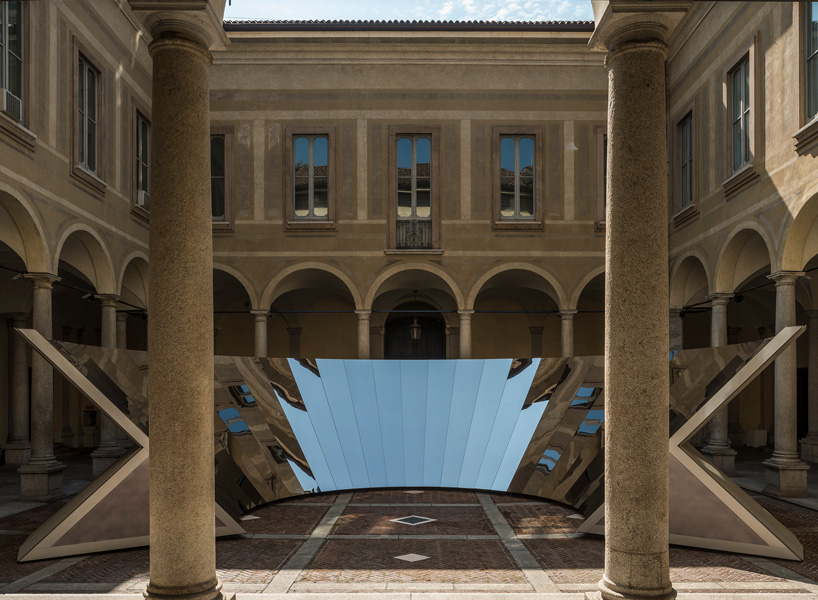 image by lance gerber, courtesy of COS
during milan design week 2018, architect-turned-artist phillip k. smith III inviting visitors to experience a new dimension of the city. he exhibited an atmospheric installation that transformed an historic courtyard into a physical ring of reflected sky through carefully-angled mirrored planes. each visitor to the palazzo was invited to create their own experience, engaging with the sculpture as it reflectsed different fragments of the city throughout the day. approaching the core of the installation, the angle of reflection shifted and the architecture dynamically drew away from sight like a curtain, opening up the sky.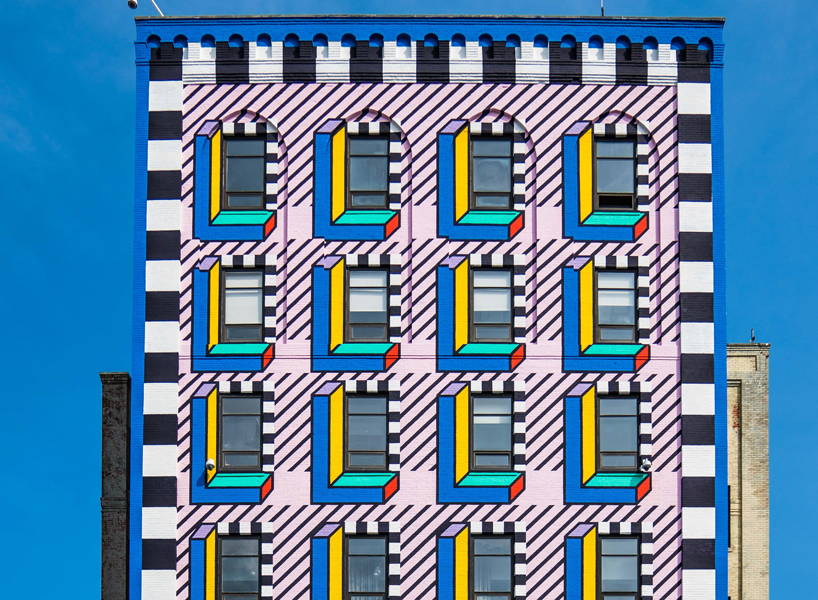 image courtesy of industry city
in may, camille walala left her unmistakably artistic mark on new york. coinciding with NYCxDESIGN, the artist unveiled her largest mural to date — a seven-story composition on the façade of a historic building in brooklyn's industry city. a striking statement for the south brooklyn design destination, the artwork which featured a palette of pink, yellow, red and blue hues tracing the window frames of the structure was an instagram-adored attraction.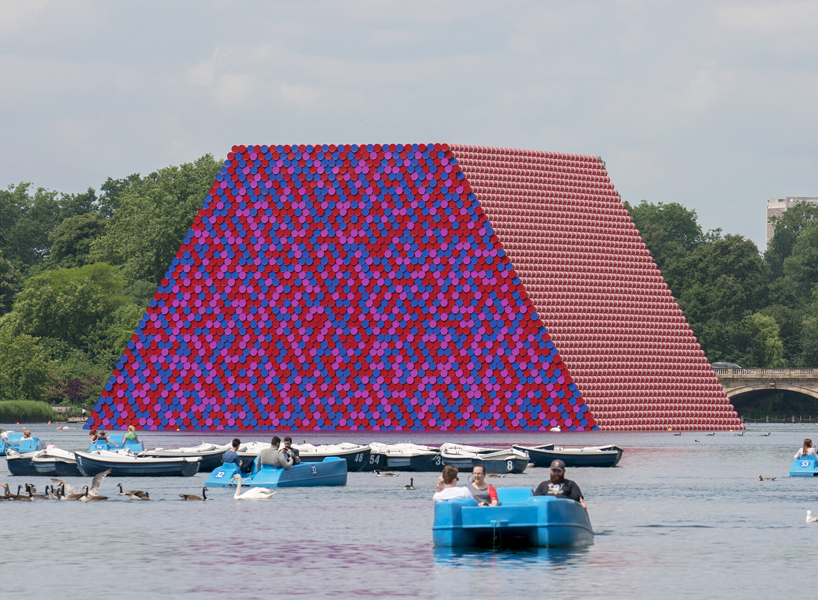 image by wolfgang volz © 2018 christo
this summer camille world-renowned artist christo installed 7,000 horizontally stacked colorful barrels on a floating platform atop london's serpentine lake. the 20-meter-high temporary sculpture was based on the trapezoid shapes of mastaba, an arabic word for bench given to egyptian tombs and seats found outside homes in ancient mesopotamia. the project, which realised christo and his late wife jeanne–claude's shared dream of creating a floating version of the form, was entirely self-funded.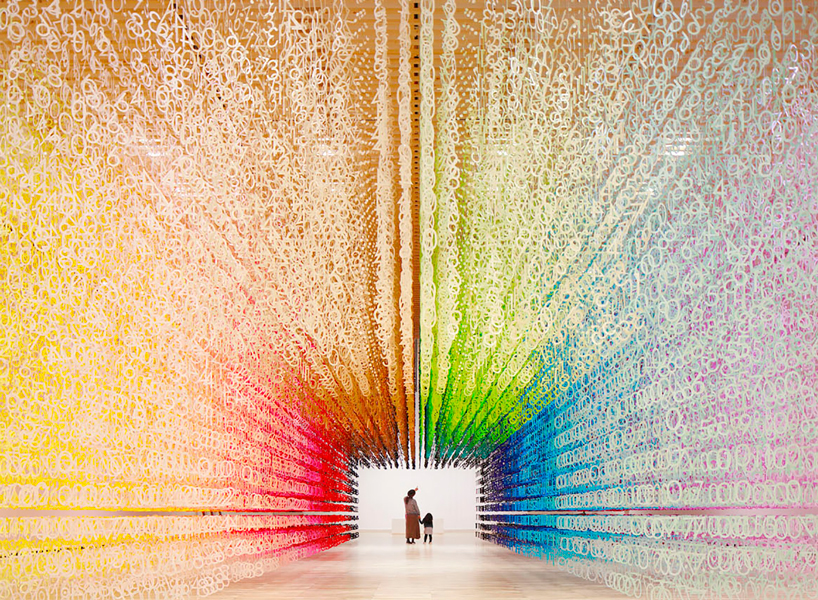 image by daisuke shima
kicking off 2018 with a colourful bang, in january tokyo-based artist emmanuelle moureaux invited goers to toyama's prefectural museum of art & design into a rainbow matrix. approximately 120,000 figures including numbers '0' to '9' and a single symbol ':' aligned in dense grids, their arrangement expressing the movement of minutes. choosing paper as her main material, moureaux's observation on the relationship between the sensory element of colour, and the mathematical element of time, came together to form an immensely intricate installation.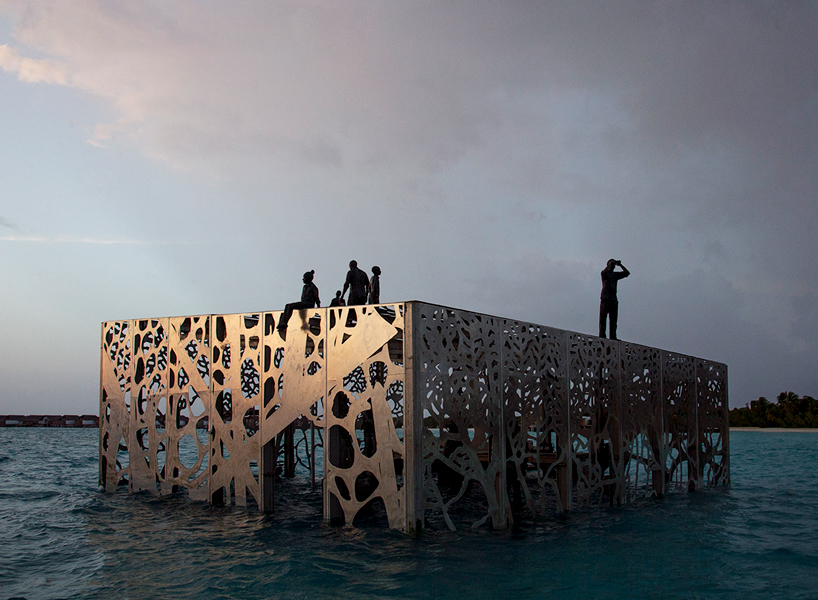 image courtesy of jason decaires taylor
at the beginning of the year designboom was invited to on an incredible trip and 'studio visit' to the sirru fen fushi island in the maldives. there, we met with environmentalist and artist jason decaires taylor who had officially completed the installation phase of his latest underwater art museum. the project is the island's first coral regeneration project and comprises a stainless steel semi-submerged tidal gallery space that exhibits a series of sculptural artworks on the skyline, inter-tidal waterline and seabed.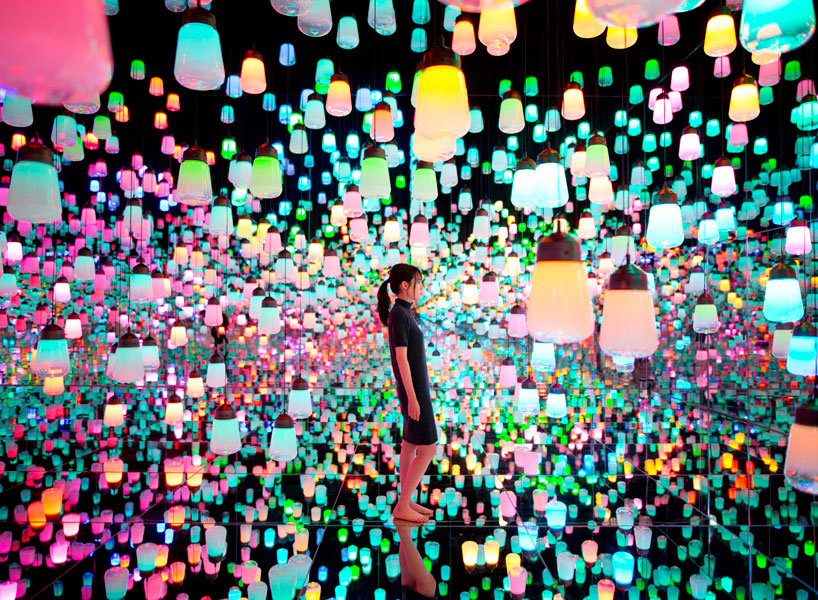 image courtesy of teamlab
in july teamlab's mori building digital art museum officially opened to the public. set across a monumental 10,000 square meters and comprising more than 50 artworks in a single space, the immersive institution features multiple 3-dimensional spaces that revolve around the theme of 'borderless', removing the boundaries between art and visitors. following our preview visit earlier in the year, designboom took an exclusive tour of the museum upon its opening.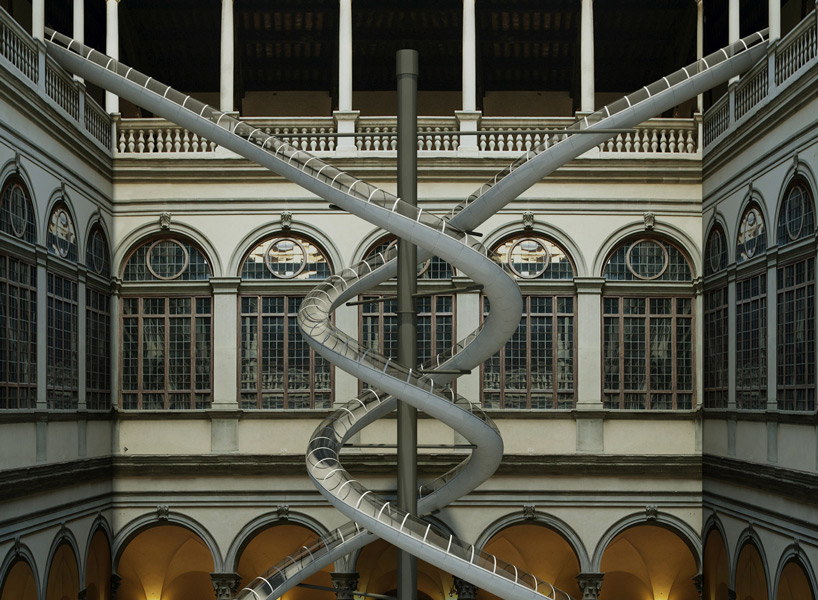 rendering by michele giuseppe onali
during the spring and summer time, visitors to the palazzo strozzi — florence's famed renaissance palace — could enjoy a site-specific installation devised by german artist carsten höller and plant neurobiologist stefano mancuso. 'the florence experiment' comprised a pair of monumental, intertwined slides that spiralled visitors twenty meters downward from the second floor terrace to the courtyard. before sliding, participants were handed a plant to accompany them, which — upon exiting — passed through a laboratory where scientists will measure its photosynthetic parameters and volatile molecules. the experimented hopes to investigate the impact of human emotion on plant growth, as triggered by the experience of the descending visitor.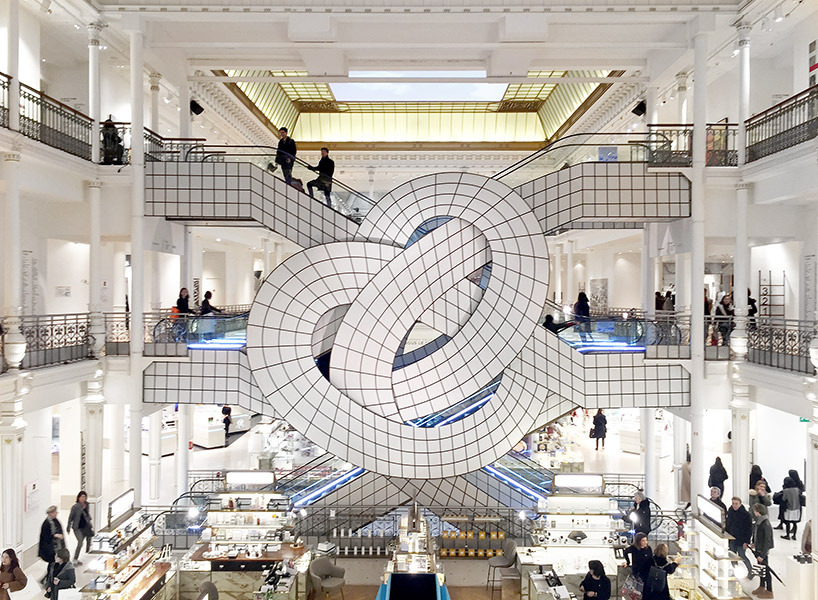 image © gabriel de la chapelle
internationally renowned for his deep and poetic site-specific works, in january argentine artist leandro erlich unveiled the 'sous le ciel', or 'under the sky' installation at paris' le bon marché. following pieces by ai weiwei in 2016, and edoardo tresoldi and chiharu shiota in 2017, it was the fourth time the store invited a contemporary artist to intervene the interiors of its 19th century building.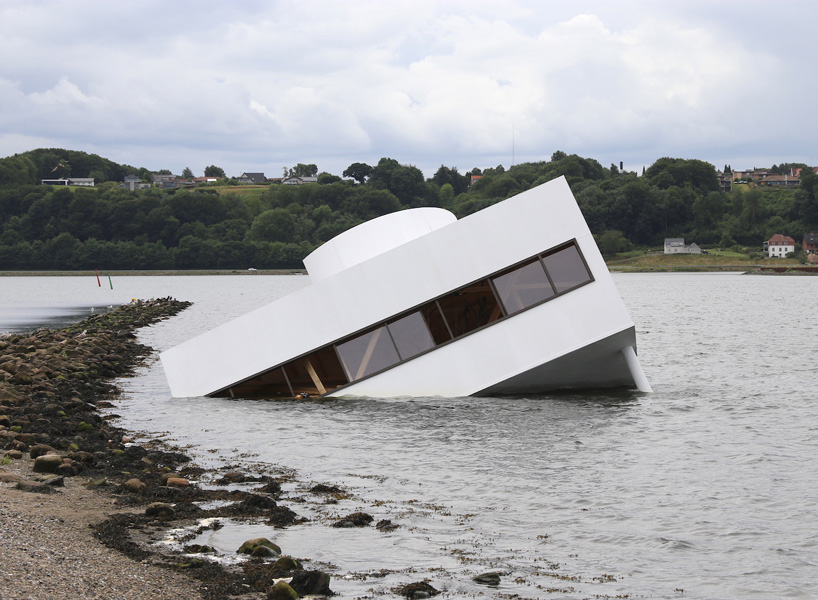 image courtesy of studio asmund havsteen-mikkelsen
on the occasion of the floating art 2018 festival this year, artist asmund havsteen-mikkelsen created and sunk a 1:1 replica of a corner of le corbusier's 1929 villa savoye. titled 'flooded modernity', the half-submerged sculpture floated in theejle fjord as a comment on the 'sinking' of reason amidst recent sociopolitical events including brexit, donald trump, the cambridge analytica scandal, and the use of social media to manipulate democratic elections.
see designboom's TOP 10 stories archive: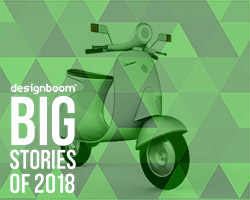 dec 21, 2018
dec 21, 2018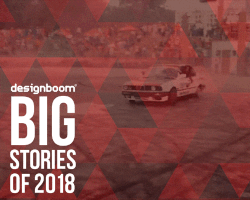 dec 20, 2018
dec 20, 2018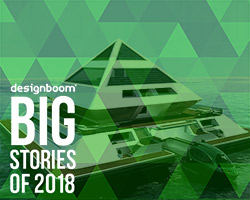 dec 19, 2018
dec 19, 2018
dec 18, 2018
dec 18, 2018
dec 17, 2018
dec 17, 2018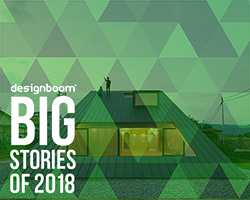 dec 14, 2018
dec 14, 2018
a diverse digital database that acts as a valuable guide in gaining insight and information about a product directly from the manufacturer, and serves as a rich reference point in developing a project or scheme.