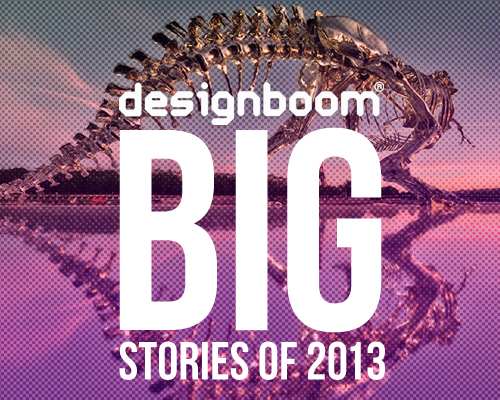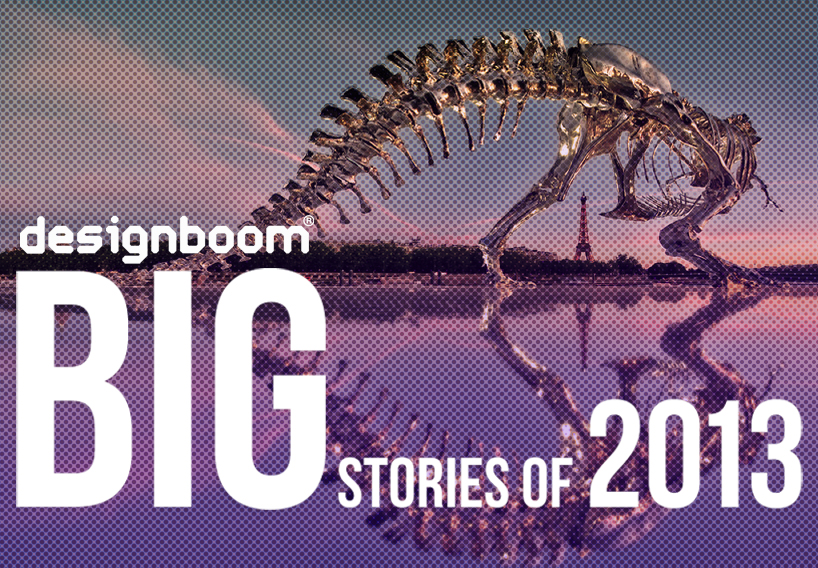 dec 15, 2013
TOP 10 large scale installations of 2013
TOP 10 large scale installations
from towering tyrannosaurus-rex sculptures, massive inflatable balloons and interventions popping up in urban sites, 2013 saw a number of large scale installations completed around the globe. all of the work is of monumental scale, engaging audiences and onlookers in a memorable experience. take a look at the TOP 10 most viewed projects on designboom from the past year's most unforgettable, enormous art.
philippe pasqua: full-scale t-rex in paris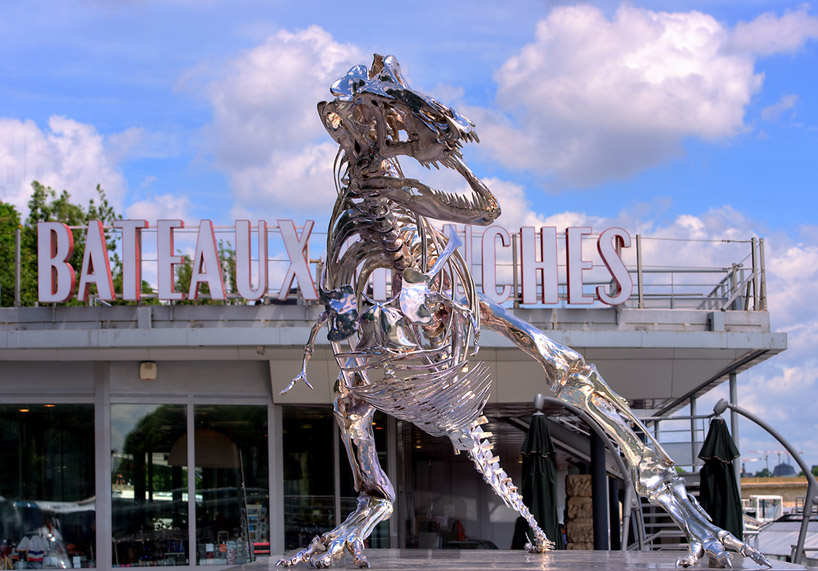 image © anthony gelot

soaring over the seine river in paris is a life-size tyrannosaurus-rex sculpture, conceived and constructed by french artist philippe pasqua. the t-rex, a fixture in popular culture, is characterized by its massive skull, long powerful tail, and treacherous teeth, all which are exemplified in pasqua's skeletal construction. the monumental silver structure surprises passers-by, synthesizing the relationship between artistry and shock value.
a massive submarine emerges in milan's city center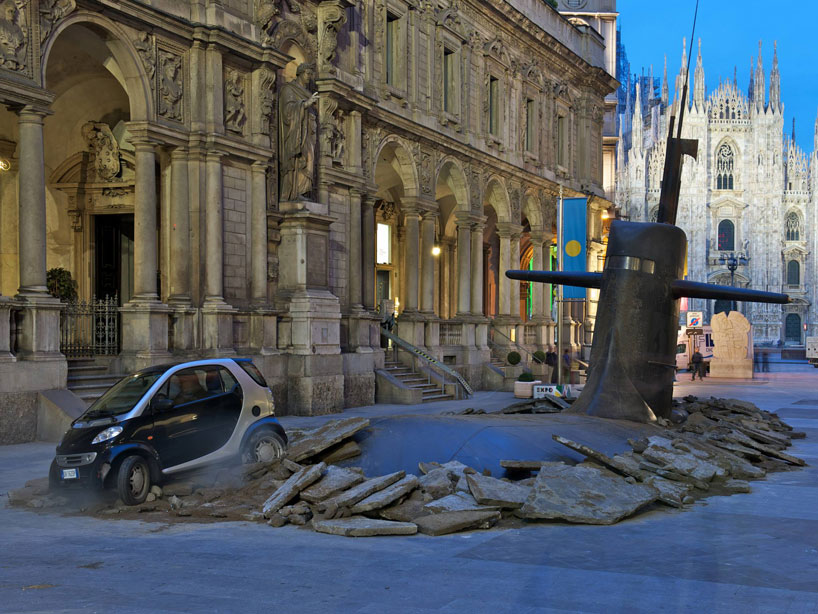 image courtesy of M&C saatchi milano

the crown of a massive submarine, appearing to have just surfaced from an underwater journey, materialized from beneath the sidewalk of milan's piazza mercanti, surprising and baffling pedestrians; an elaborate, staged intervention conceived as a marketing scheme by advertising agency M&C saatchi milano for europ assistance IT, an insurance group based in italy, as part their 'protect your life' campaign. the installation saw the tremendous deep-sea voyager popping out from the concrete path, causing a massive wreckage of rubble nearby.
9,000 sand drawings commemorate the fallen on d-day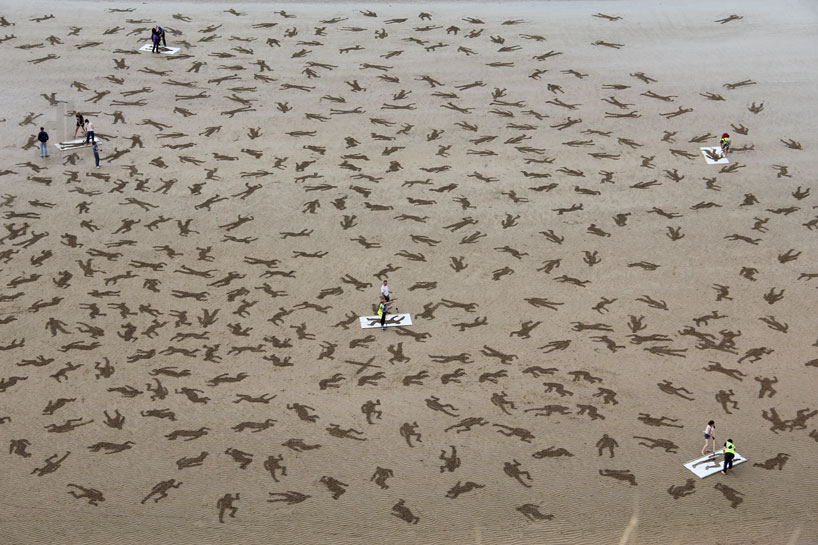 image courtesy of sand in your eye
british artists andy moss and jamie wardley of sand in your eye arranged and stenciled 9,000 drawings on the sand of the d-day landing beaches in normandy, representing the civilians, germans and allied forces that died during WWII. 'the fallen', which commemorated international peace day on september 21, is a massive art installation of thousands of silhouettes covering the shoreline. echoing the ephemeral nature of the lives lost, the artworks are totally erased by the incoming tide, a sobering reminder of what happens when peace is not present.
from the knees of my nose to the belly of my toes by alex chinneck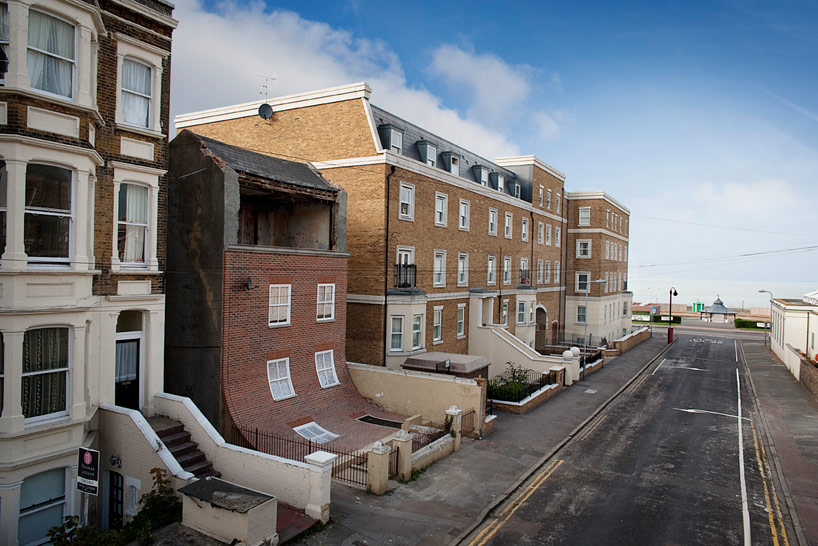 image © stephen o'flaherty / courtesy of alex chinneck
peeling away the original facade, british artist and designer alex chinneck has slid the front off a four-story house in the seaside town of margate in kent, UK. the original structure had been abandoned for 11 years, and its new face gives the appearance that it just slipped down, onto the ground.
the skywhale hot air balloon by patricia piccinini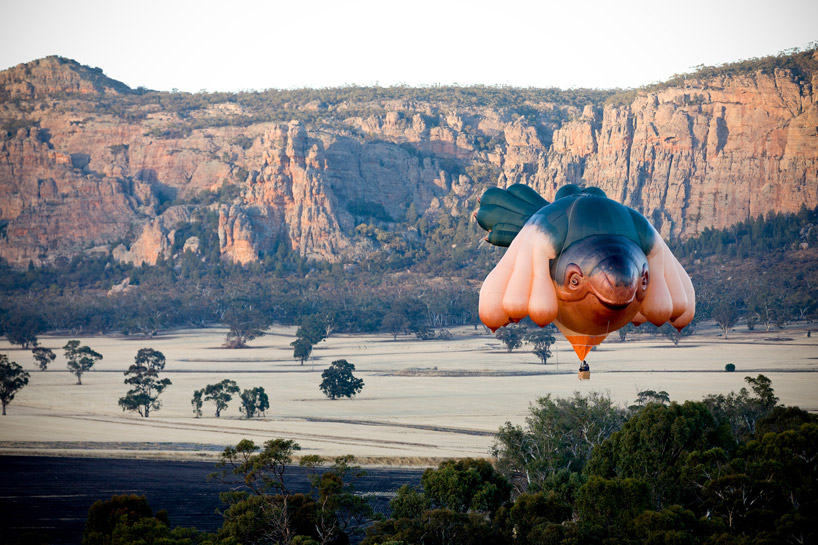 image courtesy of patricia piccinini
'the sky whale' hot-air balloon by sierra leonean artist patricia piccinini will be flying at other locations around australia during 2013. in the place of wings, piccinini imagined huge udders that might contain the gas of the giant flying sculpture, as well as a huge bulbous body. 'the skywhale may appear fantastic but think about the blue whale – an air breathing mammal that lives in the ocean – and it doesn't seem so far-fetched,' says piccinini. 'I think that when we look up at the skywhale and wonder what it is 'for', it might remind us that nature is not necessarily 'for us'. it just 'is' and we're just lucky enough to be around to see it.'
shi shaoping installs 3,000 ceramic eggs in desolate locations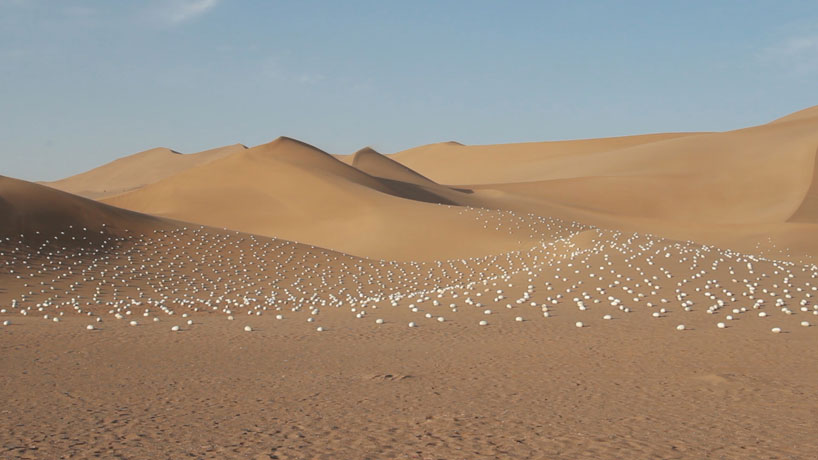 the metamorphosis series | the eggs
china landscape project
black gobi, gansu province
200 x 80 cm, giclee print, (detail) shi shaoping 2013
photographer : antoine icard
all images courtesy of today art museum
chinese artist shi shaoping has spent over one year firing 3,000 solid ceramic eggs for art installations situated throughout the landscapes of china's most desolate locales. each egg weighs about 10 kilograms, the total sum for the thousands of sculptures equating to 48-tons. for 'the metamorphosis series – the eggs', shaoping takes the mass of solid vessels on an extraordinary journey through uninhabited domains in china, covering some of its most dramatic and haunting landscapes: the rugged behai coast, yardang landforms, the black gobi, sand dunes of dunhuang, and the gannan grassland. along with a team, he carefully positions each individual piece, taking extra care in adapting the large-scale arrangement to each geographical location; he had to measure the time and height of the tide on the beihai coast to ensure that his art piece wouldn't be taken by nature and washed away.
massive dragon skull along england's jurassic coast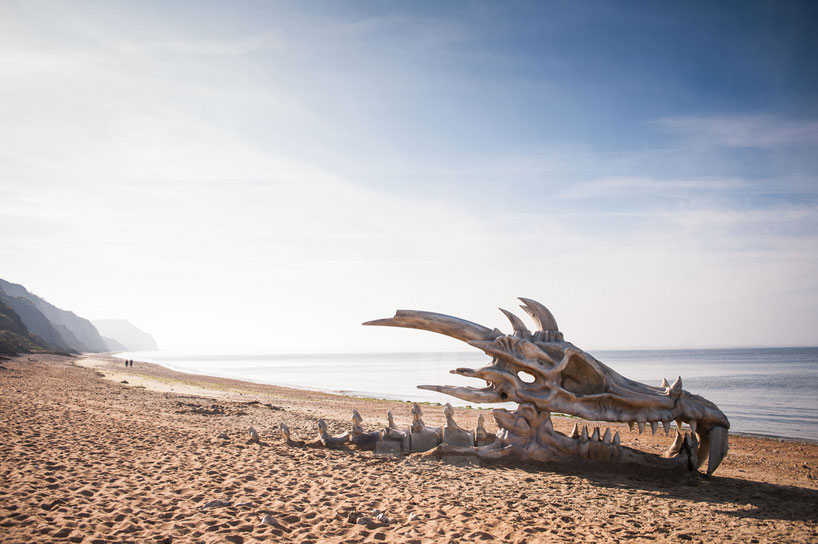 image courtesy of taylor herring 
astounding beachgoers in dorset, a massive dragon skull appeared on the shore of the jurassic coast. the locale, which has historically yielded numerous real dinosaur fossils, was chosen to prompt a puzzling, mystifying reaction. the towering compilation of mock bones is the size of a london bus, standing over 3m tall and extending some 12m along the length of charmouth beach.
florentijn hofman's giant inflatable rubber duck floats into hong kong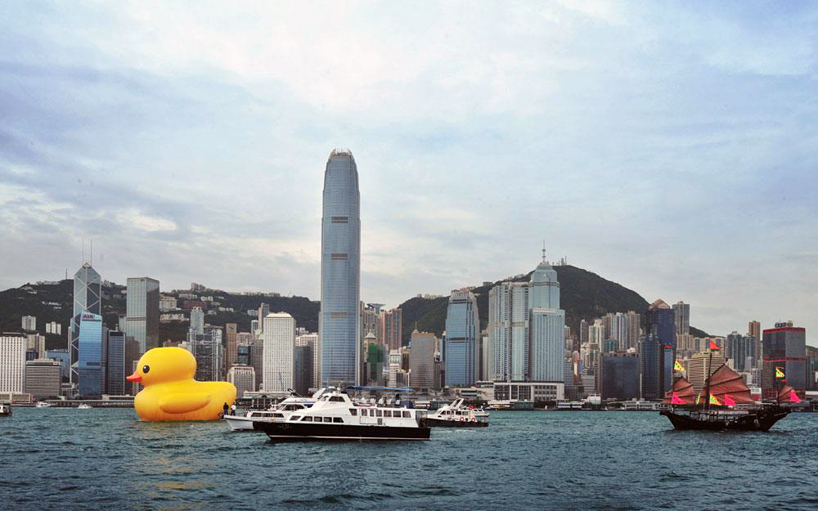 image courtesy of florentijn hofman
on may 2nd, 2013, a giant inflatable rubber duck floated into hong kong's victoria harbour, brightening up the city's grey skyline. the work of florentijn hofman, the 'rubber duck project' originally debuted in 2007, and has travelled the world,
but this is the first occasion in which it is being shown in greater region of china. this edition of the six-storey sculpture's presentation is being supported by harbour city and will remain on show until june 9th, 2013.
land portraits using grass and dirt by jorge rodriguez-gerada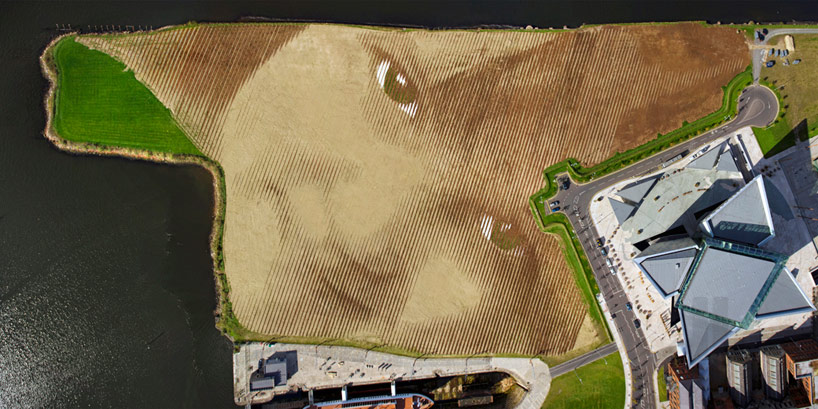 image courtesy of jorge rodriguez-gerada
spanning 11 acres of land in belfast, 'wish' by cuban-american artist jorge rodriguez-gerada is a monumental land-art portrait of a child created on the surface of the earth. using grass, dirt, and satellite technology, the final piece used 30,000 pegs, 2,000 tons of soil, and 2,000 tons of sand. the complete portrayal takes shape: for viewers on the ground, the flat image may only appear as a natural surface, but aerial views capture the final depiction, as the child's stare beams towards the sky.
10,000 yellow helmets at milan's stock exchange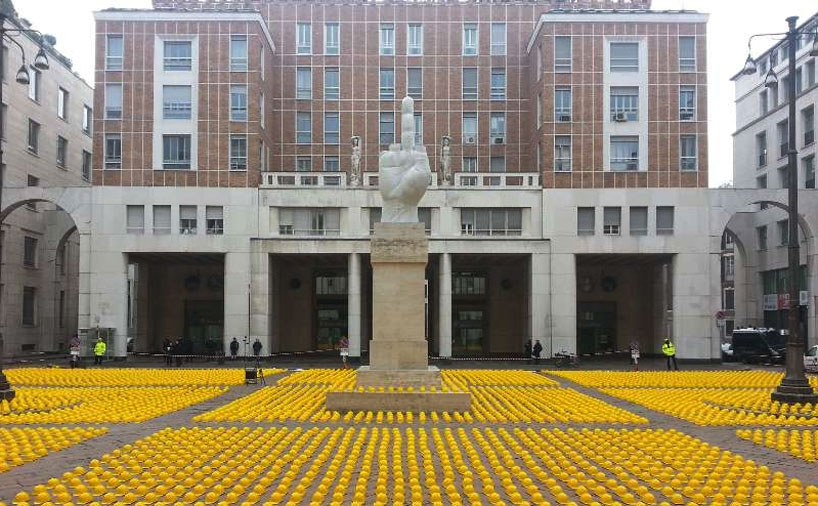 image courtesy milano today
for italian workers in the construction industry, crippled by the recession, yesterday was 'la giornata della collera' – 'the day of anger'. in front of the milan stock exchange workers, laborers, clerks, surveyors, architects and real estate agents brought attention to a sector that in the past five years, according to data from the center for economic research and market sociology, has lost 157 thousand companies as well as 893 thousand employees.
dec 31, 2013
dec 31, 2013
dec 31, 2013
dec 31, 2013
dec 31, 2013
dec 31, 2013
dec 31, 2013
dec 31, 2013
dec 30, 2013
dec 30, 2013
dec 30, 2013
dec 30, 2013
a diverse digital database that acts as a valuable guide in gaining insight and information about a product directly from the manufacturer, and serves as a rich reference point in developing a project or scheme.