spotlighting the top 10 NFTS of 2022
This year has seen a new way of thinking about currency, property, and art, and it seems there are quite a few who have embraced this art form. NFT, meaning non-fungible token, is the registration of ownership of a digital object on a blockchain. It can be any type of media, including but not limited to art, videos, music, GIFs, games, tweets, and memes. The non-fungible part means the object is unique, making it irreplaceable.
From a fully-nude Madonna exploring the concept of creation to a reinterpretation of renaissance masterpieces with modern brushstrokes — we continue our annual review of this year's BIG stories with a look at the TOP 10 NFTs featured on designboom in 2022.

Artist Robert Montgomery's first NFT critiques the pervasiveness of the digital world © Robert Montgomery
After recently wowing the world with his solar-powered political billboard at COP26, acclaimed British contemporary artist Robert Montgomery has entered the NFT arena with his signature text-based work, a blade runner-Esque manifesto damning the evils of the digital world. the work was released by New Pavilion, a consulting agency collaborating with some of the world's most celebrated artists' estates, contemporary creators, arts foundations, and cultural institutions.
Through this artwork, Montgomery explores the existential sphere of the digital world. Specifically, he looks at how digital communication and devices have become the managers of our time and how tracks of our biographies are now reflected back at us within advertising media. By doing so, he ultimately questions the fate of our intellectual and emotional freedoms, as well as our connection to the natural world.

Mother of Creation, an NFT triptych by Madonna and Beeple
Following a year of work, Madonna and Beeple have released Mother of Creation, an NFT triptych dropping today on SuperRare. The works, which feature animations of a fully-nude Madonna, explore the concept of creation, motherhood, and birth via darkness and light in our modern world. Received with some skepticism, the collaboration has many asking the infamous But Why? question. As artnet states, 'we live in a dystopia… and I feel nothing.' It's for people who live lives so media-saturated and irony-poisoned that nothing feels real.'
'When Mike (Beeple) and I decided to collaborate on this project a year ago, I was excited to have the opportunity to share my vision of the world as a mother and an artist with Mike's own unique point of view.' said Madonna. 'It's been an amazing journey building this together from an intellectual idea to an emotional story, giving birth to art. I wanted to investigate the concept of creation, not only the way a child enters the world through a woman's vagina, but also the way an artist gives birth to creativity. Most importantly, we wanted to use this opportunity to benefit mothers and children who are most in need right now.'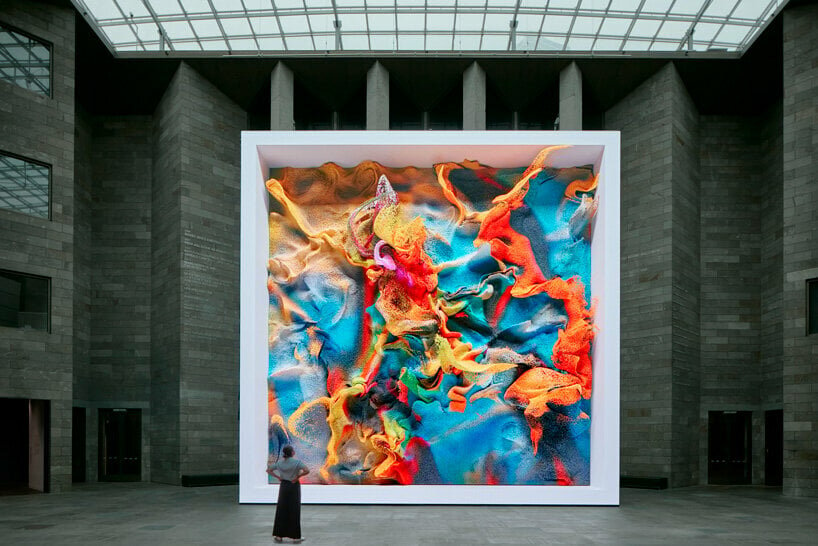 'NFTs and public art' at NFT ART DAY ZRH © Refik Anadol Studio
NFT ART DAY ZRH, the first annual NFT and metaverse conference in Switzerland, brought together leading figures from the field of digital arts and the art market for an insightful afternoon of talks. Participants explored different topics related to NFTs, including an introduction to non-fungible tokens and their relationship to the art world, as well as the collecting behavior and various artistic practices around them.
One of the topics of the conference was dedicated to NFTs and Public Art, which was addressed through a conversation between Refik Anadol, media artist, director and pioneer in the aesthetics of data and machine intelligence, and Hans Ulrich Obrist, artistic director of the Serpentine Galleries. The two speakers discussed Refik Anadol's oeuvre over the past years working with the medium of NFTs, and what it means to employ blockchain technology to create public artworks.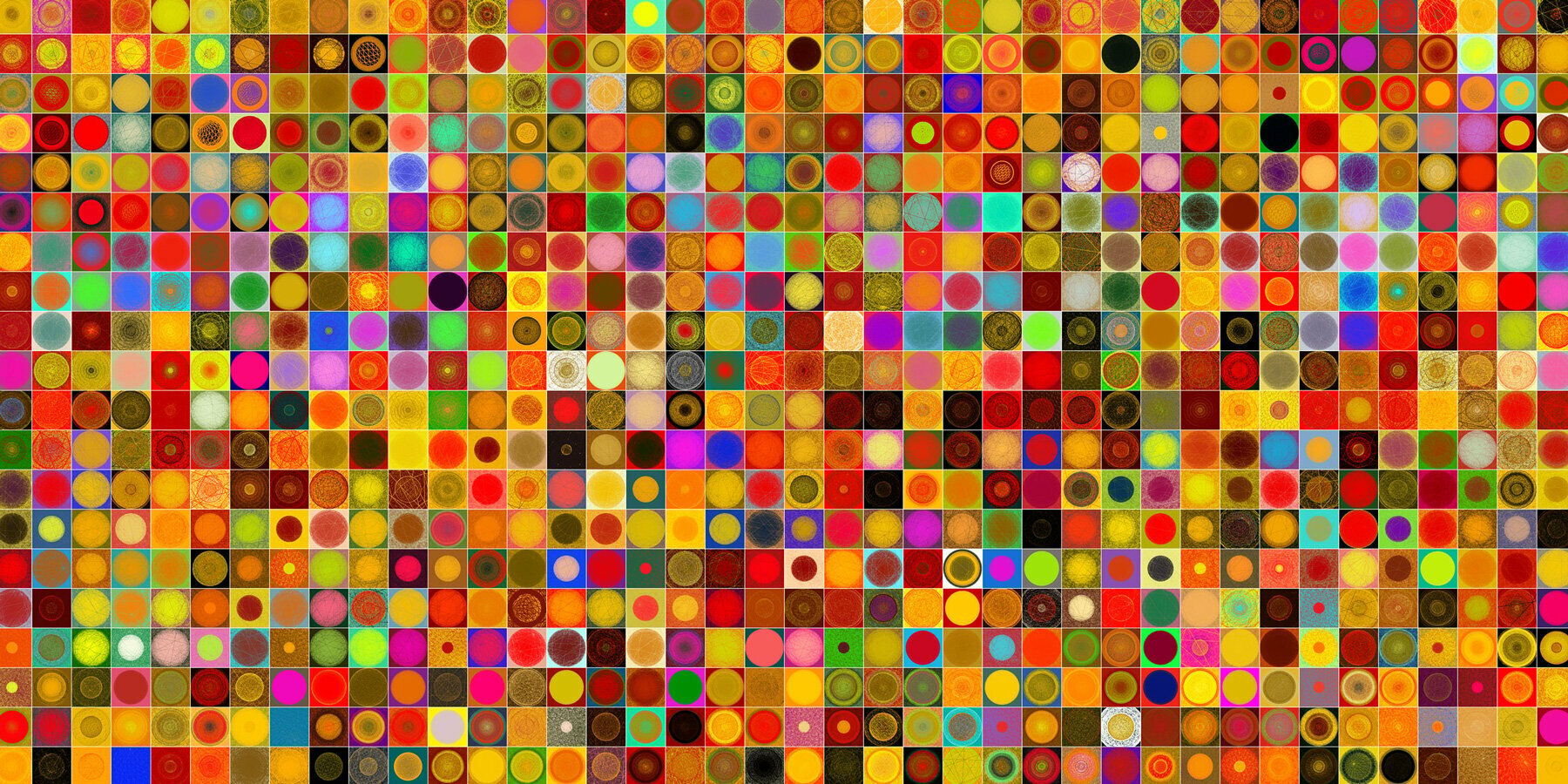 Sun Signals (2021) by Kevin Abosch
The inaugural edition of NFT ART DAY ZRH, the first annual NFT and metaverse conference in Switzerland, took place last Sunday, June 12, 2022, at the Auditorium of the Kunsthaus Zürich. During an insightful afternoon of talks, leading figures from the field of digital arts and the art market explored different topics related to NFTs within the wider realm of the history of digital art.
One of the topics of the conference, titled 'On NFTs and the Value of Art' and moderated by Anika Meier, brought together internationally acclaimed artists and professionals, including Kevin Abosch, Georg Bak, Sarah Friend (joining virtually), and Leander Herzog, who discussed NFTs as an art form, ranging from conceptual, photography, and sculptural NFT artworks.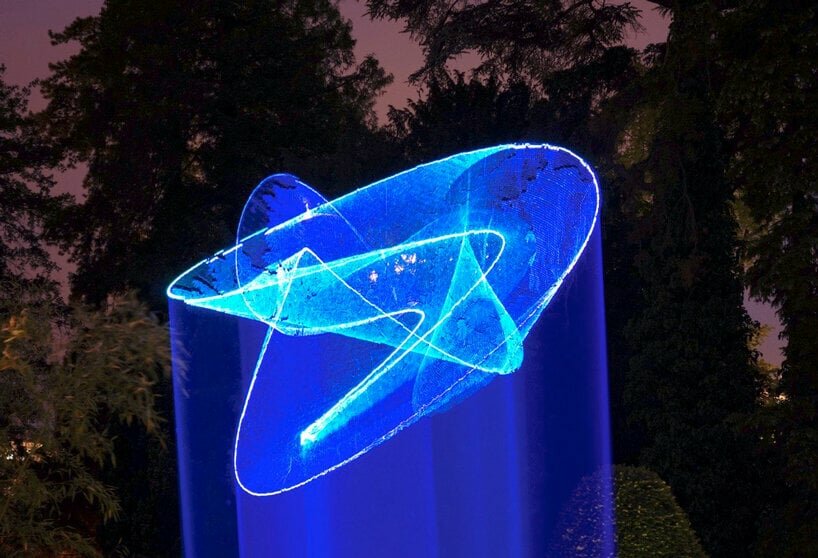 kleee02 NFT laser projection at villa Diana, Zurich, 2019
Swiss artist Johannes Gees has been working with NFTs long before most of us even heard the term 'non-fungible token'. Fascinated by new technologies and their potential, Gees has been exploring both digital and physical spaces since 1999. In 2019, he created his first NFT named 'proof of destruction'. in that same year, the artist collaborated with Kelian Maissen on a collection of 360 NFTs called 'kleee02', a laser platform that references a famous Paul Klee quote,'a line is a dot that went for a walk'.
At the 2022 edition of Engadin Art Talks (E.A.T.) Johannes Gees was in conversation with gallerist Nina Roehrs to discuss the artist's kleee02 NFT projection. designboom also caught up with Gees during the weekend-long art event in Switzerland to examine the evolution of digital art and how NFTs are changing the game for artists.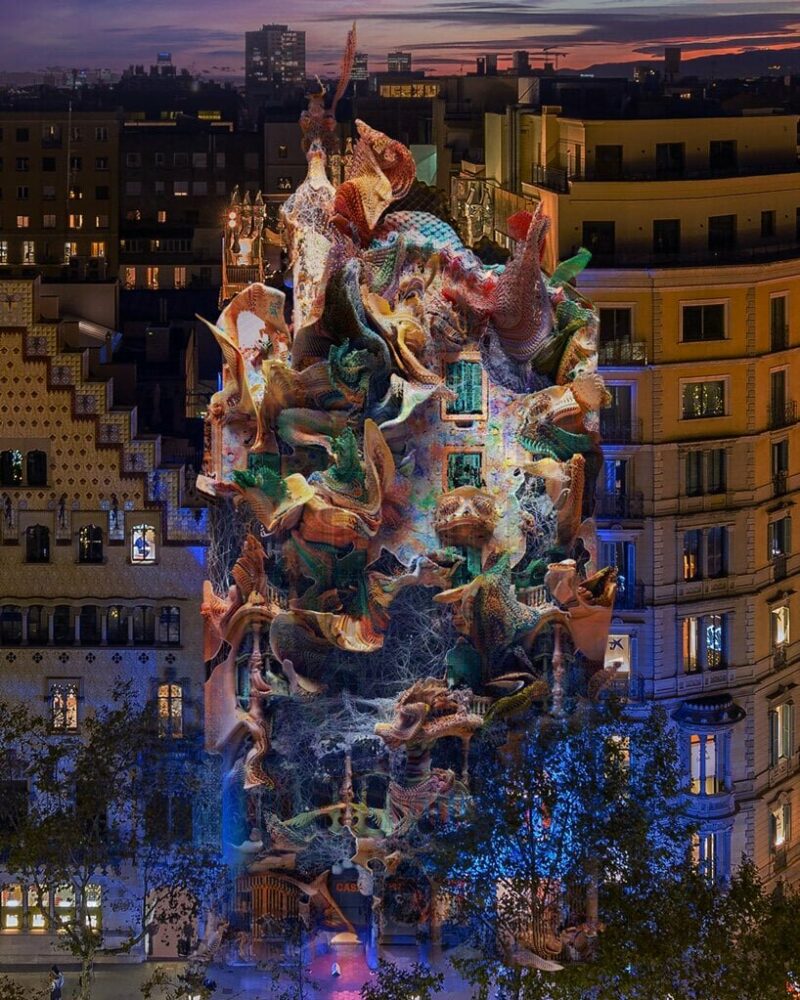 image via Casa Batlló
Refik Anadol's 'Living Architecture: Casa Batlló' is a dynamic NFT of the façade of Antoni Gaudí's iconic Casa Batlló in Barcelona. The digital artwork, which was auctioned off at Christie's on May 10 for $1.38 million, uses environmental data gathered in real-time from sensors placed around the site. As such, the pioneering masterpiece changes depending on the city's weather, data collected in real-time, and the events celebrated on the façade of the famous building, including Saint George's Day and Christmas. Casa Batlló is the first UNESCO World Heritage building that has been reinterpreted in an NFT form.
'Gaudí is an amazing inspiration for any creator and Casa Batlló a dream work to dive into,' notes the pioneering AI artist and digital architect while reflecting on the challenge of reinterpreting the renowned spanish architect's work and principles. 'From its organic architecture, inspired in nature, to the smallest details on its many mosaics, it is a privilege to reinterpret such an alive legacy and bring it to the 21st century, guided by Artificial Intelligence.'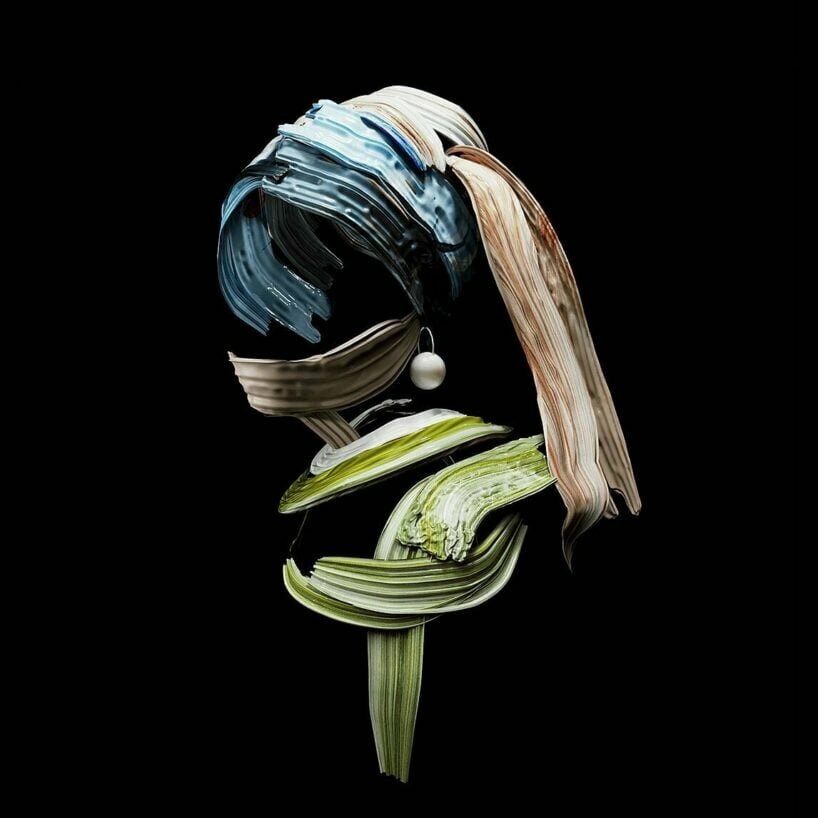 'The Girl with a Pearl Earring' by Johannes Vermeer © Fuat Değirmenci via Behance
From 'The Girl with a Pearl Earring' by Johannes Vermeer to the 'Mona Lisa' by Leonardo da Vinci, Fuat Değirmenci transports Renaissance masterpieces into the digital sphere, stripping them down to bold, minimal brushstrokes. The series of modern 3D renderings titled 'Minimal Renaissance' digitally reinterprets some of the world's most renowned paintings, encapsulating their original essence through lines, perspectives, colors, and light, illustrated in a contemporary expression. Emphasizing the movement's 'rebirth' of human-centered understanding of thought, Değirmenci's simplification of these infamous, historic artworks hones in on their fundamental underlying beauty.
The visual and motion artist launched this series as a collection of NFTs with Dubai's Art World Creation NFT Gallery. Each purchased NFT also comes with a physical framed digital screen, both of which have been minted together by Octopus Signage.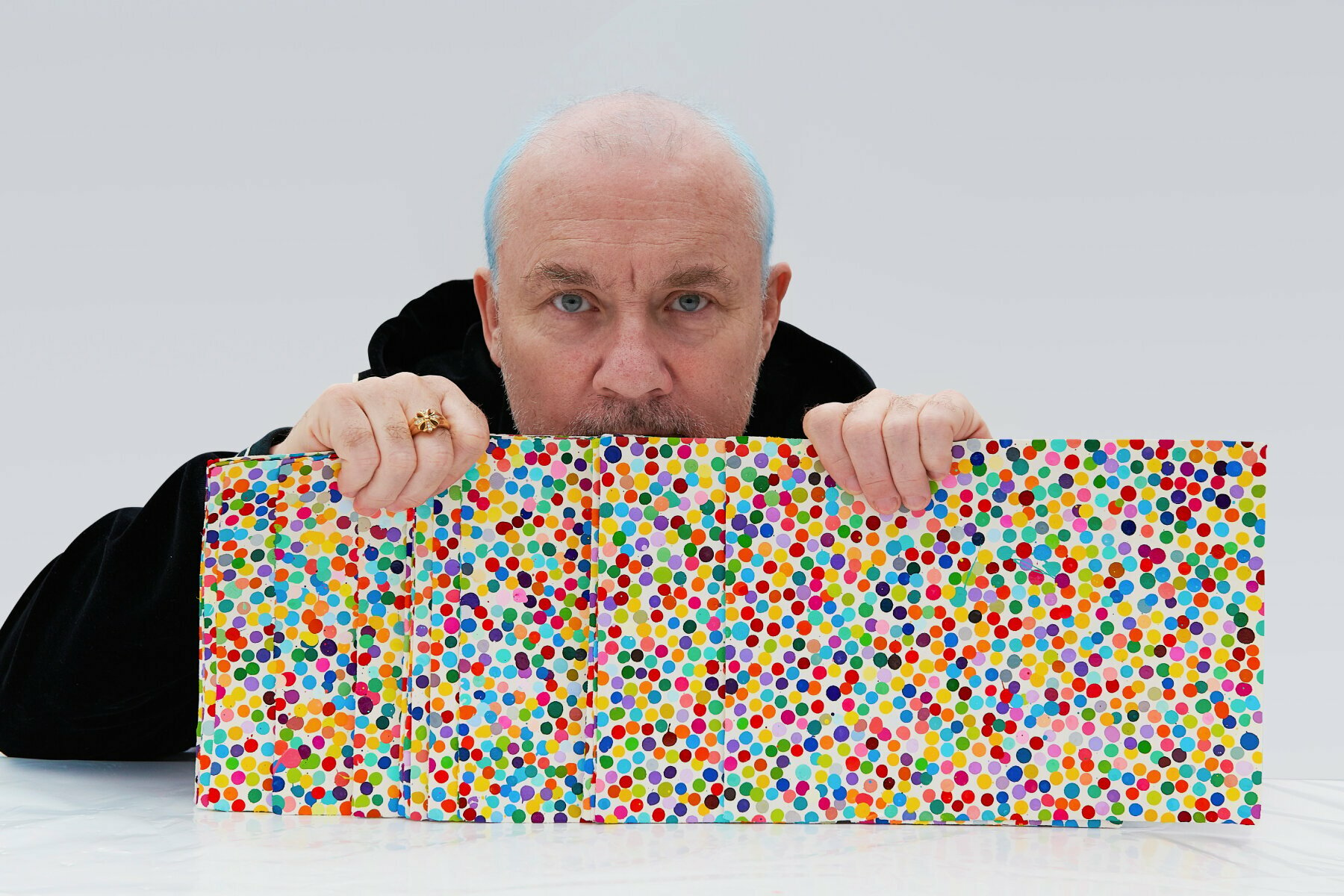 The fate of the artwork was in the buyer's hands when Damien Hirst decided he would burn the physical copies of his uniquely made artwork The Currency, priced at 2,000 USD each, if people bought its NFT counterpart. Collectors could not own both the NFT and physical artwork, so they had to choose one under a deadline (more on that here).
True to his word, Hirst destroyed the first 1,000 physical artworks of The Currency at Newport Street Gallery on October 12th, tossing the dollars NFT aficionados digitally handed the artist into the fire (at least it was a state-of-the-art-looking fireplace). Buyers and onlookers flocked inside the white tent, basking in the scent of smoke and anticipation, and happily eyed the modest grin on Hirst's face as his fire-resistant gloved hand made its way into the pyre to fling or gently lay down a piece of his dots-covered paper that was worth bucks into the flames.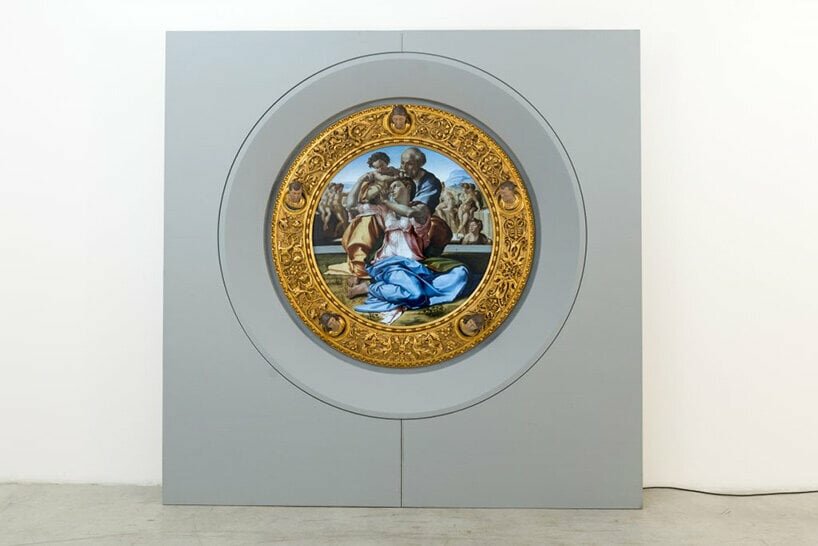 Michelangelo's Doni Tondo (1505-06) | courtesy of the Uffizi Gallery
The Italian government aims to stop digital art sales by museums to protect the country's cultural heritage from NFT frauds. This decree is a reaction to the recent 240,000€ sale of an NFT of Michelangelo's work from which Florence-based art gallery Uffizi received only 70,000€. The country's ministry responsible for regulating the Italian museums has requested institutions to halt agreements with NFT providers.
The decision to stop contracts with NFT companies came after the sale of Michelangelo's Doni Tondo NFT from the Uffizi Gallery last year. The sale was directed by the Milan-based tech company Cinello, as part of a five-year contract to digitalize artworks from the museum's collection. The Gallery received less than one-third of the achieved price, although they have agreed on a share of fifty percent — as a Cinello spokesperson told the Art Newspaper. The tech company took so much in fees that the museum only got 70,000€. The works were produced in editions of nine, with a price between 100,000€ and 250,000€ each.
image by Christie's (Beeple (b. 1981) Everydays: the first 5000 days)
A group of editors on Wikipedia, the free online encyclopedia, has voted against categorizing nonfungible tokens (NFT) as a form of art. it all started on the platform the past December. The Wikipedia editors were questioning if sales reached up to 60 million dollars — like Pak's $ 91 million collections and Beeple's $ 69 million NFT — should be on the list. Following a public debate, five Wikipedia editors have voted not to classify NFTs as art and just one was opposed.

'Wikipedia really can't be in the business of deciding what counts as art or not, which is why putting NFTs, art or not, in their own list makes things a lot simpler. There's a separate issue of artificial price inflation of NFTs, though that's something that would need to be decided in the NFT list and not here,' said a Wikipedia editor in a talk.

see designboom's TOP 10 stories archive:
christina petridou
I designboom
dec 18, 2022
KEEP UP WITH OUR DAILY AND WEEKLY NEWSLETTERS
a diverse digital database that acts as a valuable guide in gaining insight and information about a product directly from the manufacturer, and serves as a rich reference point in developing a project or scheme.
designboom will always be there for you
milan, new york, beijing, tokyo

,
since 1999