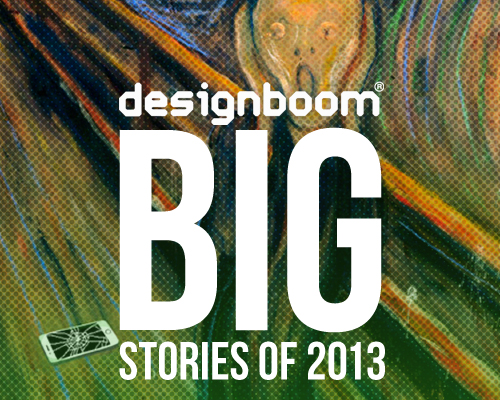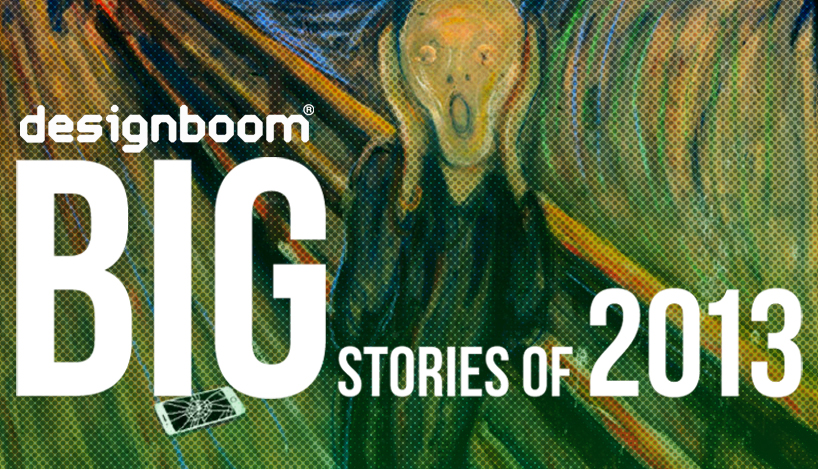 dec 26, 2013
TOP 10 reader submissions of 2013 - art
TOP 10 reader submissions of 2013 – art
this year we received several thousand submissions from our readers, with designers, artists and architects from across the globe sending through a diverse range of works that we have shared with our audience over the last 12 months.

we believe that maintaining an open dialogue with creatives is extremely important, and we are happy to showcase the high level of original projects of our readership. from a phone booth aquarium filled with exotic fish, to a façade sliding off a building front, we bring you the TOP 10 most popular art reader submissions of 2013.
21st technology added onto famous masterpieces by art x smart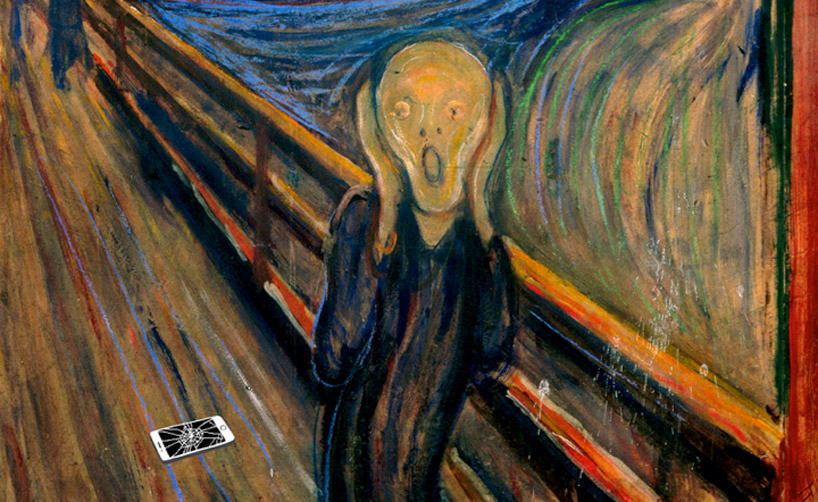 'the scream' by edvard munch, 1893
image courtesy of kim dong-kyu
combining famous historical paintings with images of 21st century technology, 'art x smart' has transported them into another time. the addition of smartphones onto masterpieces by artists such as cézanne, gogh and manet forces one to re-examine the works and question the influence of technology on modern society.
from the knees of my nose to the belly of my toes by alex chinneck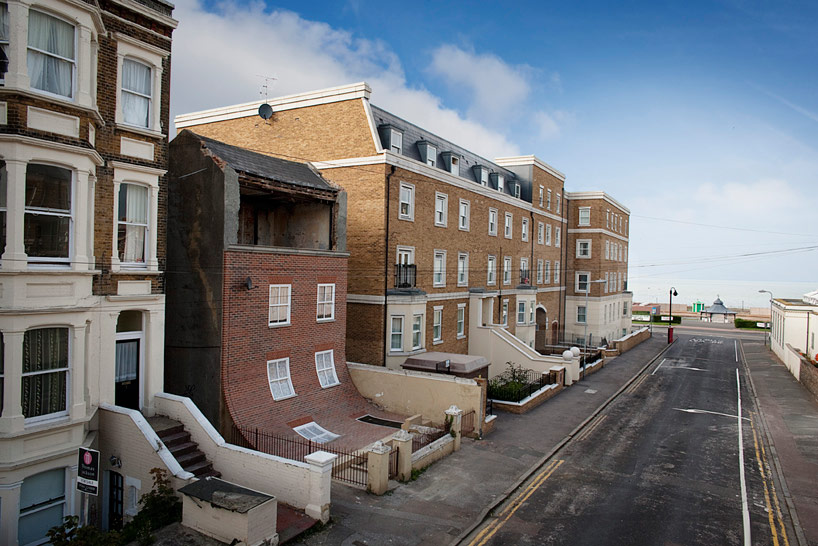 image © stephen o'flaherty
peeling away the original facade, british artist and designer alex chinneck slid the front off a four storey house in the seaside town of margate in kent, UK. the original, derelict structure had been abandoned for 11 years, and its new face gives the appearance that it just slipped down, onto the ground.
Y&R shanghai: wooden shark coffins by handsome wong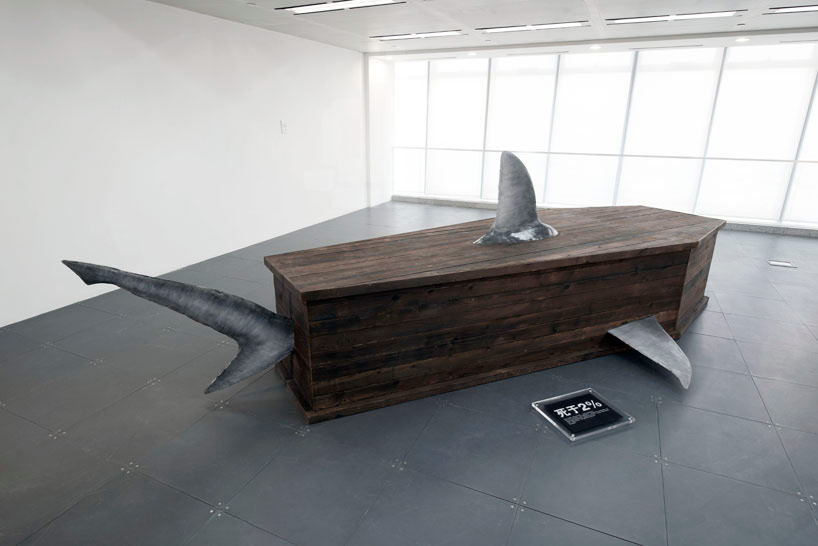 image courtesy of handsome wong of Y&R shanghai
fins eerily protrude out of wooden caskets in this social awareness campaign by handsome wong of Y&R shanghai. the shark-sized coffins are used to emphasize the killing of over 73 million of the species every year just for bowls of soup.
transparent cubic prism suspended in texas by akane moriyama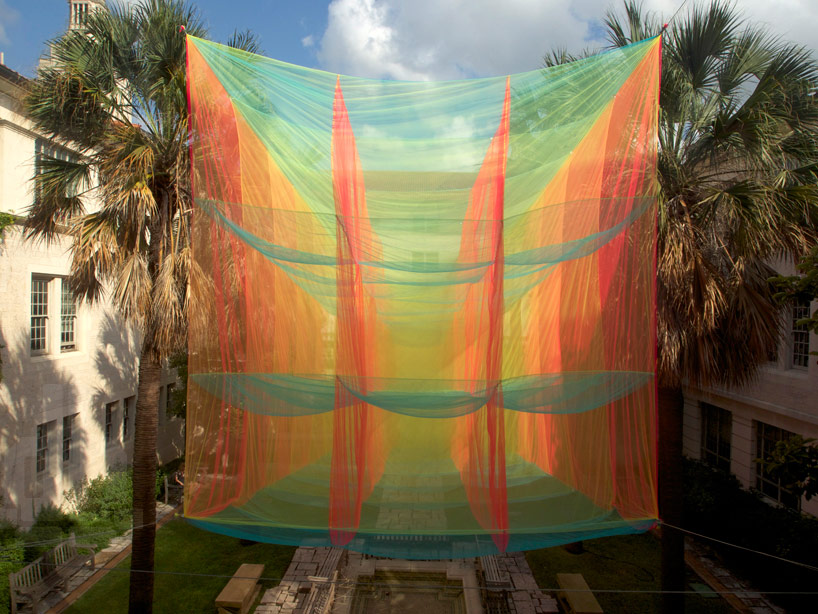 image courtesy of akane moriyama
gently responding to wind movements and rain drops, 'cubic prism' by stockholm-based designer akane moriyama is a large cube-based structure made out of three different colors of textiles. suspended between two buildings at the goldsmith hall in the university of texas, austin, the geometry of a rigid cube is replaced with soft semi-transparent fabrics.
phone booth aquariums by benedetto bufalino + benoit deseille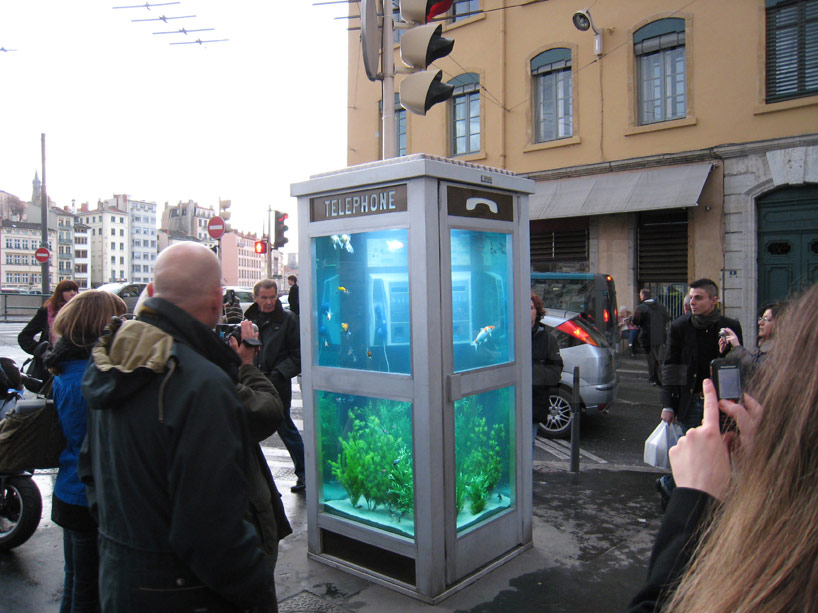 image courtesy of benedetto bufalino
enabling everyday moments to border on dream-like visions and urban reality, the 'phone booth aquarium' installations by french artist benedetto bufalino and lighting and designer benoit deseille are a playful transformation of common telephone boxes.

into the mirror intersects reality + artistry by luca meneghel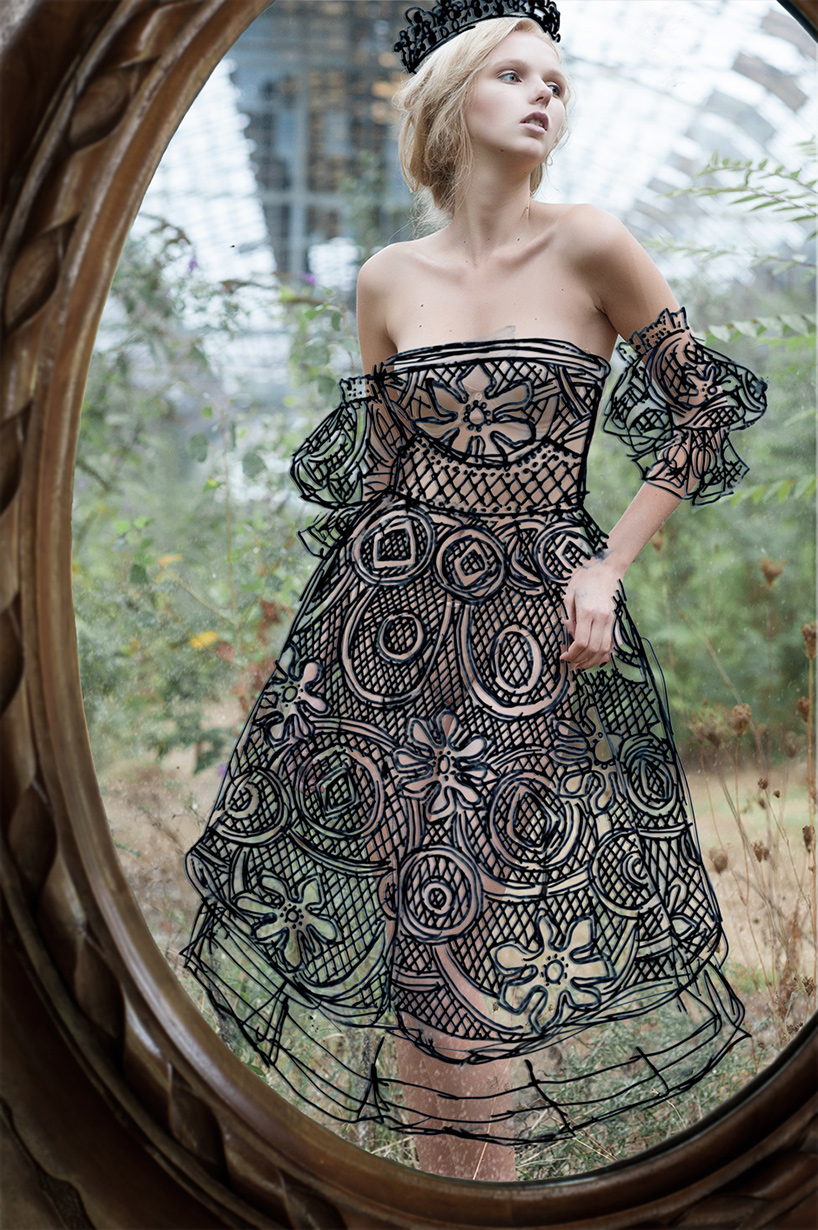 image courtesy of luca meneghel
italian photographer luca meneghel's specialization in fashion and background in design has led him to 'into the mirror': a series of images that intersect reality and artistry through the fusion of lens captures and hand drawing.
nelson mandela portrait made from 27,000 punches by phil akashi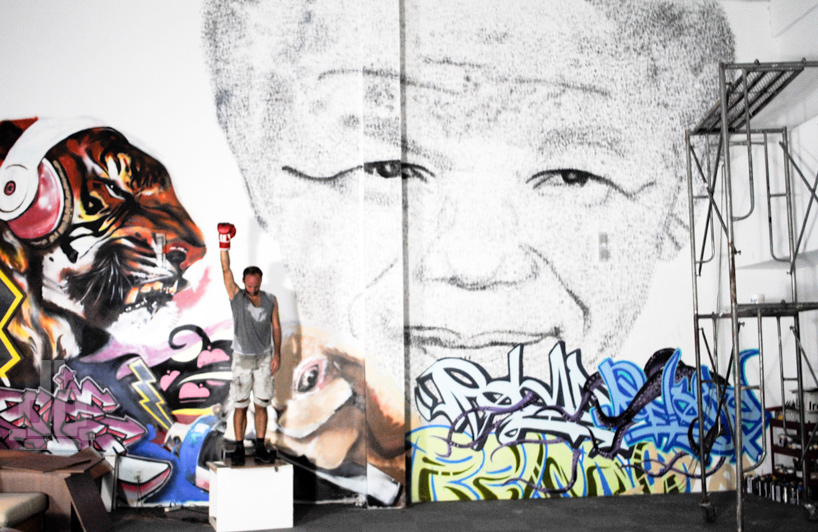 image courtesy of phil akashi
phil akashi pays tribute to international hero nelson mandela, by painting a monumental portrait made from 27.000 boxing punches with the chinese characters 自由/'freedom'. this symbolic and powerful painting resides in the shanghai graffiti park, and is surrounded by a mix of street art by local creatives.
yellow light painted onto a grey street by (fos)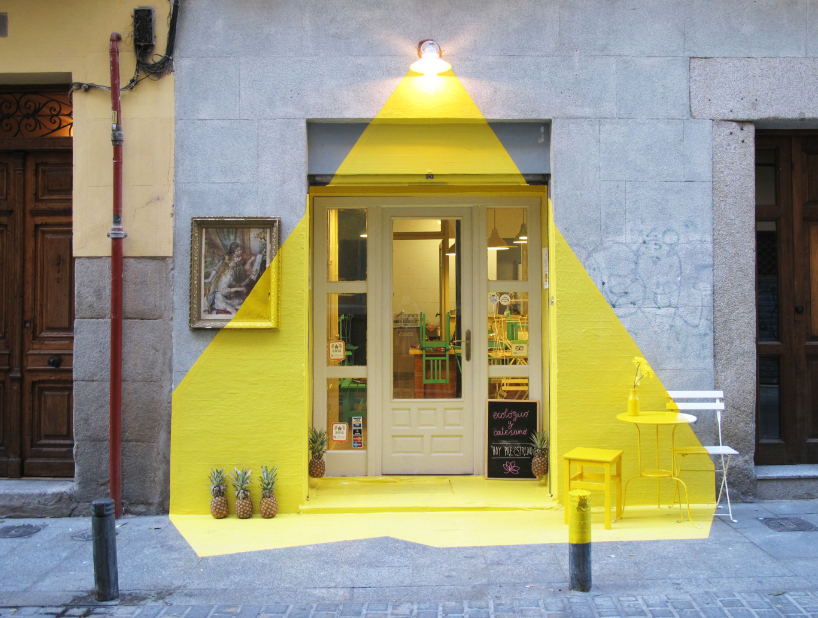 image courtesy of (fos)
(fos), a multidisciplinary team of interior designers and art directors based in madrid and barcelona, created an ephemeral installation that gives a visual perception of a projected beam of light. the installation is named (fos), the name as the team itself, appropriately translating to 'melted' in catalan and 'light' in greek.
hybrid designer drugs jewelry by aroha silhouettes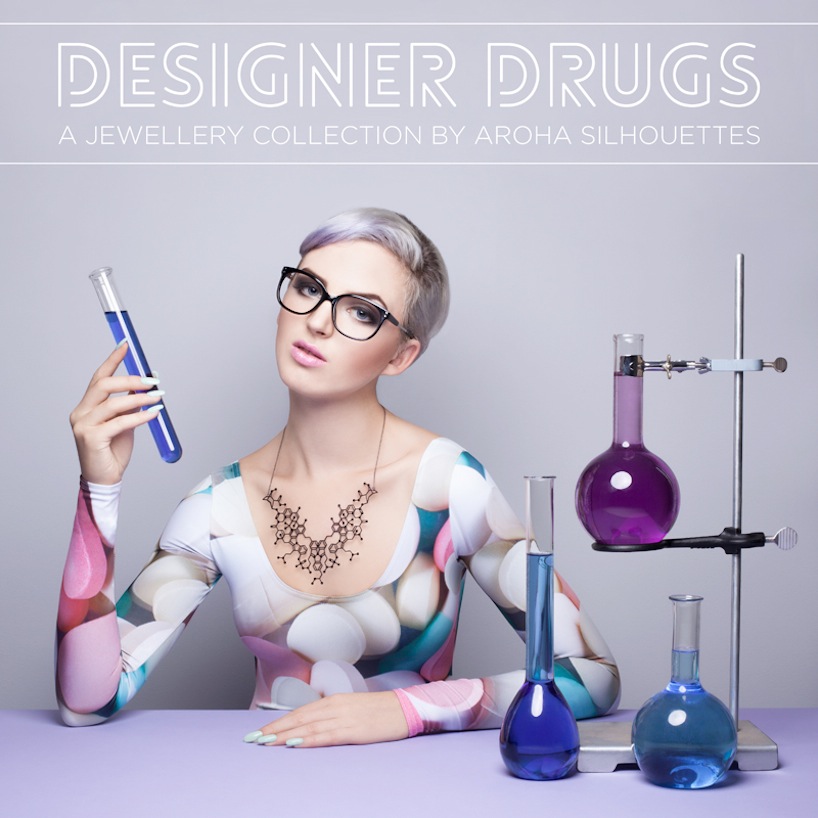 image courtesy of aroha silhouettes
synthesizing the original molecular addictions collection, 'wearable vices' aroha silhouettes has created six necklaces for the lastest 'designer drugs' series. each of the unapologetically bold pieces are based on an indulgent 'fantasy laboratory', where both legal and illicit hybrids are made not to be ingested, but worn.
outside in: the infinite garden by meir lobaton corona + ulli heckmann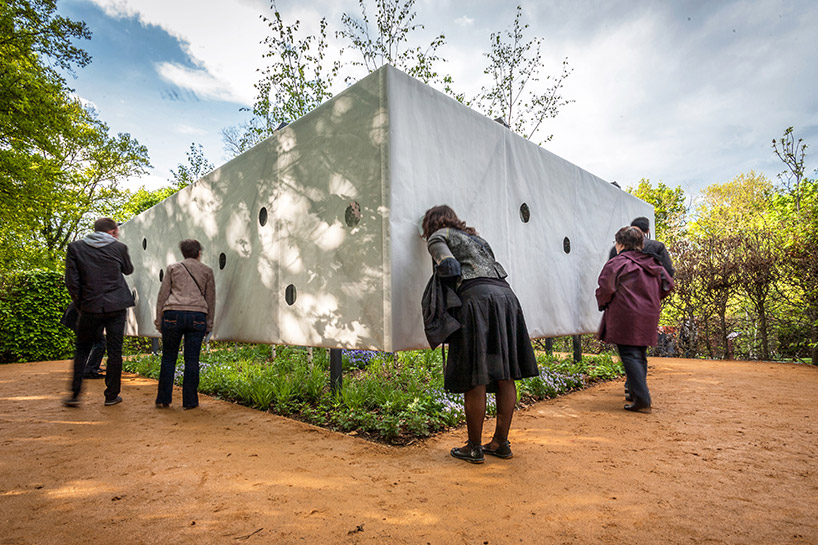 image © fabio ferrario
the 'outside-in' garden by architects meir lobaton corona and ulli heckmann, is conceived as a visual paradox for the 22nd international garden festival of chaumont sur loire, france – a device that enhances conditions in order to make the audience realize how by relying only on sight, they rely on imagination.
to be part of this cultural network, we invite you to join the conversation and submit your work.
see other reader submission articles from the categories of art, architecture and design here.
dec 31, 2013
dec 31, 2013
dec 31, 2013
dec 31, 2013
dec 31, 2013
dec 31, 2013
dec 31, 2013
dec 31, 2013
dec 30, 2013
dec 30, 2013
dec 30, 2013
dec 30, 2013
a diverse digital database that acts as a valuable guide in gaining insight and information about a product directly from the manufacturer, and serves as a rich reference point in developing a project or scheme.