looking back at 2022's top 10 installations by our readers
As we continue our review of 2022's biggest design stories, we take a look at some of the most exciting installations created by our readers. Over the past year, artists, designers, and architects alike have used the power of their mediums to present innovative and immersive ways of capturing their audiences attentions, both spatially and conceptually. Most notably, we saw many designers testing the boundaries of nature to create not only thought-provoking sculptural pieces, but also environmentally-conscious functional devices dedicated to preserving our ecosystems.
From a site-specific installation transforming a tree trunk into a primitive concert space, to a living plant robot wielding a machete, to a stool made of fungi that bloom into flower-like mushrooms — we highlight our TOP 10 installations from our reader submissions of 2022.
video © David Bowen
David Bowen's installation, 'Plant Machete,' enables a living plant to move a machete through an industrial robot's bionic-like arm. The installation implements a control system that measures electrical noises found in the living philodendron. This system uses an open source micro-controller connected to the plant, which reads varying resistance signals across the its leaves.
The machine's movements are accomplished by using a custom technology that translates electrical signals from the plant into real-time motion. Embedded patch sensors pick up electric signals from the leaves and transmit them to the machine that contains several joints that determine how the machete swings, jabs, slices, and interacts in space.
video © UMA
Following the first part of their 'One Tree Four Seasons' series, Ulf Mejergren Architects (UMA) and Finnish artist Antti Laitinen unveil 'Season II' of their collaborative work. As mentioned in designboom's previous coverage, the duo is working on a specific tree to create four different projects, one for each season, using the available material found in nature. 'Some of the materials that nature has to offer can only be found at certain periods over the year, which turns each project into a reflection of that particular time,' explains UMA.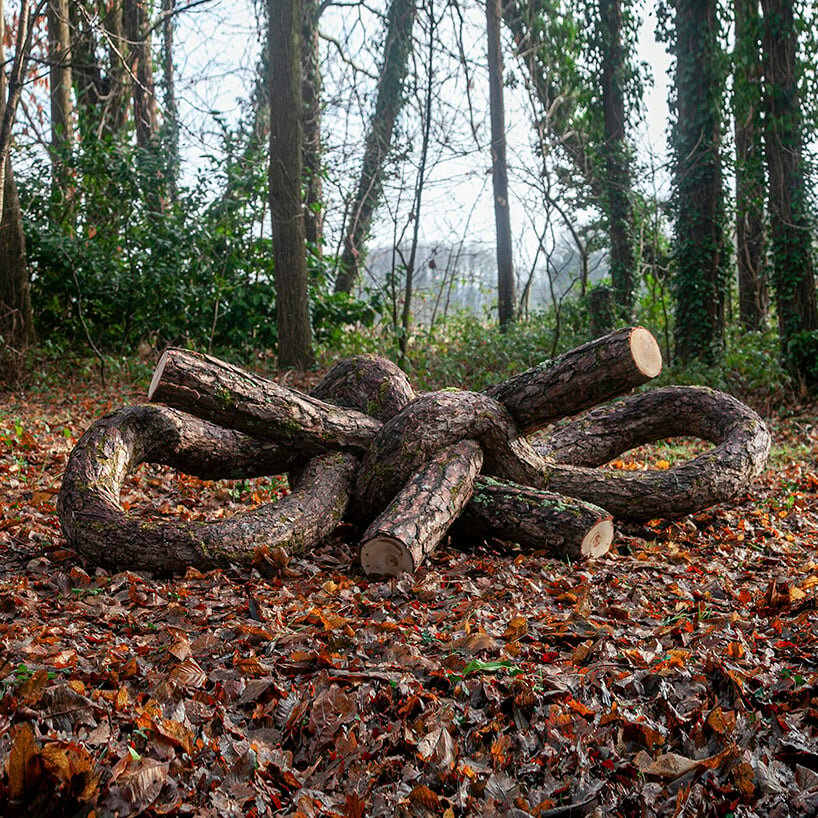 image © Monsieur Plant
Botanical artist Christophe Guinet, better known as Monsieur Plant, presents his latest project 'TWIST' which highlights a series of delicately contorted tree trunk sculptures echoing the emotions of nature through their distinct forms. The series introduces five unique installation pieces that 'come straight out of a fantastic and magical universe', modeled in unusual configurations to question the transformative powers and limitations of nature.
In an effort to learn more about natural decomposers such as fungi and bacteria, Japanese designer Satoshi Itasaka unveils the 'Fungi Stool'. As its title suggests, the stainless steel and wood stool is composed of fungi that grow and bloom, like flowers, into mushrooms.
'It is no exaggeration to say that the cycles of nature are carried out by bacteria and fungi,' Itasaka notes. 'Bacteria and fungi have been the decomposers in the food chain keeping the earth's environment in a healthy state. They are the ones we should follow for we are constantly putting a burden on the earth in terms of the global environment.'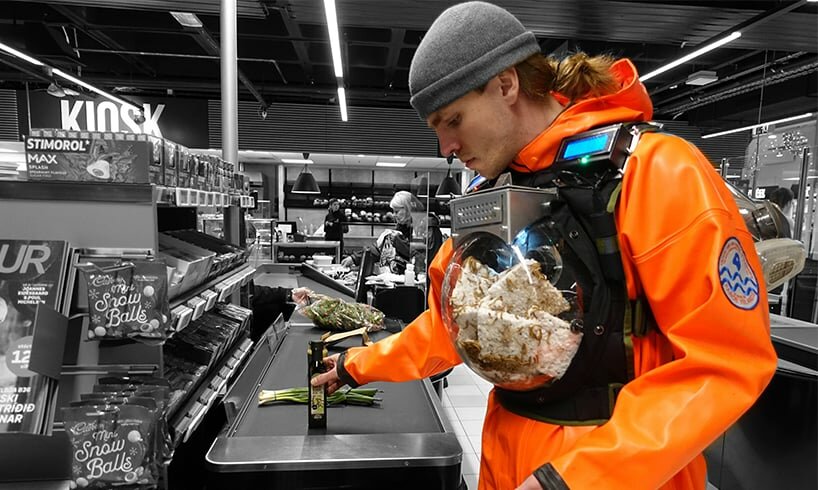 image © Pavels Liepins
Pavels Liepins designs 'Inxect Suit' — a low-carbon, wearable plastic waste management and protein harvesting system powered by mealworms and human emissions. Addressing key future concerns over both food insecurity and plastic pollution, the mobile regenerative device creates a symbiotic relationship between the human body and the mealworm colony. The suit integrates a habitat of mealworms sheltered by a terrarium and human body heat released from movement, employing the insect to safely consume and digest toxic plastic waste. The project further proposes the protein-dense insects as a low-energy and nutritious alternative of meat for human consumption.
With his latest 3D street mural 'Crypto Casino', anamorphic mural artist Leon Keer enlivens the corner of a parking lot in Downtown Las Vegas by illustrating a giant slot machine. The vibrant and witty artwork with a pop surrealism aesthetic questions the rapid emergence of cryptocurrency and the risks it can pose through uninformed decision-making. Likening mainstream crypto trading to the traditional practice of casino gambling that is so widely prevalent in Las Vegas, Keer explains: 'you can go all in, but without the recognized risk, cryptos can become an addictive gambling product.'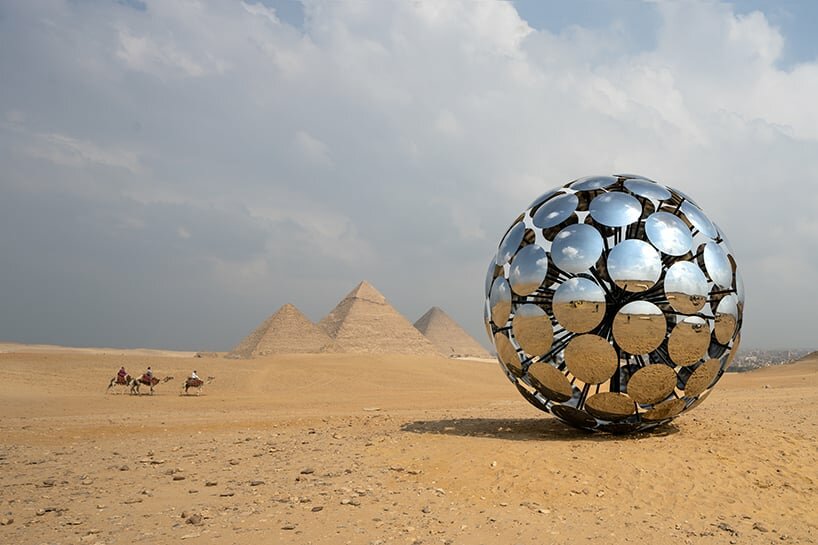 image © Ruben PBescos
Set against the historic backdrop of the Great Pyramids of Giza, urban designer SpY conceives a large, chrome steel and glass orb, capturing the encompassing vistas and sky in dazzling fragmented reflections. The new installation titled 'ORB: Under the same Sun' fuses heritage with contemporary art, drawing on ancient Egyptian culture with its spherical form and specular surface. Echoing elements of classic Egyptian mathematics, symbolism, and notions of creation and rebirth, the artwork explores the distant past to the present, to imagine the future of humanity as part of Art D'Égypte's group exhibition 'Forever Is Now II'.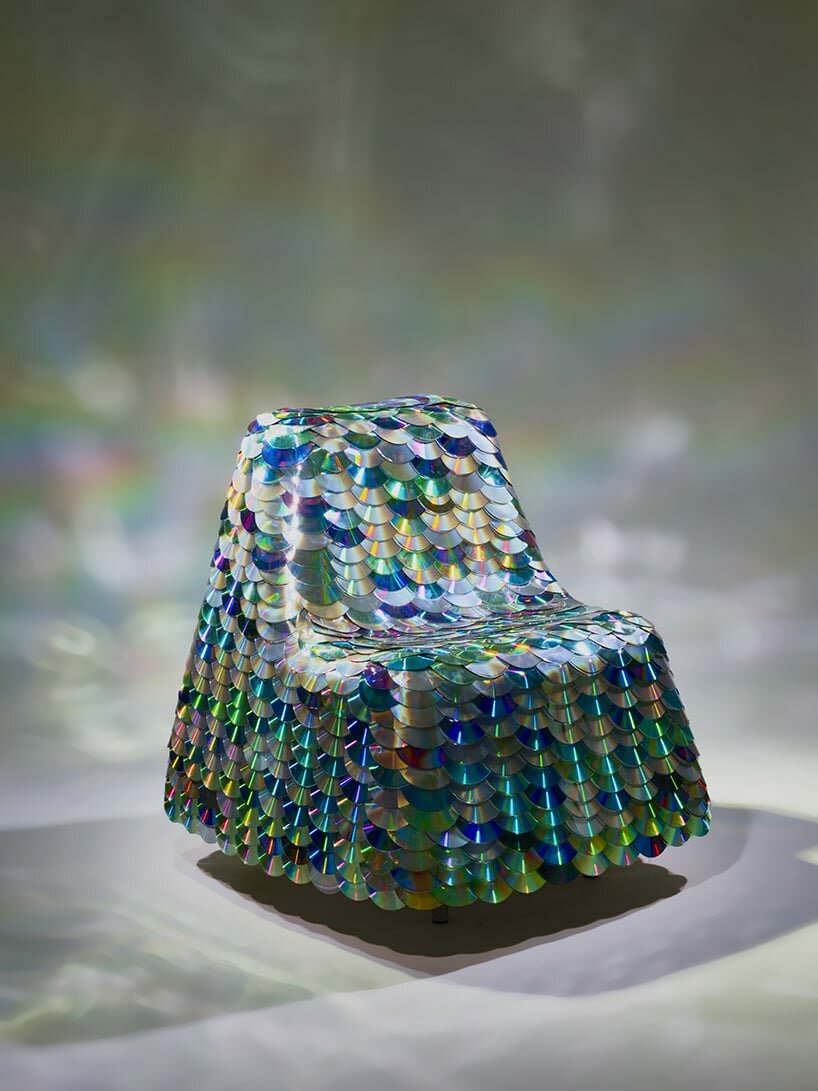 image © Noé Cotter
Swiss designer Boris Dennler created a recycled chair made out of deformed 887 CDs and DVDs titled 'Compact Disc Chair.' Through experimentation, the iridescent discs are deformed with heat and fixed by screws and assembly glue onto a rounded wooden skeleton cut by a digital mill — giving new value and purpose to these soon-to-be-obsolete products.
Since 2004, Dennler's work has essentially focused on recycling, and for this project, he re-imagined the use of compact discs as their product cycle has been dying for the past 17 years.'Physical hardware is gradually being replaced by the cloud, streaming, and USB keys. With the advent of MP3, the 2000s sealed the gradual disappearance of the audio cassette, then of the compact disc. Nevertheless, the vinyl record has managed to survive somehow, to currently experience a renaissance, pampered by a few aficionados,' he writes.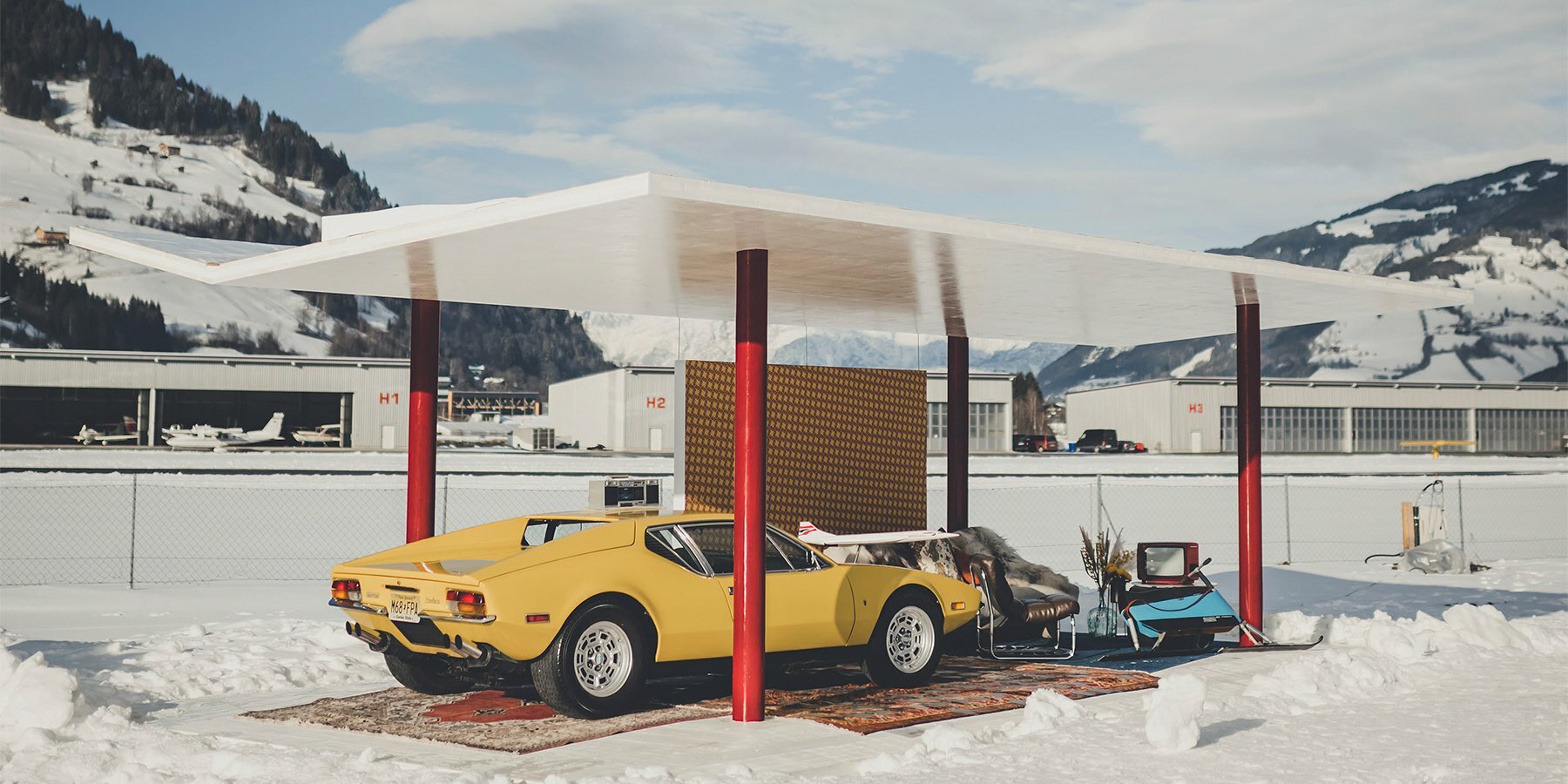 Vienna-based architectural office Steiner Architecture f/f has designed a portable outdoor living room in the icy mountains of Austria. Forty-five years after the last ice race in Zell am See, two young motor enthusiasts decided to bring the tournament back to life. Hence, on the occasion of the thrilling revival, the architects were invited to realize a pavilion that offers racers a spot to unwind during the GP Ice Race.
Setting against the icy backdrop, the project takes shape as a picturesque pop-up living room, straight out of a cult movie. The portable pit stop pavilioninvites drivers to relax and take a break while it adds a humoristic touch to the otherwise white context. Vintage furniture, Persian rugs, a Pan Am carpet, and a model British Airways Concord complete the collage-like show topped by an inverted gable roof.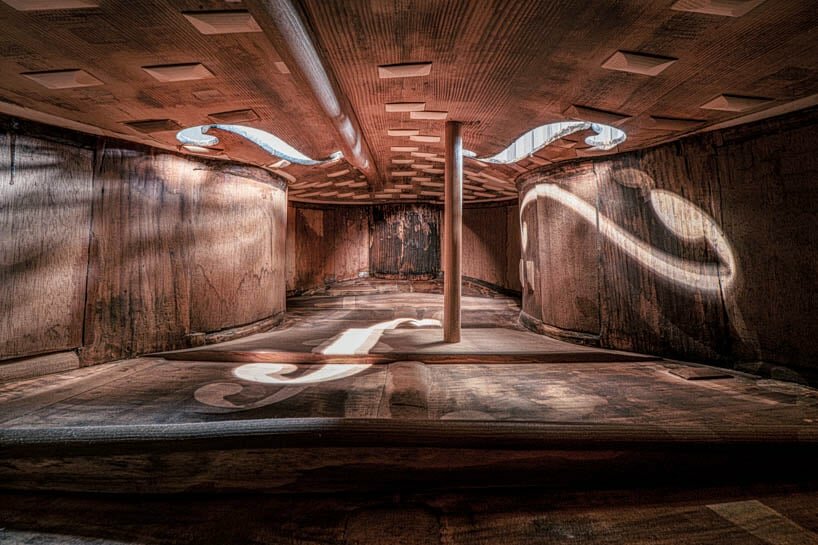 image © Charles Brooks
Architecture in Music explores the hidden, cavernous interiors and detailed anatomies inside some of the world's finest musical instruments, captured by photographer Charles Brooks. Using specialist probe lenses and complex imaging techniques, the New Zealand-based photographer unveils the beauty and complexity of unseen spaces inside pianos, violins and flutes, each photo a careful blend of hundreds of frames. The unprecedented sharpness and detail combined with the curious perspectives render these spaces as vast rooms with striking, cavernous interiors, some almost cathedral-like, exposing the tool marks of the makers, repairs carried out through the centuries, and the hidden architecture within.
see designboom's TOP 10 stories archive:
a diverse digital database that acts as a valuable guide in gaining insight and information about a product directly from the manufacturer, and serves as a rich reference point in developing a project or scheme.
designboom will always be there for you
milan, new york, beijing, tokyo

,
since 1999