see designboom's TOP 10 stories archive:



TOP 10 VIDEOS OF 2016
over the course of the year, designboom has covered numerous projects in the fields of architecture, art, design and technology, presented through the format of moving image. from a drone's-eye-view of herzog and de meuron's elbphilharmonie, to a piano performance in the middle of the arctic ocean, the short movies take the audience in-depth to the project's visual core, offering a stimulating and dynamic look at creative work through animated, documentary and digital formats. designboom's TOP 10 looks back at the most memorable videos we watched in 2016.
WILDLY DANCING AVATARS AND BEAD-CLAD BODIES BOOGIE DOWN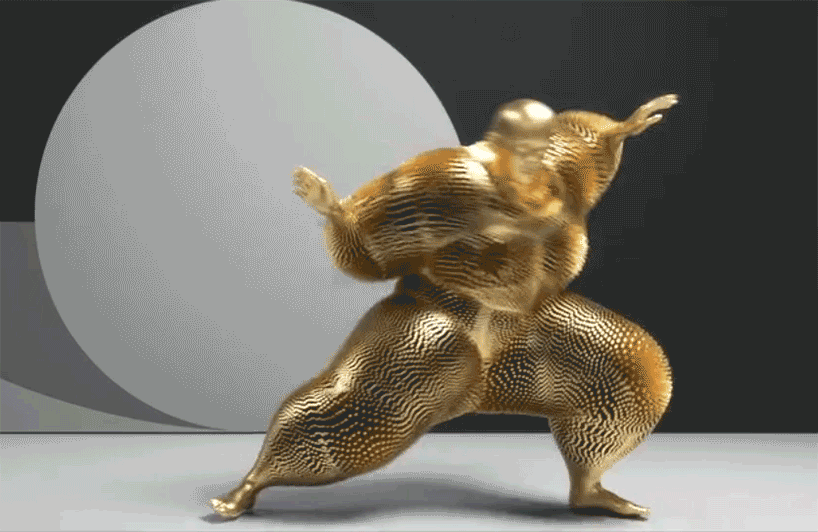 while these vibrantly animated characters appear to be costumed dancers at first glance, it soon becomes apparent that their anatomies are carefully crafted digital forms. method design, a motion & direction studio based in new york, was commissioned by production company RSA to create this year's sponsor reel for the association of independent commercial producers. motion capture, procedural animation and dynamic simulations combine to create a tableau of pop dance moves that explode with colorful confetti, fur, feathers, and string. colorful, marshmallow-like creatures breakdance, leafy figures gyrate, and bead-clad bodies boogie down before dissolving, disintegrating, and deforming throughout the course of the film.
read more about the video on designboom here.
DRONES CAPTURE EMPTY ELBPHILHARMONIE BY HERZOG & DE MEURON
herzog and de meuron's elbphilharmonie released an interactive video captured by two drones — called 'rock' and 'roll' — that flew around the empty concert hall in hamburg. created by jung von matt agency in collaboration with gestalt communications, the film gives viewers access to the stunning architecture of the landmark nicknamed 'elphi'. the authors of the movie combined the different views of the two drones into a single clip. slow or fast, the final version allows users to set the pace of the moving image — by clicking the space bar to speed it up — and releasing the bar to see it again in its original mode.
read more about the video on designboom here.
LUDOVICO EINAUDI ORCHESTRATES FLOATING PERFORMANCE IN THE ARCTIC OCEAN
italian pianist and composer ludovico einaudi performed a historic concert, set on a floating platform in the arctic ocean. against the icy backdrop of the wahlenbergbreen glacier in svalbard, norway, einaudi has played one of his own compositions 'elegy for the arctic' for the first time. a monumental early retreat of sea ice as a result of climate change allowed for the construction of an artificial iceberg made from more than 300 triangles of wood, on which a grand piano sits. created in collaboration with greenpeace, einaudi adds his voice to those of eight million people from across the world demanding protection for the arctic, from threats like oil drilling and destructive fishing.
read more about the video on designboom here.
SONY BRAVIA ADVERT FILLS DERELICT CASINO WITH 4000 GLITTER BALLOONS
the sony BRAVIA advert brings a romanian casino to life by installing thousands of glitter balloons within the interior of the derelict building. shot in 4K, the ad made by american director andre stringer, together with DDB berlin, used over 4000 balloons and 1500 kilograms of glitter in the visually enchanting setting. the film starts with a single white balloon entering the empty building — the casino then gradually fills with balloons capturing the attention of onlookers before they burst in an explosion of color.
read more about the video on designboom here.
TOM FORD'S TADAO ANDO-DESIGNED RANCH
fashion designer tom ford put his tadao ando-designed santa fe ranch on the market for a reported price of $75 million USD. a dramatic video was released spotlighting the cerro pelon ranch, personally sited by ando, which encompasses 20,662 acres (or 32 square miles) of land in new mexico. the site's main residence hovers above a reflecting pool, and directly adjoins a horse barn with eight individual stalls. the circular spaces of the indoor and outdoor riding arenas complement the residence's more linear architecture.
read more about the video on designboom here.
DO HO SUH'S FULL-SCALE RUBBING OF HIS FORMER NYC HOME
art21 — a nonprofit organization dedicated to connecting audiences to the artistic process — shared an exclusive film of korean creative do ho suh's latest work. the video documents the artist as he engages in his most recent project — a full-scale colored-pencil-on-paper rubbing of his former new york city home. this apartment, which suh lived in for eighteen years, has become the subject of numerous installations and artworks that consider themes of identity, memory, and displacement. the process begins by wrapping each and every surface with white paper, covering the walls, ceiling, cabinets and even house keys. suh continues by rubbing colored pencil across the paper sheets, saturating them in a variety of vibrant colors.
read more about the video on designboom here.
INSIDE FUKSAS' NEW ROME EUR CONVENTION CENTER AND HOTEL IN ITALY
fuksas has completed the 'new rome-EUR convention center and hotel' in the italian capital, which forms the city's largest building in more than half a century. a video by elisa fuksas spotlights the character of the major complex, which has been named 'the cloud' — a moniker that references an independent cocoon-like structure situated at its heart. the complex hosts auditoriums, exhibition spaces, and a hotel, and is expected to generate between €300-400 million each year. two squares flank the building, providing venues for various leisure and outdoor activities and offering an area for public congregation.
read more about the video on designboom here.
PETA SHOCKS SHOPPERS WITH BEATING HEARTS IN 'LUXURY LEATHER' ACCESSORIES
visitors to 'the leather work' pop-up shop in one of bangkok's hippest shopping malls were given a grisly surprise as they surveyed the store's inventory. courtesy of PETA asia and ogilvy & mather bangkok, shoppers were shocked to find beating hearts and intestines inside bags, jackets and belts. customers trying on shoes or gloves soon realized that their hands and feet had been smeared with fake blood. although the fleshy elements have been artistically reproduced, their hyperrealistic characteristics convey the jarring message of animal cruelty clearly and emphatically. the campaign — 'behind the leather' — duped customers looking for animal-hide goods with a display of seemingly ordinary products that symbolically reveal the suffering behind exotic-skin accessories.
read more about the video on designboom here.
EDEN PROJECT VIDEO BY GRIMSHAW: THE WORLD'S BIGGEST GREENHOUSE
in a film series documenting some of grimshaw's most significant work, designboom took an exclusive look at one of the UK's most popular visitor attractions — the eden project. located in cornwall, the design comprises a sequence of eight inter-linked geodesic domes, covering 2.2 hectares and encapsulating humid tropic and warm temperate regions. 'designing the biomes was an exercise in efficiency, both of space and material,' explains grimshaw in the video. 'structurally, each dome is a hex-tri-hex space frame reliant on two layers. the efficiency of the frame relies on the components of the geometric shapes: steel tubes and joints that are light, relatively small and easily transportable.'
read more about the video on designboom here.
ALASKAN ATTORNEY BUILDS 185 FOOT STACKED LOG CABIN TOWER
video network great big story completed a short documentary about a tower that started as a 40×40 foot log cabin and has grown into an extraordinary architectural marvel. phillip weidner, an attorney in anchorage, alaska, has been building his 'goose creek tower' in the mountainous landscape of talkeetna for years. the eccentric MIT alumni and self-described 'frustrated architect' has constructed this private home as a series of stacked houses amassed one on top of the other, gradually becoming smaller as they stretch towards the sky. seemingly teetering and haphazardly placed, these individual dwellings have been piled into what appears to be an impossible structural feat, with small staircases and ladders inside leading from floor to floor.
read more about the video on designboom here.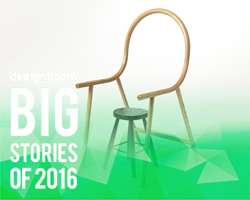 dec 24, 2016
dec 24, 2016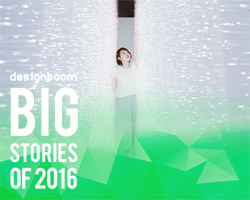 dec 22, 2016
dec 22, 2016
dec 21, 2016
dec 21, 2016
dec 20, 2016
dec 20, 2016
dec 19, 2016
dec 19, 2016
dec 19, 2016
dec 19, 2016
a diverse digital database that acts as a valuable guide in gaining insight and information about a product directly from the manufacturer, and serves as a rich reference point in developing a project or scheme.