over the course of the year, designboom has highlighted many projects in the fields of architecture, art, design and technology, presented via the format of moving image. from an eerie doctored video of mark zuckerberg that demonstrated the dangerous power of deepfake content, to a performance by banksy as he crashed the venice art biennale with an unlicensed street stall, these short films offer a dynamic look at creative work through animated, documentary and digital formats.
our TOP 10 videos of 2019 recalls the most memorable films we featured this year, as we look back at the clips that grabbed our and — more importantly — designboom readers' imagination over the past 12 months.
a deepfake video of mark zuckerberg that was uploaded to instagram raised concerns over falsified content of this nature. deepfake is a technique for creating digitally altered content using artificial intelligence to combine and superimposes existing images and videos. the clip in question was posted on instagram by bill posters, a pseudonym for the internationally recognized public-realm artist and author residing in the UK. the video is meant to appear as a legitimate news program and shows the facebook founder delivering a sinister speech about the social network.
cambridge-based firm matter design unveiled research on seemingly 'weightless' concrete forms that can be easily moved. realised in collaboration with construction-research company CEMEX global R&D, the pair discovered a way of rotating mammoth stones that would otherwise rely on cranes or heavy equipment. video documentation of their research illustrates the possibility of moving large concrete forms and assembling them into multi-level platforms, walls, and even staircases. using rounded edges and handle points, the components can be easily rocked, tilted, and rolled into place.
the viral video boys at corridor digital released a film with both the futuristic-hopelessness of a black mirror episode and the awkwardness of a christopher guest parody. it's just a day in the life for three bosstown dyanmics engineers as they slap and spray their latest two-legged robot courier. the men shuffle geekishly into their grungy testing area, slinging dodgeballs and hockey sticks at their robot. it's all good fun, but quickly something happens in our brains. the video makes us question, 'why do we empathize with this beaten up robot?'.
the poignant short film referred to as, 'the creature,' tells the story of an unknown animal washing onto that shore, fighting for its right to breathe a peaceful last breath. 100,000 mammals die from plastic every year and according to UNESCO, one million seabirds die annually of the same cause. to shock, move and inspire change, surfers against sewage, in collaboration with park pictures, made this film. the creature in the film is a computer generated representation of the thousands of species yet to be discovered, a representation of unknown life that our plastics are killing faster than we can discover them.
combining drone technology with the latest in photography, reuben wu captures dreamlike images of remote locations. the chicago-based photographer uses the piloted aircrafts to create aerial light sources, illuminating views for his ongoing series lux noctis. using the drones to create light paths, wu constructs geometric shapes that appear like halos hovering over the landscape. he uses them to illuminate inaccessible places like mountains, valleys and other remote locations. for his most recent 'lux noctis' images, reuben wu travelled to bolivia sponsored by phase one, a danish company specializing in high-end digital photography equipment.
designboom visited cuadra san cristóbal by luis barragán in atizapán de zaragoza, northwest of mexico city. the project that luis barragán, in collaboration with andrés casillas, designed in 1966 and built between 1967 and 1968 for swedish-born folke s. egerström (1921-2002) and his family, consists of a house and a complex of stables, barns and grounds for the breeding and training of thoroughbreds. egerström and barragán had met while riding at the nearby club hípico francés, both shared a passion for the equestrian life.
the complex cuadra san cristóbal is characterized by flat planes, minimalist geometric lines, but softened by pink and earth tone walls, moorish motifs, texture, water and light to evoke a sense of calm. watch our exclusive inside tour of the property above.
in an instagram post on may 22, banksy wondered why he's never been asked to participate in the venice art biennale… 'setting out my stall at the venice biennale,' the anonymous artist writes. 'despite being the largest and most prestigious art event in the world, for some reason I've never been invited.' a minute-long video documents a concealed man setting up a tableau of framed oil paintings on the streets of the italian city. when assembled, the group of images depicts the ever-controversial cruise ships that dwarf venice's spectacular cityscape as they make their way past the grand canal.
tens sunglasses created a limited edition range of eyewear that, once worn, visually takes wearers back in time. called 'spectachrome', the sunglasses feature filter lens inspired by the colors of wes anderson films. for their limited edition 'spectachrome' range, tens sunglasses enlisted the help of photographers when developing the designs. the results capture the unique color palettes typically found in wes anderson films, such as moonrise kingdom, the royal tenenbaums and hotel chevalier to name just a few.
at the 58th venice art biennale, artist duo pauline boudry / renate lorenz transformed the swiss pavilion into a vast immersive environment reminiscent of a nightclub. moving backwards is centered around a film installation in which five performers from diverse dance backgrounds experiment with backward movements as a potential tool for producing alternative forms of resistance and action. within the exhibition, the artists reflect on the current political situation – characterized by its regressive and reactionary forces of closure towards the other – but instead of practicing an outright opposition, they explore resistance practices, combining postmodern choreography and urban dance with guerrilla techniques and elements of queer underground culture.
formed in 2010 and based in kiev, ukraine, brunettes shoot blondes is an indie rock band that transformed a 19th-century piano into a machine that accommodates 20 different instruments. featured in their latest video for the song 'houston', this analog hybrid is divided into three sections: the central one which contains the actual piano; the left section with the violas, cello, organ and xylophone; and the right section where you can find all the percussion. even if the band didn't know, the best thing about the vintage piano they found was that its body had only two parallel cast-iron barriers with thin wood and lots of free space — something that doesn't happen with modern pianos that have a cross-shaped string holders that leave little space.
see designboom's TOP 10 stories archive: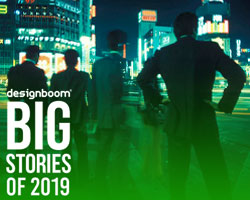 dec 25, 2019
dec 25, 2019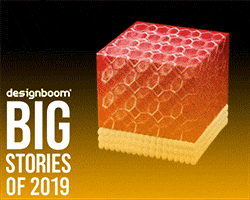 dec 24, 2019
dec 24, 2019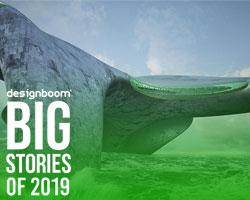 dec 23, 2019
dec 23, 2019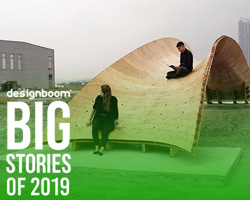 dec 20, 2019
dec 20, 2019
dec 18, 2019
dec 18, 2019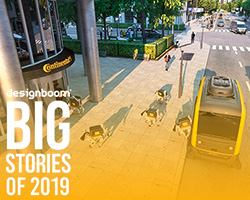 dec 17, 2019
dec 17, 2019
a diverse digital database that acts as a valuable guide in gaining insight and information about a product directly from the manufacturer, and serves as a rich reference point in developing a project or scheme.