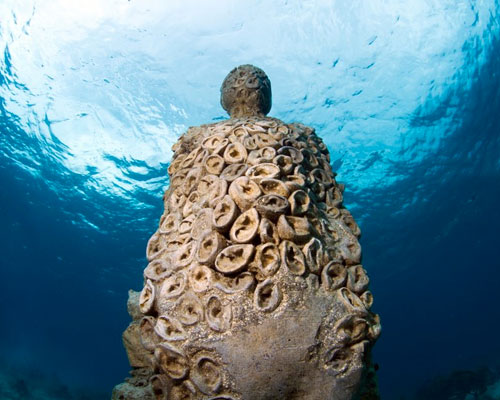 may 30, 2012
underwater eco sculpture series by jason decaires taylor
'the last supper' by jason decaires taylor, 2012 depth 4m — MUSA collection, cancun, mexico all images by jason decaires taylor and courtesy the artist
jason decaires taylor has put in place three new eco-sculptures 'the last supper', 'the listener', and 'the phoenix' installed in the artist's primary location, museo subacuático de arte (MUSA) just off the coast of cancun, mexico. each of these site-specific, permanent works are intended to function as artificial reefs, offering the underwater region additional space upon which marine biomass and fish species may make their home. by creating these artistic underwater oddities, taylor is also able to draw tourists away from natural reefs, instead inviting visitors to engage with nature in one of his sturdy 'underwater museums' in which fragile ecosystems are at a lesser risk of damage from the public.
detailed view of the sculpted food offerings of 'the last supper'
in 'the last supper', the artist has constructed a table carved from stone, resting upon the ocean floor. the dining surface is set with a bowl containing carved fruits and grenades and two plates containing half-eaten fish, framed by two sets of gleaming silver cutlery. taylor notes, '… the work aims to illustrate the serious problem the world's oceans are facing due to overfishing. the UN has claimed that three quarters of the worlds fisheries are severely stressed and if nothing is done to reverse the trend, we could see a worldwide collapse in 50 years with several species facing extinction…'
a stone-sculpted fish awaits a dinner guest upon its plate, framed on either side by a permanently set collection of silverware
the table has been constructed upon the uneven surface of a rock on the ocean floor
'the listener' depth 4m MUSA collection, cancun, mexico
for his work 'the listener', taylor has constructed the figure from casts of human ears developed with marine biologist heather spence and her class of students ages eight to twelve years old from colegio ecab a.c. in cancun, mexico. the sculpture, positioned in the national marine park of cancun, contains a hydrophone which is constantly recording the sounds of the reef, storing this aural information upon a water resistant hard drive.
'although the marine environment is often referred to as the silent world it is actually reverberating with a myriad of noises from, crustaceans clicking, fish feeding, waves breaking to boats passing overhead. sound also travels approximately four times faster in water than in air. this experimental method of non-invasive passive acoustic monitoring (pam) aims to try to understand some of complex sound activities that are taking place underwater and see if this data can in turn be used for conservation and research. by constructing the figurative form using casts of ears from a younger generation it is hoped that it will symbolize a different relationship with nature and engage students in reef conservation. changing one's interaction to a more passive experience and draw focus to the much-needed ability to listen.' -janson decaires taylor
'the listener' as viewed from front and side perspectives
'the phoenix' — ph-neutral cement, tensile stainless steel, gorgonian fan coral
for the first kinetic sculpture of MUSA, the artist has developed 'the phoenix'. this figure is formed from high strength, ph-neutral cement and living purple gorgonian fan coral anchored to her body by tensile stainless steel components. as the water rushes around the piece, the gorgonian fan coral is ruffled by the currents, the sculpture's wings seem to move of their own volition at the same pace of the waves, filtering ocean nutrients through its purple plant life. as fan coral is quite often uprooted by storms and waves, these fragments of the life form have found a new, more stabilized home upon which to thrive.
an alternate perspective of the underwater woman
may 31, 2020
may 31, 2020
jul 03, 2018
jul 03, 2018
jun 18, 2018
jun 18, 2018
jan 11, 2017
jan 11, 2017
feb 03, 2016
feb 03, 2016
sep 14, 2015
sep 14, 2015
a diverse digital database that acts as a valuable guide in gaining insight and information about a product directly from the manufacturer, and serves as a rich reference point in developing a project or scheme.